Bikini Beach Body Workout From Tone It Up
A Beach Workout to Tone All Your Bikini-Baring Zones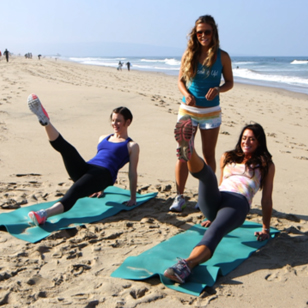 Make the most of your beach time and hit the sand for a toning workout. And who better to help you get your sweat on in the sand than the quintessential beach babes Katrina and Karena of Tone It Up? With no props required, these gals have created a five-move workout perfect for the soft sand or your living room. The full-body exercises will work you from head to toe and provide a little fine toning with small pulses to finish up the moves.
Here's a breakdown of the moves.
Surf's up: From lying on your stomach, pop up into a wide sumo squat then return back down to your belly. Repeat for 30 seconds. Fine tone the outer thigh for 10 seconds doing small leg lifts in the sumo squat then switch legs and pulse on the other side.
Bikini walk-out with tummy tuck: Begin standing, fold in half at the waist, and walk your hands out to a plank position. Hold plank and perform the tummy tuck by bringing your right knee to your right elbow, then repeat that action on the left. Walk hands back to feet, then perform a deadlift to come to standing. Repeat this move for 30 seconds, then fine tone the obliques by pulsing the knee toward the elbow in the tummy tuck move for 10 seconds on each side.
Reverse plank with leg raise: Begin in a reverse plank position, and perform alternating leg lifts for 30 seconds. To fine tone the top of thigh, pulse the right legs toward your torso for 10 seconds, then switch and pulse the left.
Warm hug to tipsy plank: In a side elbow plank, reach top arm to the sky and twist through the torso bringing the arm underneath the body; continue for 30 seconds. Fine tone in an elbow plank tipping the pelvis from side to side for 10 seconds before switching sides to repeat the hugging motion.
Crab-up: Come to a crab position from lying on your back by performing a full sit-up. Reach your hand to your opposite leg before rolling back down. Repeat, switching sides, for 30 seconds.
Have fun and see you at the beach!
View Transcript »
Transcript
Today I'm at the beach with Katrina and Karina, the founders of ToneItUp.com and today, they're gonna show us 5 moves from their Beach Babe DVD series. So you can stay in bikini shape all summer long. So, tell us a little about the moves we're going to be doing today. Okay, the first two moves are from our Beach Babes DVD series, and we developed this series using our fine-toning method. And the first two moves we're showing you today are from the Surfer Girl workout which is one of the seven workouts in the entire series. Okay, we'll start down on our bellies on your board and then we'll spring up using your triceps into a surfer squat and cowabunga. So in this move, you're working your triceps, your glutes, you're using your abs to spring up and you're using your arms. Now you'll do this move for 30 secs and you will try to get as many reps as you can All right, for our next one we're popping up and we're gonna hold it there and do fine toning. So point that front toe and tap lightly up and down and up and down. You're really isolating your gluts. So we'll fine tone for ten seconds, plop back down on your board, and let's go to the other side. Okay, the second move from the Super Girl workout is the bikini walk out with a tummy tuck. So we will lower it down slowly, crawling down your legs. Come into a plank position. Bring your knee to your same elbow on opposite side. Walk back up and perform a dead lift. Again we'll do this move for 30 seconds. Here we work our waistline, our shoulders. And we perform that dead lift. So, that's the perfect move to really lift the booty and tone the fat of the thighs and the last time out hold that of a small, little motion, tiny pulse. And release that leg. Let's go to the other side and pulse. All right. Kinda walk it back up. These are two moves from your bikini sculpt workout. The first move is your Total Babe. You're gonna start in a reverse plank, and your shoulders are stacked right over your wrists. Lift up your legs and alternating legs, lift one at time. It's called the Total Babe because it works the tops of the sides, the lower abs, the triceps, the chest and the whole core. It works everything. Yeah. Total Babe! Now at the end you're going to fine tone. So lift up that leg. Fine tone, ladies. Good I 'm shaking. Anyways, good. Using those triceps to stabilize your shoulders and your body ups and downs. Good. Now we're going to give ourselves a warm hug because all babes need a warm hug, right? You're going to go into a side plank with your shoulders stacked over your elbow Arm in the air and you're gonna give yourself a big warm hug and then come back up. Good. Okay. Now, go down to a plank position and now, you're going to just do a little cinching from side to side. This is the fine toning in the middle. Great. This is the Tipsy Plank. Good. Yeah. Now we're gonna ourselves a warm hug in the other side. All these moves you do about 30 seconds on the DVD, and then your ten seconds of fine toning. Good work. Good. Nice. So, the Hit the Beach workout is high intensity alterable training on the beach with us. This first move is crab up. It's one of our favorite moves. You're going to lay on your back, crunch up, working those abs. Reach, good, working the booties, the triceps, everything. The Hit the Beach workout increases your metabolism so much because you're working those big muscle groups combined with cardio and then after your metabolism is increased, you shed the outer layer of fat and expose those hard-earned muscles. Thanks for the awesome workout. Thank you. We had a lot of fun. And if you guys wanna pick up the DVD series. It's available at beachbabedvd.com. See you at the beach. Thanks for watching.