Looking for a low-calorie breakfast that doesn't disappoint? These 18 light recipes all clock in under 300 calories and will keep you satisfied and energized until your next snack or meal.
Baked Eggs in Ham Cups
Pop in a batch of these protein-heavy eggs in ham shells [1] when you wake up, and enjoy a hot, hearty, and quick breakfast before you leave for work.
Total calories (for two ham cups): 218
Sweet Spinach Smoothie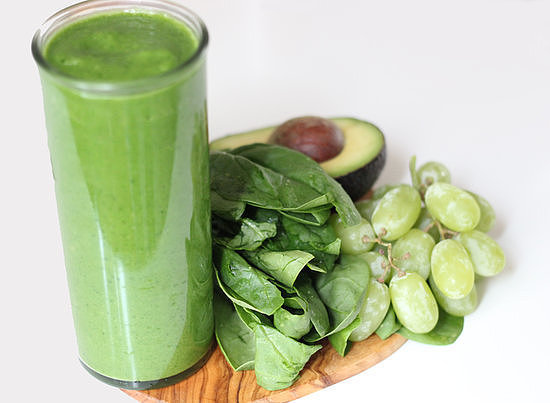 With just one 16-ounce serving of Harley Pasternak's sweet spinach smoothie [2], you'll be getting your entire recommended amount of vitamin A (great for healthy skin, hair, and eyes) and bone-building vitamin K. This recipe is a favorite of Harley's celebrity clients like Julianne Hough after an indulgent period.
Total calories: 296
Starbucks Spinach Feta Wrap
It can be hard to give up your Starbucks spinach-feta wrap — we understand this pain. However, this homemade breakfast wrap [3] is lower in calories and carbs and free of preservatives.
Total calories: 252
Low-Carb Hotcakes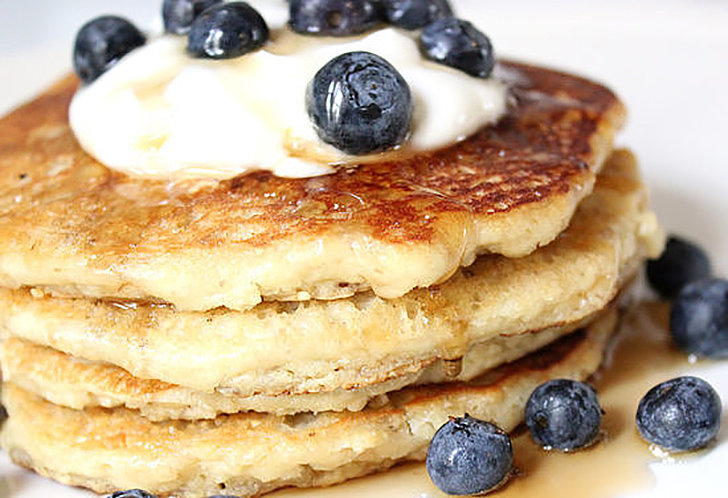 Even if you're conscious of calories, you can still enjoy a stack of hotcakes! These wheat-free pancakes [4] use almond meal and flaxseed to increase their protein and fiber content.
Total calories (per serving): 152
Oatmeal Breakfast Bites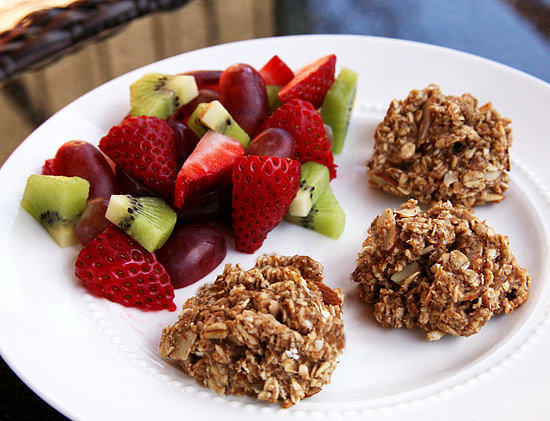 Baked goods like scones and quick breads tend to be high in sugar and fat, so if you're craving a homemade treat from the oven, then bake up a batch of these lower-calorie oatmeal breakfast bites [5] instead.
Total calories (for four bites): 296
Quinoa Egg Bake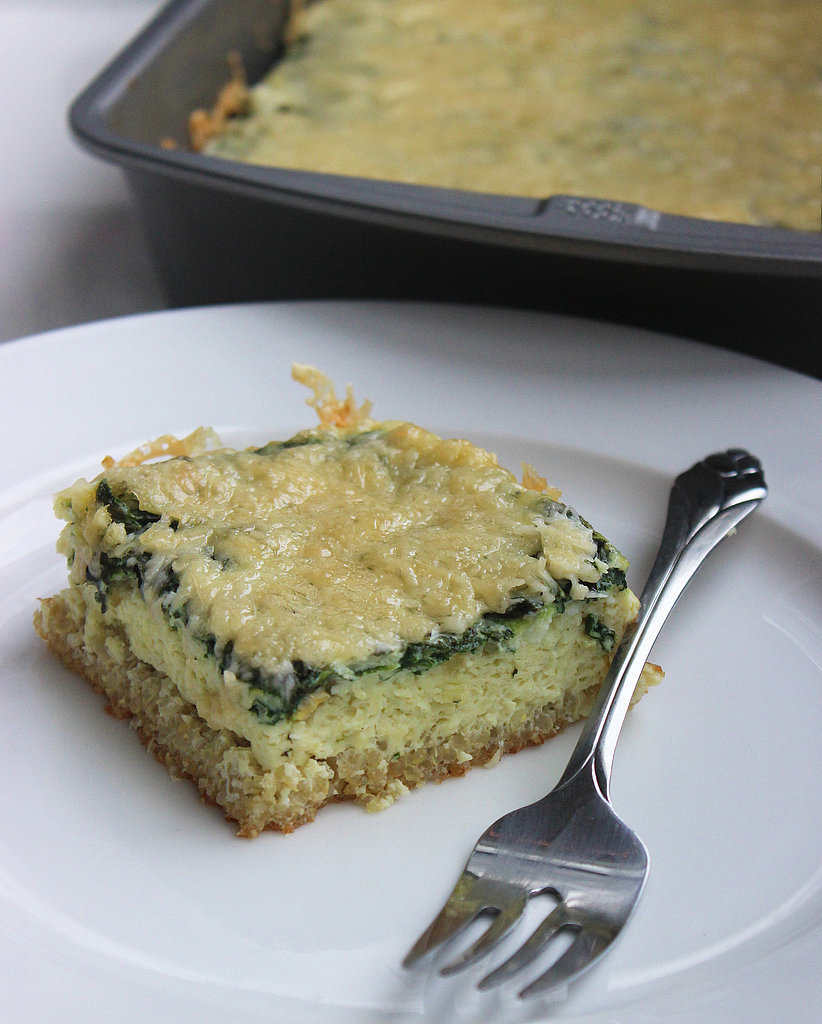 Bake this quinoa egg casserole [6] on Sunday night, and cut a slice the following morning for a gluten-free breakfast. In addition to plenty of protein and fiber, you'll up your iron and calcium intake while enjoying this recipe.
Total calories: 250
Flat-Belly Smoothie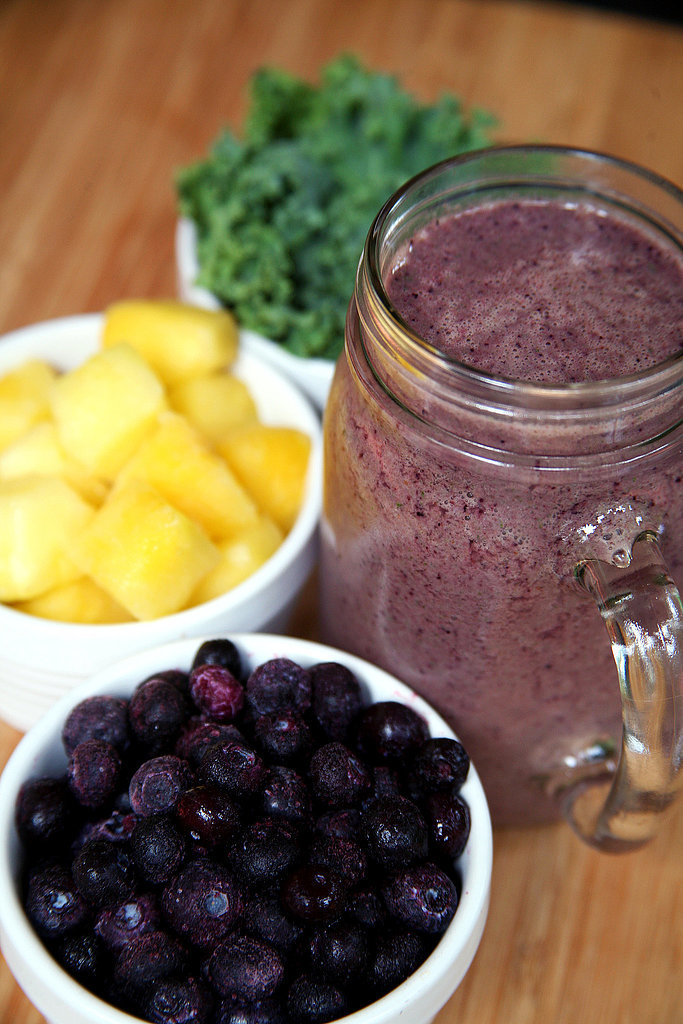 Sip on this sweet smoothie [7] packed with ingredients like Greek yogurt, pineapple, and kale to fight belly fat, reduce bloating, and keep you feeling full.
Total calories: 283
Avocado Tartine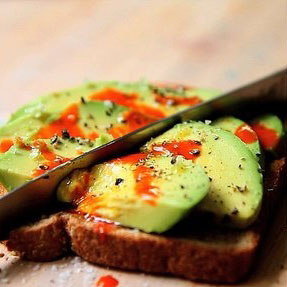 In need of an incredibly quick breakfast? Try this easy avocado toast from POPSUGAR Food. This vegetarian breakfast comes together in under five minutes, and it has a great blend of protein and carbs to hit the spot.
Total calories: 214
Turkey Sausage Muffins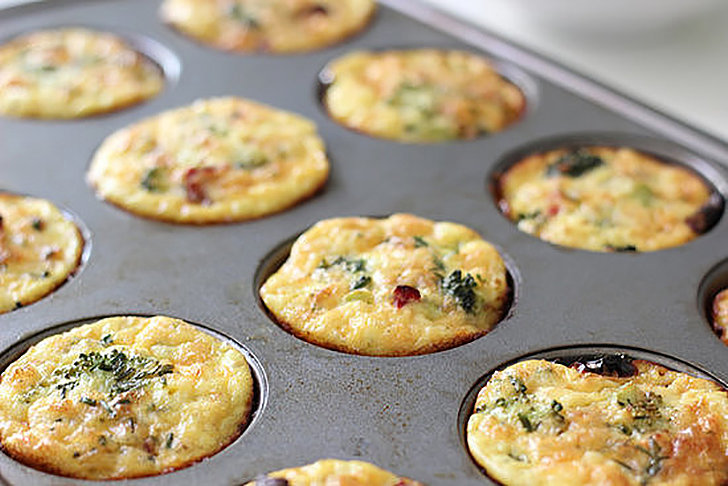 With 12 grams of protein a piece, these gluten-free turkey sausage muffins [8] are smarter than any fast-food egg option you'll find before work. This is another recipe that's easy to bake ahead of time and grab when you head out the door.
Total calories (per muffin): 150
Apple Ring Oatmeal Pancakes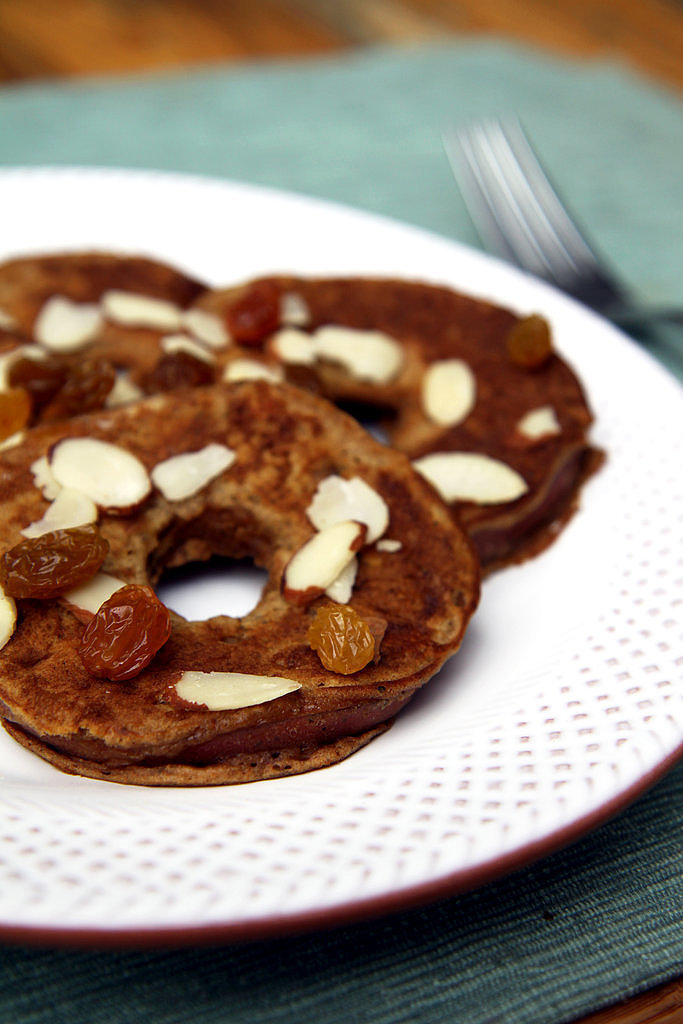 For a creative and fresh twist on classic pancakes, whip up these delicious apple ring pancakes [9]. Slice fresh apples and dip them in oatmeal pancake batter. Each ring clocks in at just 57 calories.
Total calories (for five rings): 285
Egg White Frittata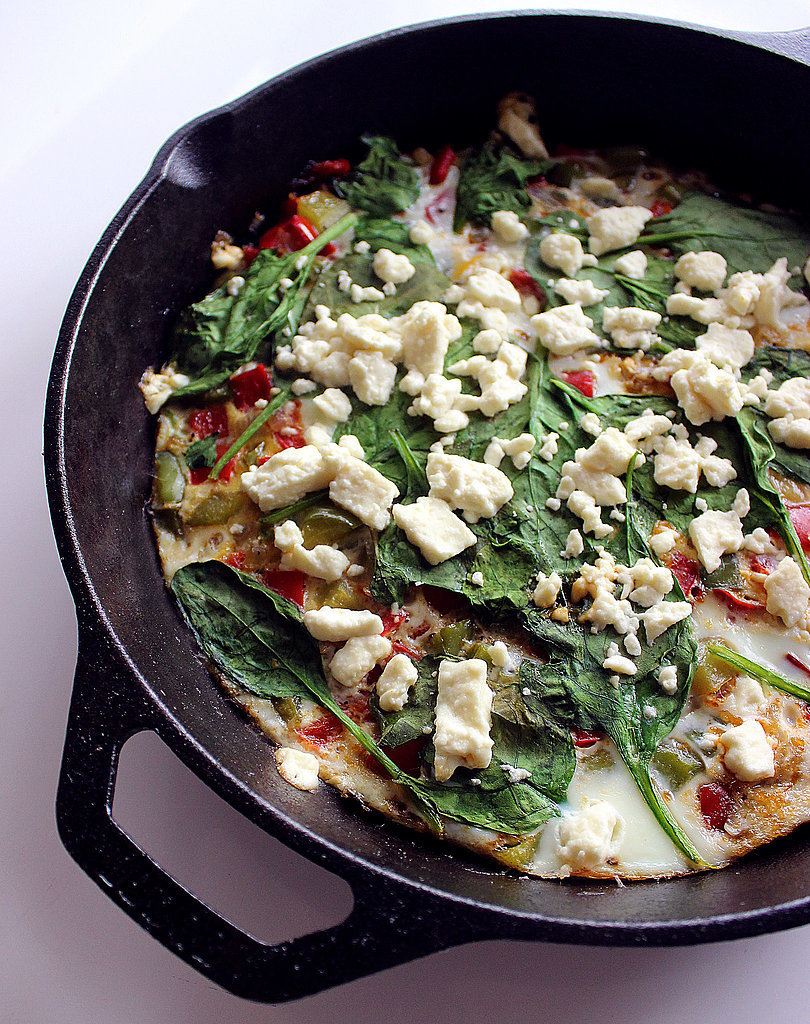 Classic Mediterranean ingredients like peppers, onion, and spinach bring texture, flavor, and nutrition to this low-calorie frittata [10], while egg whites and feta provide over 20 grams of protein. It's quick enough to come together on a weekday morning but elegant enough to serve to friends at a special weekend brunch.
Total calories: 300
Tofu Scramble With Kale and Sweet Potatoes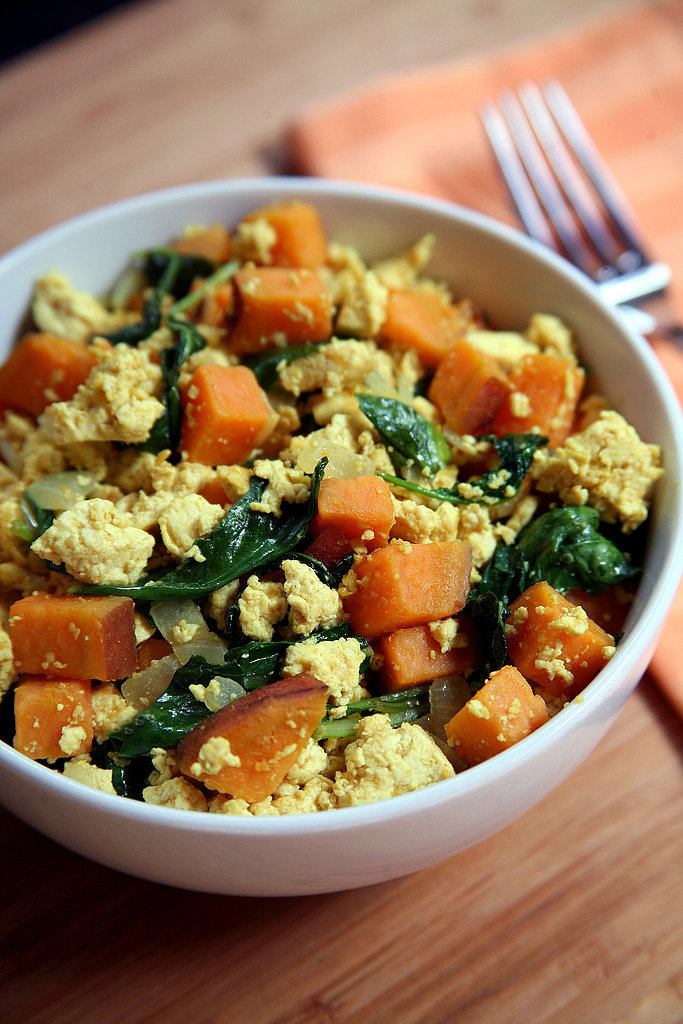 Gone dairy- or animal-free? This quick and hearty tofu scramble [11] will become your new go-to breakfast.
Total calories: 264
Berry Refreshing Smoothie Bowl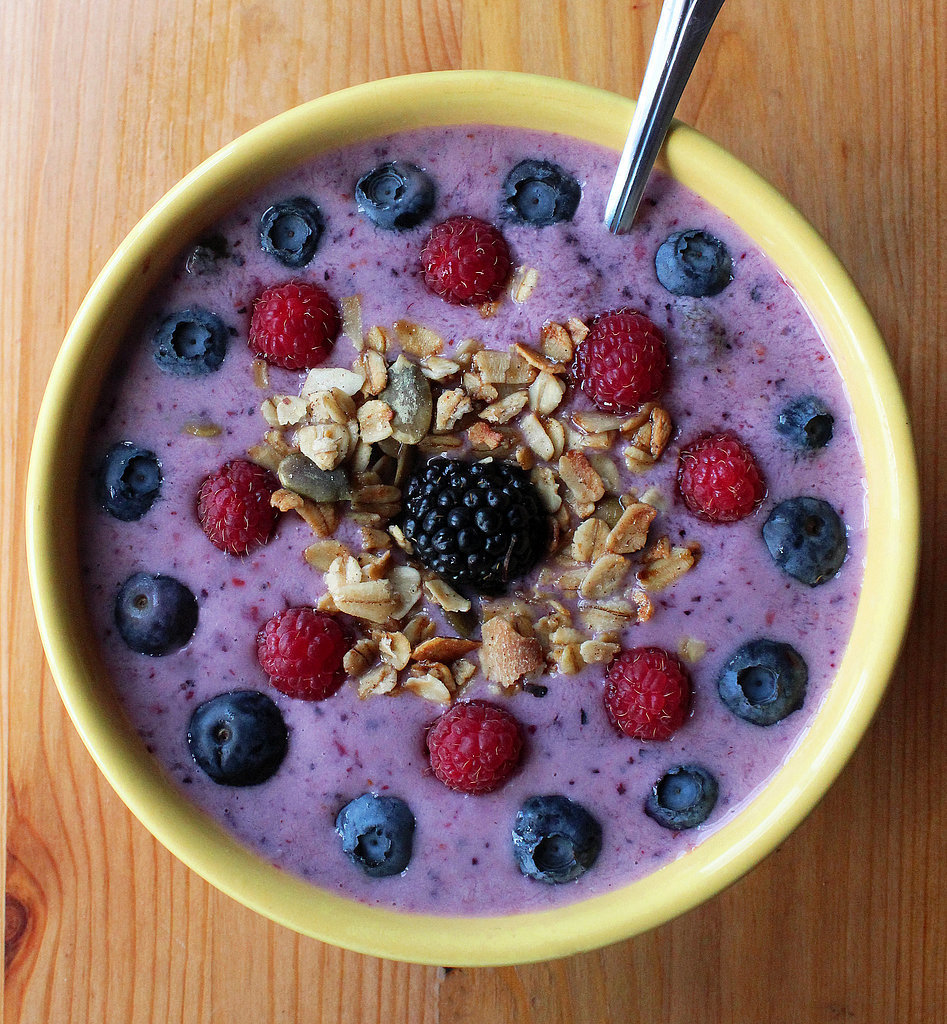 Full of good-for-you ingredients, this mixed berry smoothie bowl [12] is rich in vitamin C and low in calories, and will fill you up and get you going in the morning.
Total calories: 265
Italian Baked Egg and Vegetables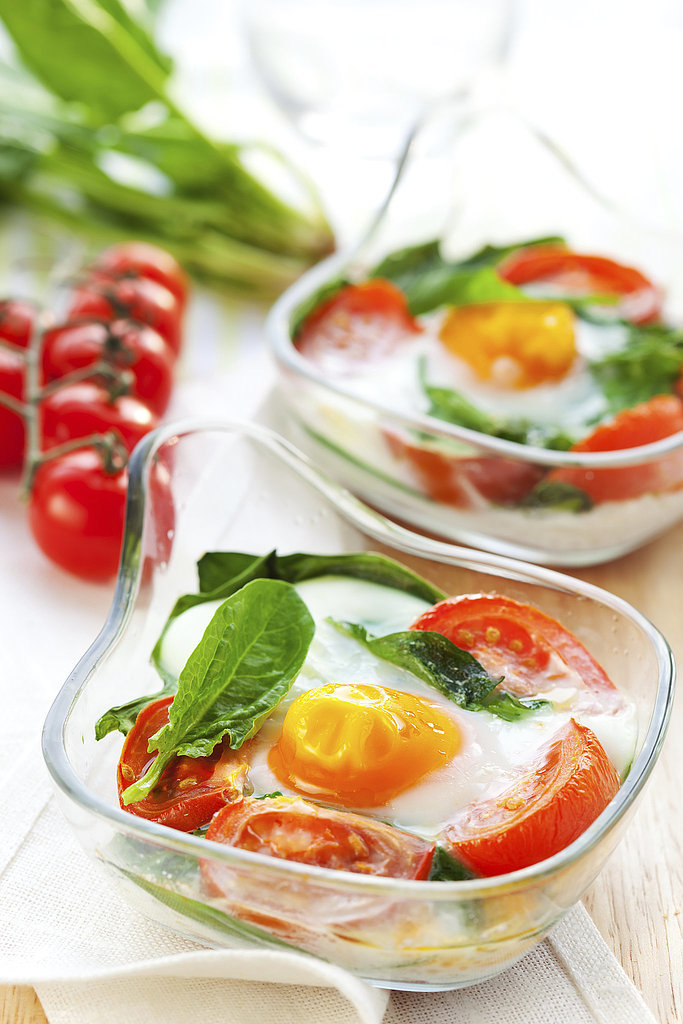 This baked egg dish [13] is Jessica Simpson [14]'s go-to Weight Watchers [15] breakfast. If you're worried about roasting vegetables in the morning, simply roast a big batch of vegetables on Sunday night so you can easily add them to this dish all week long.
Total calories: 149
Coconut Chia Pudding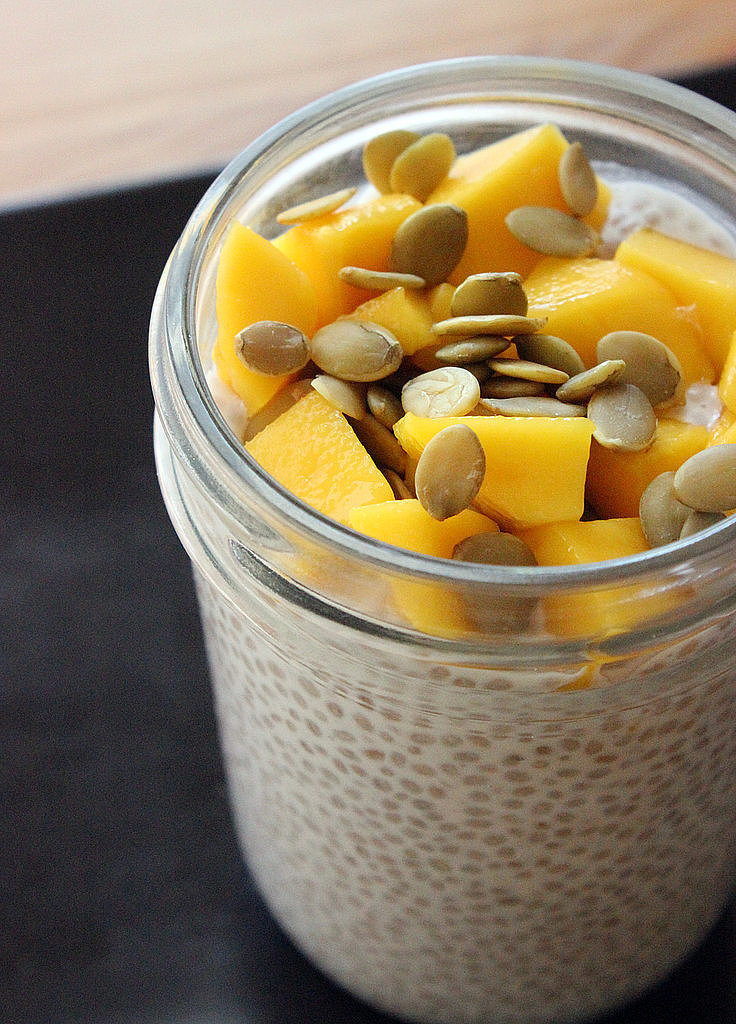 Chia seeds and coconut milk marry for a Paleo-friendly pudding [16] that works great for breakfast. High in anti-inflammatory omega-3s, this sweet chia pudding is a make-ahead recipe that will save you time, fill you up on fiber, and help you debloat for just over 200 calories.
Total calories: 206
French Toast With Ricotta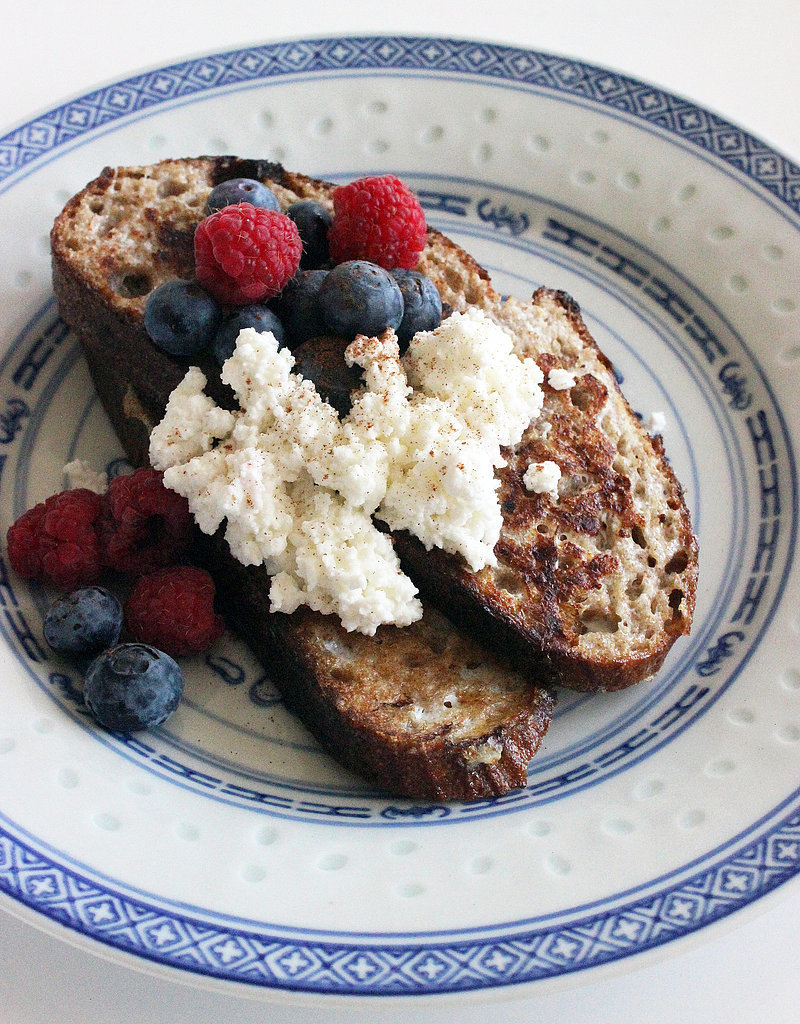 French toast is one of those decadent, high-calorie recipes I've saved for a special indulgence — until now. Celebrity trainer Harley Pasternak's recipe makeover for whole-grain french toast [17] with ricotta cheese offers more than 20 grams of protein with just over 250 calories per generous serving.
Total calories: 252
Apple Quinoa Breakfast Bake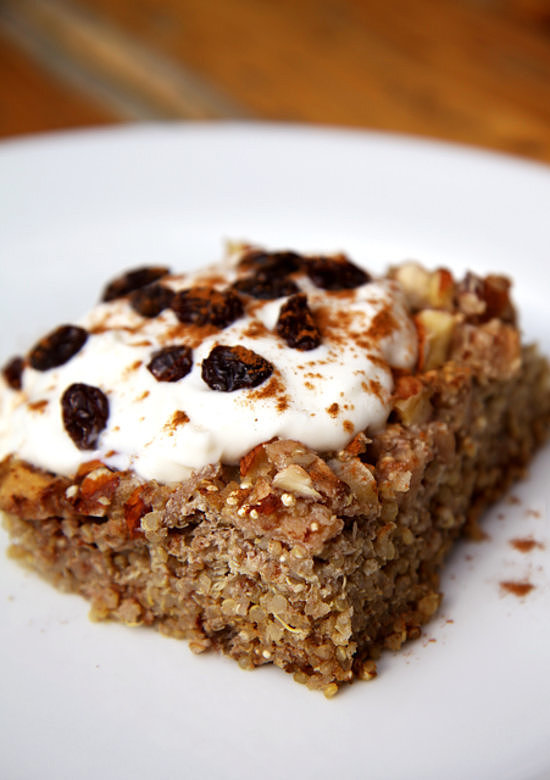 Think that quinoa is just for lunch and dinner? Whip up this gluten-free quinoa breakfast bake [18] and prepare to be amazed. Bake a batch ahead of time, so you can enjoy this healthy breakfast all week long.
Total calories: 269
Yogurt-Filled Cantaloupe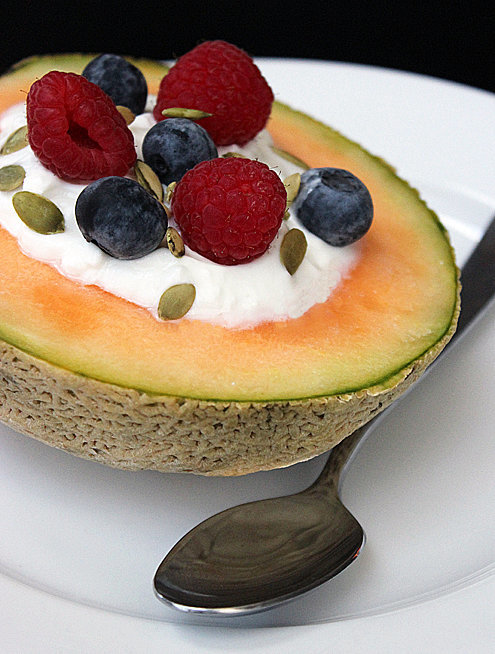 Greek yogurt is one of the best ways to enjoy plenty of protein without any eggs or meat. Instead of topping off your morning bowl of yogurt with sugary granola, serve it up in a fresh cantaloupe bowl [19] that kicks out carbs and calories from breakfast. Be sure to add your favorite fresh berries to the mix for extra color and flavor.
Total calories: 146