If you're looking to shape up your backside ("up" being the operative word), it's time to try this circuit workout from the experts at Equinox [1]. Director of group fitness development Lisa Wheeler and Toronto-based instructor Eva Redpath teamed up to design an effective plan that pulls moves from two popular signature classes at Equinox — Barre Burn and Stacked — to sculpt, shape, and "wake up" your backside at home.
Perform the following five moves below as a circuit. For best results, repeat a total of three times.
Source: Shutterstock [2]
Bridge (From Barre Burn)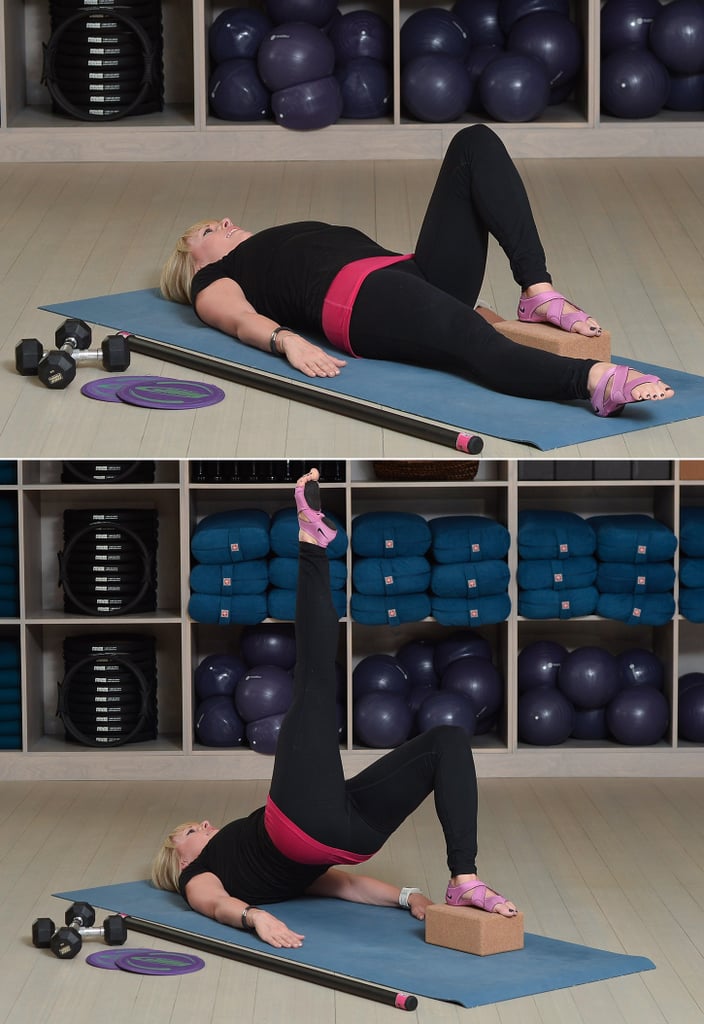 Lie on your back, with your arms at sides and knees bent. Place right foot on a yoga block, and extend left leg along floor.
Raise your left leg up to ceiling, toes pointed. Lift your hips until torso is in one straight line, with your abs engaged. Hold for a second, then lower with control. This completes one rep.
Repeat for 20 reps. For the last rep, hold at top for 20 tiny pulses.
Switch sides, and repeat on your right leg for an additional 20 reps.
Source: George Pimentel
Back Attitude (From Barre Burn)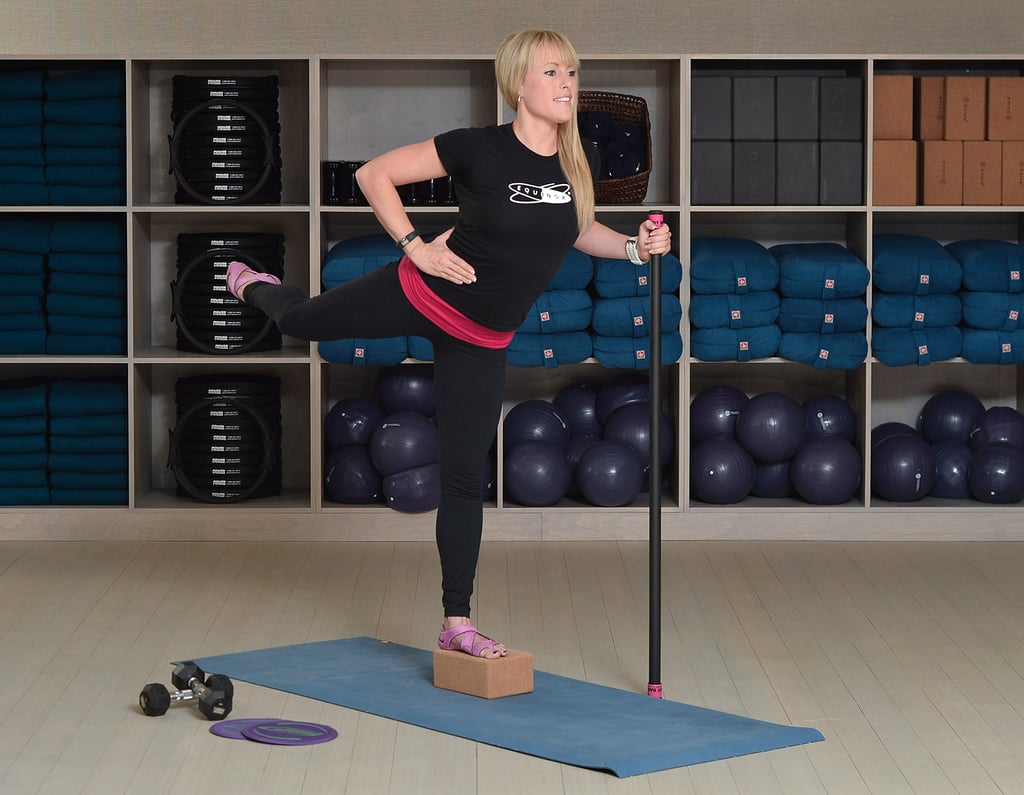 Stand with your left foot flat on a yoga block, and hold a Body Bar [3] (pictured) or tall chair with your left hand for balance.
Bend the right knee, externally rotate at hip, then lift back and squeeze your butt.
Lower down, and internally rotate to starting position. This completes one rep.
Repeat for 10 reps. Hold the last rep, and finish with 10 tiny pulses at the top. Switch sides.
Source: George Pimentel
Rainbow Slam With SandBell (From Stacked)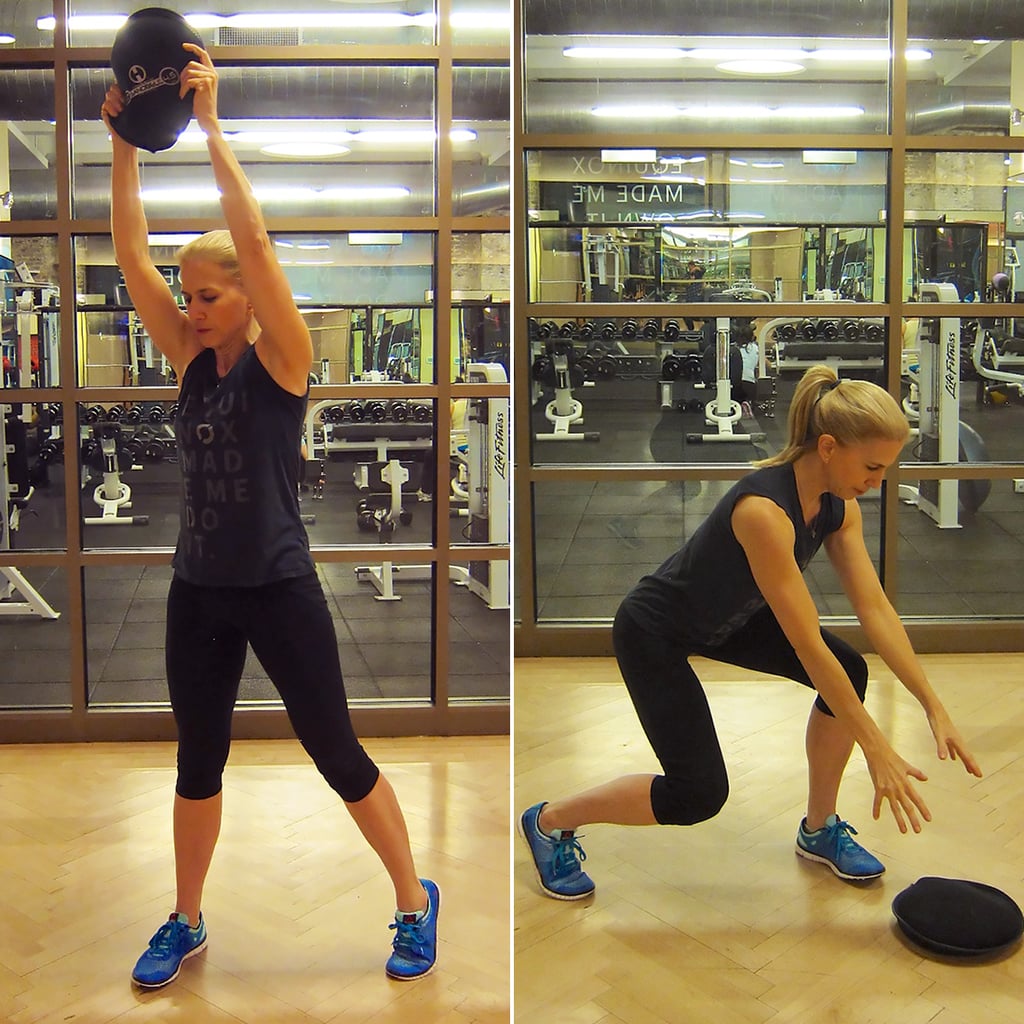 Stand with feet slightly wider than shoulder-width distance apart with a six- to 12-pound SandBell [4] (or pillow) on the floor outside of the right foot.
Pivot and bend knees to squat to pick up SandBell, keeping a flat back. Stand up, and simultaneously bring SandBell directly overhead, keeping arms extended.
Moving in a rainbow motion to the left, slam the SandBell onto the ground just outside the left foot.
Squat to pick up the SandBell on the left side, stand up, and bring the SandBell overhead, before moving in the rainbow motion to slam on the right. Repeat alternating sides for 30 seconds.
Source: Equinox
Lateral Side Squat (From Stacked)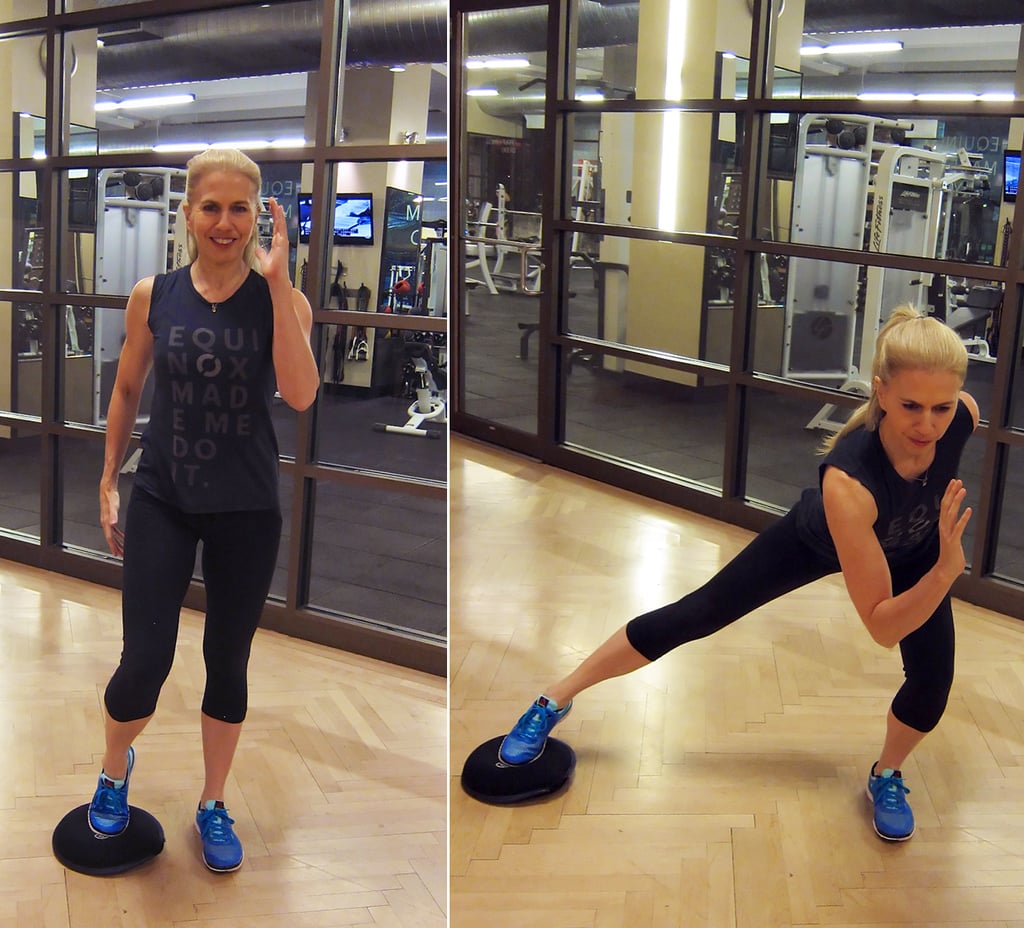 Begin standing, and place right foot on six- to 12-pound SandBell (if you don't have a SandBell, use a paper plate on carpet or a towel on hardwood floors).
Squat at your left knee, and simultaneously slide right leg out to the side. Drag your right leg in with control, and return to standing. This completes one rep.
Repeat for 12 reps, then switch sides.
Source: Equinox
SandBell Swings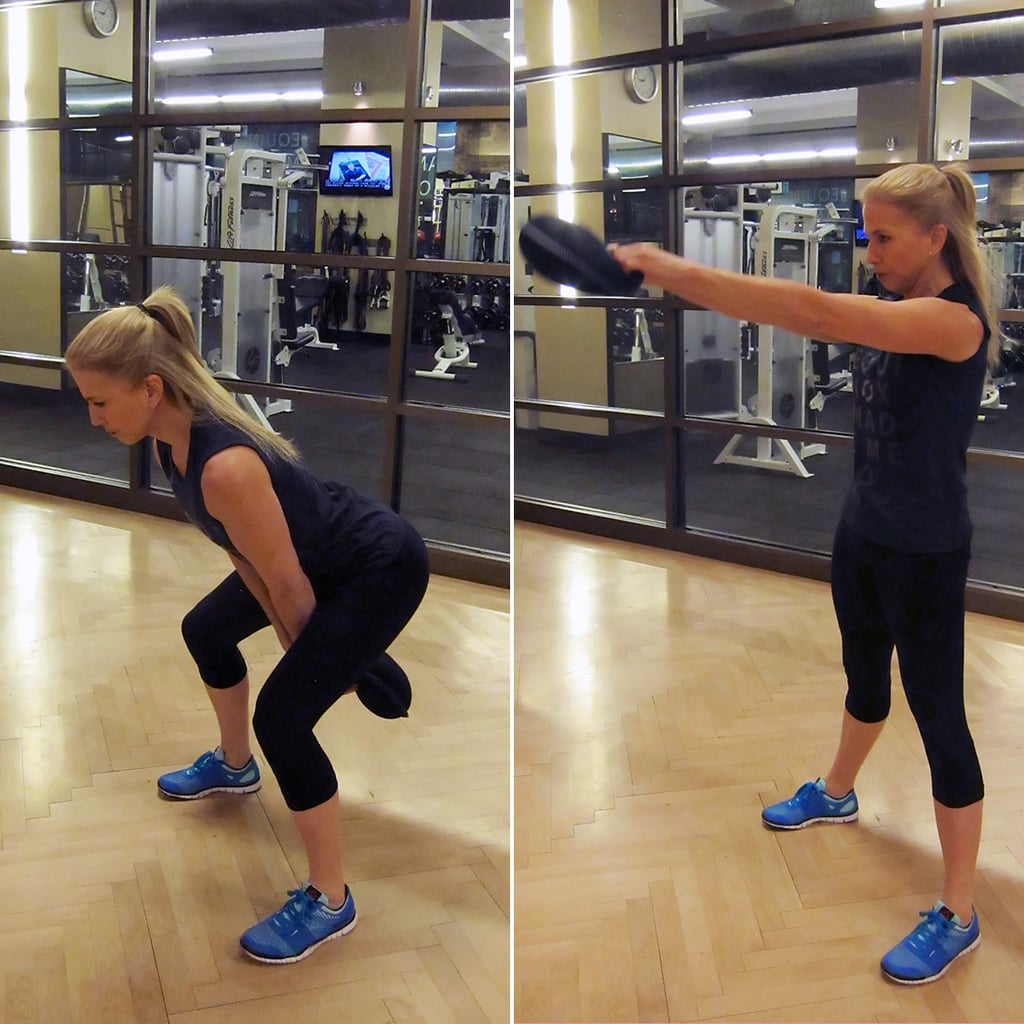 With a two-handed grip, hold your SandBell (or a six- to 12-pound dumbbell or kettlebell), and lower the body into a hinge position. Drive hips forward, swinging the SandBell forward, and stand straight up.
Swing back down to hinge with SandBell between the legs. Repeat bringing SandBell to chest height. This completes one rep.
Perform 10 two-handed reps, then switch to single-arm reps. Perform 10 right-handed reps, and finish with 10 left-handed reps.
Once you've completed all five moves, move through the circuit another two times for a complete workout!
Source: Equinox