Cookbook Review: Almost Meatless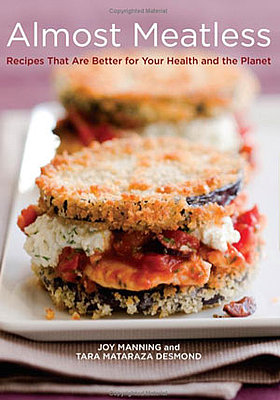 Studies on health and the health of the environment continue pointing to the fact that eating less meat is beneficial. It is from the perspective that you can reduce both your carbon footprint and your long term health by cutting back on your carnivorous ways that the authors of Almost Meatless ($22.50) penned their new cookbook. A collaboration between a former vegan, Joy Manning, and a committed meat eater, Tara Mataraza Desmond, this cookbook is full of recipes that include meat, fish, and poultry in the ingredient list. The meat, however, is not central to the dishes and is used more like a spice for flavor, texture, and color.
The cookbook is divided into sections by animal proteins, including chicken, seafood, eggs, beef, and pork. The amount of meat in these recipes is small, often hovering around four ounces to create a final dish containing four to six servings. The photos of the dishes are inspiring, but I would love a shot of every dish — I am very visually motivated when it comes to experimenting with new recipes. There are many tempting dishes to make like Almond Gnocchi with Lamb Ragu and Sweet Potato Chorizo Mole. I cooked up the shrimp fried rice and everyone in my house plus two guests loved it, and I look forward to trying more recipes from this book. The authors provide great cooking and shopping tips — like how to freeze bacon so you can use a slice when needed. Yes, cooking with just a piece of bacon still packs a powerful tasty punch. The only problem I have with this cookbook — there are no nutritional breakdowns of the recipes. I believe that cooks interested in using less meat are also going to want to know the calories, protein, and fat per serving.
To check out the tasty fried rice recipe
.