Cut Back on Butter in Your Mashed Potatoes With Yukon Gold Potatoes
Smarter T-Day Eats: Go Gold For Your Mashers
Like us on Facebook
I love me some mashed potatoes, especially on Thanksgiving. The problem is that this dish is usually overloaded with tons of butter and cream, which can be a big problem if you're trying to stay healthy. One way I make my mashed potatoes healthier is by using Yukon Gold or Yellow Finn potatoes instead of the old stand-by, Russet potatoes.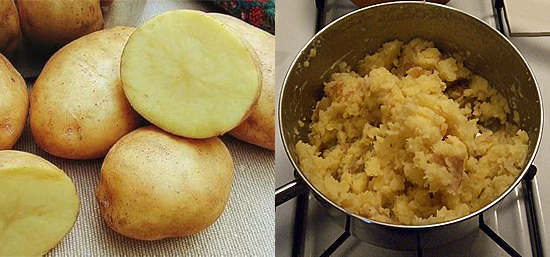 It might seem peculiar that switching out potatoes makes a difference, but these smaller variety potatoes are naturally creamy and sweet, and their skins taste like butter. This means that you can cut down on the amount of butter and cream you would normally add to the dish.
When shopping for Yukon Golds or Yellow Finns, look for smaller ones that aren't much bigger than one inch in diameter. Potatoes harvested early are creamier because they're more tender. Also, the more yellow the potato, the better — it's vitamin A contained in the skin that give these potatoes their golden hue. There's potassium in the skin too, so when making your mashers, don't peel! Another great thing about Yukon Golds and Yellow Finns is that their skins are pretty thin and won't detract from the creaminess of your dish if you leave them on.
For a few more tips on how to make mashed potatoes healthier,
.
For added nutrition, add sweet potatoes to your mashers mix.
Substitute reduced fat or lowfat milk for the cream, or try making them with evaporated skim milk.
Cut back on salt by seasoning mashed potatoes with garlic, onion, and herbs.
Omit dairy altogether and mash in cauliflower and broth instead.
How do you make your Thanksgiving meal healthier? Share the details in our Healthy Recipe Group.
Source: Flickr User karindaziel