Ditch the Gym and Go Extreme With Parkour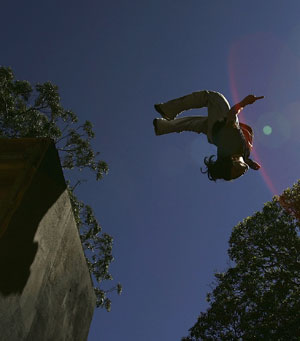 With the price of gym memberships rising, we're all looking for a less expensive way to burn calories and stay fit. Instead of putting your foot down and refusing to pay, put that foot to good use and practice Parkour —your fitness props become the things around you like benches, railings, trees, walls, stairs, and fences. This extreme sport involves leaping over, climbing up, and rolling off theses common structures and using them as your playground, all without any protective gear. So while it might be great if you have given up your gym membership to save dough, you might want to think twice if you don't have health insurance. Parkour enhances your strength, coordination, and balance, so the practitioner becomes more comfortable controlling his or her body in order to overcome obstacles. It takes trust in yourself and a fearlessness to be really good at this sport. Although a sane person may not find this appealing, this video below may inspire you to get started so read more.

If it has, look for a Parkour group in your area.