Fitness Trends From 2010
Trendy Fitness: Popular Workouts of 2010
Like us on Facebook
A workout is a workout, but how we get our sweat on changes with the times. The recession seems to be influencing our fitness lives, from ditching running shoes to skipping fancy classes. Dance workouts are rising in popularity, and the ancient art of yoga continues to spawn hybrids. Read on for highlights of the fitness trends from 2010.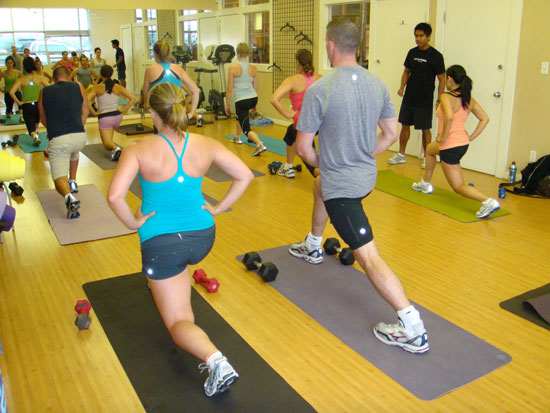 Running sans sneakers: The buzz about barefoot running has been building for a few years now, but this year the trend seems to have fully blossomed. We see seasoned runners logging miles fully dressed minus footwear or wearing Vibram Five Finger shoes. We even tested the barefoot running waters, and while the experience didn't sway us to ditch our sneaks, it did make us interested in trying a less fortified shoe.
Just dance: Whether shaking your booty with Zumba or working your backside in a balletic arabesque, dance is back! Maybe the popular reality TV shows featuring dance have helped the revival. Skip the Barre Method and try an actual ballet class like Natalie Portman in Black Swan.
Working it old school: Gone are the fancy props and expensive equipment; nothing is cooler these days than working out with your own body weight. Circuit training, featuring push-ups and lunges, pull-ups and squats, is all the rage. Bring on the burpee and squat thrust yourself back into shape.
Yoga mixes with everything: The age old practice of yoga seems to mix with anything. This year, we learned about Snowga (that's yoga on the ski slopes) and Paddleboard yoga (yoga on the water). You can even mix some roundhouse kicks with your down dog and try Koga — that's a hybrid of kickboxing and yoga.
Trying a tri: Mixing three disciplines in one race is surely a challenge, but it's one that more and more people are taking on. The triathlon frenzy has been growing for the past decade, and there are no signs of the trend slowing down. Mixing three disciplines into one training schedule is a great way to prevent overuse injuries, a common threat to endurance sport fanatics. Plus it feels hard core!
Source: Flickr User lululemonathletica