For many, the rising temps mean lighter, cooler fare that doesn't feel heavy. These hydrating recipes take advantage of water-filled produce like cucumbers, jicama, aloe vera and radishes to help hydrate you from within as the weather gets warmer. What better way to meet your recommended daily water quota? Here are 12 deliciously refreshing recipes to make when the temperatures keep climbing.
Aloe Avocado Smoothie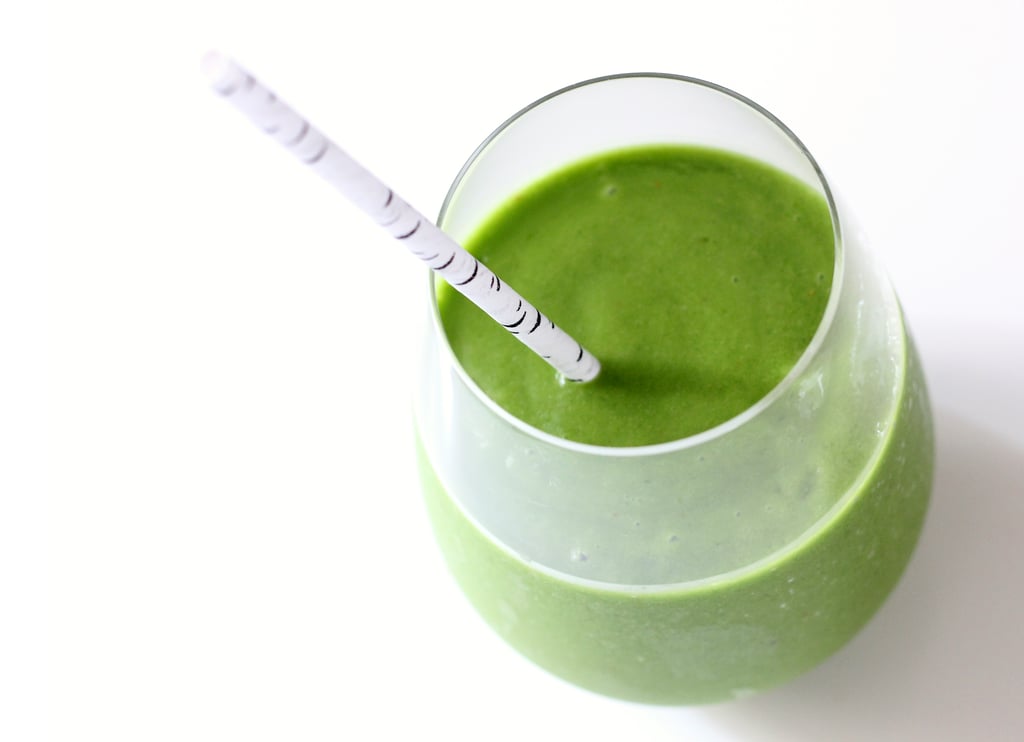 If you're feeling sluggish on a hot day, this aloe avocado smoothie [1] is the remedy you need. It's got hydrating aloe vera juice and coconut water, toxin-flushing lemon juice, and fiber to help keep your digestive system feeling happy.
Photo: Leta Shy
Cucumber Tapenade Cups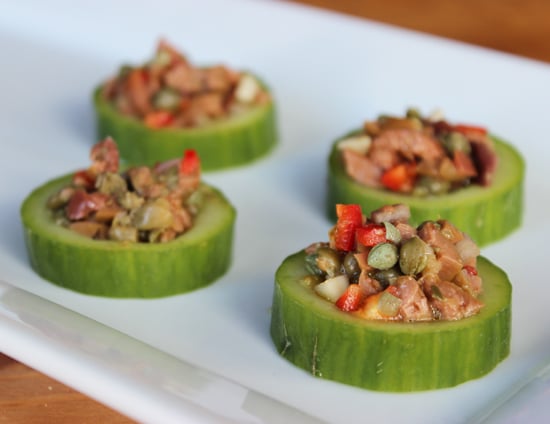 When you're craving something salty on a hot day, don't reach for a bag of potato chips that could leave you feeling worse. Instead, whip up these low-calorie cucumber tapenade cups [2] to cut cravings while helping you feel more refreshed at the same time.
Photo: Lizzie Fuhr
Strawberry Balsamic Vinaigrette Salad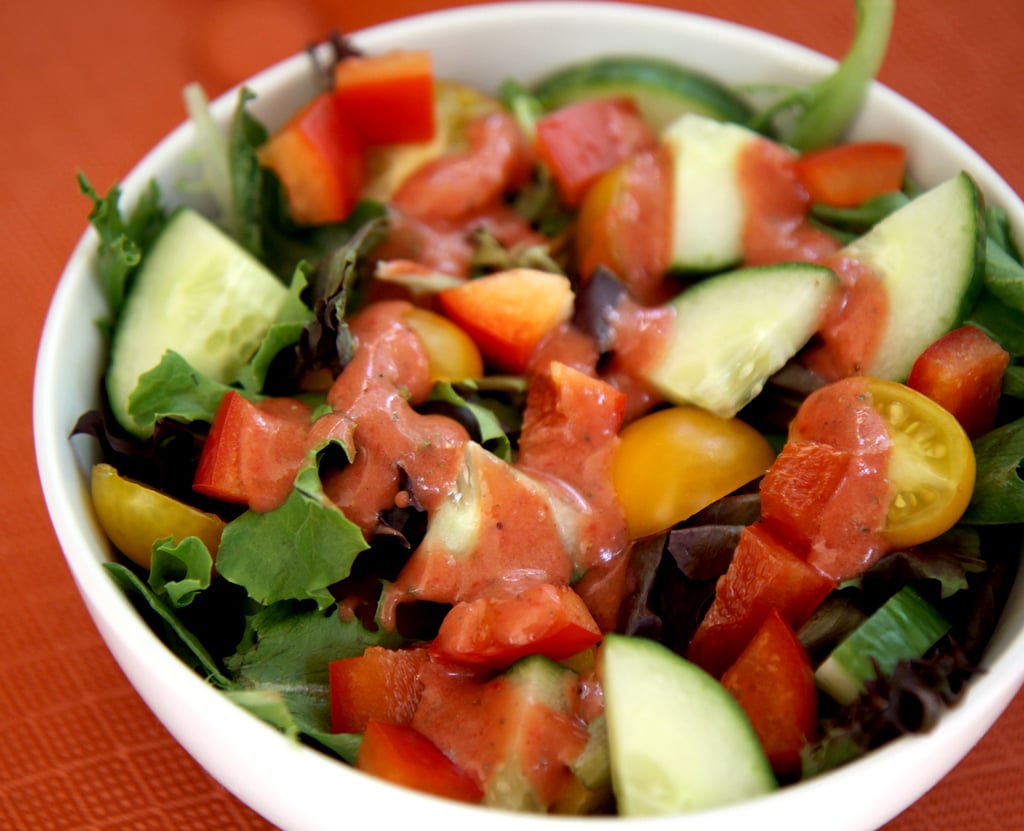 Don't weigh down your light Summer salads with any old dressing. This hydrating strawberry balsamic vinaigrette [3] uses a full cup of fresh strawberries for a refreshing way to flavor your salad.
Photo: Jenny Sugar
Quinoa Tomato Salad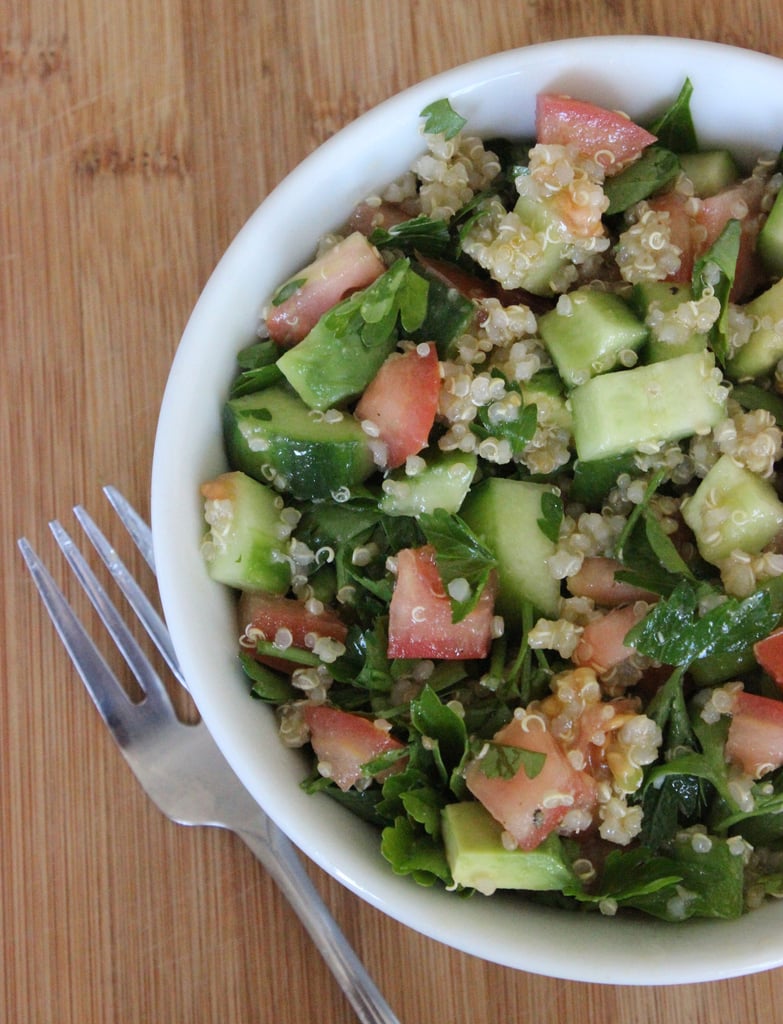 Jennifer Aniston [4] loves this quinoa tomato avocado salad [5], and it's easy to see why. It's a light, refreshing take on your normal quinoa routine and works great with leftover quinoa.
Photo: Lizzie Fuhr
Baby Kale Sesame Chicken Salad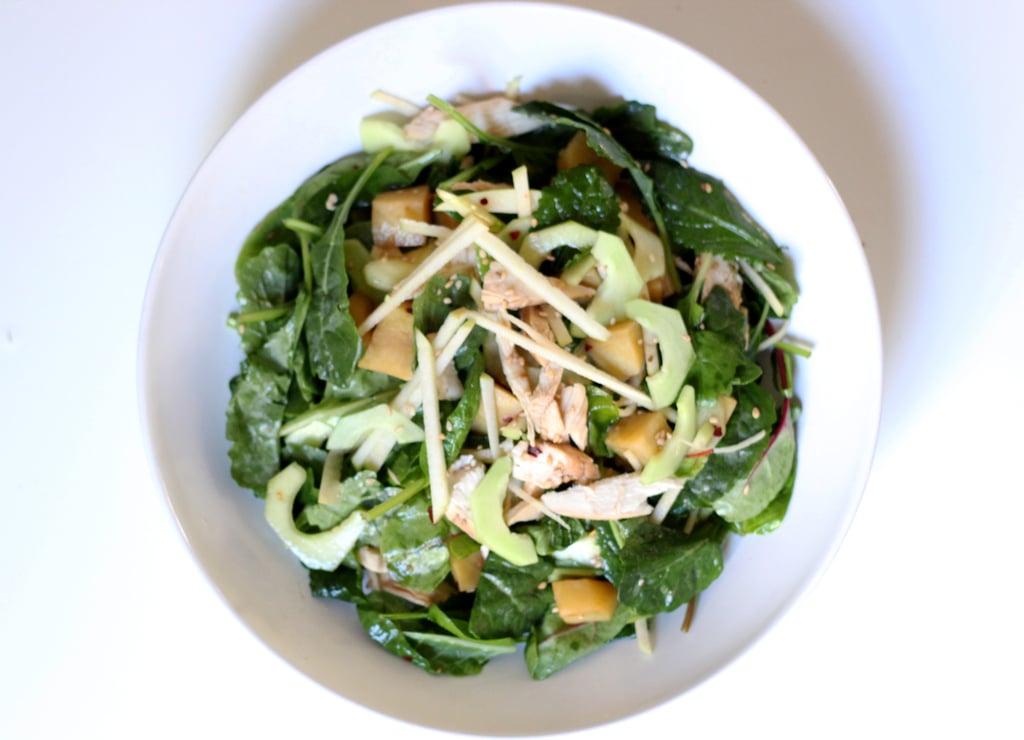 Give your normal massaged kale routine a little shake-up by opting for baby kale instead. Baby kale is more tender and easier to eat, and this cucumber and chicken baby kale salad [6] is the perfect effortless salad for hot Summer days.
Photo: Leta Shy
Yogurt-Filled Cantaloupe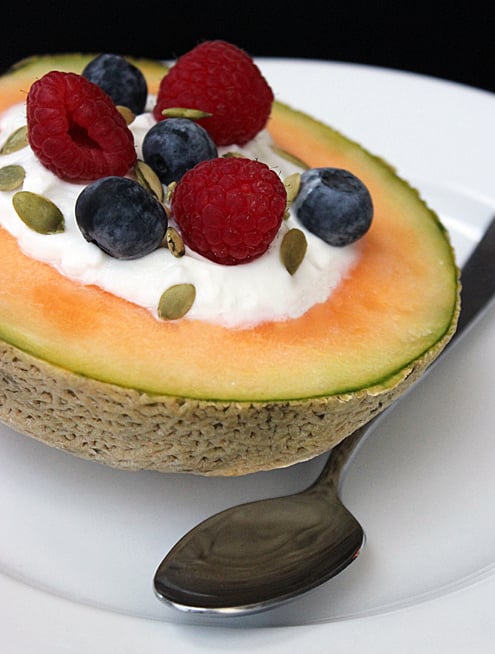 This yogurt-filled cantaloupe [7] may look like a lot of food, but you may be surprised to find that it's fewer than 150 calories. A chilled melon topped with Summer-ripe berries? Just what you need to get your day off to the right start.
Photo: Lizzie Fuhr
Citrus Chicken Salad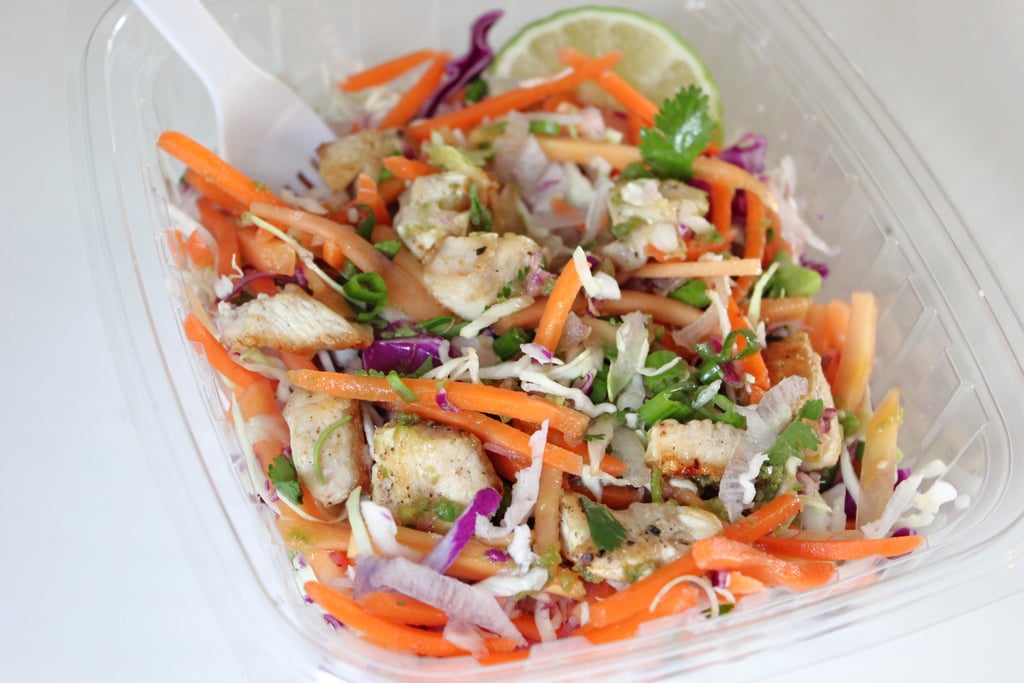 A whole filling lunch for around 220 calories, and one that hydrates, too: this citrus chicken salad [8] is packed with water-filled produce like daikon, papaya, and cabbage. It's just what you need when when the Summer sun strikes.
Photo: Leta Shy
Strawberry Banana Aloe Vera Smoothie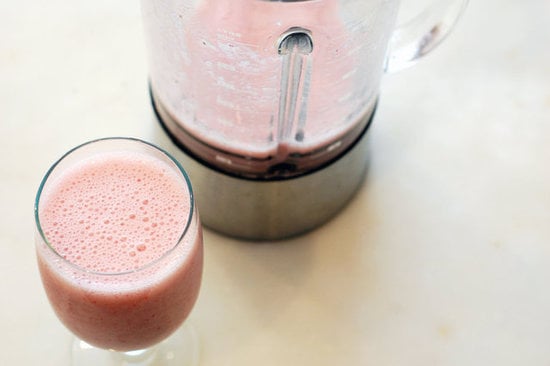 The addition of fresh aloe vera flesh in this strawberry banana aloe vera smoothie [9] from POPSUGAR Food makes this drink that much more of a thirst-quencher.
Photo: Camilla Salem
Green Melon Mocktail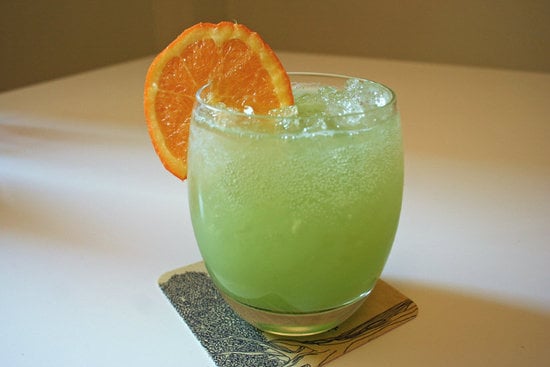 Whether you're detoxing at happy hour or want a refreshing drink to accompany your lunch, this simple green melon mocktail [10] packs a triple-hydrating punch with the inclusion of apple, cantaloupe, and celery stalks.
Photo: Anna Roberts
Jicama, Pineapple, and Radish Salad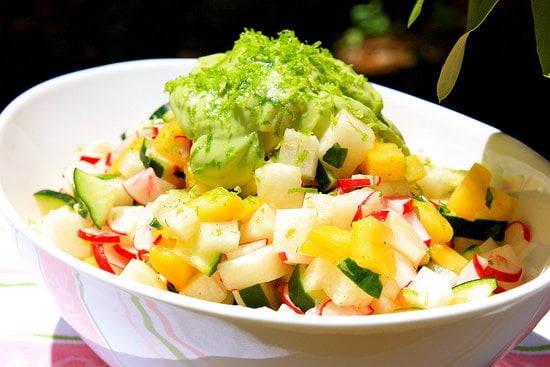 Quench your thirst and sate your hunger pangs with a huge bowl of this jicama, pineapple, and radish salad [11].
Source: Facebook User Versa Stick [12]
Cucumber and Baked Tofu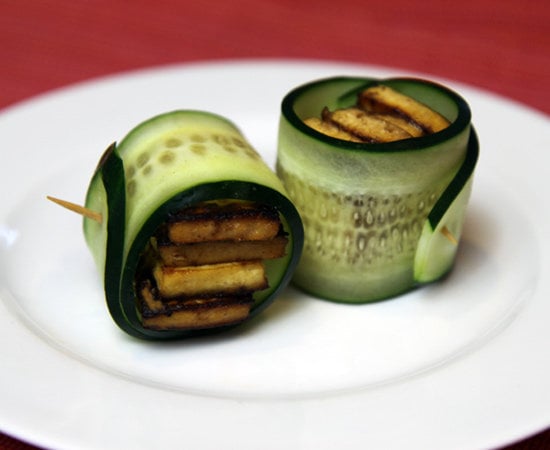 For a light snack that's filling, too, make a batch of these cucumber and baked tofu rolls [13] ahead of time and grab a few whenever a savory craving hits.
Photo: Jenny Sugar
Mexican Fig and Radish Salad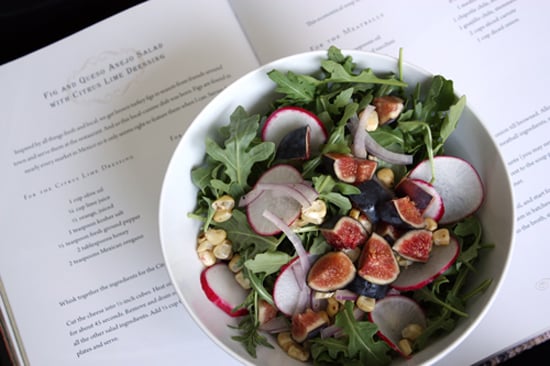 Keep this Mexican fig and radish salad recipe [14] at the ready once Summer rolls around. There's nothing like refreshing bites of sliced radishes tossed among grilled corn and figs to make you appreciate the season's bounty.
Source: LiveWell360 [15]