Gear Review: Instant Arches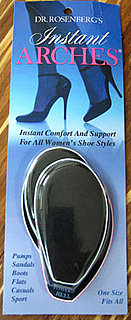 Running shoes feel great on my feet, but a woman cannot live in sneakers alone, so I have been looking for new ways to give my tired feet a little extra support. I found Instant Arches ($8), a comfy one-size-fits-all arch support. I literally stuck a pair into my flats — they have adhesive backing to keep the support in place. I wore the shoes all day, and like most days I logged a fair bit of walking miles. See how my feet felt at the end of the day when you read more.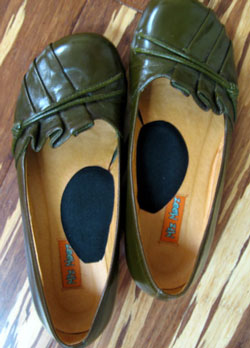 My feet felt much happier having worn the Instant Arches in my shoes for the 10 hours I was in my flats. I suffer from very low arches and find most fashionable shoes don't provide enough support for the arch, but orthotics are too bulky for anything but an athletic shoe (plus they can be pricey). I found these arch supports easy to install; by peeling the protective layer back only halfway, you can fiddle with placement before completely sticking the support in the shoe. This means you cannot change the support from shoe to shoe, so buy a pair of Instant Arches for each pair of shoes that require some extra support. The adhesives mean you can add arch support to sandals and flip-flops — the least supportive shoes on the planet. You can buy Instant Arches online, at a discount when you buy five or more pairs.