Guess the Calories: Breakfast Sandwiches
Like us on Facebook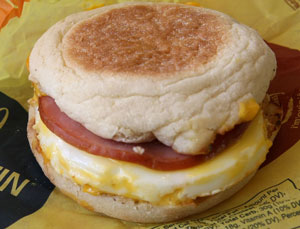 While I truly believe breakfast is the most important meal of the day, you can eat too much of a good thing. There are a lot of convenient breakfast sandwiches out there, but do you know how many calories you're eating when you down one while on the go? Take this quiz and test your calorie smarts.
Guess the Calories: Breakfast Sandwiches
The sausage, egg, and cheddar on an asiago bagel at Au Bon Pain might fill you up, but how many calories does it contain?