The Health Benefits of Eating Chia Seeds
Chia Seeds: You Just Can't Go Wrong
A close relative to our sprouting terracotta friend, the Chia Pet figurine, chia seeds are a dynamic ancient superfood. Once a staple food for the Mayans, Aztec warriors, and Incas, the term "chia" actually translates to "strength" in the language of the Mayans. Legend has it that one tablespoon of tiny chia seeds was able to sustain them throughout their long, tiresome days.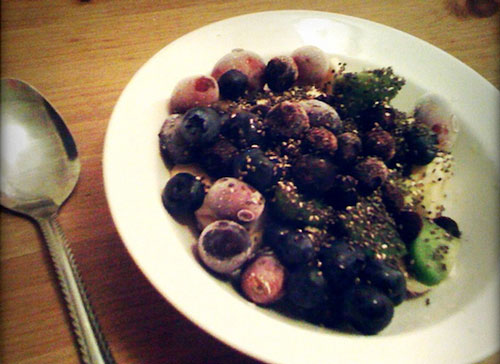 What have they done for me lately? Chia seeds are high in protein, fiber, calcium, antioxidants, and omega-3s. In fact, for women, the RDI of omega-3s is 1.1 grams (1,100 mg) a day, so if you're looking for a new source that's vegan, gluten free, and easy to consume, you'll want to pick up some chia seeds. One ounce of chia seeds (about two tablespoons) contains just 137 calories, one gram of saturated fat, 11 grams of fiber, four grams of protein, 177 milligrams of calcium, and 4.9 grams of omega-3 fatty acids.
Here's what else you need to know about chia seeds.
The weight loss quotient. Some people find that chia seeds work as a low-calorie, filling diet aid: soak a teaspoon of chia seeds in water, until they become gelatinous and expand. Eating the soaked seeds can help you watch your caloric intake, because they make you feel full, preventing overeating — unfortunately, there's no substantial evidence to back up some of the crazier claims that chia seeds are a dieter's best friend. But this concoction will definitely help with your digestion.
How to enjoy them. Chia seeds look like poppy seeds, have a crunchy texture, and are bland to taste. It's up to you if you want to grind them up, but you still reap all the health benefits by eating them whole or just soaking them. Try sprinkling half a tablespoon on your cereal, ice cream, salad, oatmeal, or yogurt. Or you can make a pudding with them, add them to muffins when baking, or add a tablespoon in a smoothie concoction! Speaking of which, here's a recipe for chocolate banana chia pudding!

Source: Flickr User jessica mullen