The last thing anyone wants to do on a hot day is bake — cranking on the oven when it's already sweltering outside sounds so unappealing. That's where no-bake desserts come in; they easily satisfy a sweet tooth, no oven required. And because there's no baking involved, they usually take minutes to make and omit the need for overly processed ingredients. Whether you follow a raw, vegan, or gluten-free diet, one of these desserts will surely satisfy. And many of these treats are healthy to boot!
Chocolate Oatmeal No-Bake Cookies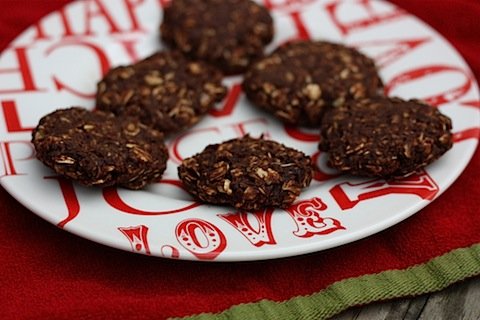 Substituting a banana for butter makes these no-bake cookies [1] much healthier. It's always nice when you can enjoy a tasty cookie in Summer without having to turn on your oven.
Source: Eating Bird Food [2]
Apricot Balls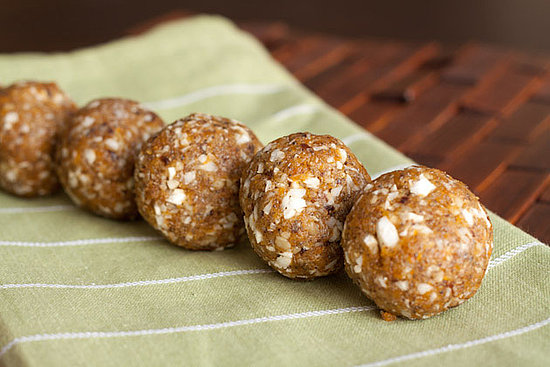 The fruity factor of these no-bake apricot balls [3] helps up antioxidant levels. Besides being an in-season cookie for the Summer, they're also full of fiber.
Source: Healthful Pursuit [4]
Raw Vegan Fudge Brownies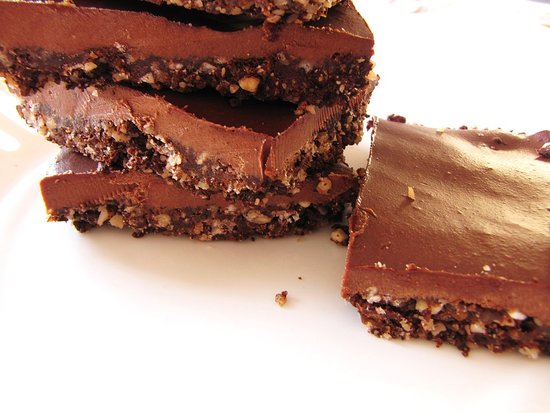 Raw, vegan, and no-bake? Yep, these fudge brownies [5] have it all — they're even gluten free! The raw cocoa in this recipe brings a boost of antioxidants, and the almond butter, walnuts, and almonds deliver a hit of protein.
Source: Peace Through Health [6]
Frozen Nutty Banana Nibbler
Try this healthy — and mini — version of an ice cream sandwich. Banana nibblers [7], filled with a mixture of Greek yogurt and peanut butter, will satisfy your sweet tooth while cooling you off.
Photo: Jenny Sugar
Chilled Vegan Double Chocolate Torte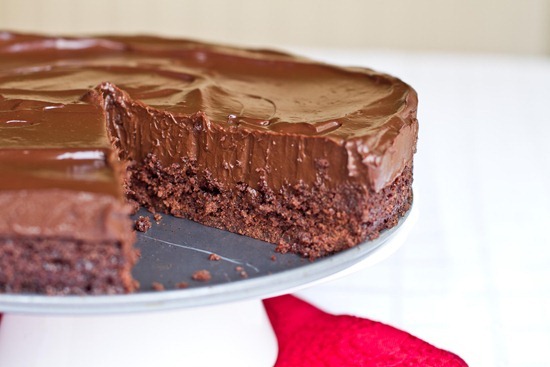 This chilled double chocolate torte [8] from Oh She Glows looks amazing! What's even more extraordinary is that this dessert is vegan and does not require you to turn on the oven. Unbelievable.
Source: Oh She Glows [9]
Strawberry Banana Creams
You only need four ingredients to make these low-cal creamy strawberry poppers [10]. One serving of eight stuffed strawberries contains only 150 calories.
Photo: Jenny Sugar
Banana Chocolate Almond Squares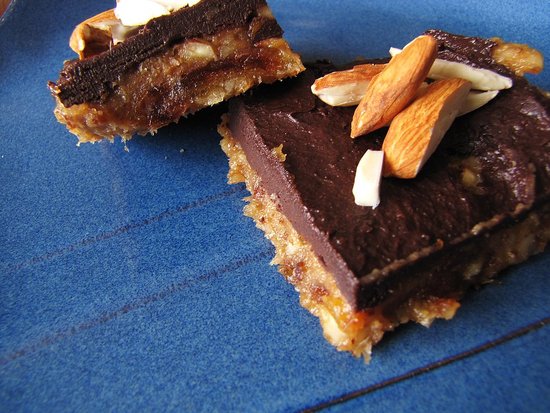 How rich, gooey, and delicious do these no-bake banana chocolate almond squares [11] look? Fans of medjool dates are gonna go crazy for 'em!
Source: Peace Through Health [12]
Raw, Gluten-Free Carob Clusters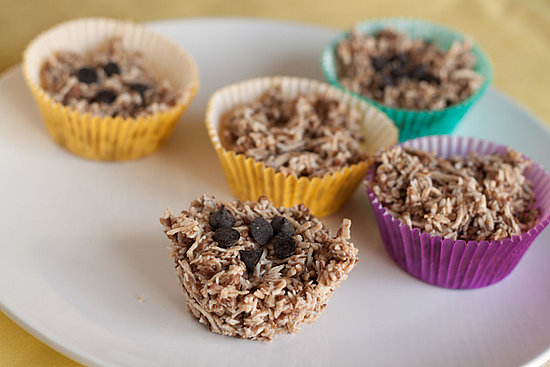 These gluten-free carob clusters [13] are raw, sugar-free, high in fiber, and absolutely delicious. Added bonus: the recipe only takes about 10 minutes to finish!
Source: POPSUGAR user Be-Healthful [14]
Almond Coconut-Crusted Chocolate Bananas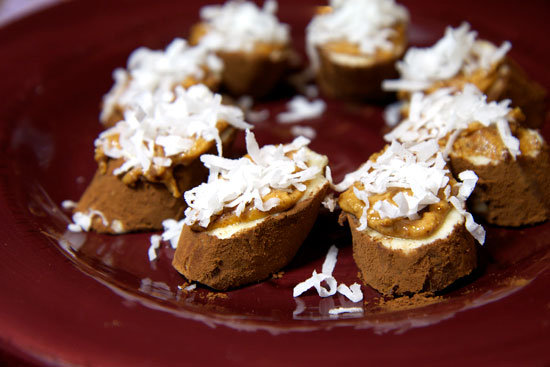 Yes! You can turn a sliced banana into fancy finger food. Rolling the bananas in cocoa powder adds flavor and a touch of class. You can whip up a plateful of almond and coconut banana slices [15] in minutes.
Photo: Jenny Sugar
Vegan Almond Butter Apricot Bites
These apricot almond butter bites [16] are full of protein and flavor. Served with some sliced stone fruit, this cookie-like snack makes a perfect dessert for a hot, summery night.
Photo: Jenny Sugar
Peanut Butter and Honey Balls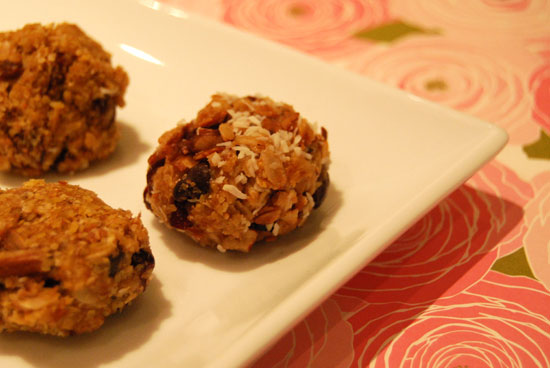 Chock-full of protein, iron, and fiber, these tasty treats are delicious sources of healthy nutrients, but they're also bursting with flavor. These no-bake peanut butter and honey balls [17] are also made without the help of any processed foods.
Photo: Michele Bell
Crispy Vegan Peanut Butter Balls
When it comes to no-bake desserts, cookie balls reign supreme. Our peanut butter balls [18] are made with all-natural peanut butter, wheat germ, rolled oats, and coconut, so they're a healthy treat you can enjoy anytime, and they double as an energy bar.
Photo: Jenny Sugar
Smudgies
You might not guess it from the picture, but smudgies [19] are actually a frozen treat, which makes them perfect for all this hot weather. What is a smudgie, exactly? Bananas and peanut butter mixed together, smashed between two graham crackers, and then frozen. It's always the simple things that taste the best.
Photo: Jenny Sugar
Peanut Butter Crisp Balls
Crispy, crunchy, and chocolatey, no one will believe these peanut butter crisp balls [20] are vegan!
Photo: Jenny Sugar
Paleo Nut Clusters
With only three ingredients, our Paleo nut clusters [21] are a cinch to make. Gluten-free, vegan, and Paleo — everyone on your list will love these.
Photo: Jaime Young
Carrot Cake Protein Balls
These carrot cake protein balls [22] taste so much like the real thing, it's hard to believe they are full of good-for-you protein and fiber.
Photo: Jenny Sugar
Vegan Snickers
Skip all that sugar and hydrogenated oil in store-bought candy bars by making your own vegan Snickers [23] at home. Need to cool off? Pop them in the freezer before enjoying!
Photo: Jenny Sugar
Frozen Yogurt Cupcakes
On those especially hot days, you'll love these frozen yogurt cupcakes [24]. At only 30 calories a pop and made with fresh fruit, these treats are a much healthier alternative to ice cream.
Photo: Jenny Sugar