Skip the standard mayo-laden potato and macaroni salads, and instead opt for a refreshing new side dish or take a creative twist on the classics. When you bring one of these recipes to your Labor Day BBQ, you'll feel lighter, more energized, and just as satisfied.
Rainbow Quinoa Salad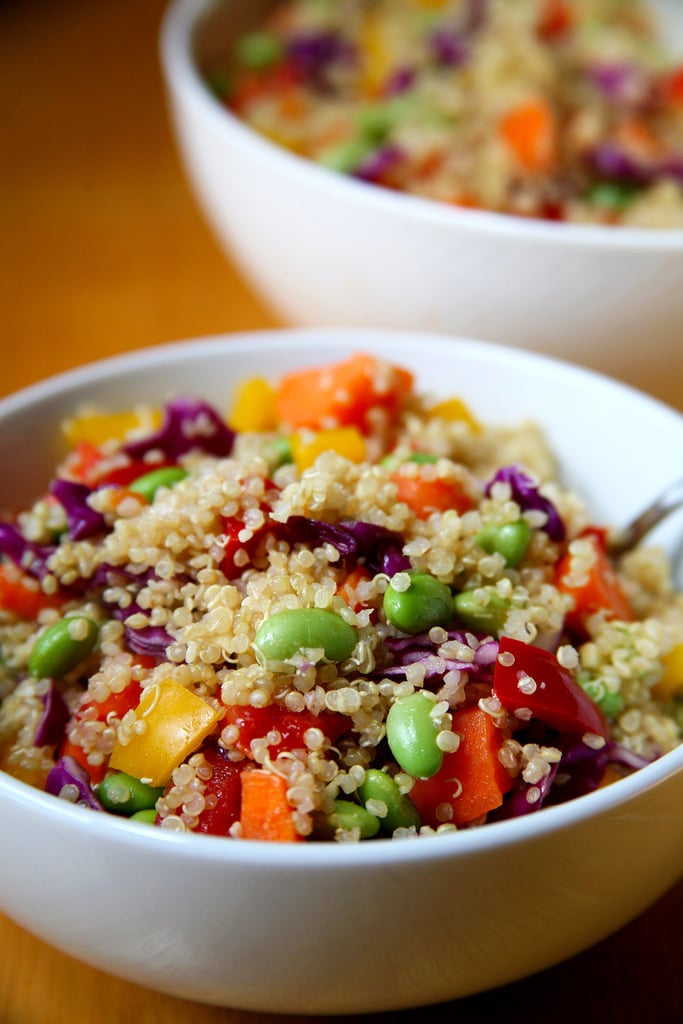 Eat the rainbow with this vibrant quinoa salad [1] that brings a ton of veggies and delectable Asian-inspired dressing to the party. Be sure to save a lunch-size portion at home! This colorful salad will be gobbled up in no time.
Hummus and Sun-Dried Tomato Bruschetta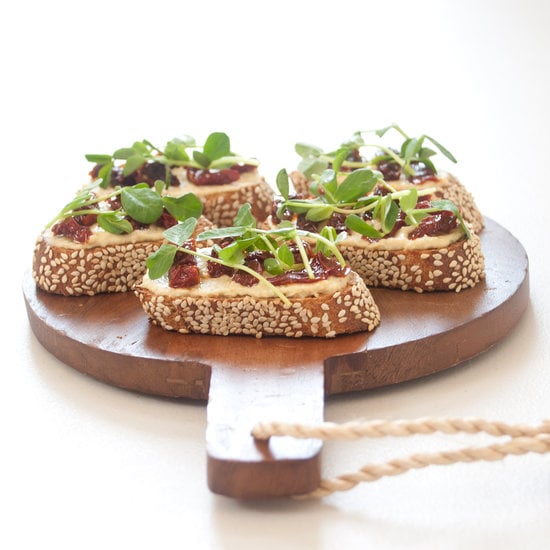 This simple and beautiful recipe for hummus bruschetta [2] from POPSUGAR Food is topped off with fresh pea shoots; they're the perfect green addition to this light and satisfying bite.
Cucumber Cups With Tapenade
Calorie-conscious folks at your BBQ will rejoice: five of these cucumber cups with spicy tapenade [3] weigh in at less than 90 calories per serving.
Sweet and Sour Cucumbers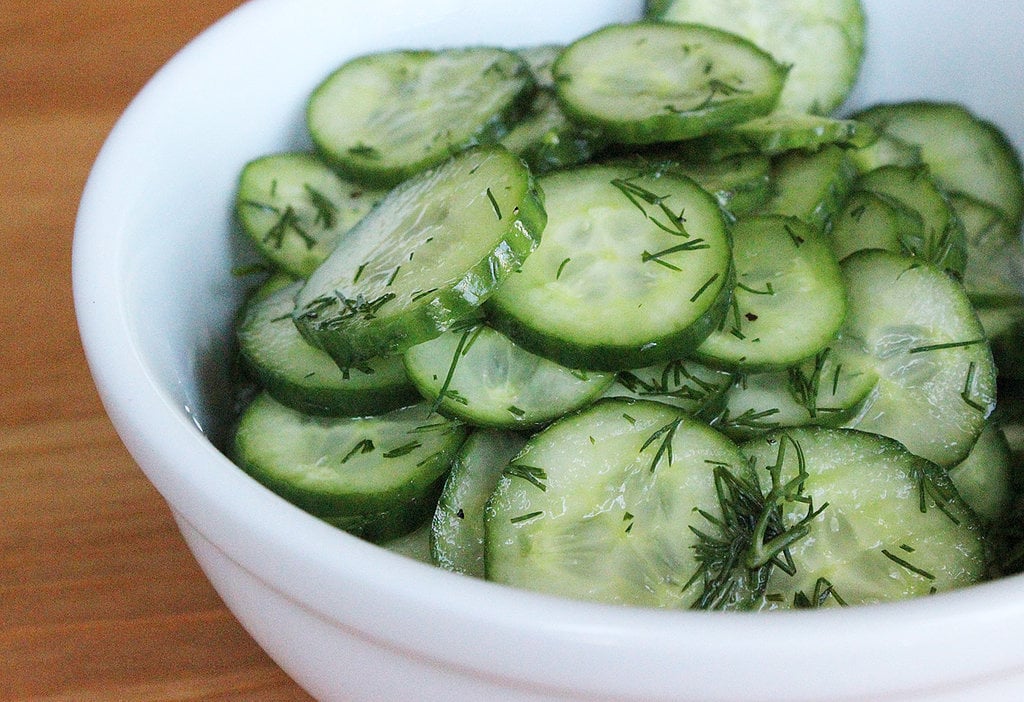 In need of a last-minute side dish? There's nothing easier than sweet and sour cucumbers [4]. Hydrating cukes, tasty dill, and a handful of healthy kitchen staples are all you need to throw this salad together.
Quinoa Burrito Bites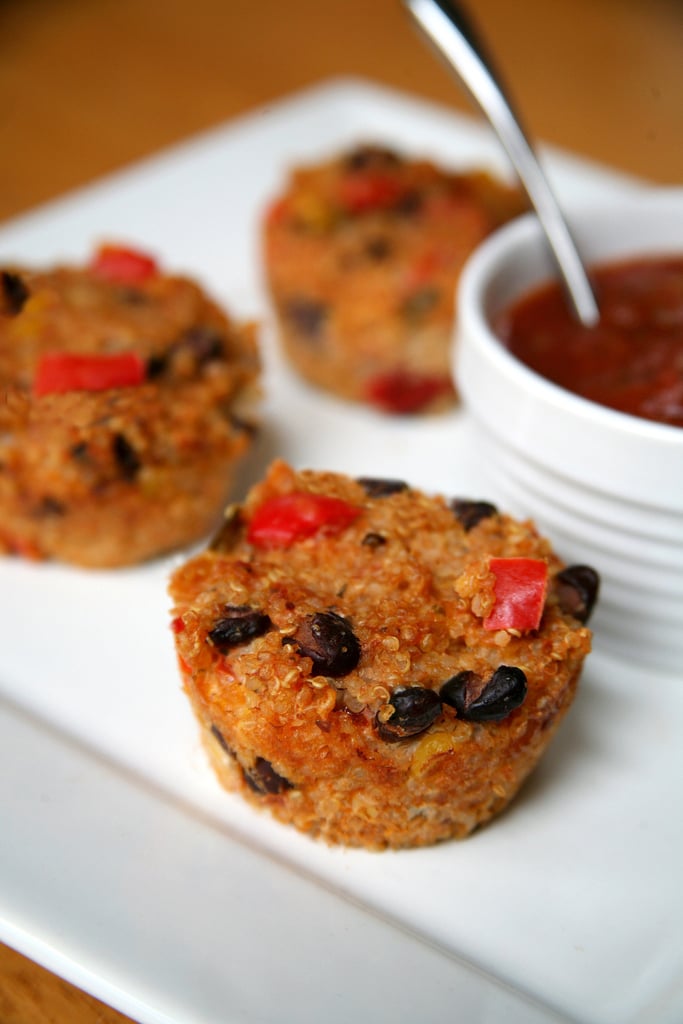 These cute quinoa cups [5] taste just like a bite-size burrito! Roma tomatoes, red pepper, and cheddar cheese are just a few of the ingredients that will make these fiber-rich bites a big hit with your crowd.
Purple Potato Salad
Colorful potatoes, asparagus, and just a little bit of bacon make this mustard-dressed potato salad [6] a perfect alternative to the mayo-laden store-bought stuff.
Source: POPSUGAR user Dara8182 [7]
Avocado Caprese Salad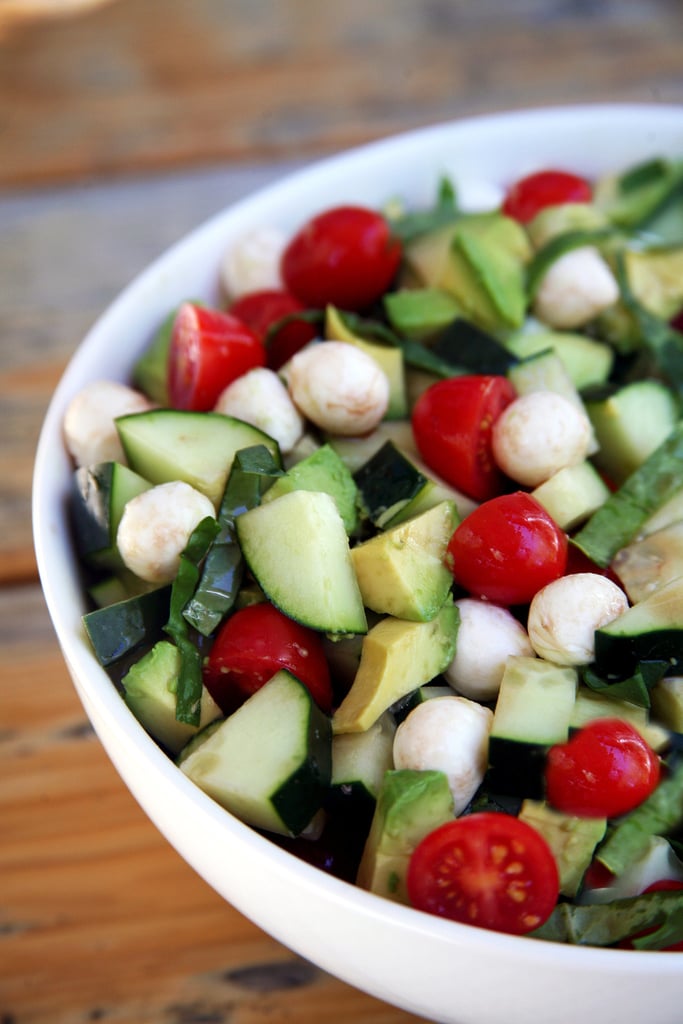 When you toss in omega-3-rich avocado and hydrating cukes, it makes the classic caprese even better. Follow this easy recipe for a nutrient-rich avocado cucumber caprese salad [8]. It will become a staple in your house all Summer long.
Watermelon Caprese Salad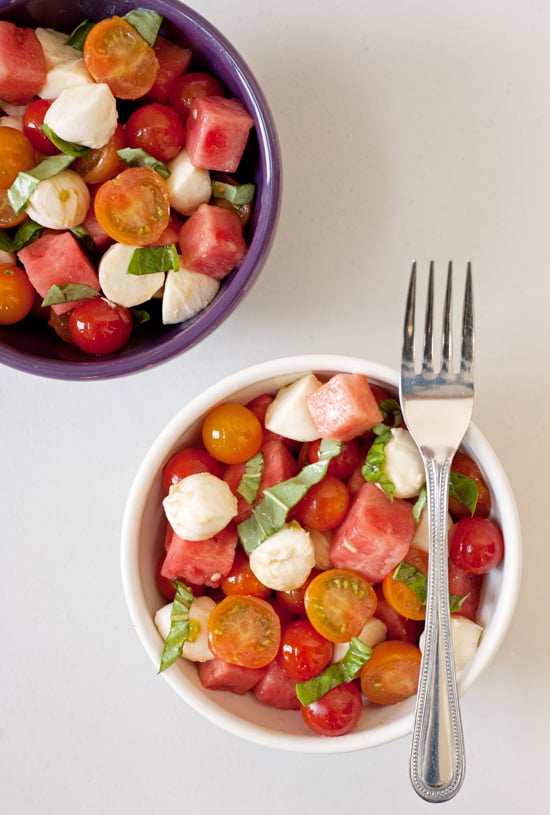 For the another twist on classic, try out POPSUGAR Food's recipe for watermelon caprese salad [9]. It's the perfect way to make the most of leftover watermelon from all your Summer BBQ endeavors.
Black Bean and Mango Salad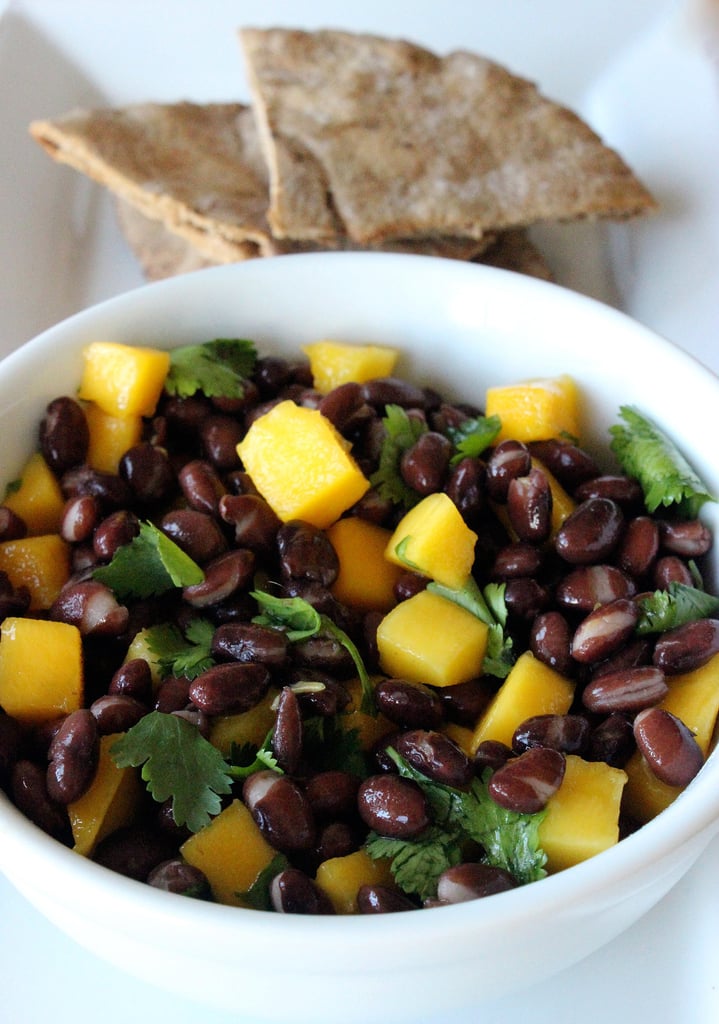 For a hydrating recipe that's packed with protein, bring this quick black bean and mango salad [10] to your special outdoor spread. It's an easy make-ahead recipe everyone will love.
Seven-Layer Dip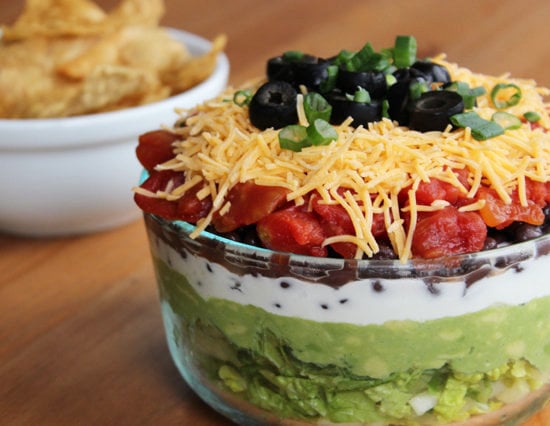 There's nothing simpler than a big bowl of healthier seven-layer dip [11] that uses fresh guacamole, yogurt, and black beans for all the same flavors and textures you love.
Tangy Pasta Salad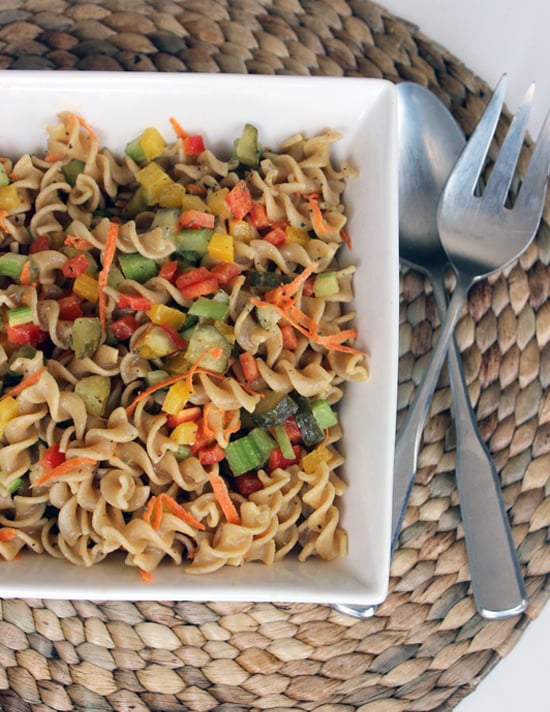 Many macaroni or pasta salad recipes are far too high in fat, calorie, and sodium. Swap out your old recipe for this fiber-filled salad [12]; crisp veggies, whole-wheat pasta, plus a low-fat dressing come together to create a tasty pasta dish that's packed with vitamins A and C.
Greek Yogurt Guacamole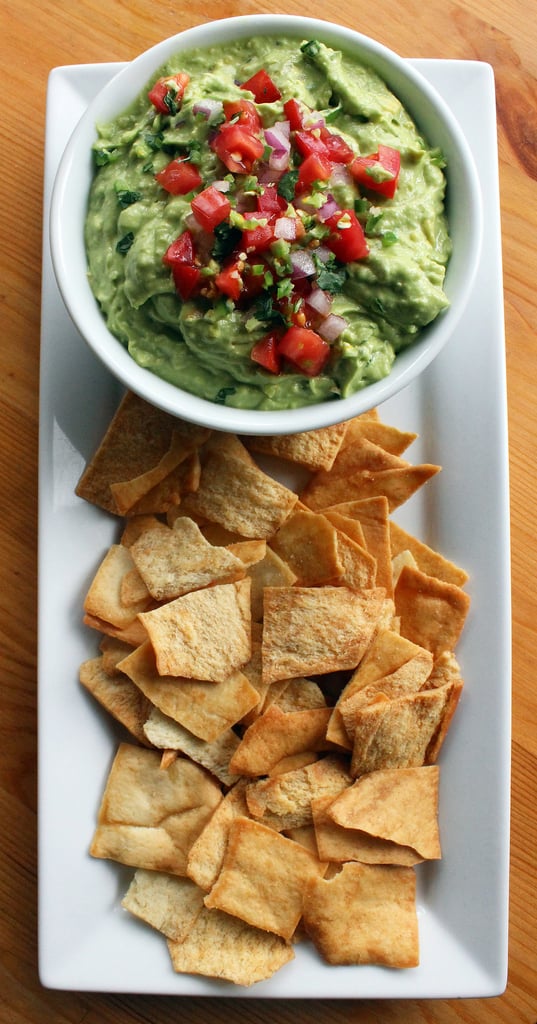 We're big fans of Trader Joe's Reduced-Guilt Guacamole [13], which blends low-fat Greek yogurt with avocados, but we did them one better. Our fresh homemade version [14] has 12 percent less sodium, zero sugar, and yes, more protein.
Curried Chickpea Salad
This curried chickpea salad [15] is a cinch to make; doubling or tripling the recipe will please a crowd.
Mediterranean Nachos
For a twist on a party staple, wow the crowd with this vegan Mediterranean nachos recipe [16].
Lower-Fat Guacamole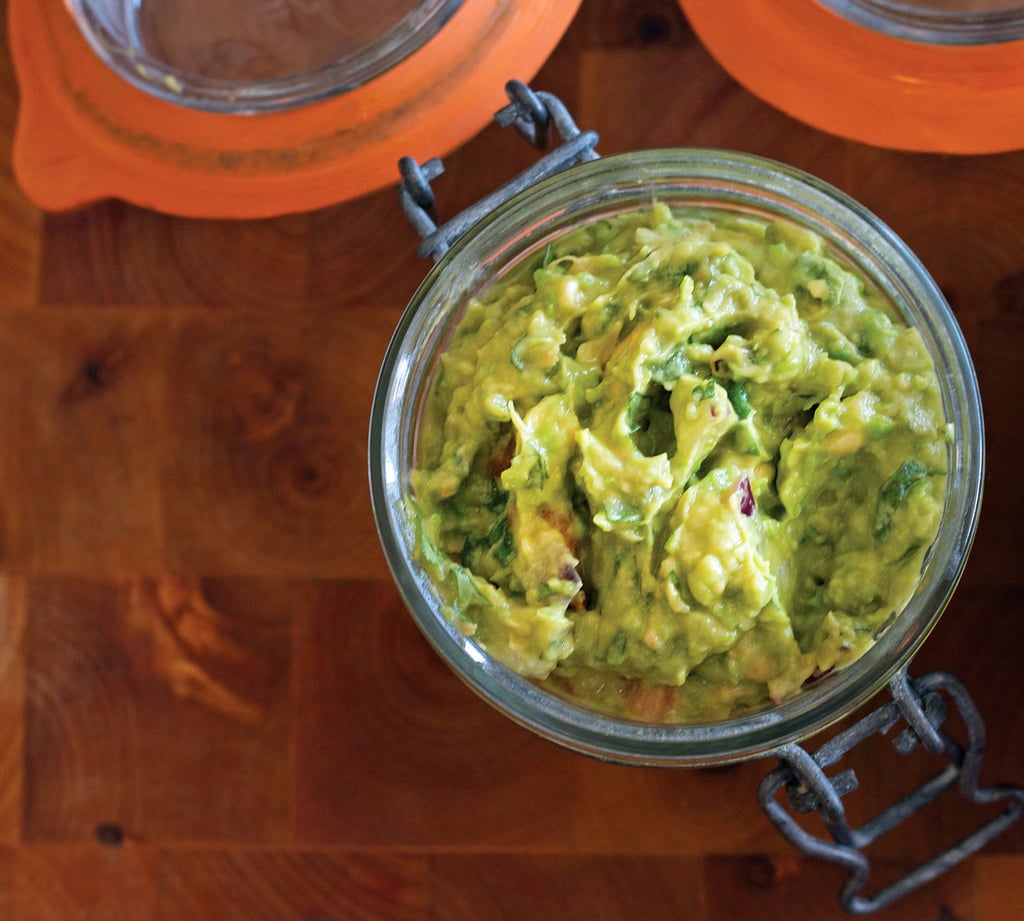 Combining fresh avocados with an equal amount of peas means this surprising low-fat guacamole recipe [17] loses a significant amount of calories (130) and fat (21 grams) in the process, without sacrificing taste.