An unending supply of fresh berries is definitely one of the highlights of Summer. It's fun to eat them fresh, but the amount of recipes you can make with them is staggering. For a home cook, this is pretty close to paradise. From muffins to cocktails — and even pizza! — here are 16 healthy berry recipes that we've got in heavy rotation this season.
Additional reporting by Aemilia Madden
Photo: Lizzie Fuhr
Strawberry Mint Popsicles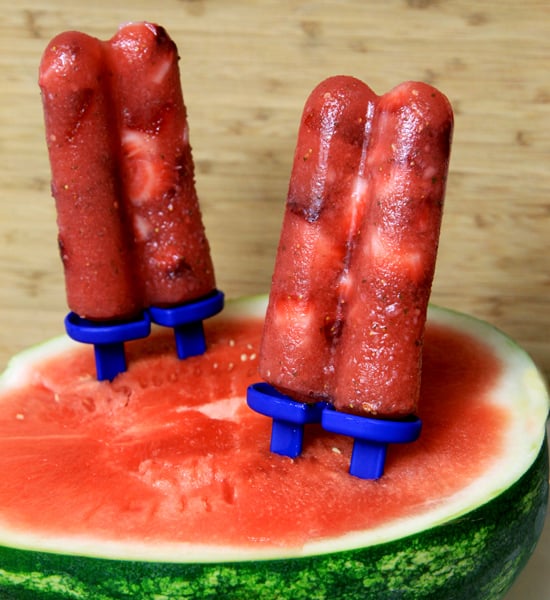 Berries spoil quickly, but this recipe for watermelon mint strawberry popsicles [1] is an easy way to make sure they never go to waste.
Photo: Jenny Sugar
Warm Raspberry-Pistachio Cake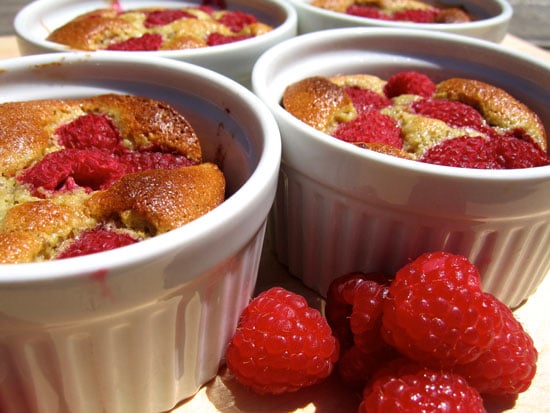 Your guests will love the idea of getting their own individual warm raspberry-pistachio cake [2], but more importantly, they will love how yummy it tastes. The nuttiness of the whole wheat flour complements the pistachio flavor, and the raspberries help give the moist cake a subtle sweetness.
Photo: Susi May
Frozen Raspberry Pie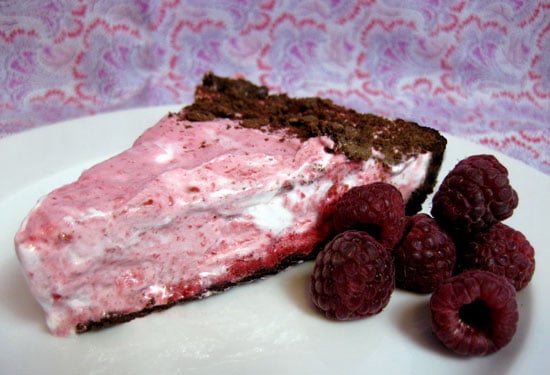 You'll need to give yourself a full eight hours to freeze our frozen raspberry pie [3] before serving, but it's definitely worth the wait. The pie has a creamy texture that screams decadence, but it won't break the calorie bank.
Photo: Jenny Sugar
Whole Wheat Berry Pancakes With Maple Cinnamon Yogurt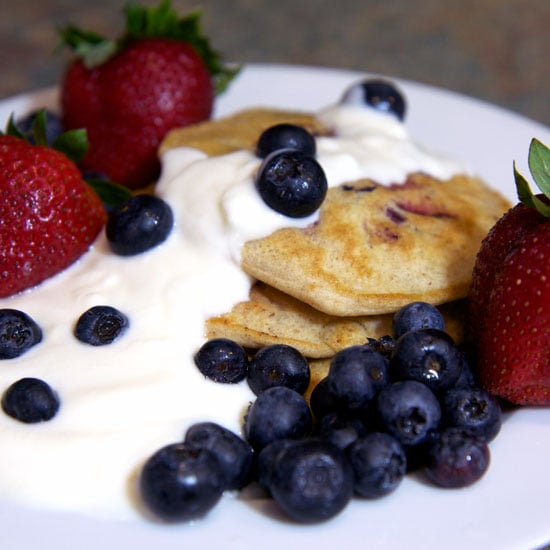 The fruit in these whole wheat berry pancakes with maple cinnamon yogurt [4] adds enough natural sweetness that you won't need to add much sugar to the batter. Go ahead and skip the maple syrup, too. Instead, increase the protein in this dish by topping the pancakes with a creamy maple-flavored yogurt sauce.
Photo: Jenny Sugar
Strawberries With Balsamic Vinegar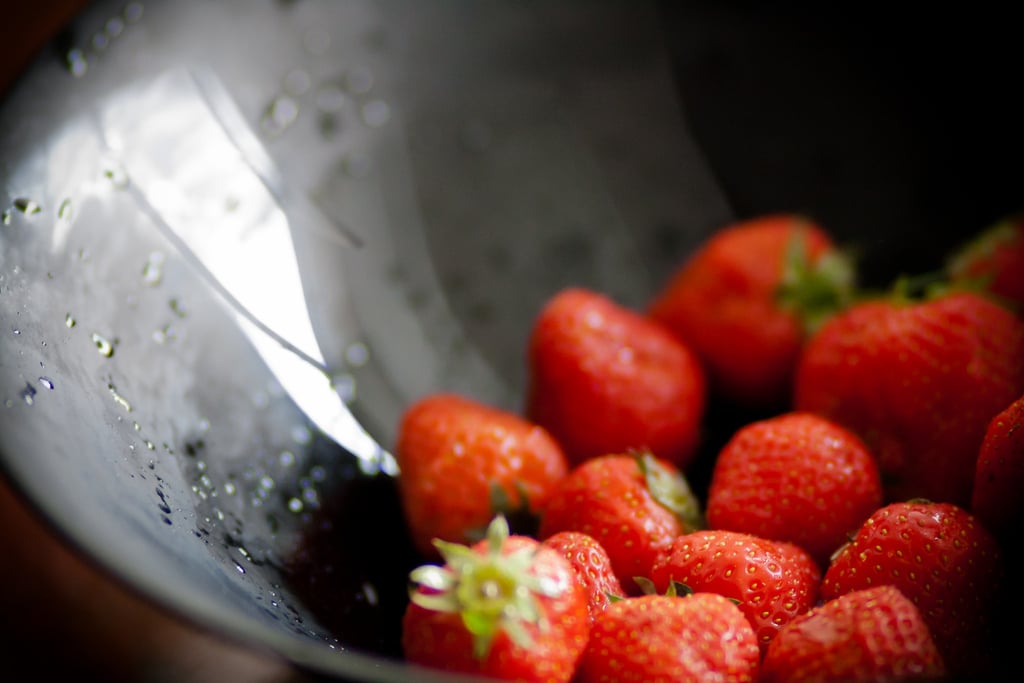 One of our favorite ways to enjoy strawberries is by tossing them with balsamic vinegar [5]. It's almost surprising how well the sweet flavor of strawberries pairs with the tart, acidic flavors of a good balsamic vinegar. This snack is fantastic on a hot day, or a way to enjoy a light, healthy dessert after a meal.
Source: Flickr user Aurelian Săndulescu (: [6]
Blueberry Frozen Yogurt
Frozen yogurt doesn't have to be filled with not-good-for-you ingredients. This recipe for blueberry frozen yogurt [7] keeps things healthy by using nonfat Greek yogurt, honey, and fresh blueberries. All you need is an ice cream maker, and you're ready to go!
Source: POPSUGAR user nestingproject [8]
Almond Blackberry Smoothie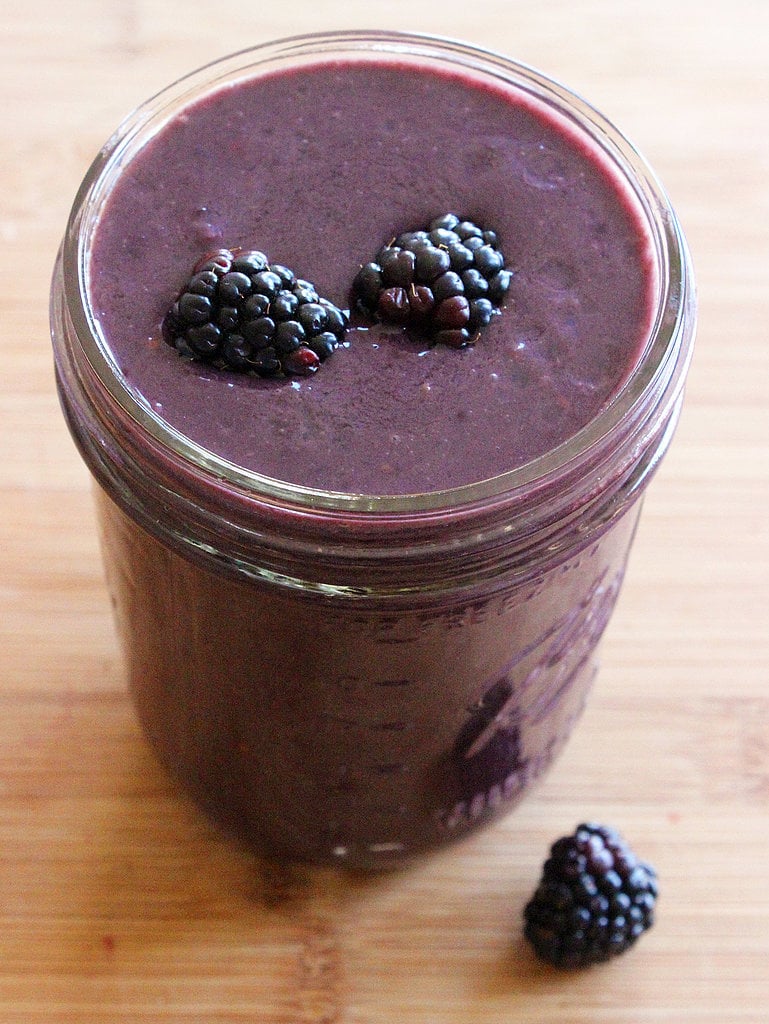 During berry season, a smoothie — like this almond blackberry drink [9] — is the perfect way to start a day. The fruit gives the smoothie a natural sweetness, and the almond milk and protein powder makes it rich and creamy. Almonds are a great addition to smoothies, because they add fiber and protein and give smoothies a slightly crunchy texture.
Photo: Lizzie Fuhr
Gluten-Free Strawberry Crumble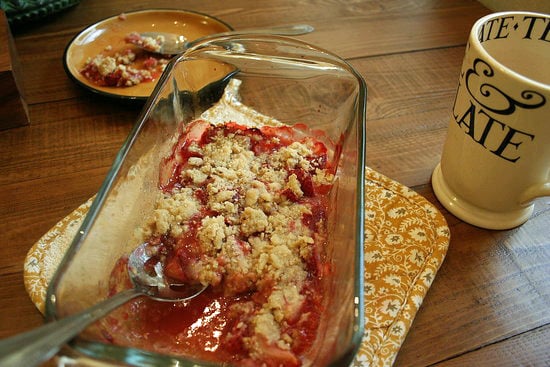 Crumbles and cobblers are a delicious and easy way to enjoy Summer's bounty of berries. However, it's tough to find gluten-free options that actually taste good. The combination of brown rice flour, flax, and oatmeal in this gluten-free strawberry crumble [10] gives it a crunchiness that complements the melt-in-your-mouth fruit. This recipe is also high in fiber and vitamin C and low in sugar.
Photo: Anna Monette Roberts
Strawberry Pizza With Basil and Goat Cheese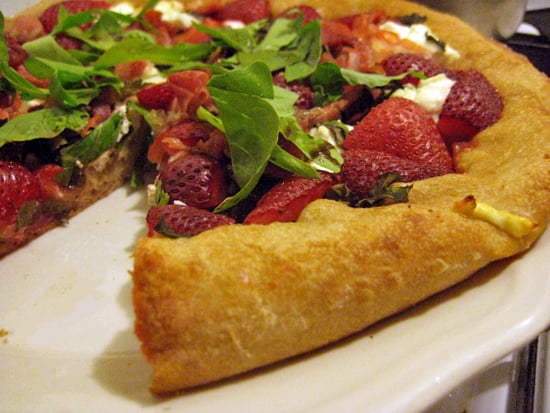 Strawberries aren't just about muffins, cakes, and ice cream; they also work well in savory dishes. On your next pizza night, make a batch of our whole wheat pizza dough [11], and then get started on this strawberry pizza with basil and goat cheese [12]. The flavors of the basil, arugula, goat cheese, and prosciutto complement the sweetness of the strawberries to make a healthy pizza that's a little unexpected.
Photo: Leta Shy
Tequila Bramble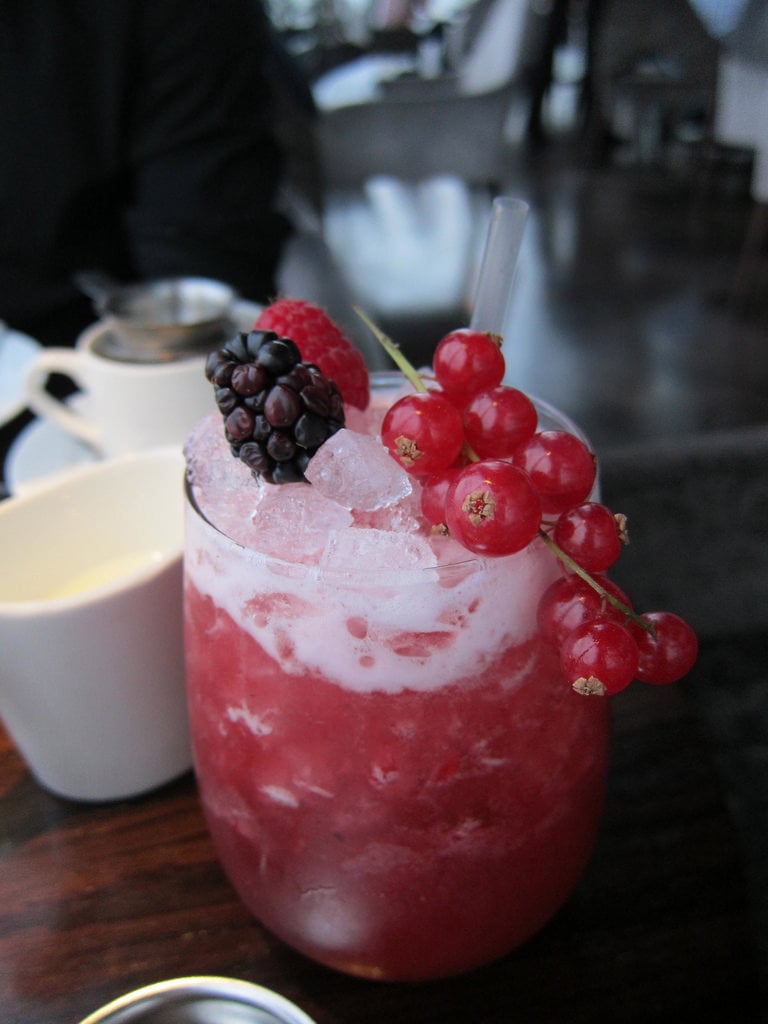 A mixture of gin, lemon, fresh blackberries, and blackberry liqueur, the bramble is a classic Summer cocktail. Change things up a bit and make it even more warm-weather friendly with this variation of the classic — the tequila bramble [13]. The whole drink is under 200 calories!
Source: Flickr user HannahWebb [14]
Strawberry-Coconut Ice Cream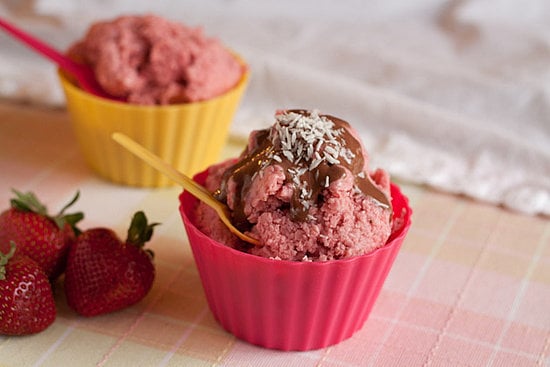 Who says you need an ice cream maker to enjoy a homemade frozen treat? Not this recipe for strawberry-coconut ice cream [15]. The mixture of light coconut milk, fresh strawberries, and just a hint of sugar makes this recipe a go-to treat for the Summer.
Source: POPSUGAR user be-healthful [16]
Protein Lemon-Raspberry Muffins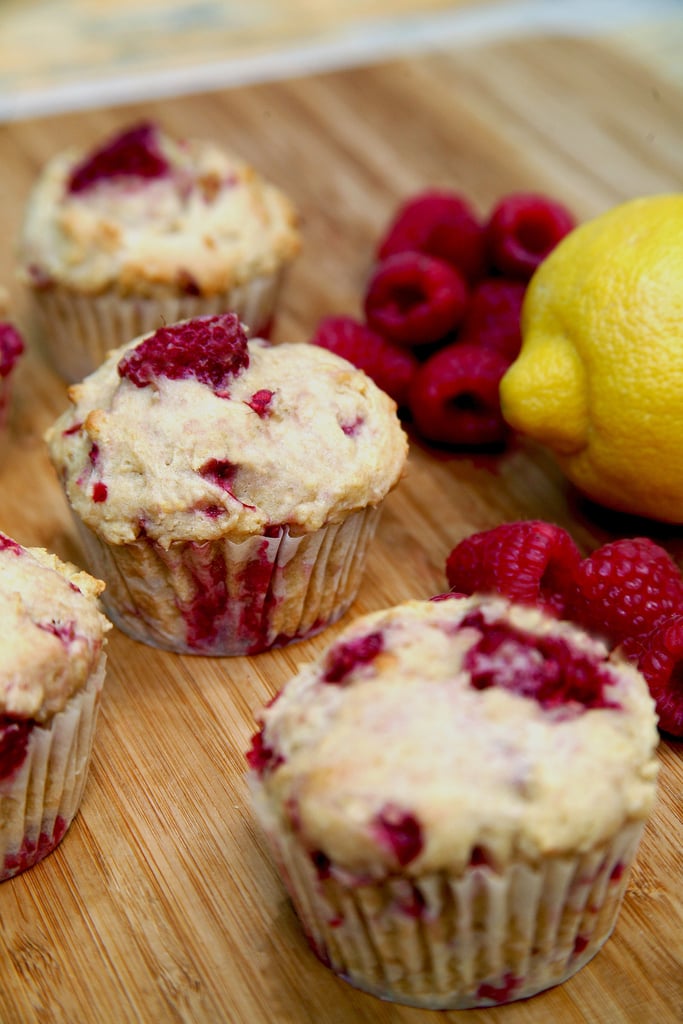 Just one of these lemon-raspberry muffins [17] delivers five grams of protein to your diet — pretty nice for a sweet treat! It's also full of calcium, vitamin C, and a nice dose of fiber.
Photo: Jenny Sugar
Summer Fruit Salad With Mint and Almonds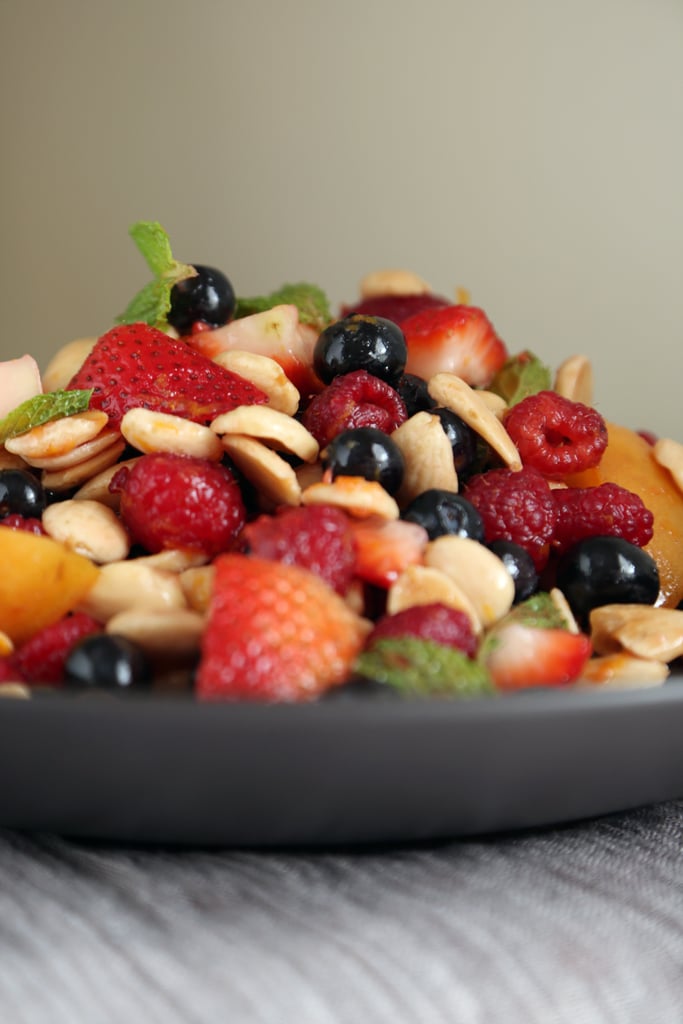 For a refreshingly sweet dish, whip up this berry-filled Summer fruit salad [18]. The almonds add an extra punch of protein to help fill you up, but be sure to skip the sugar to keep this recipe light and refreshing.
Photo: Anna Monette Roberts
Strawberry-Basil Limeade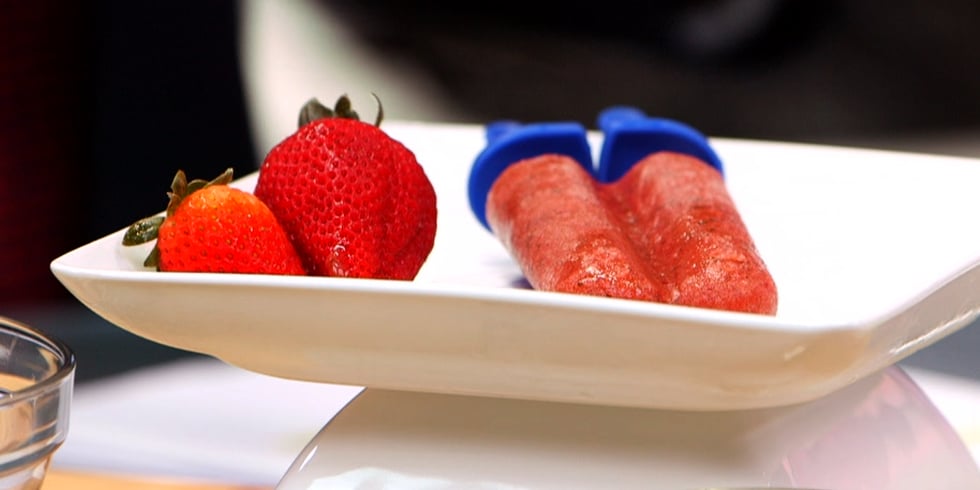 For a light refresher, cool off with a
strawberry-basil limeade popsicle [19] that is simple to whip up at home.
Source: POPSUGAR Studios
Strawberry Banana Creams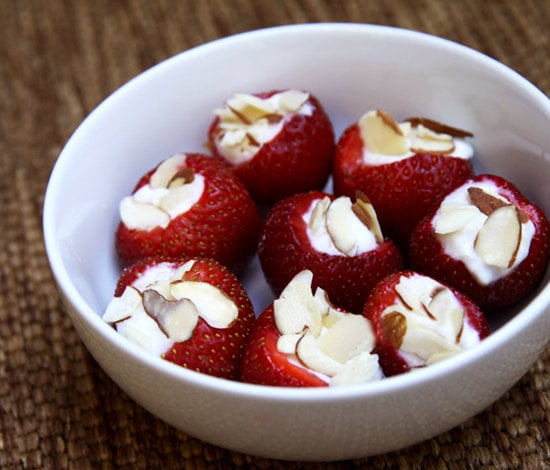 If you love strawberry cheesecake, these strawberry banana creams [20] are a deliciously healthy alternative.
Photo: Jenny Sugar
Kale, Blueberry, and Quinoa Salad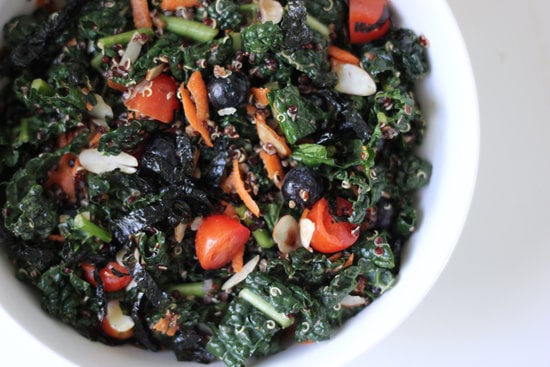 Enjoy the tart taste of blueberries in a savory dish with this kale and quinoa superfood salad [21] that is packed with vitamins.
Photo: Leta Shy