Healthy Creamy Kale Dip Recipe
Healthy Holiday: Creamy Low-Calorie Kale Dip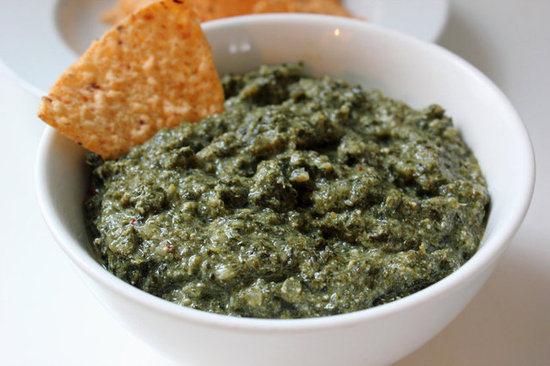 Almost everyone loves spinach dip, but the same can't be said for the appetizer's calorie count, which can clock in at 280 calories for a 1/4-cup (four-tablespoon) serving. At your next holiday party, please taste buds and diet plans alike by swapping the calorie-busting spinach dip with this kale ricotta dip. It tastes almost as creamy and just as delicious — seriously, you'll be surprised. And at only 24 calories per 1/4-cup serving (not to mention a good dose of vitamin A), it's practically guilt free. Serve with sliced veggies or baked pita chips and save even more calories!
Keep reading for the recipe.
Notes
If you don't have a food processor, a blender works fine. Just make sure you slice the kale leaves into smaller pieces and take care to remove tough ribs for easier blending.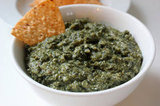 Ingredients
1 bunch green kale, stems and tough ribs stripped out and discarded, leaves sliced
1 small onion, sliced
4 cloves garlic
1/4 cup water
3/4 cup low-fat ricotta cheese
1 1/2 tablespoons parmesan cheese
Juice of 1 lemon
Lemon zest to taste
1/4 teaspoon sea salt
1 teaspoon red pepper flakes, or to taste
Directions
In a large saucepan, combine kale, onion, garlic and 1/4 cup water. Set over medium heat, cover and cook, stirring occasionally, until vegetables are very tender, about 12 minutes; add more water a tablespoon at a time if the pan dries out.
Transfer vegetables and any liquid in the pan to a food processor or blender and let cool a few minutes. Add ricotta, parmesan, lemon juice and zest, salt and pepper flakes. Process until smooth.
Transfer to a bowl and serve.

Source: Calorie Count
Information
Category

Appetizers, Dips