Cucumbers don't just hydrate — there's more to this nutritious treat [1]. Cucumbers are a good source of vitamin C and fiber, not to mention silica, which is responsible for healthy tissue, bones, and skin. Luckily, Summer is the perfect time to enjoy this refreshing veggie. Check out these 12 cucumber recipes that will help you beat the heat!
— Additional reporting by Aemilia Madden
Chilled Cucumber Mint Soup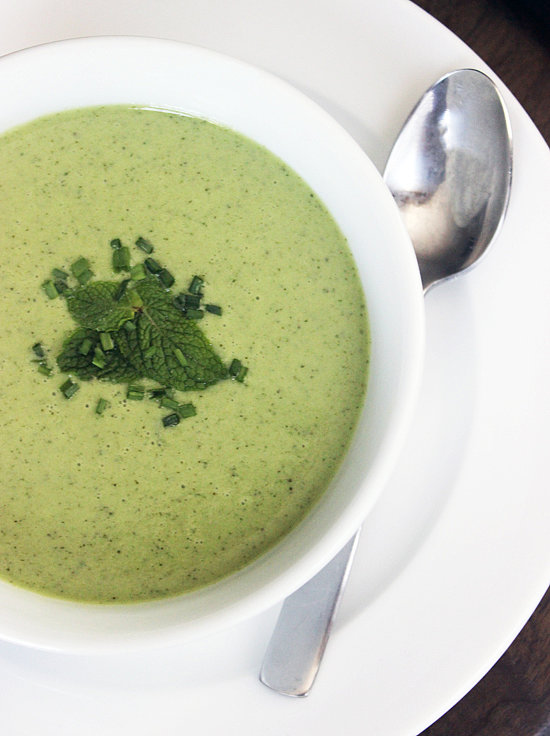 Detox and cool off with this doubly refreshing (and detoxifying!) cucumber mint soup recipe [2].
Photo: Lizzie Fuhr
Cucumber Caprese Salad
Summer crops are full of tomatoes and cucumbers, so make the most of these nutritious treats with a cucumber caprese salad recipe [3].
Photo: Jenny Sugar
Sweet and Sour Cucumbers
The perfect complement to a sunny outdoor barbecue? Thinly sliced cucumbers, lightly pickled in sugar, vinegar, and dill. This recipe for sweet and sour cucumbers [4] will stand up to all your grilled meats and veggies while still being a light and refreshing side.
Photo: Lizzie Fuhr
Roasted Chickpea and Cucumber Salad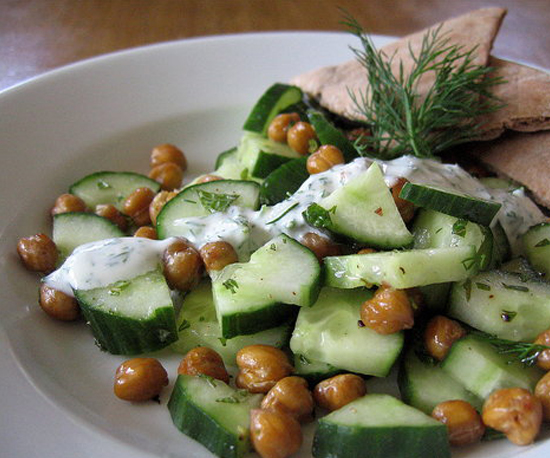 Chickpeas are a dieter's friend; the high-fiber, high-protein beans help keep you full without all the calories. Try them in this light but filling salad: roasted chickpea and cucumber salad recipe [5].
Photo: Susi May
Cucumber Seaweed Salad
Seaweed is a very good source of many nutrients, like iron and manganese, as well as important vitamins. Try this cucumber wakame salad recipe [6] the next time you're in the mood for an Asian-inspired snack.
Source: Flickr User Fotoos Van Robin [7]
Veggie Crab Cukes
Want a low-carb appetizer option? Top thick slices of cucumber with a creamy (yet vegan) crab concoction, like blogger Vegan Feast does with this recipe for veggie crab cukes [8].
Source: Flickr User norwichnuts [9]
Cucumbers With Cooling Greek Dip
Don't reach for the ranch dressing the next time you want to jazz up your veggies. Make this tzatziki-inspired Greek ranch dip [10] instead. It uses Greek yogurt to cut calories and cuts down on salt by adding flavor with fresh herbs and spices.
Photo: Anna Monette Roberts
Chilled Cucumber Avocado Soup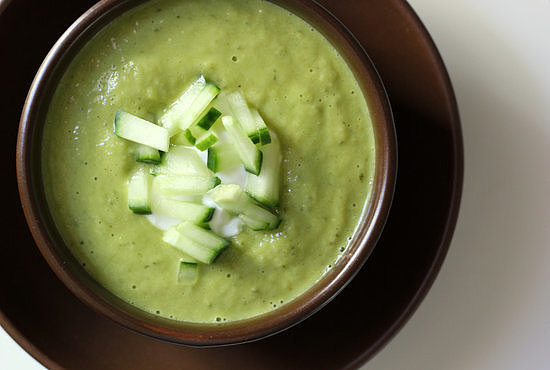 A chilled cucumber and avocado soup is perfect for any Summer day; not only will it help you cool off and hydrate, but also the ingredients will help you feel your flat-belly best. Get the recipe for chilled cucumber avocado soup here [11].
Photo: Leta Shy
Southeast Asian Tomato Cucumber Salad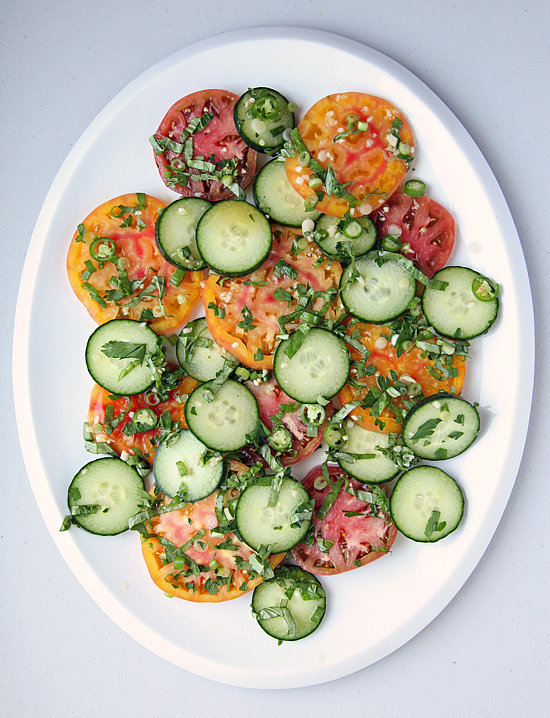 Impress your friends at your next potluck by bringing over this light and simple tomato cucumber salad [12] that will serve as a healthy option on the picnic table.
Photo: Nicole Perry
Mango Cucumber Watermelon Salad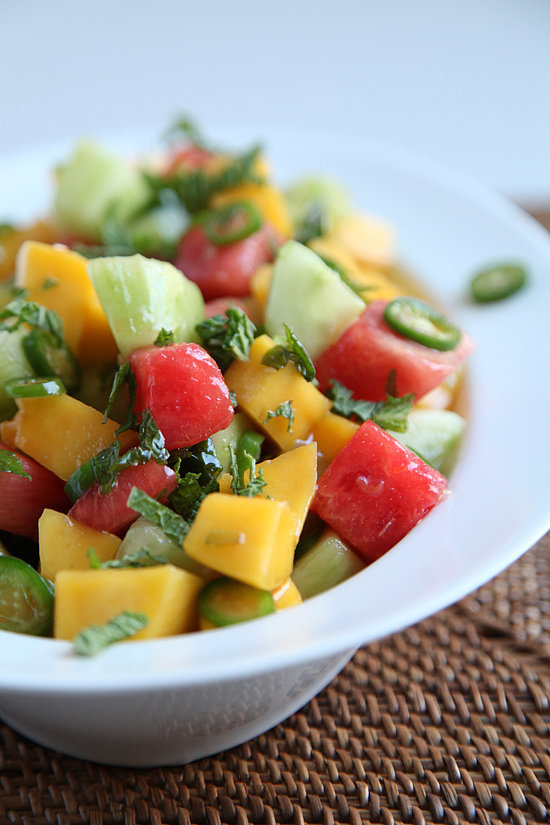 For a fresh spin on a Summer salad, mix sweet fruits with refreshing cucumber and jalapeño for a savory fruit salad [13] with a deliciously spicy kick.
Photo: Nicole Perry
Moroccan Cucumber Salad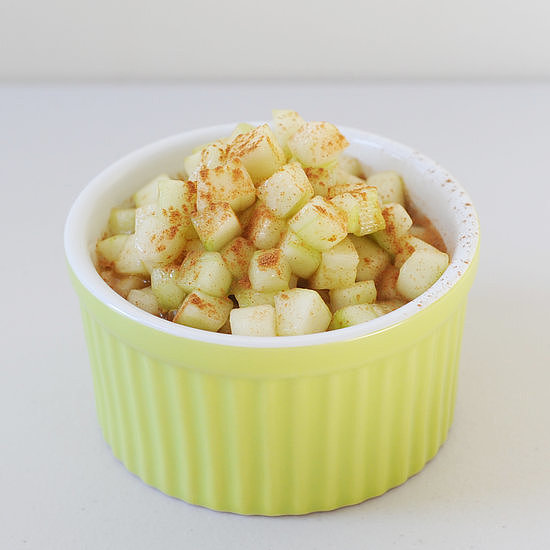 This deliciously simple cinnamon and citrus cucumber salad [14] is a refreshing and slightly sweet dish that is great for snacking or as a healthy side to lighten up a Summer meal.
Photo: Nicole Perry
Sesame-Soy Cucumber Salad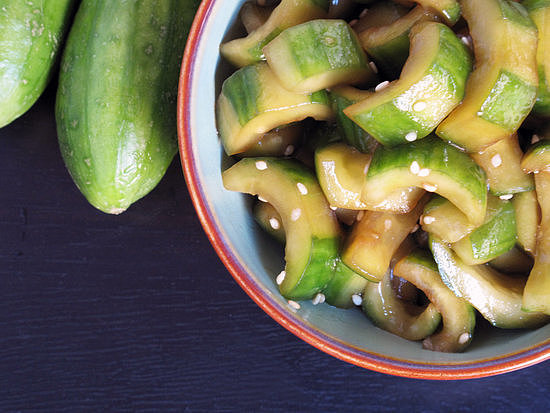 Beat the Summer heat with a crunchy and flavorful salad [15] that is a great way to enjoy traditional flavors of Chinese cuisine without the extra calories.
Photo: Susannah Chen
Cucumber-Mint Gin Cocktail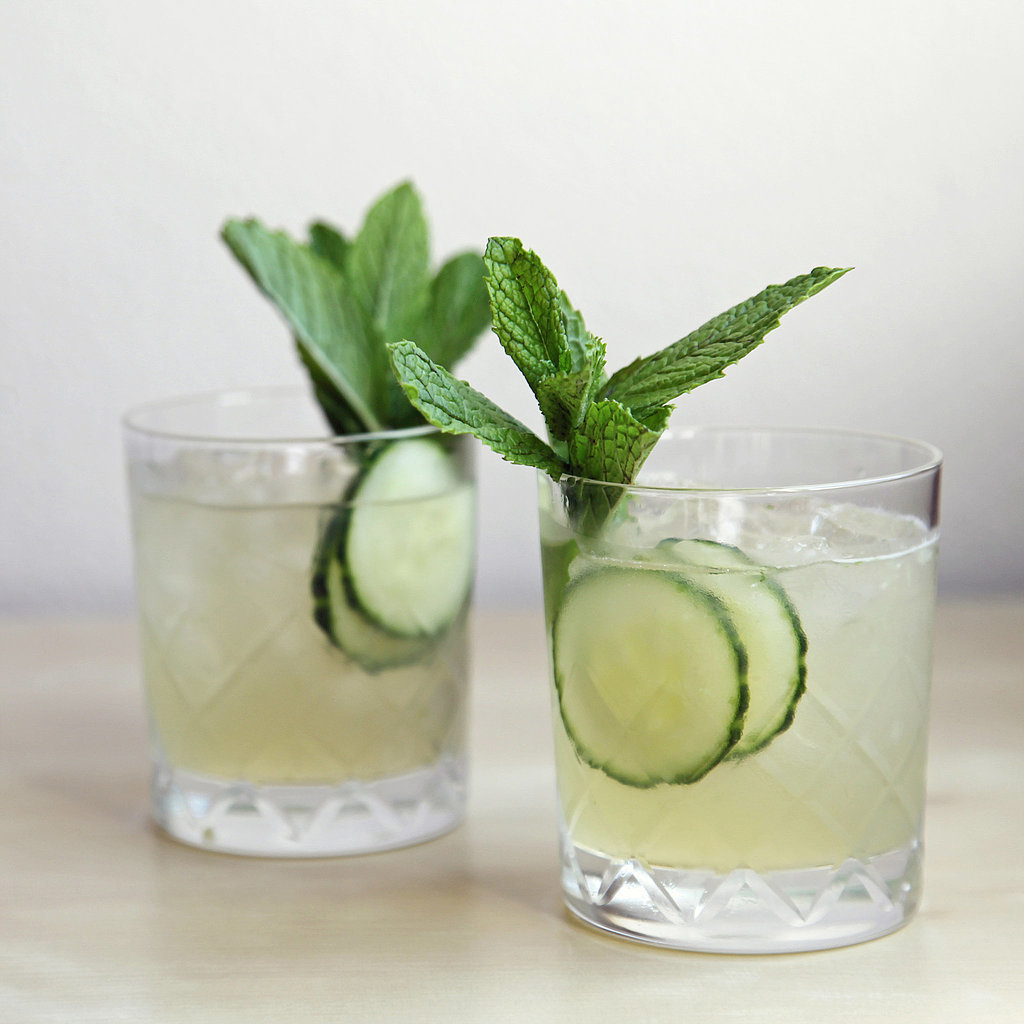 Skip a high-calorie frozen drink and sip on a refreshing cucumber cocktail [16] instead.
Photo: Nicole Perry
Watermelon-Mint Cucumber Cooler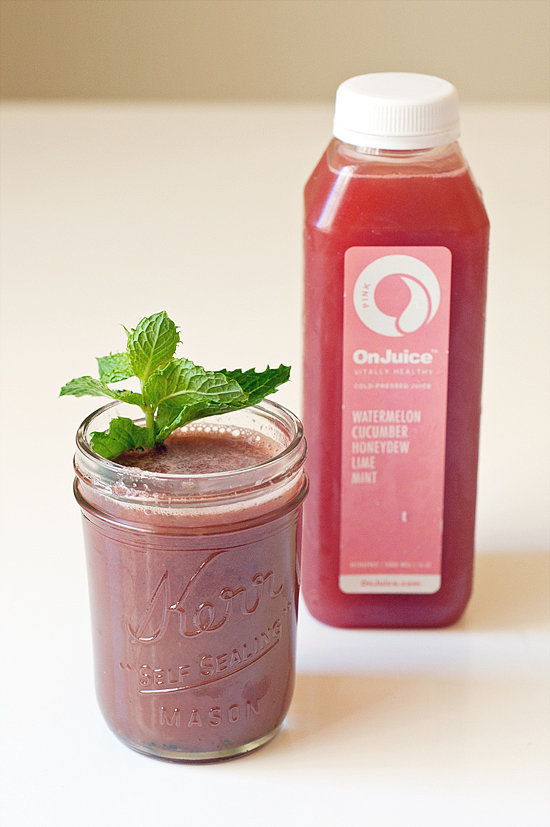 If you live for green juices, this hydrating cooler [17] is a refreshing and healthy way to sip your daily doses of antioxidants and vitamins.
Photo: Michele Foley
Cucumber Cups With Tapenade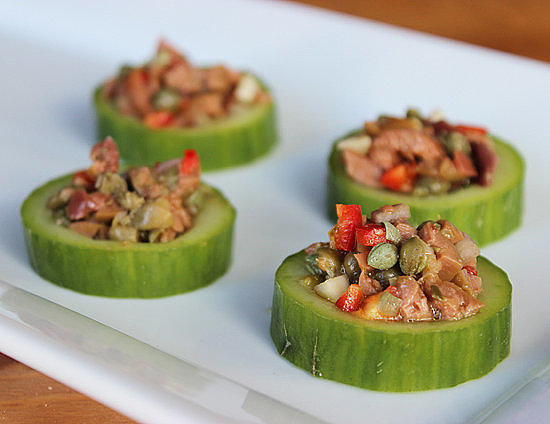 For a light appetizer that tastes rich and delicious, snack on these cucumber cups with tapenade [18]. Each serving comes in at under 90 calories!
Photo: Lizzie Fuhr
Vegan Cucumber Tofu Rolls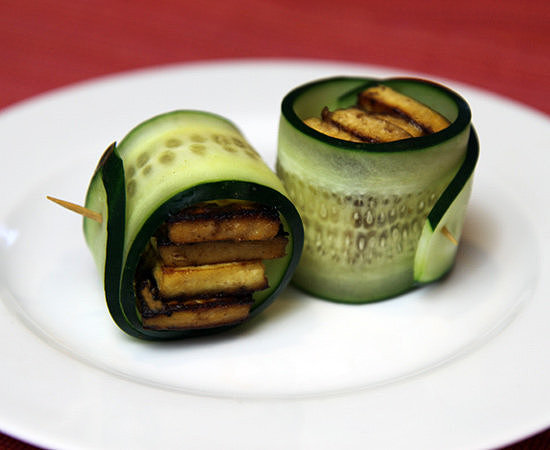 For a protein-packed snack that will leave you feeling full for hours, try these vegan-friendly cucumber tofu rolls [19].
Photo: Leta Shy
Cucumber Water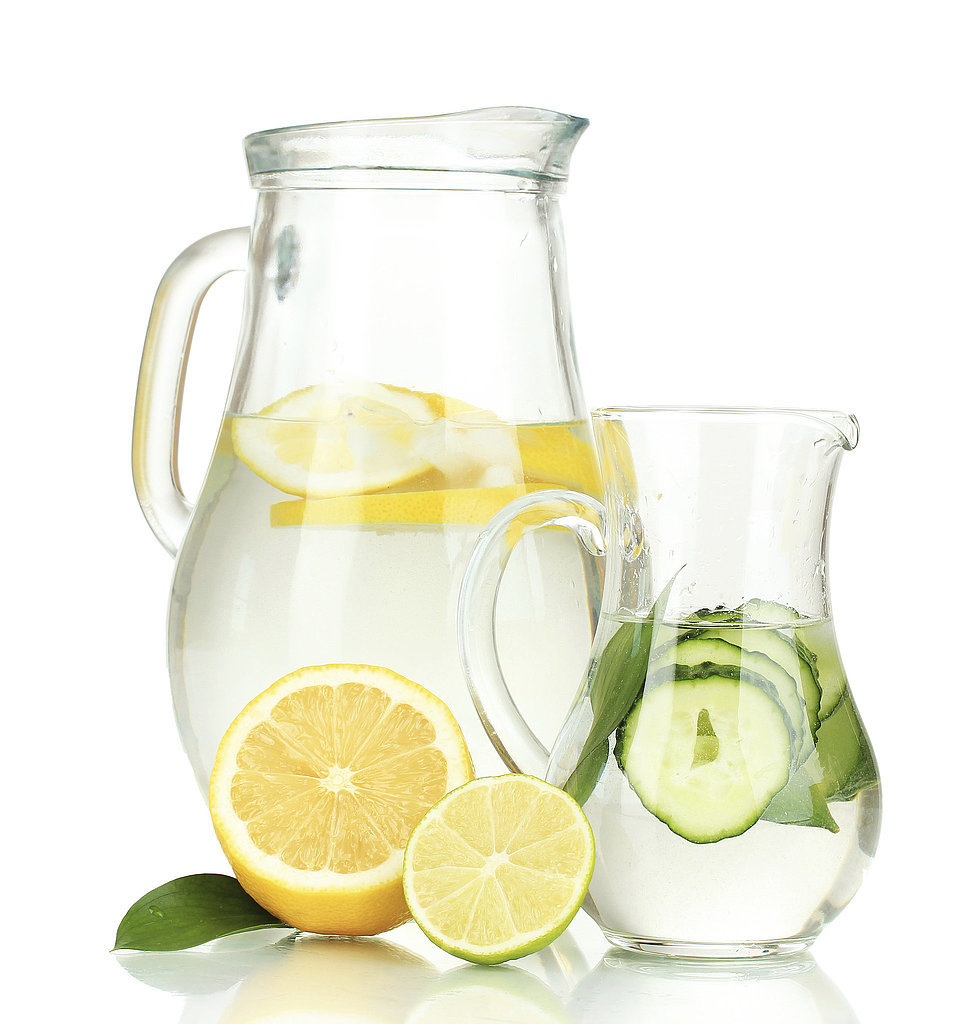 Make the most of cucumber's anti-inflammatory properties by tossing a few slices into your water. This simple drink [20] will keep you healthy and hydrated all Summer long.