When you need to change up a stale lunchtime routine, a sandwich is the perfect place to start. Something as simple as two pieces of bread leaves room for an indefinite amount of stacked creations. And when done the right way, it makes for a filling, healthy, and nutrient-rich option. Let the brown-bagging begin.
Avocado Chicken Salad Sandwich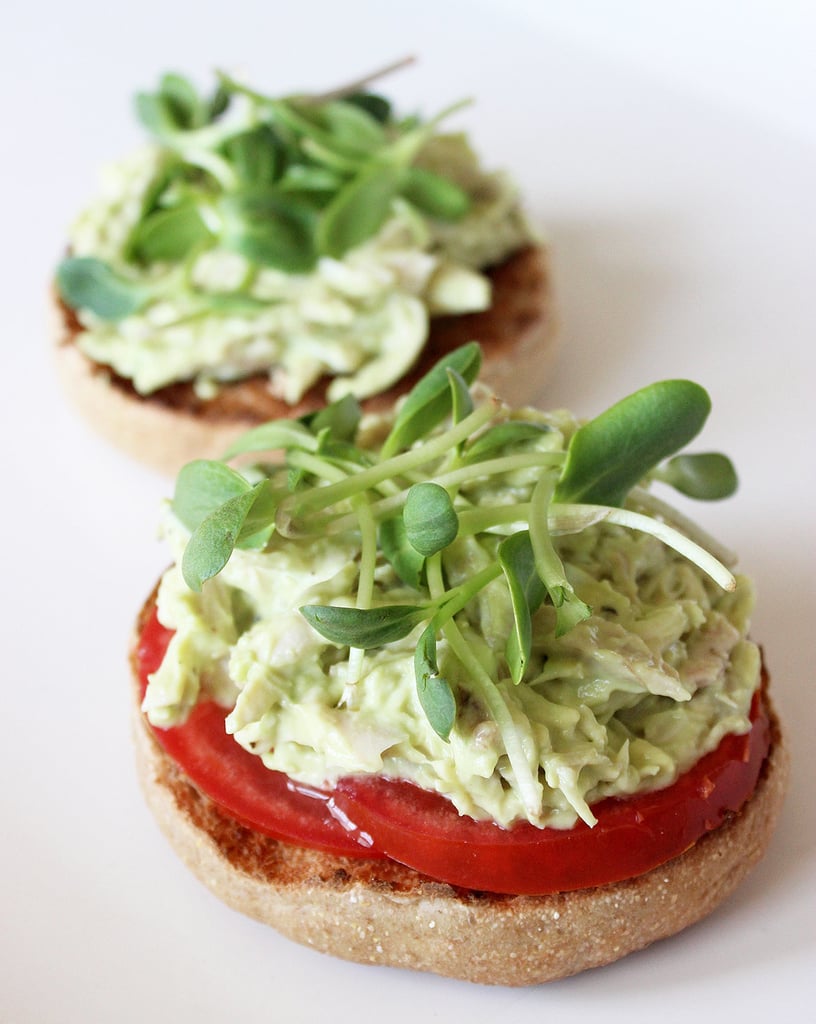 Forget what you heard — a chicken salad sandwich doesn't have to be mayo-laden. This four-ingredient recipe [1] gets its creaminess from smashed avocado and yogurt.
Chunky Chickpea Salad
Use a food processor to lightly chop chickpeas, celery, and onion; to this, add some lemon juice, cider vinegar, and a little salt and pepper. Now you've got a tasty and protein-packed spread to add to whole-grain bread stacked with roasted red peppers, caramelized onions, and fresh spinach.
Fig, Banana, and Almond Butter Panini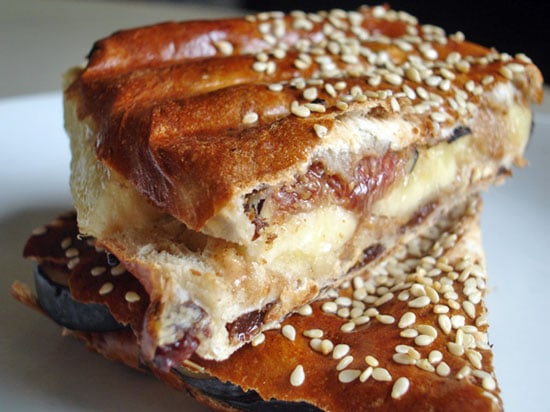 Do yourself a favor and enjoy a fig, banana, and almond butter panini [2]. If fruit and nut butter sandwiches aren't your thing, then pair figs with lean roast pork or prosciutto.
Turkey Caprese Panini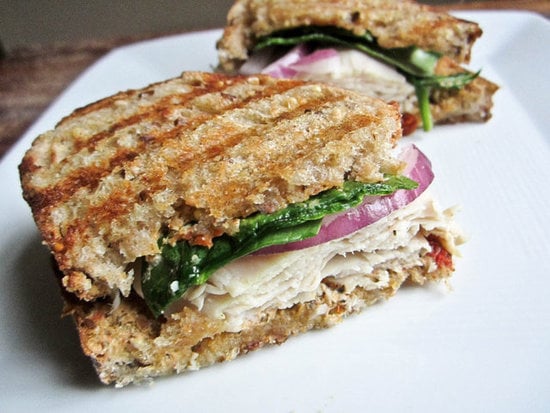 There is so much goodness on this turkey caprese panini [3]: turkey, sun-dried tomato, goat cheese spread, red onion, and spinach.
Vegan Chicken Salad
Mix up some mock chicken salad using a meatless chicken patty, Nayonaise, veggies, and fresh herbs.
Roasted Veggie Sub
Start with a whole-wheat roll and then fill it with roasted eggplant and red peppers [4], artichoke hearts, sun-dried tomatoes, light mozzarella, lettuce, and tomato. Don't forget a little drizzle of olive oil and balsamic vinegar!
Tuna Salad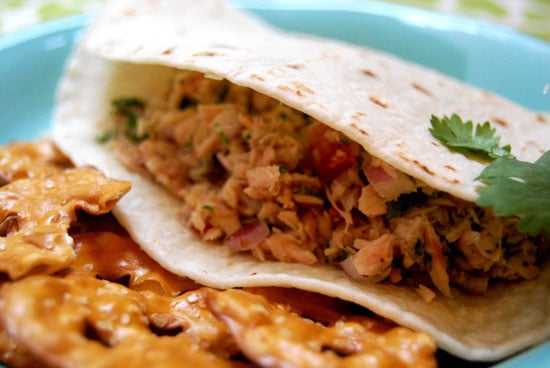 Got a hankering for tuna salad but can't stomach all the calories? This tuna salad recipe [5] substitutes lemon and olive oil for mayonnaise, giving you a protein-packed meal full of healthy fats.
Roasted Red Pepper, Portobello, and Smoked Gouda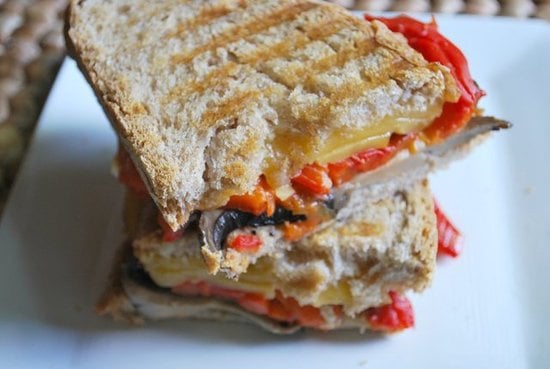 Grilled cheese gets an upgrade in this roasted red pepper, portobello, and smoked gouda sandwich [6]. The mushrooms add a meaty texture that both carnivores and vegetarians will love.
Turkey and Apple Pita Pocket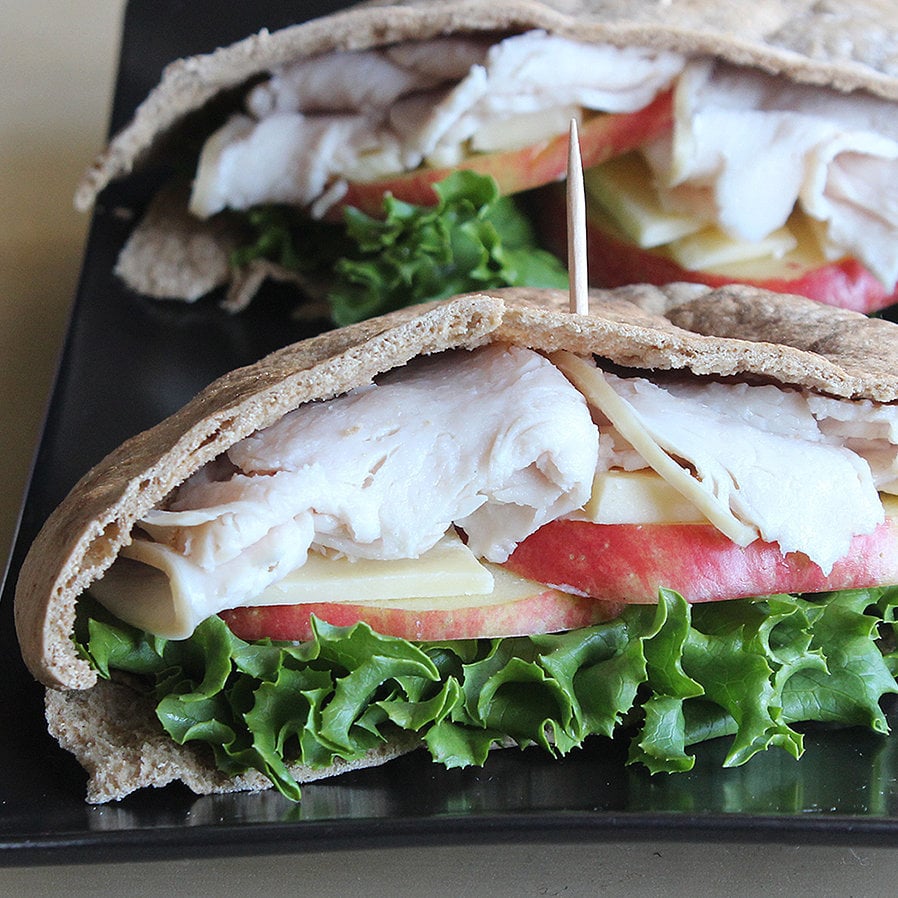 Save money and make sandwiches healthier by roasting your own sandwich meat [7]. Turkey is incredibly easy to roast and can give you a week's worth of sandwiches, salads, and more! Pair turkey with apple and a little bit of cheese for a well-rounded meal that will keep you satisfied until dinner.
Vegetarian Bánh Mì
The classic bánh mì goes veggie! Use marinated seitan or tempeh, and add shredded pickled carrots and radishes and sliced cucumbers and jalapeño. Finish it off with a little mayo and a touch of fresh cilantro.
Greek Yogurt Chicken Salad Sandwich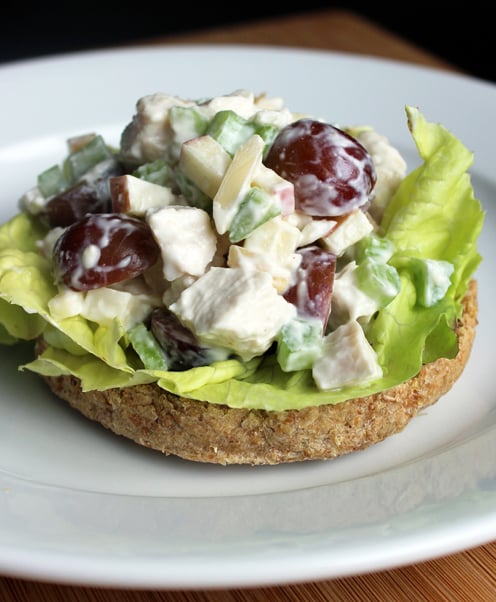 Enjoy the taste of a chicken salad sandwich without the calories. This Greek yogurt chicken salad [8] has half the fat and calories of the traditional version.
Hummus and Veggie Sandwich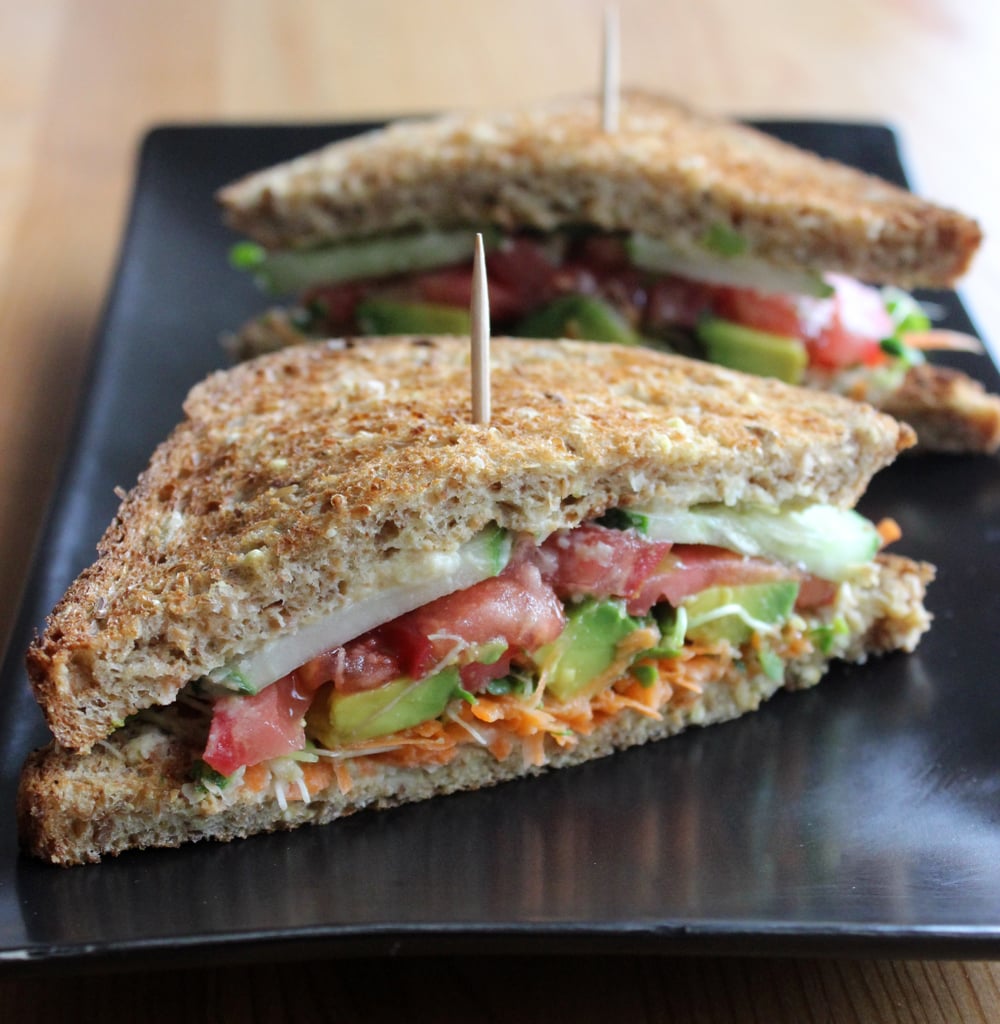 You don't have to be vegan to enjoy this satisfying veggie and hummus sandwich [9]. Packed with protein, fiber, and a hearty crunch, this sandwich won't disappoint.
Salmon Wasabi Sandwich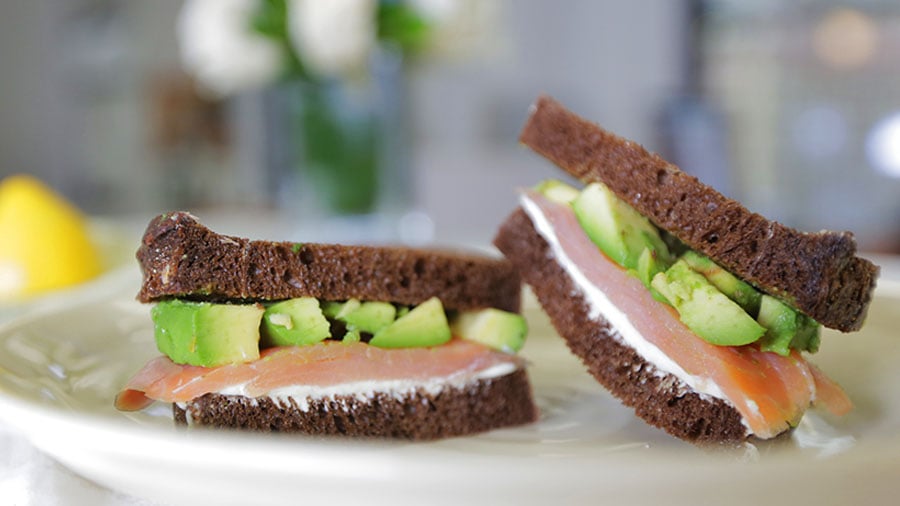 It doesn't get more creative than this salmon wasabi sandwich [10], a twist on the classic salmon and avocado sushi roll. Spicy and full of heart-healthy fish, it is sure to keep lunch boredom at bay.
Jaime's Roast Beef Sandwich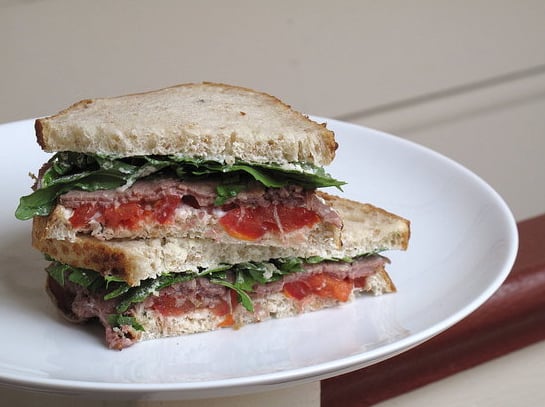 Grab yourself some Greek yogurt and lean roast beef and make yourself one of Jaime's roast beef sandwiches [11]. The cilantro, chives, and arugula add a nice kick to the yogurt spread.
Smashed Avocado Chickpea Salad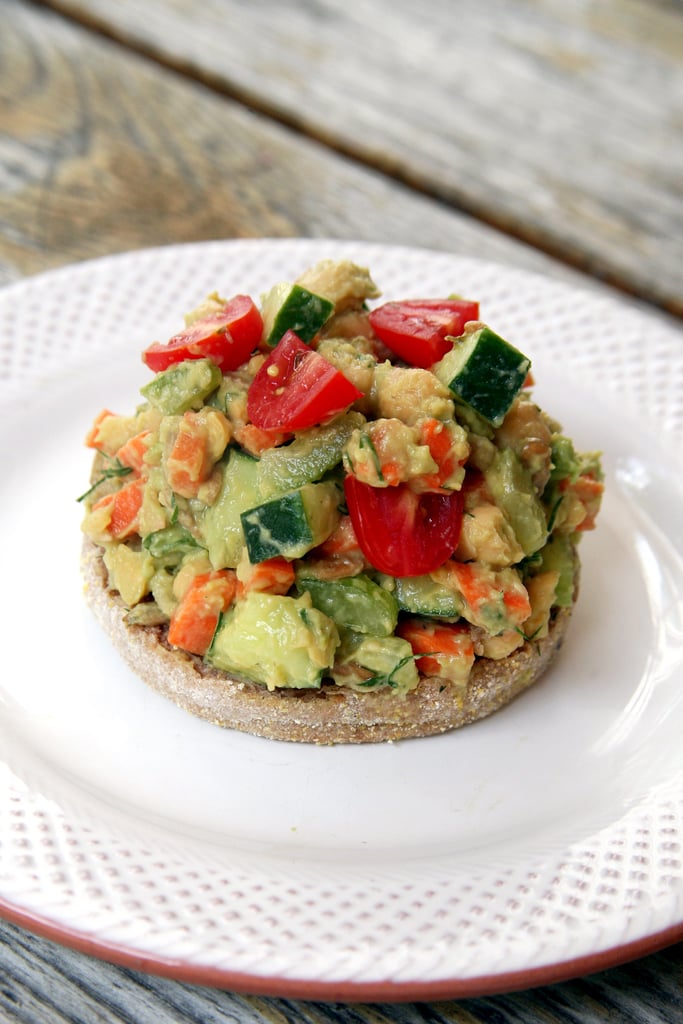 This smashed avocado chickpea sandwich [12] makes a great choice for times you are craving chicken salad but feel like going meat-free. Fresh herbs are mixed with veggies, chickpeas, avocado, and sunflower seeds for a filling sandwich that is protein-packed.