Whether it's you or a little one heading back to school or you just need to change up a stale lunchtime routine, a sandwich is the perfect place to start. Something as simple as two pieces of bread leaves room for an indefinite amount of stacked creations. And when done the right way, it makes for a filling, healthy, and nutrient-rich option. Let the brown-bagging begin.
Photo: Lizzie Fuhr
Chunky Chickpea Salad
Use a food processor to lightly chop chickpeas, celery, and onion; to this, add some lemon juice, cider vinegar, and a little salt and pepper. Now you've got a tasty and protein-packed spread to add to whole grain bread stacked with roasted red peppers, caramelized onions, and fresh spinach.
Source: Flickr user TheDeliciousLife [1]
Fig, Banana, and Almond Butter Panini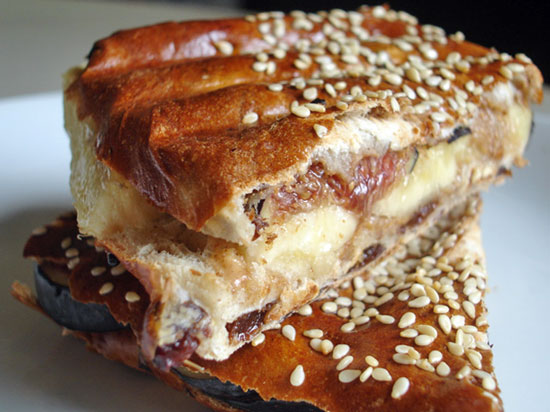 Do yourself a favor and enjoy a fig, banana, and almond butter panini [2]. If fruit and nut butter sandwiches aren't your thing, then pair figs with lean roast pork or prosciutto.
Photo: Nancy Einhart
Hummus and Veggie Sandwich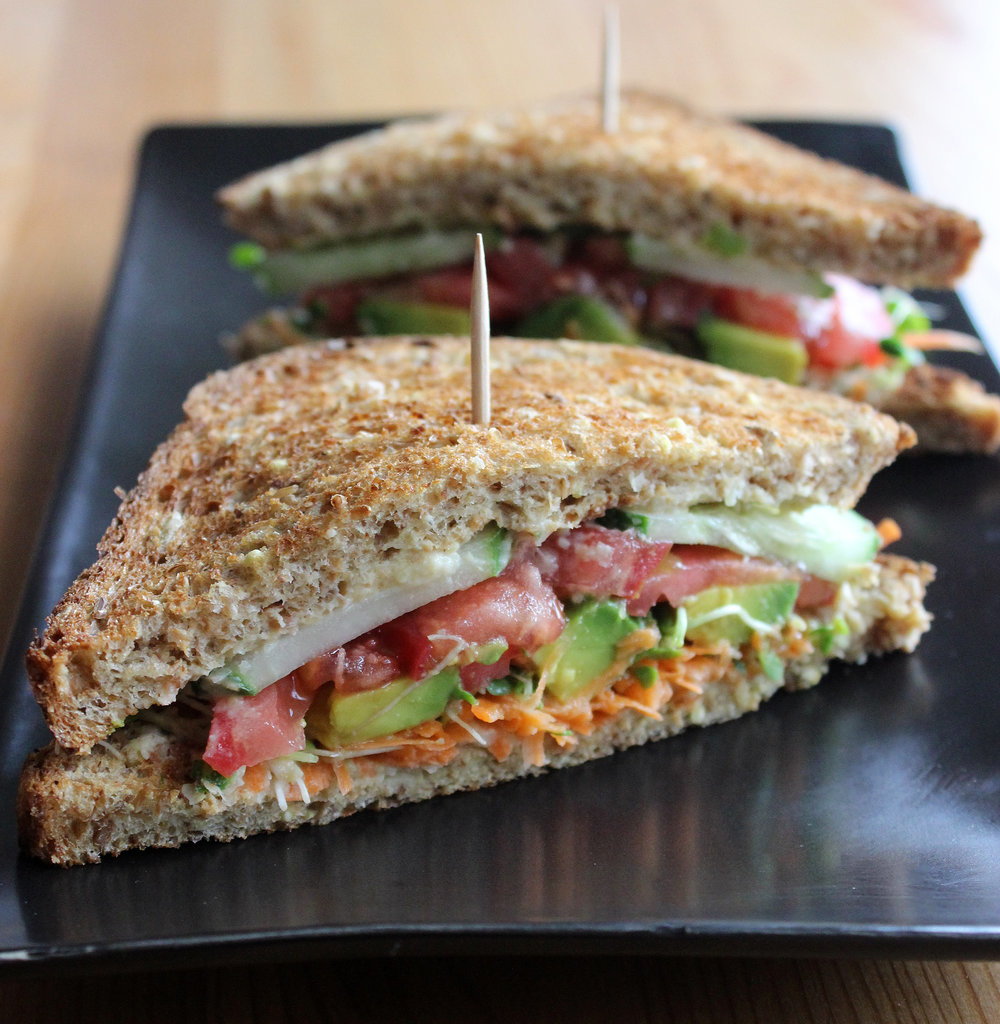 You don't have to be vegan to enjoy this satisfying veggie and hummus sandwich [3]. Packed with protein, fiber and a hearty crunch, this sandwich won't disappoint.
Photo: Lizzie Fuhr
Greek Yogurt Chicken Salad Sandwich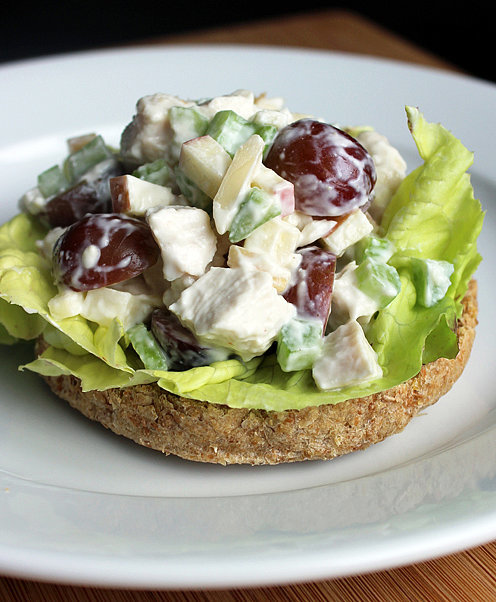 Enjoy the taste of a chicken salad sandwich without the calories. This Greek yogurt chicken salad [4] has half the fat and calories of the traditional version.
Photo: Lizzie Fuhr
Hummus and Veggie Sandwich
A basic hummus and veggie sandwich is always a win. After toasting some whole grain bread, smear on some homemade hummus [5] and add avocado, sliced cucumbers, tomatoes, and any other veggies you can load between your two pieces of toast.
Source: Flickr user SweetOnVeg [6]
Turkey Caprese Panini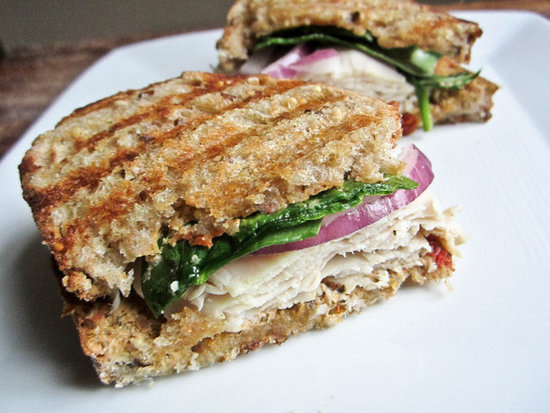 There is so much goodness on this turkey caprese panini [7]: turkey, sun-dried tomato, goat cheese spread, red onion, and spinach.
Source: CheesePlease [8]
Vegan Chicken Salad
Mix up some mock chicken salad using a meatless chicken patty, Nayonaise, veggies, and fresh herbs.
Source: Flickr user Mr. T in DC [9]
Sardine Salad Sandwich
Sardines are a superseafood: they're virtually mercury-free, high in omega-3s, and also packed with iron, calcium, potassium, and B vitamins. Instead of a tuna salad sandwich, try this sardine salad sandwich [10].
Source: The Actor's Diet [11]
Roasted Veggie Sub
Start with a whole wheat roll and then fill it with roasted eggplant, red peppers, artichoke hearts, sun-dried tomatoes, light mozzarella, lettuce, and tomato. Don't forget a little drizzle of olive oil and balsamic vinegar!
Source: Flickr user jnemuneko.jc [12]
Roasted Red Pepper, Portobello, and Smoked Gouda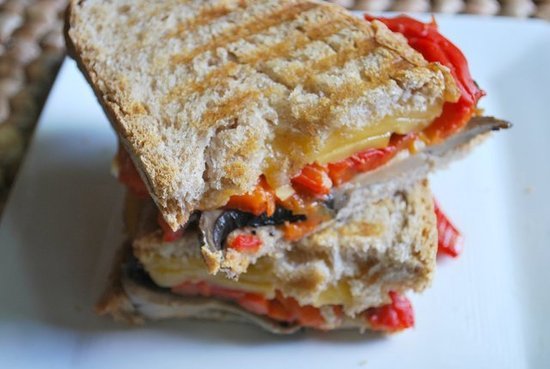 Grilled cheese gets an upgrade in this roasted red pepper, portobello, and smoked gouda sandwich [13]. The mushrooms add a meaty texture that both carnivores and vegetarians will love.
Source: CheesePlease [14]
Tuna Salad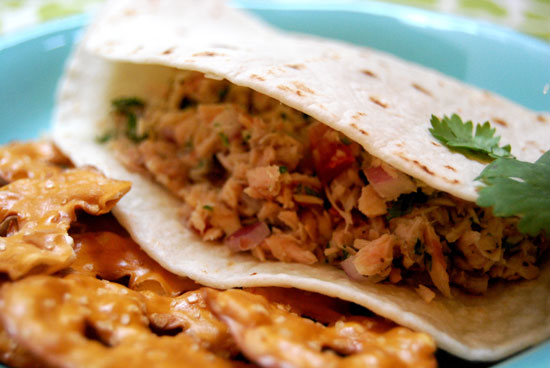 Got a hankering for tuna salad but can't stomach all the calories? This tuna salad recipe [15] substitutes lemon and olive oil for mayonnaise, giving you a protein-packed meal full of healthy fats.
Photo: Michele Bell
Roasted Turkey Sandwich
Save money and make sandwiches healthier by roasting your own sandwich meat [16]. Turkey is incredibly easy to roast and can give you a week's worth of sandwiches, salads, and more!
Source: Flickr user citymama [17]
Curried Egg Salad Sandwich
Forget what you heard — an egg salad sandwich doesn't have to be mayo-laden. This curried egg salad sandwich [18] gets its creaminess from a small helping of vegan-friendly mayonnaise, and the additional spices give it a nice kick.
Source: Eating Bird Food [19]
Roasted Beets, Avocado, and Goat Cheese
A nicely made vegetarian sandwich is so good that you'll never miss the meat. This roasted beets, avocado, and goat cheese sandwich [20] will be the envy of all your friends.
Photo: Nancy Einhart
Nut Butter and Berry
Skip the added sugars in jams and jellies by adding fresh berries to nut-butter sandwiches; strawberries and blackberries work especially well.
Photo: Susi May
Vegetarian Bánh Mì
The classic bánh mì goes veggie! Use marinated seitan or tempeh, and add shredded pickled carrots and radishes and sliced cucumbers and jalapeño. Finish it off with a little mayo and a touch of fresh cilantro.
Source: Flickr user Stacy Spensley [21]
Jaime's Roast Beef Sandwich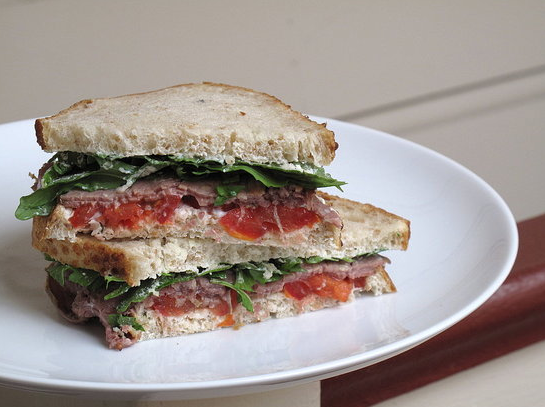 Grab yourself some Greek yogurt and lean roast beef and make yourself one of Jaime's Roast Beef Sandwiches [22]. The cilantro, chives, and arugula add a nice kick to the yogurt spread.
Photo: Susannah Chen
Peach, Arugula, and Goat Cheese
If you're trying to save calories but can't bear the idea of making a sandwich without cheese, then go for goat. The tart cheese goes a long way and is traditionally lower in calories than its counterparts. I love how the tartness of goat cheese plays off the sweetness of Summer fruits, like in this peach, arugula, and goat cheese sandwich.
Photo: Michele Foley