Healthy One-Pot Recipes
13 Healthy One-Pot Meals, Because Who Has Time During the Week?
Like us on Facebook
When you're eating clean, cooking dinner at home is ideal, but we all know that's a lot easier said than done. The one thing that makes weeknight cooking significantly easier is cooking everything in one pot or pan — postmeal cleanup is instantly cut down. These one-pot and -pan recipes are quick, easy, and healthy, making them perfect for your Monday-Friday dinner plans.
— Additional reporting by Leta Shy
1. Chicken Corn Chili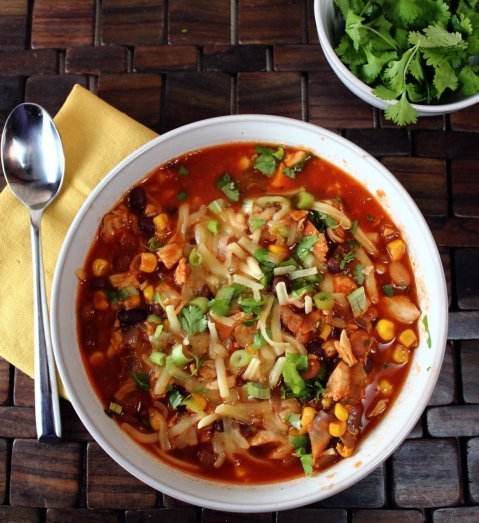 Chili isn't just for Winter! The fact that making a delicious batch is little more than throwing ingredients in a pot makes it doubly comforting. Make this healthy chicken corn chili recipe for a filling meal that clocks in at only 210 calories per serving.
Source: Gen Y Foodie
2. Red Lentil Tomato Soup
This recipe for red lentil tomato soup makes for a light meal. The addition of lentils to a classic tomato soup base increases the protein and fiber content for a satisfying meal in a bowl.
Source: POPSUGAR Photography / Jaime Young
3. Everything Kale Salad
What's better than a one-pot meal? A one-pot, no-cook meal that satisfies. This hefty kale salad recipe includes a bit of everything from your pantry and fridge: from persimmons to tuna and garbanzo beans, the salad stands up to any evening hunger pangs.
Source: Shockingly Delicous
4. Salad-Stuffed Avocado
Avocado on a salad is good, but salad in an avocado is genius. The only dish you'll use to make this quick, fiber-rich meal is a bowl to mix the veggies and lime juice.
Source: POPSUGAR Photography / Lizzie Fuhr
5. Salmon With Crispy Cabbage and Kale
There's no need to sauté your greens in a separate pan for this 25-minute salmon dish. Cabbage and superfood kale get crispy in the oven before being topped with salmon fillets and a lemony dill dressing.
Source: POPSUGAR Photography / Nicole Perry
6. Tortilla-Less Soup
Skip the carb-heavy tortillas and make this light, spicy chicken tortilla-less soup. You won't miss the regular version with this one: it's low in calories and packed with protein and Vitamin C.
Source: POPSUGAR Photography / Lizzie Fuhr
7. Vegan Pumpkin Chili
This delicious bean chili is both vegetarian and vegan, and it incorporates a secret ingredient to make it extrahearty and thick: pumpkin. Trust us, it works.
Source: POPSUGAR Photography / Anna Monette Roberts
8. Vegan Tempeh With Kale
If you've shied away from cooking with tempeh before, start with this recipe, and it's sure to have you hooked. Full of whole grains, protein, and antioxidants, this one-pan tempeh with kale is weeknight (and tastebud) approved.
Source: Eating Bird Food
9. Dijon Roast Chicken With Spring Vegetables
The art of the roast chicken isn't as complicated as it sounds. Throwing chicken and veggies galore into the same pan makes it flavorful and incredibly simple. This recipe calls for carrots and radishes, but you can add any and all of your favorite healthy additions.
Source: POPSUGAR Photography / Lauren Hendrickson
10. Pan-Seared Salmon With Arugula, Zucchini, and Asparagus
You don't even need to preheat the oven for this easy salmon dish. Crisp up the salmon in the same pan that you sauté the veggies in, and you've got a low-calorie, elegant meal in minutes.
Source: Cooking For Keeps
11. Lemon Chicken With Asparagus and Potatoes
With this lemon chicken dish, you'll throw the side dish into the same skillet as the chicken for maximum flavor and minimum cleanup.
Source: Damn Delicious
12. Egg White Frittata
Who says frittatas are only for breakfast? This lightning-fast egg white frittata is one of Lea Michele's favorite dishes, and it might soon become one of yours. Spinach and red peppers lighten the dish, while the egg whites and feta provide over 20 grams of protein per serving.
Source: POPSUGAR Photography / Lizzie Fuhr
13. Baked Sweet Potato With Cannellini Beans and Spinach
This baked sweet potato with cannellini beans and spinach is a clean twist on a heavy classic.
Source: POPSUGAR Photography / Anna Monette Roberts