Pancakes aren't just for Sunday brunch splurges! Oh no. They make a filling breakfast any day of the week. To make you feel better about indulging in this typically maple syrup- and butter-laden breakfast, make yours with whole-wheat flour [1] and add these nutritious ingredients to your batter for an extra health kick.
Photo: Jenny Sugar
Flax Meal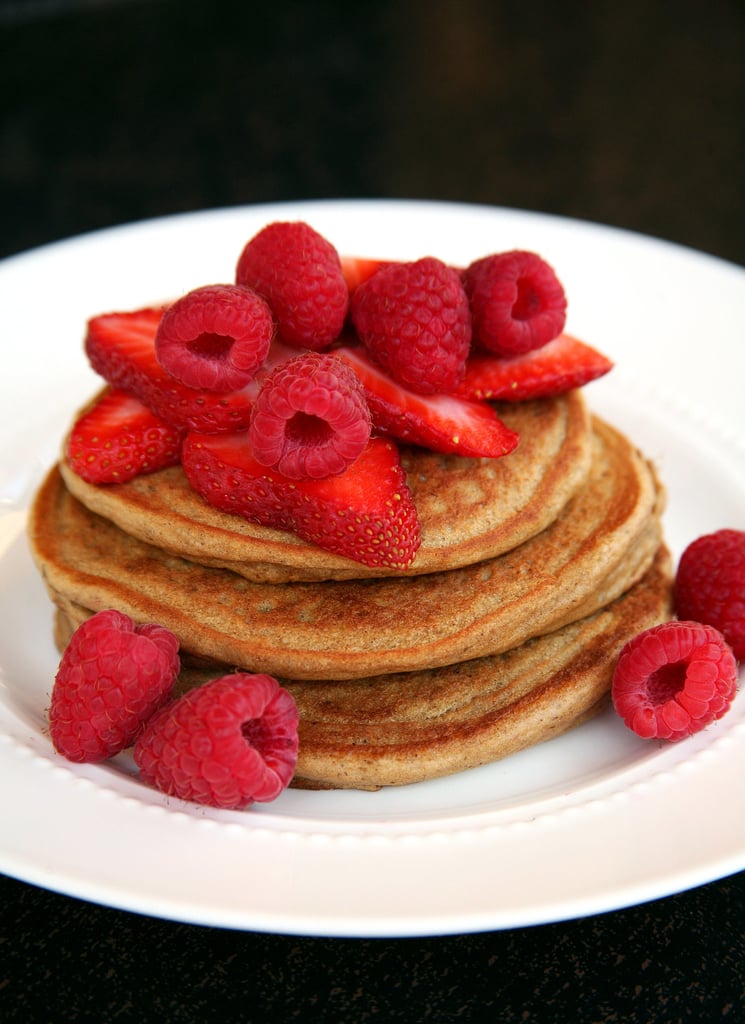 If you're watching your cholesterol, try replacing the egg with a flax egg — here's a recipe for vegan gingerbread pancakes [2] showing you how. You could also just mix flax meal into the batter as in these wheat-free pancakes [3].
Photo: Jenny Sugar
Protein Powder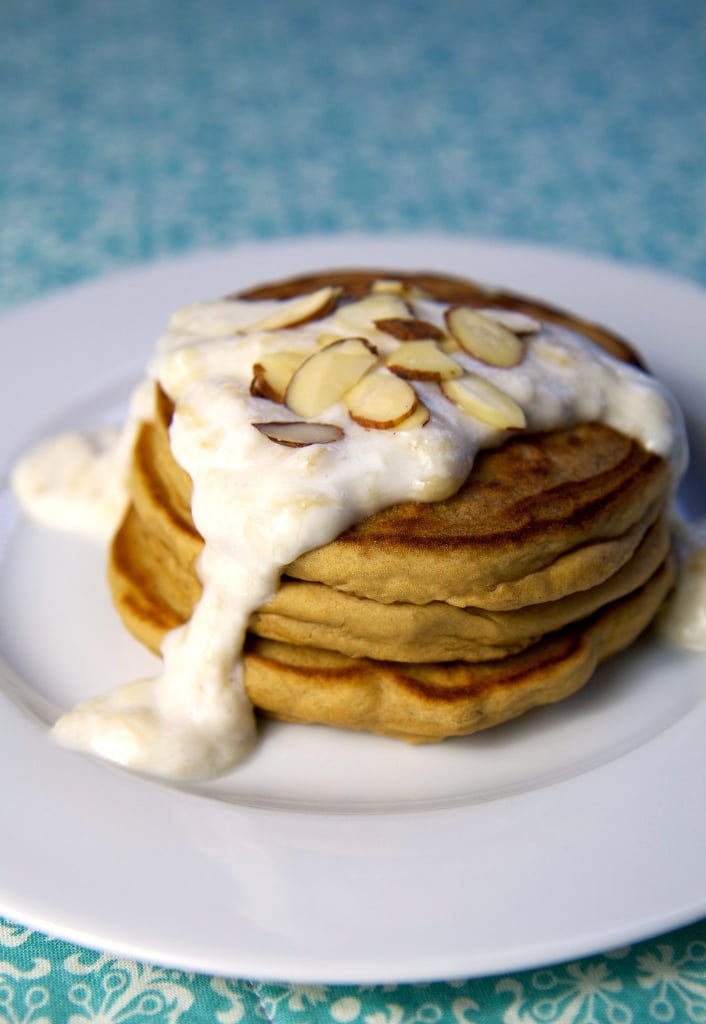 Whatever type of protein powder you have on hand, add a serving to your pancake batter for a protein punch. You'll probably have to increase the amount of one of the wet ingredients to get the right consistency. Here's a recipe to try for almond protein pancakes [4].
Photo: Jenny Sugar
Sweet Potato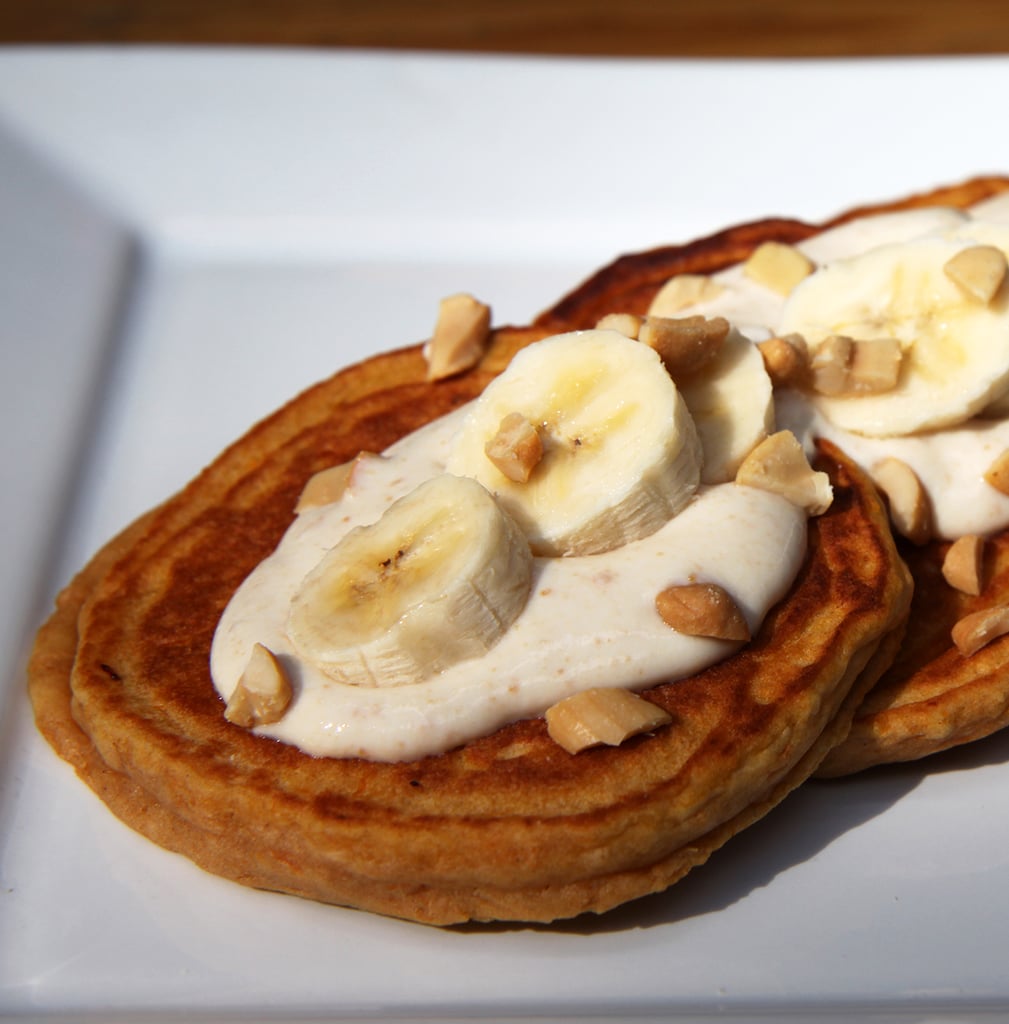 For a touch of natural sweetness without adding sugar, mix in half a mashed roasted sweet potato. Aside from a warm autumnal hue, it adds vitamin A, fiber, and a moistness you'll devour. Here's a whole-wheat banana pancake recipe [5] made with sweet potato.
Photo: Jenny Sugar
Spinach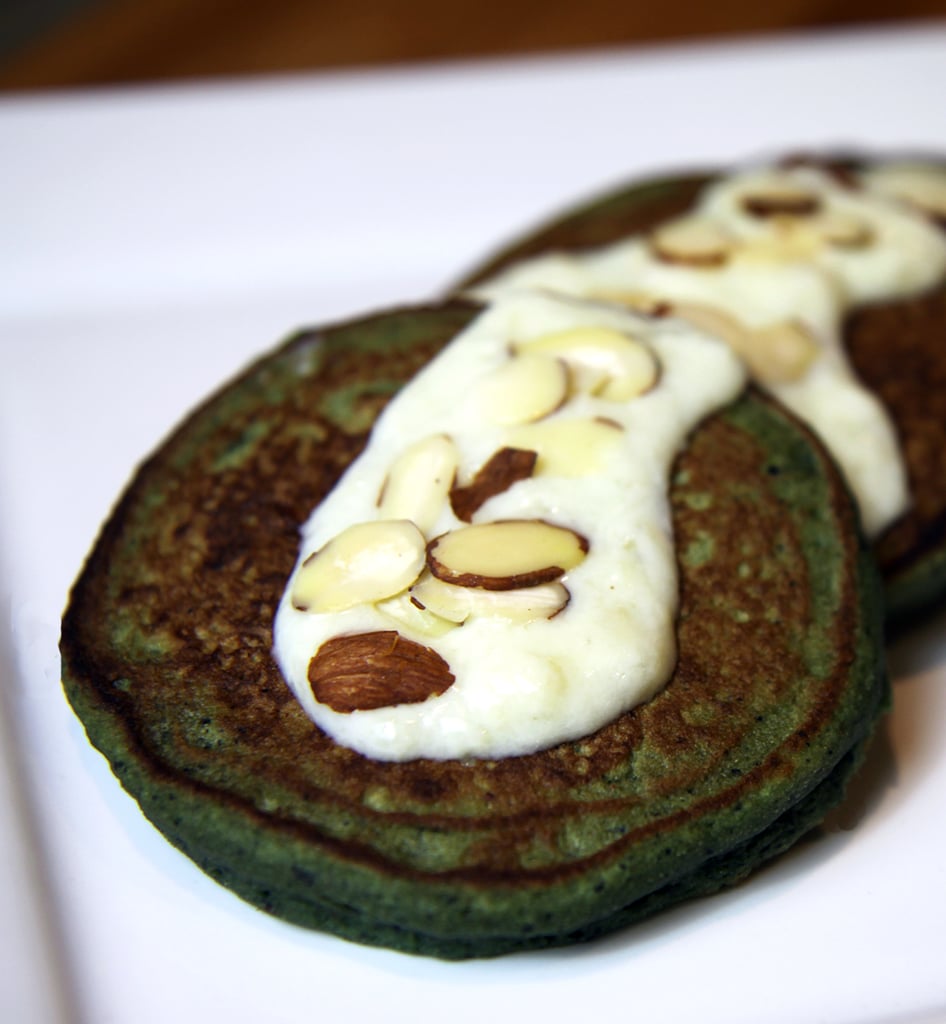 If you're a fan of adding spinach to your smoothies, why not add it to your pancake batter? Puree one cup of packed spinach with banana and blueberries for these kelly-green-colored flapjacks [6] boosted with fiber, calcium, iron, vitamin A, vitamin K, and folate.
Photo: Jenny Sugar
Quinoa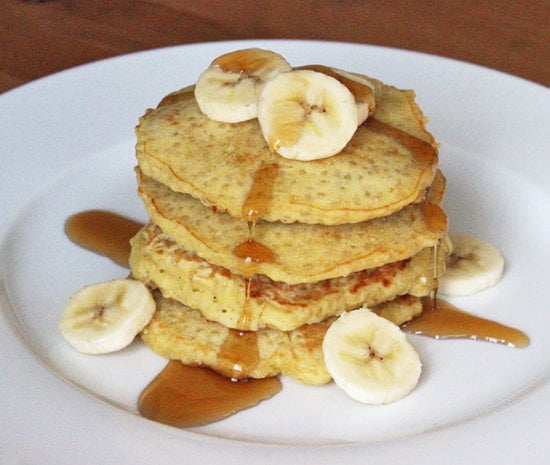 For a hearty breakfast, whole grains are where it's at. If you don't feel like making a breakfast bake the night before [7], add one cup of cooked quinoa to your pancake batter. Protein- and fiber-packed quinoa is just the thing to fill you up, kick-start your metabolism, and keep hunger at bay for hours. Try this fluffy pancake recipe [8].
Photo: Lizzie Fuhr
Cottage Cheese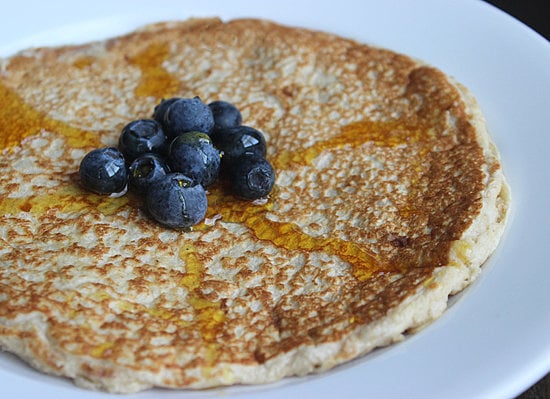 For moistness and tons of low-fat protein plus calcium, stir in half a cup of cottage cheese. Sounds a bit strange? You'll have to give it a try with this single-serve protein pancake recipe [9].
Photo: Lizzie Fuhr
Oats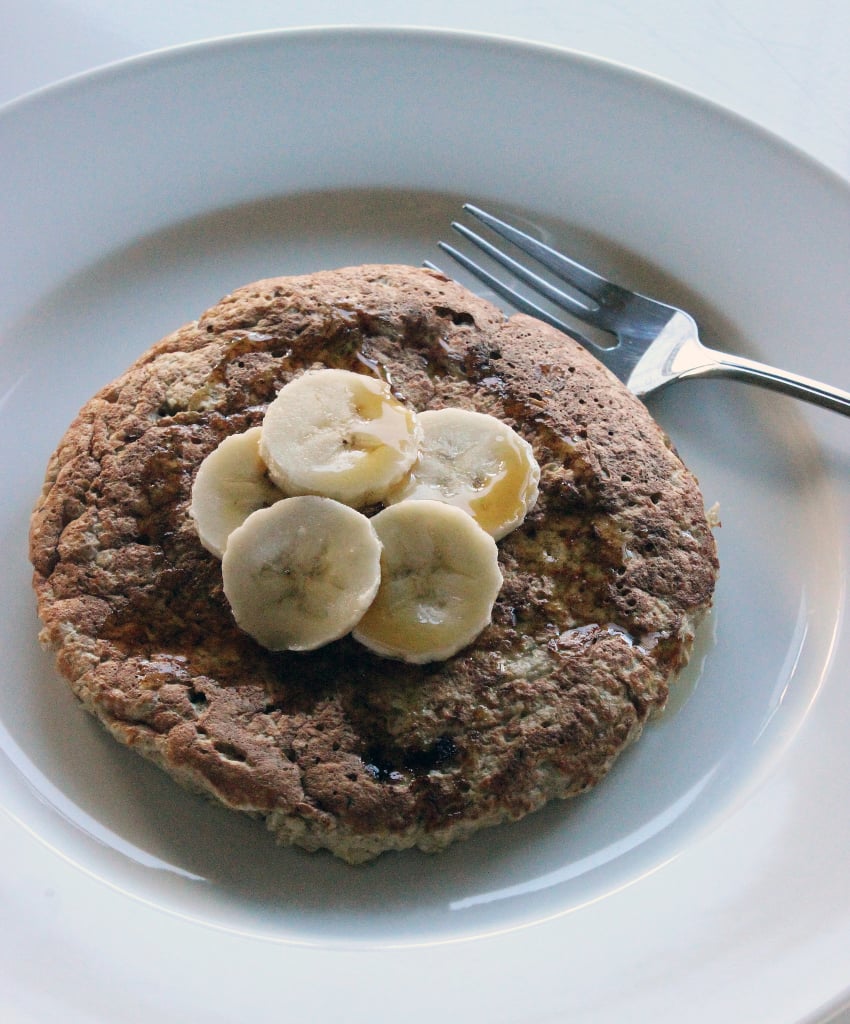 Cut into a heartier stack by mixing oats into the batter, and the fiber will make them extrafilling, curbing hunger longer. Oats can also help lower LDL (bad) cholesterol levels. This recipe calls for instant oats [10], but these banana almond oatmeal pancakes are made with rolled oats [11].
Photo: Lizzie Fuhr
Pureed Beans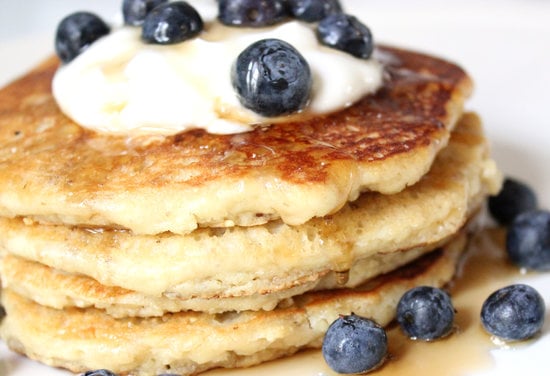 Protein and fiber are key for the first meal of the day, and beans fit the bill for both. Although they're commonly found in lunches or dinners, their mild flavor makes them a great ingredient to mix into your pancakes. Mash or puree half a cup of cooked beans into a recipe that makes 10 to 12 pancakes — cannellini beans work best since they're light-colored, but black, kidney, or pinto will do fine!
Photo: Leta Shy
Fruit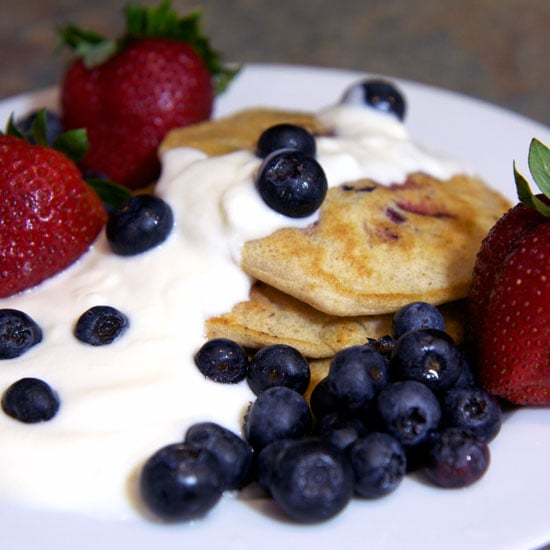 Blueberries are a popular pancake batter companion, but don't stop there! Load up your mixing bowl so it's bursting with raspberries, strawberries, cherries, sliced or mashed banana, kiwi, mango, pineapple, apple, pear, peaches — even grapes. The fruit not only adds fiber and vitamins, but the sweetness means you can omit the maple syrup entirely, saving hundreds of calories.
Photo: Jenny Sugar