Healthy Recipe: Edamole
Like us on Facebook
If you're a fan of guacamole, but don't like that it's high in calories and fat (even though it's healthy fat), then you're going to go crazy for this alternative. It looks like guac, doesn't it, but the smooth green appearance comes from edamame, not avocado. These soybeans are high in protein, low in fat and calories, and have a sweet and fresh flavor that is perfect for Summer. Make this for your next barbecue to serve with chips, or smear it on sandwiches or hamburgers instead of mayo. I'm so glad a friend turned me on to this recipe, because now edamole is my new favorite food.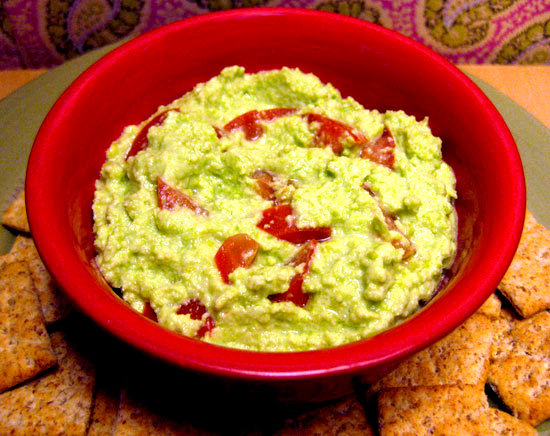 To learn how to whip up this super simple crowd pleaser and see the nutritional info
.
recipe from a running buddy
Recipe for Edamole
Ingredients
3/4 cup frozen shelled edamame, thawed
3 tablespoons water
2 tablespoons extra-virgin olive oil
1 tablespoon fresh lemon juice
1/4 teaspoon salt
1/4 teaspoon hot pepper sauce (I use Cholula)
1 garlic clove, halved
1 Roma tomato, diced
Directions
Combine all ingredients except for the tomato in a food processor until smooth.
Add the diced tomato and stir gently.
Cover and chill.
Serve with toasted pieces of pita, whole wheat crackers, corn chips, or veggies.
Information
Category

Appetizers, Dips
This easy dip contains:
| | | | | | |
| --- | --- | --- | --- | --- | --- |
| | Calories | Sat. Fat (g) | Sodium (mg) | Fiber (g) | Protein (g) |
| 3/4 cup edamame | 282 | 1.5 | 28.5 | 8.1 | 24.9 |
| 2 tbsp. olive oil | 240 | 4 | 0 | 0 | 0 |
| 1 tbsp. lemon juice | 3 | 0 | 3 | .1 | 0 |
| 1/4 tsp. salt | 0 | 0 | 581 | 0 | 0 |
| 1/4 tsp. Cholula hot sauce | 0 | 0 | 21 | 0 | 0 |
| 1 clove garlic | 4 | 0 | 1 | .1 | .2 |
| 1 Roma tomato | 35 | 0 | 5 | 1 | 1 |
| Total in dip | 599 | 5.5 | 636.5 | 9.3 | 26.1 |
| 1/4 serving of dip | 149.8 | 1.4 | 159.1 | 2.3 | 6.5 |