Spring has sprung, and with all the new colors popping up at the farmers market, we couldn't be happier. If you have been picking up Spring vegetables (like fava beans, English peas, artichokes, carrots, avocados, and asparagus) and are wondering what to do with your new bounty, here are 51 healthy recipes to inspire you the next time you're in the kitchen.
Grilled Wasabi Asparagus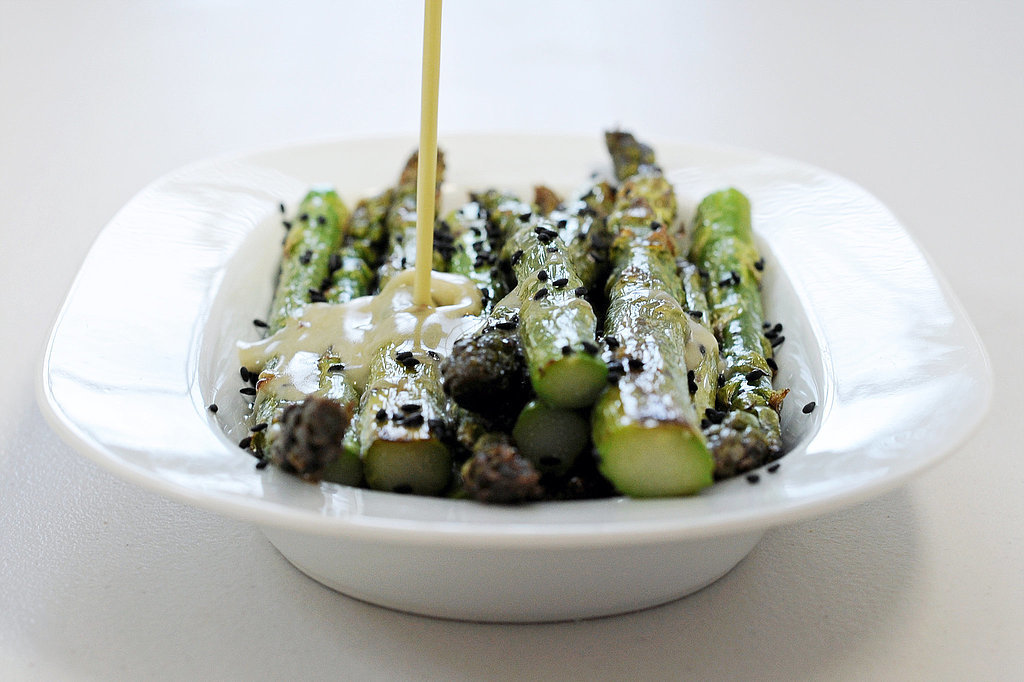 Your basic grilled asparagus recipe may be on point, but sometimes it's time for a twist. Spice up your side with this wasabi-flavored grilled asparagus recipe [1].
Photo: Nicole Perry
Stinging Nettles Pasta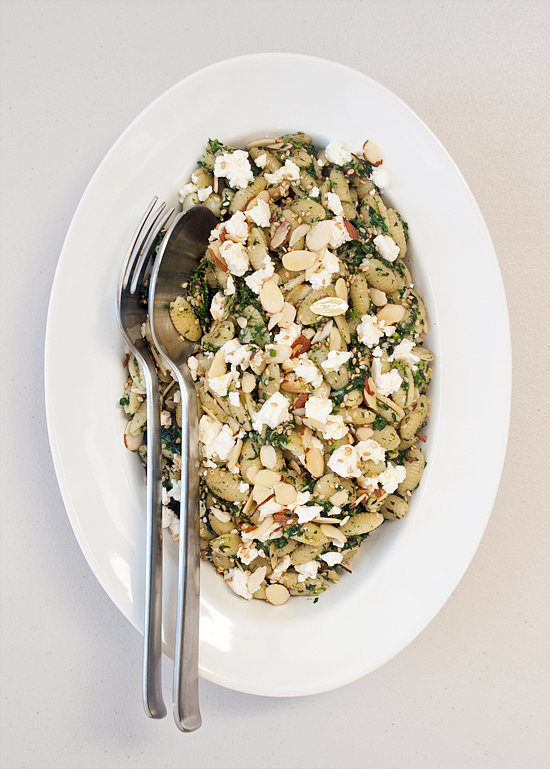 Tired of your usual vegetable route? Go for something less ubiquitous than asparagus: this stinging nettle pasta [2] has just the right amount of grassiness.
Photo: Nicole Perry
Mango, Cucumber, Watermelon Salad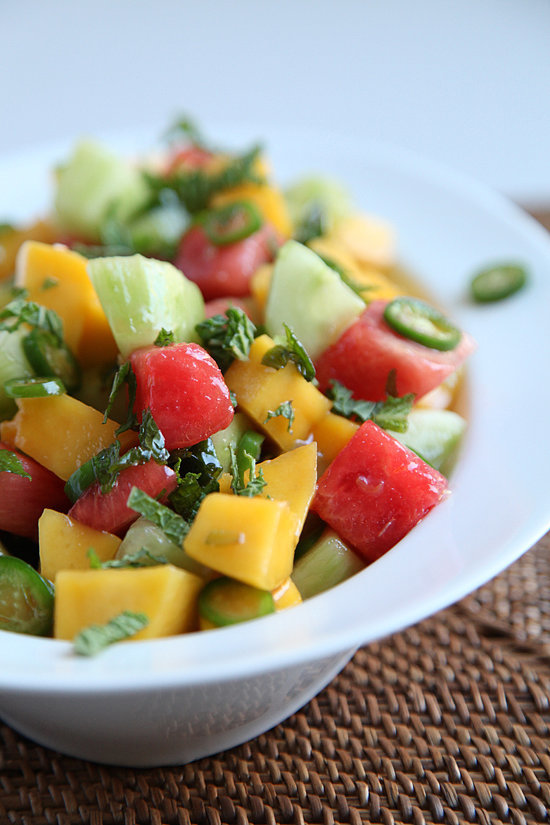 Fish sauce in a fruit salad? It's a sweet-savory combination that just works, especially when it comes to perfectly in-season mangoes. Get the recipe for this unique fruit salad here [3].
Photo: Nicole Perry
Eggs in Avocado
A filling, low-prep, protein-packed breakfast that's great for weekday and weekend mornings alike: baked eggs in avocado [4].
Photo: Lizzie Fuhr
Carrot Chips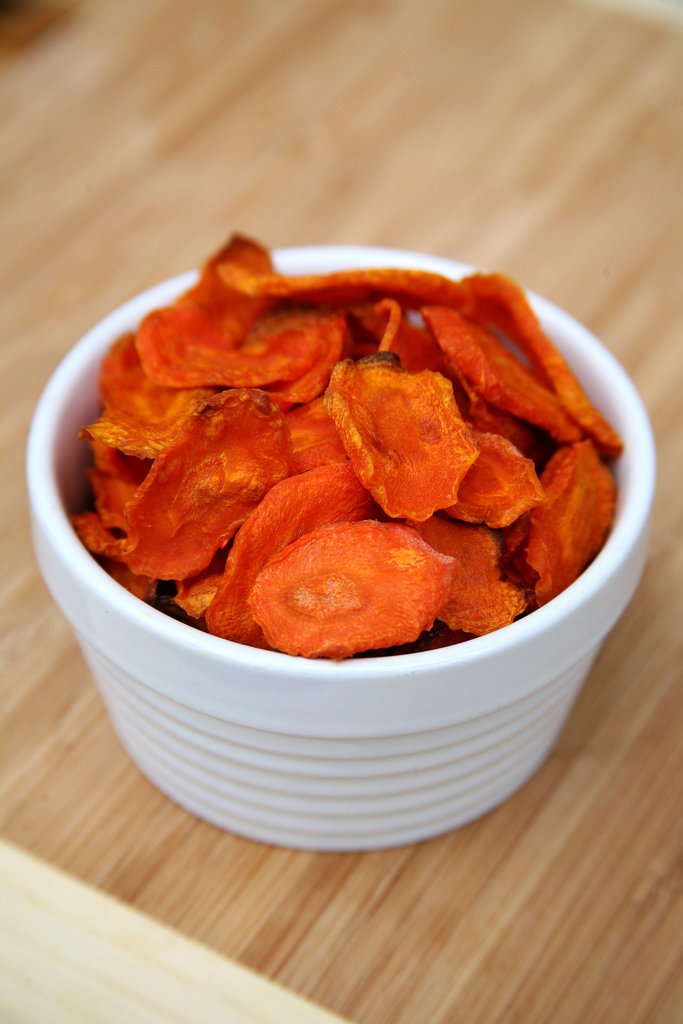 If you're constantly craving chips, it's time you found a healthier option. Each batch of these carrot chips [5] is only 79 calories vs. the average bag of 160-calorie potato chips.
Photo: Jenny Sugar
Salad in an Avocado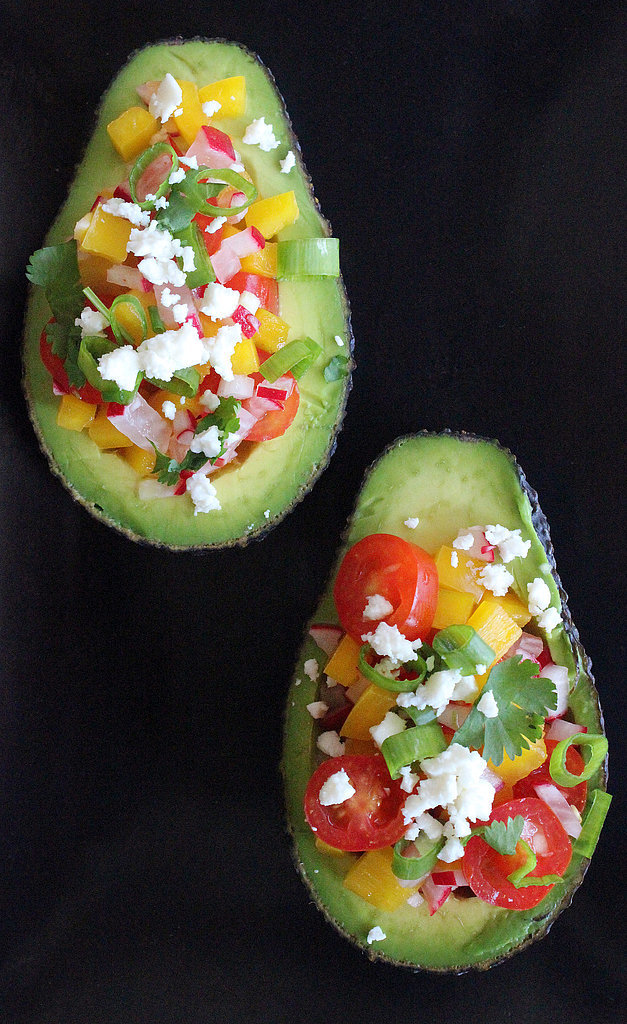 Eating your greens has never been as fun. This chopped salad-in-an-avocado recipe [6] is perfect for hot late-Spring days. Cool off with this healthy Mexican-inspired dish the next time you don't want to turn on the oven.
Photo: Lizzie Fuhr
Paleo Pasta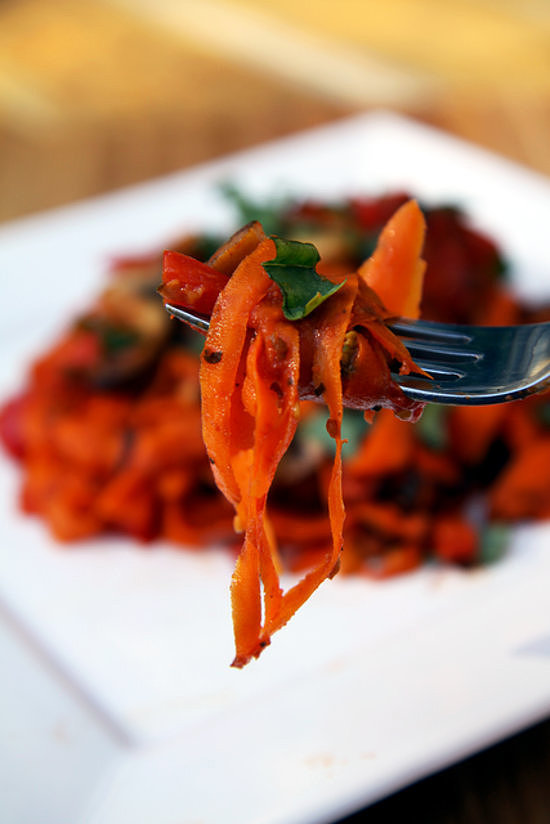 A vegetable peeler is all you need to make your farmers market carrot haul into a satisfying noodle-free pasta dish. All the flavors you love in your favorite comfort food is here in this gluten-free, Paleo pasta recipe [7].
Photo: Jenny Sugar
Whole-Wheat Orzo With Artichokes and Peas
Shelling peas may take a little work, but it's well worth the effort. You can enjoy them on their own or have them in this recipe for orzo with artichokes and peas [8]. Perfect when you are short on time — the dish only takes about 15 minutes to cook.
Source: Gen Y Foodie [9]
Ginger-Carrot Soup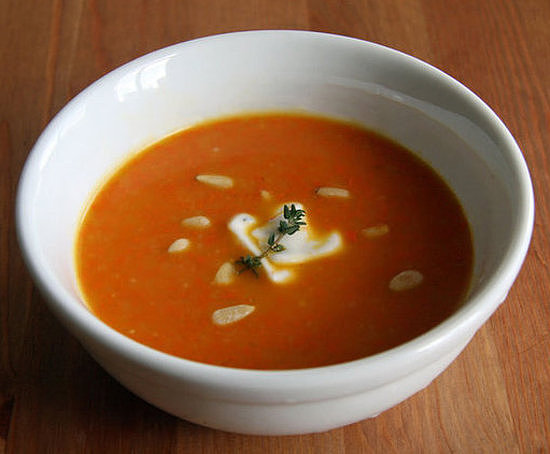 Our spicy ginger-carrot soup [10] is high in vitamins A and C and makes a perfect light lunch when your stomach may be feeling upset.
Photo: Lizzie Fuhr
Chicken With Artichokes and Angel Hair
This light and well-balanced recipe for chicken with artichokes and angel hair [11] makes an impressive dinner without requiring much effort or time.
Photo: Susannah Chen
Stuffed Artichokes
Once you've mastered how to roast artichokes, get creative by adding additional ingredients to the mix [12] like spices, cheese, or breadcrumbs.
Source: Flickr User joyosity [13]
Avocado Toast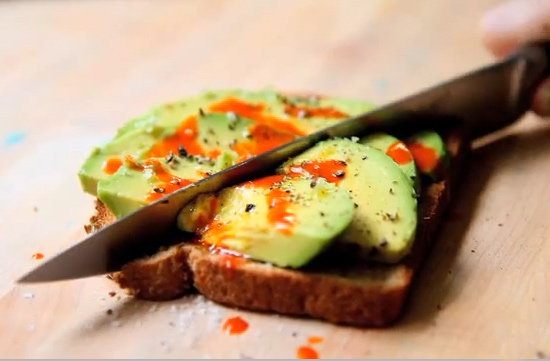 In the mood for a snack with a little spice? Check out YumSugar's video showing you how to make avocado toast [14] with a slice of whole-wheat bread, sliced avocado, a drizzle of olive oil and hot sauce, and a sprinkle of salt and pepper.
Fava Beans and Asparagus With Polenta
Fava beans and asparagus are back at the farmers market. Sauté the two with a little garlic and make your own bowl of fava beans and asparagus with polenta [15].
Photo: Camilla Salem
Carrot Apple Ginger Soup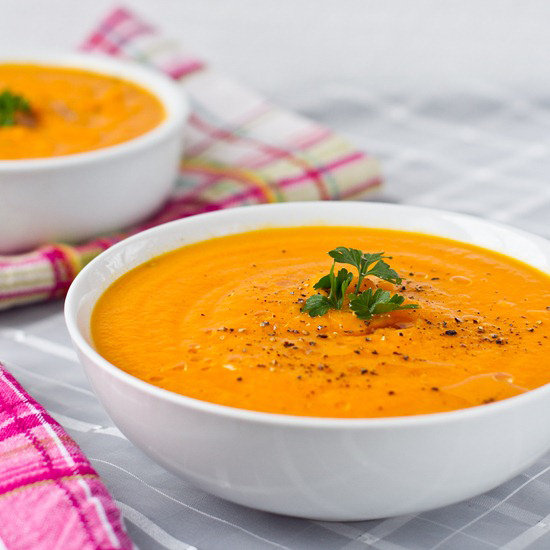 The combination of flavors in this recipe for carrot apple ginger soup [16] will have your taste buds singing praises.
Source: Oh She Glows [17]
Fava Bean Risotto
Start with this basic risotto recipe [18], and to that add a combination of fresh Spring veggies: fava beans, English peas, and arugula.
Source: Flickr user Nikchik [19]
Artichoke, Tuna, and Mushroom Salad
Our artichoke, tuna, and mushroom salad [20] offers loads of health benefits, including fiber and B vitamins.
Source: Photo: Susi May" rel="nofollow" target="_blank">POPSUGAR Fitness [20]
Vegan Eggs Benedict
We can't think of a better way to celebrate Spring than with brunch! Classic eggs benedict get a vegan makeover [21] in this version that is topped off with steamed asparagus.
Photo: Lizzie Fuhr
Sweet and Spicy Orange-Glazed Veggies
This flavorful but sweet and spicy orange-glazed veggie stir-fry [22] is a great way to make your asparagus even more delicious.
Source: OnSugar User Tone It Up [23]
Fava Bean Bread Salad
A bread salad — or bread topped with a salad! — is a great way to cool off on a warm day. Toss together some cooked fava beans, greens, olive oil, and vinegar, throw that on some bread, and call it a day!
Source: Flickr user randomduck [24]
Marinated Mushroom and Asparagus Salad
Vegan and gluten-free, this marinated mushroom salad [25] puts you in asparagus heaven. Earthy enough to stand up on its own, it's also great when paired with tofu, fish, or chicken.
Source: Fig and Fork [26]
Try This Asparagus Detox Salad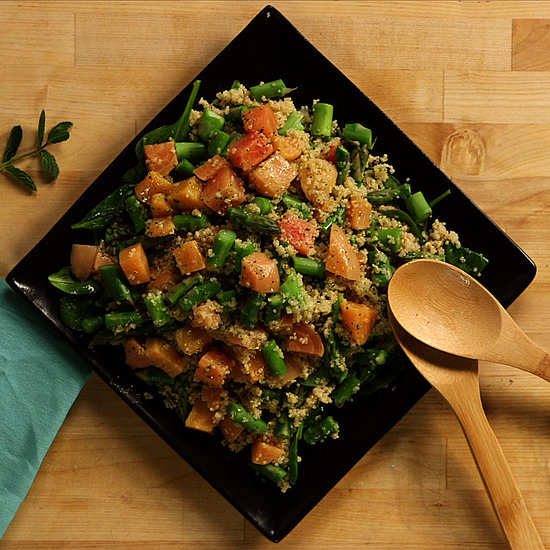 It's already enough that asparagus tastes good, but did you know it also helps in detoxing the body? Give your digestive system a little support with this good-for-you salad recipe. The salad contains all sorts of healthy ingredients like quinoa and beets, but asparagus is the star of the show!
Fava Beans With Cumin and Cilantro
Fava beans work well in a sauté or stir-fry [27]. (Just make sure to prep your beans correctly before sautéing: shuck beans from the pod [28], blanch them, and peel the outer shell.) Once you have the inner bean removed, you'll be ready to cook up a side dish or add them to your next stir-fry.
Source: Flickr User FotoosVanRobin [29]
Vegan Carrot Tofu Scramble
Who says carrots can't be a part of a healthy breakfast? Try this recipe for a citrus carrot tofu scramble [30].
Source: Healthy Happy Life [31]
Fava Bean Salad
The bright green color of fava beans beg to be tossed on a salad! And like edamame — another salad topping that's a win — fava beans have a buttery texture and an almost nutty flavor.
Source: Flickr user wonderyort [32]
Asparagus With Romesco Sauce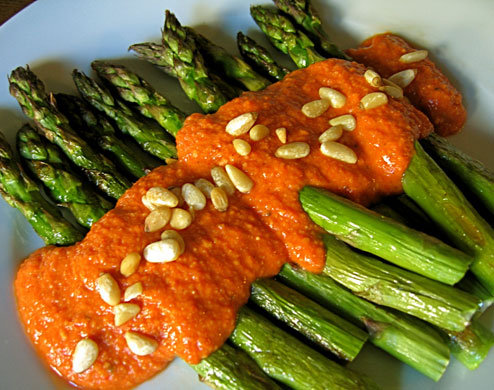 Try this easy Spanish-inspired romesco sauce [33] to serve over a bed of roasted asparagus.
Photo: Susi May
Vegan Spinach Artichoke Dip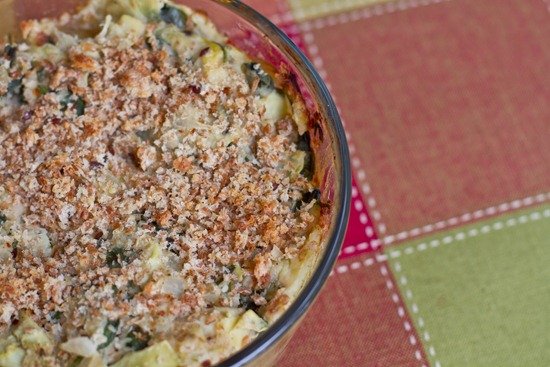 There is no better crowd pleaser than a big bowl of spinach artichoke dip [34]. Well, maybe this version, since it's vegan- and soy-free!
Source: Oh She Glows [35]
Carrot Rosemary Potato Latkes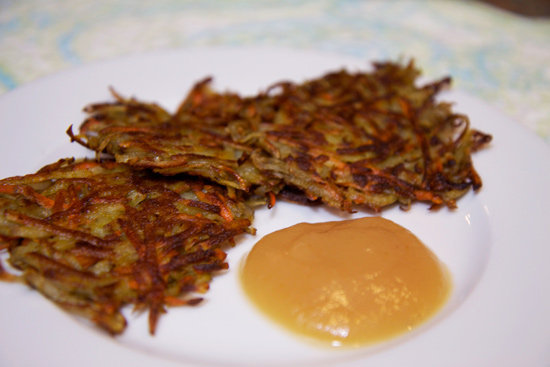 Latkes aren't just for Hanukkah. Our carrot rosemary potato latkes [36] make for a happy and healthier version of the much-adored appetizer any time of the year.
Photo: Jenny Sugar
Cooling Carrot Strawberry Cocktail
A carrot cocktail cooler [37] incorporates carrot juice, coconut rum, and strawberries for a delicious seasonal boozy treat.
Source: Never Homemaker [38]
Jicama and Radish Salad With Avocado Yogurt Dressing
This warm-weather jicama and radish salad with avocado yogurt dressing [39] is crunchy and refreshing. A great way to cool off on a hot Spring day.
Source: OnSugar User VersaStick [40]
Steamed Baby Carrots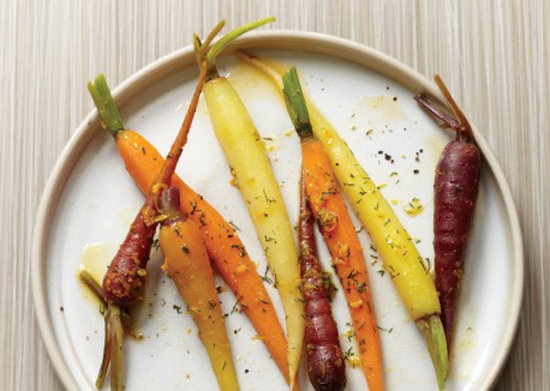 A simple side of steamed baby carrots with orange-dill butter [41] would be a welcome addition to any Spring meal.
Source: Vegetarian Times [42]
Asparagus and Dandelion Soup
When dinner rolls around, what's more satisfying than a warm, hearty soup? Made from asparagus, hearty sweet potatoes, and dandelion greens, this soup [43] is a nice balance of bitter, earthy, and sweet.
Source: Cheese Please [44]
Quinoa With Black Beans and Carrots
Get in some fiber and folate with a big bowl of carrot quinoa with black beans [45].
Source: POPSUGAR Fitness [46]
Guacamole Portobello Mushroom
Instead of pairing guacamole with high-calorie and high-sodium tortilla chips, place a few dollops on top of a sautéed portobello mushroom.

Source: Flickr User SweetOnVeg [47]
Avocado-Pear Smoothie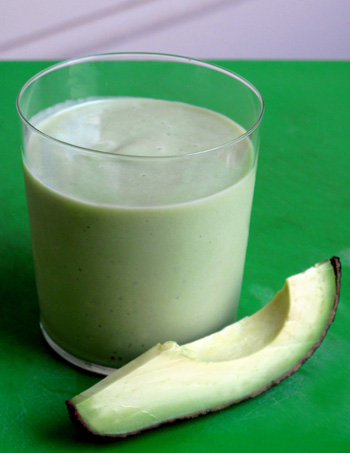 A creamy avocado and pear smoothie [48] is a cool and refreshing way to start your morning.
Photo: Susannah Chen
Pan-Roasted Artichokes With Pistachios and Black Quinoa
This recipe for pan-roasted artichokes with pistachios and black quinoa [49] is a perfect balance of sweet and tangy.
Source: Flickr User SummerTomato [50]
Dairy-Free Carrot Cake
If you love the flavors of a classic carrot cake but are on a dairy-free diet, you're in luck! This cute raw carrot "cheese" cake [51] from Healthful Pursuit is a perfect recipe for you.
Source: Healthful Pursuit [52]
Artichoke Pizza
Whip up a batch of our healthy pizza dough [53] and throw on some artichokes and other healthy toppings. We're partial to artichokes, goat cheese, and tomato.
Source: Flickr User avlxyz [54]
Carrot Spelt Berry Salad
Chowing down on a big bowl of carrot raisin spelt berry salad with cumin and cilantro is divine whether you enjoy it cold or heat it up.
Source: Oh She Glows [55]
Roasted Artichokes
A little salt, pepper, and lemon juice are all you need to make a standout roasted artichoke [56].
Source: Never Homemaker [57]
Vegan Avocado Yogurt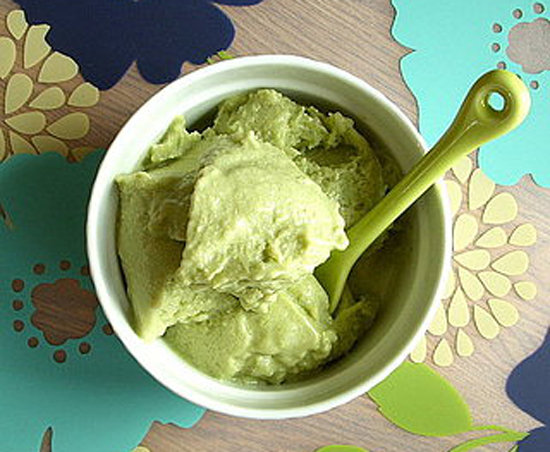 With just a few simple ingredients, you can whip up this dairy-free avocado frozen yogurt [58].
Source: OnSugar User One Hungry Mess [59]
Fava Bean Purée Crostinis
One of our favorite ways to eat fava beans are to puree (or mash) them together with a little lemon, garlic, arugula, and a touch of parmesan cheese. Add that mixture to some crostini, and you've got an instant party hit on your hands. You can even make the arugula and fava bean crostini [60] mixture ahead of time, and then whip it out whenever you have guests visiting.
Source: Flickr user thebittenword.com [61]
Roasted Garlic Artichoke Spread
The roasted garlic artichoke spread [62] from Eat, Drink, and Be Vegan [63] is deceptively simple to make but huge on flavor.
Photo source: Eating Bird Food [64]
Whole-Wheat Pasta With Artichokes, Olives, and Tomatoes
Make a bowl of healthy whole-wheat pasta with artichokes, olives, and tomatoes [65] — this classic flavor combo is always a winner!
Source: Whole Living [66]
Spring Veggie and Potato Frittata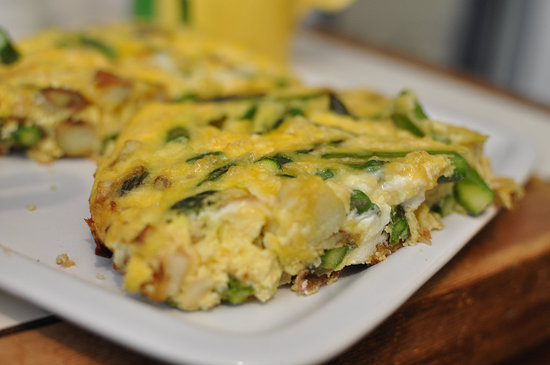 This recipe for a Spring frittata [67] is made healthier by cutting back on cheese and loading up the veggies.
Photo: Lauren Hendrickson
Artichoke Chicken With Asparagus
You only need one baking pan to make this recipe for artichoke chicken with asparagus [68]. Put the dish together in advance, keep it in the fridge, and pop it in the oven when you get home from work — dinner is served!
Source: The Fit Cookie [69]
Fava Bean Soup
Puree cooked fava beans and then mix with some broth for a quick soup. Or, if you prefer your beans whole, try this recipe for fava bean soup with pasta [70].
Source: Flickr user stu_spivak [71]
Roasted Asparagus and Mushroom Quinoa
Roasting is a low-maintenance way to cook asparagus. This recipe for roasted asparagus and mushroom quinoa [72] takes all of 20 minutes to prepare!
Photo: Susannah Chen
Artichoke Omelet With Anchovies
The next time you whip up an omelet, think artichokes. And for a real flavor explosion, try this recipe for an artichoke omelet with anchovies and thyme [73].
Source: Flickr User jules:stonesoup [74]
Creamy Vegan Avocado Pasta
This recipe for creamy avocado pasta [75] will quickly become a staple in your weeknight-dinner rotation. Garlicky goodness, you'd swear there was cream in the dish.
Source: Oh She Glows [76]
Carrot Zucchini Bread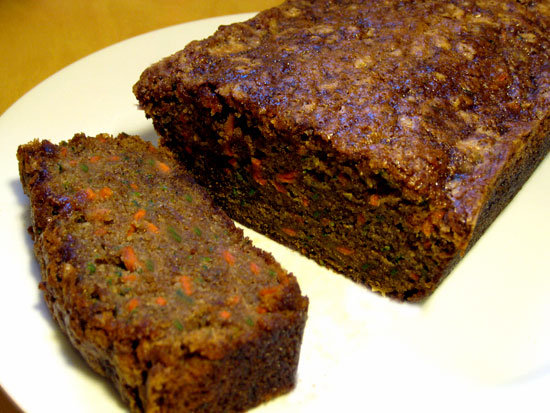 If you're looking for a twist on tradition, it's time to taste some carrot zucchini bread [77].
Photo: Jenny Sugar
Steamed Artichokes
Artichokes protect against indigestion while also stimulating healthy digestion. It's hard to think of a better way to enjoy this Spring vegetable than POPSUGAR Food's recipe for simple steamed artichokes [78].
Photo: Camilla Salem