'Tis the season for strawberries to finally start ripening to their supersweet, tender selves. To celebrate back-to-berry season, we've compiled 12 scandalously good-looking strawberry recipes that are actually good for you too. Click through and become a berry believer.
— Additional reporting by Lizzie Fuhr and Aemilia Madden
Sources: Vegetarian Times [1], Leta Shy, Jenny Sugar
Gluten-Free Strawberry Muffins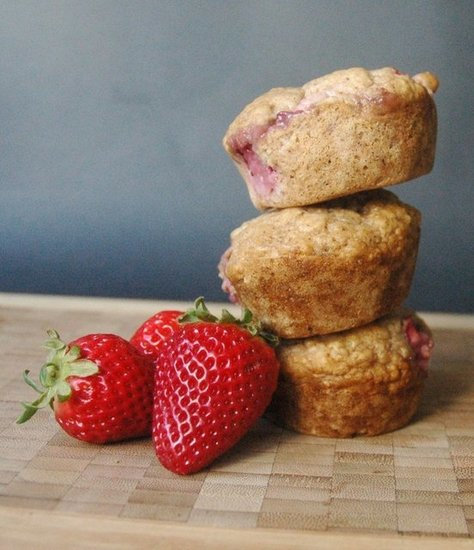 Adapted from a BabyCakes muffin recipe, these gluten-, dairy-, and sugar-free strawberry muffins [2] have a touch of cinnamon and nutmeg for a spicy twist.
Source: Gluten Free Dom [3]
Frozen Strawberry Greek Yogurt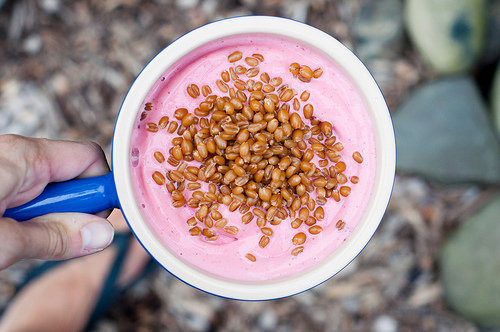 Frozen strawberries and Greek yogurt are blended for a quick strawberry yogurt [4] that you can even eat for breakfast. Toss in wheat berries for a little grain goodness.
Source: NeverHomemaker [5]
Fruit Salad With Cacao Nibs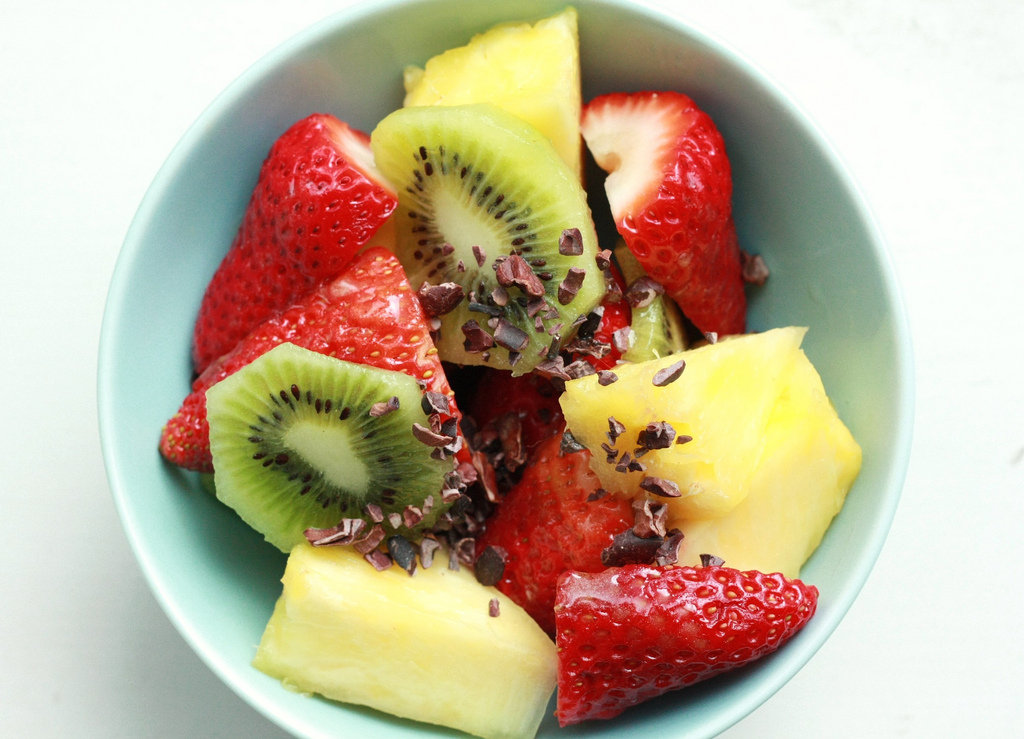 For a mock dessert, try this fruit salad recipe [6] with cacao nibs and maple syrup.
Source: SweetOnVeg.com [7]
Vegan Strawberry Pudding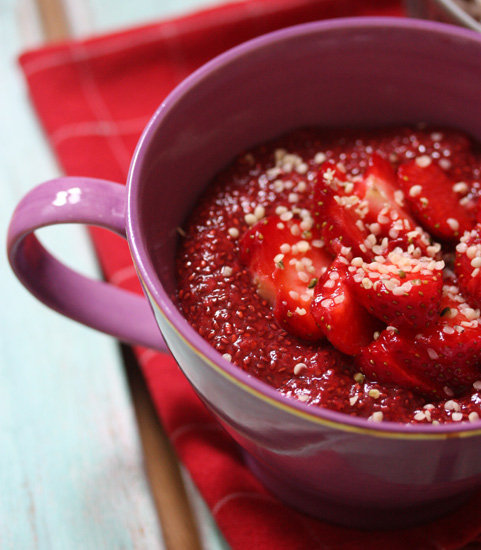 Create a satisfying, thick pudding (minus the fat and cholesterol) with this vegan strawberry pudding [8] that contains chia seeds as the main ingredient.
Source: LoveRaw [9]
Strawberry Almond-Butter Gazpacho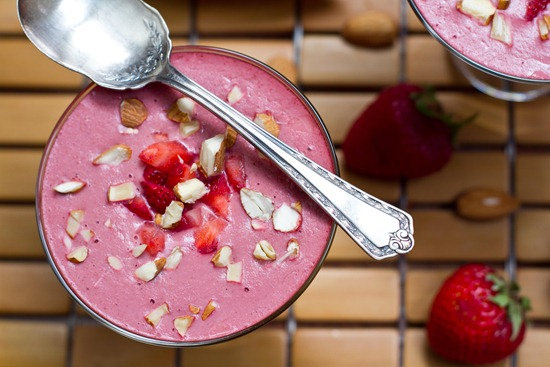 Make this chilled strawberry almond-butter soup [10], which has similar ingredients as and a texture like a smoothie but is eaten like a soup.
Source: OhSheGlows [11]
Strawberry Charlotte Verrines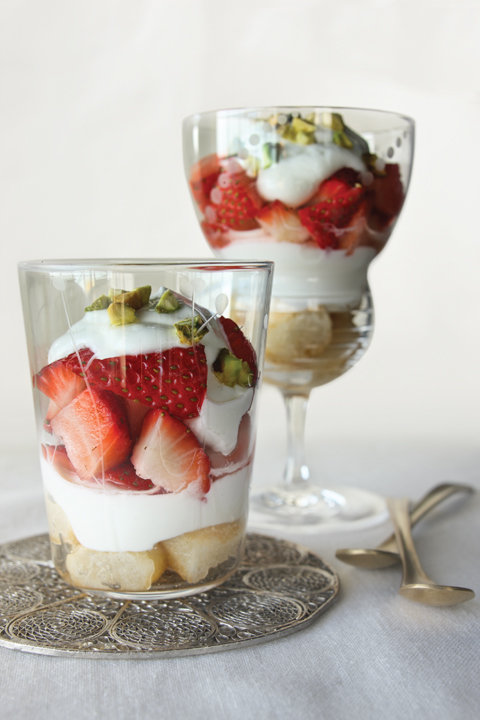 Keep your portions under control by serving this strawberry charlotte [12] in small glasses. Limoncello, Greek yogurt, ladyfingers, and pistachios come together for the ultimate swoon-worthy treat.
Source: VegetarianTimes [13]
Sugar-Free Strawberry Cheesecake "Blizzard"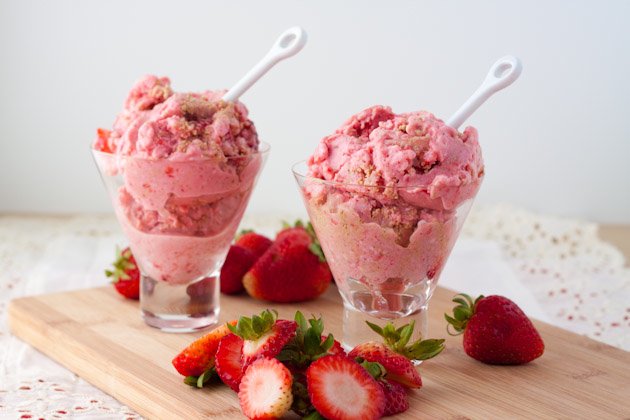 Especially if it's been years since you've had your last DQ Blizzard, try making this homemade strawberry cheesecake "Blizzard." [14] The vegan ice cream is quickly made using a food processor and is blended with gluten-free graham cracker crumbs.
Source: Healthful Pursuit [15]
Strawberry Coconut Butter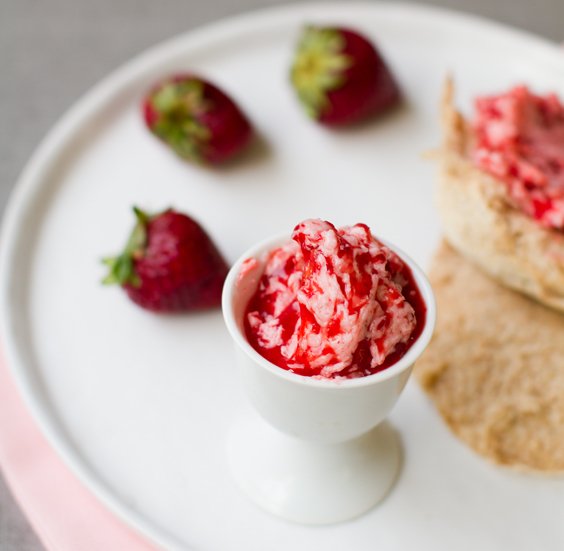 Coconut oil, a hint of agave, and strawberries are whipped together to create this simple strawberry dip [16] that you can spread on toast or waffles.
Source: Healthy Happy Life [17]
Gluten-Free (and Almost Sugar-Free) Strawberry Crumble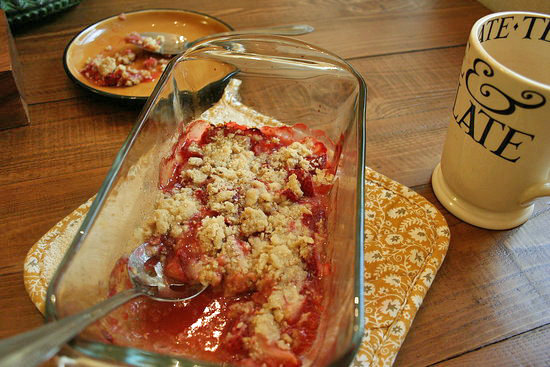 This gluten-free strawberry crumble recipe [18] oozes with ripe strawberries on the inside and has a crispy, buttery crumble on the outside.
Photo: Anna Monette Roberts
Strawberry Pizza With Basil and Goat Cheese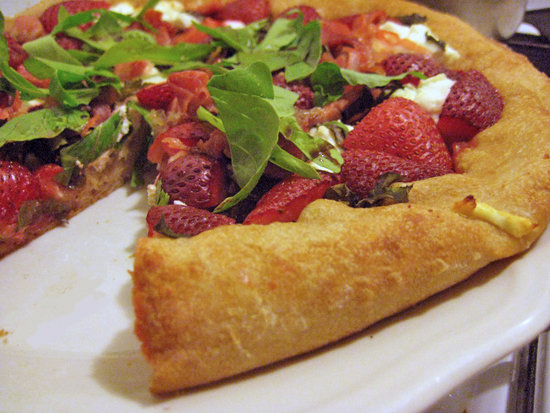 Strawberry pizza? Yep — it's true! This strawberry, basil, and goat cheese pizza [19] also contains savory prosciutto and spicy arugula.
Photo: Leta Shy
Strawberry Leather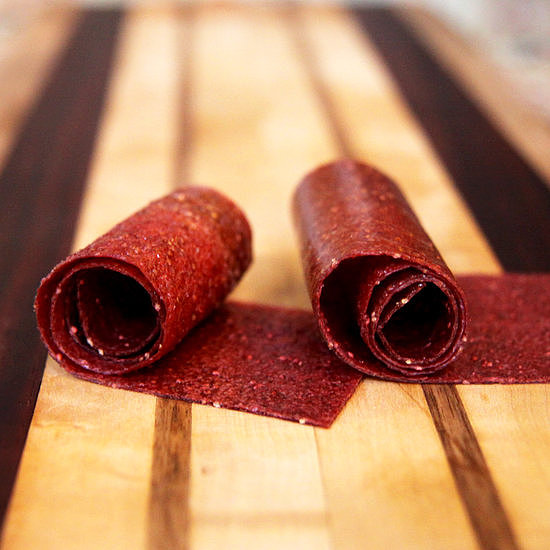 A tasty roll of strawberry fruit leather [20] is the perfect snack to keep in your gym bag or purse. Check out our step-by-step tutorial to create these leathers at home. Did I that mention that they have 30 fewer calories than the store-bought stuff?
Photo: Jenny Sugar
Strawberry Banana Creams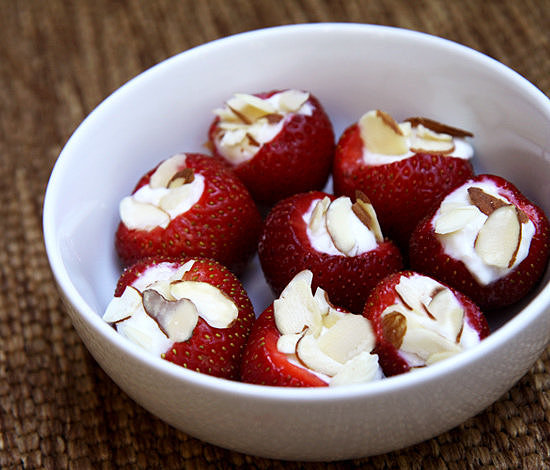 For a low-calorie alternative to strawberry cheesecake, try these strawberry banana creams [21]. The taste is spot-on to the classic, and it's under 150 calories per serving.
Photo: Jenny Sugar
Chocolate Almond Quinoa Stuffed Strawberries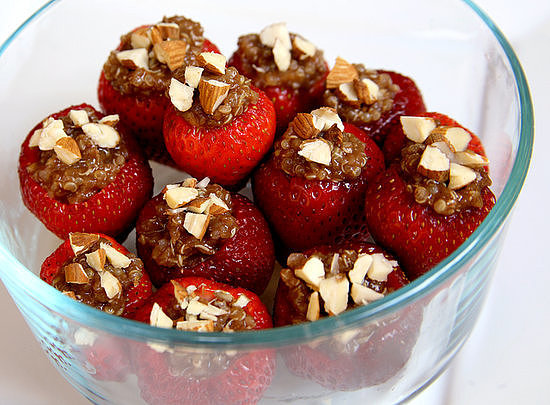 For a simple and delicious vegan treat, whip up these chocolate almond quinoa stuffed strawberries [22]. This protein-packed recipe is rich and delicious but comes in at only 118 calories a serving.
Photo: Jenny Sugar
Strawberry Lemonade Smoothie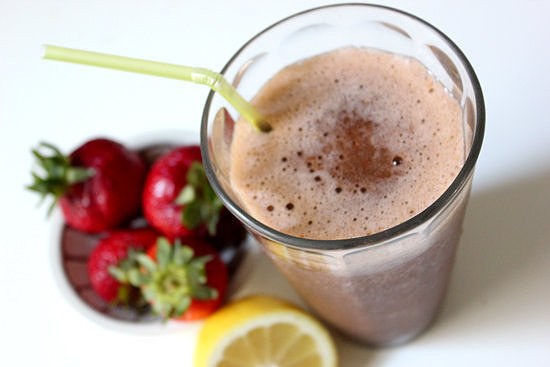 The perfect treat for a hot day, this detoxifying smoothie [23] tastes sweet but has no added sugar. So sip on this delicious and healthy drink the next time you're looking to cool off.
Photo: Leta Shy
Vegan Strawberry Fudgesicles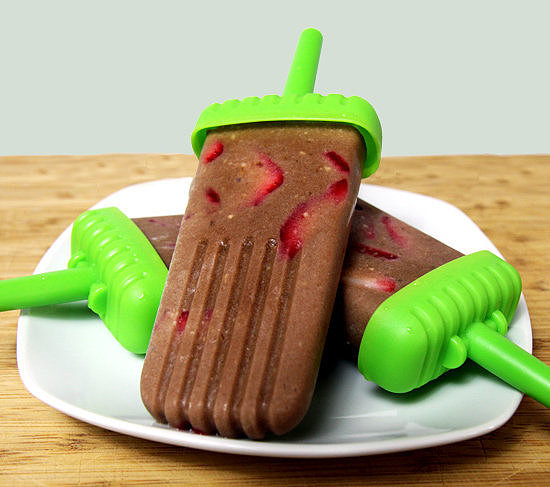 For a healthy spin on a favorite childhood treat, whip up these strawberry fudgesicles [24]. With each sweet and creamy pop coming in at under 80 calories, you can snack away guilt-free.
Photo: Jenny Sugar
Strawberry Balsamic Vinaigrette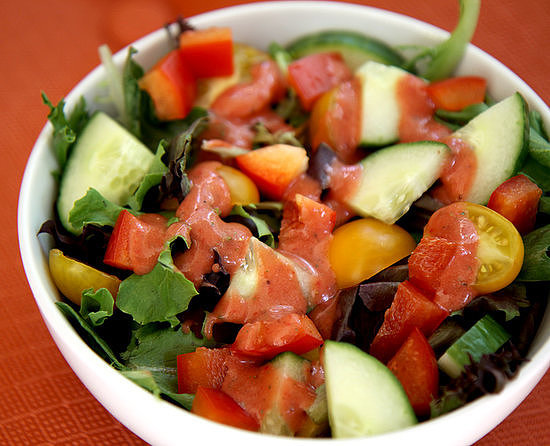 Amp up your Summer salad with this refreshingly fruity strawberry balsamic dressing [25] that captures the fresh taste of the season that a bottled dressing just can't provide.
Photo: Jenny Sugar
Strawberry Protein Pancakes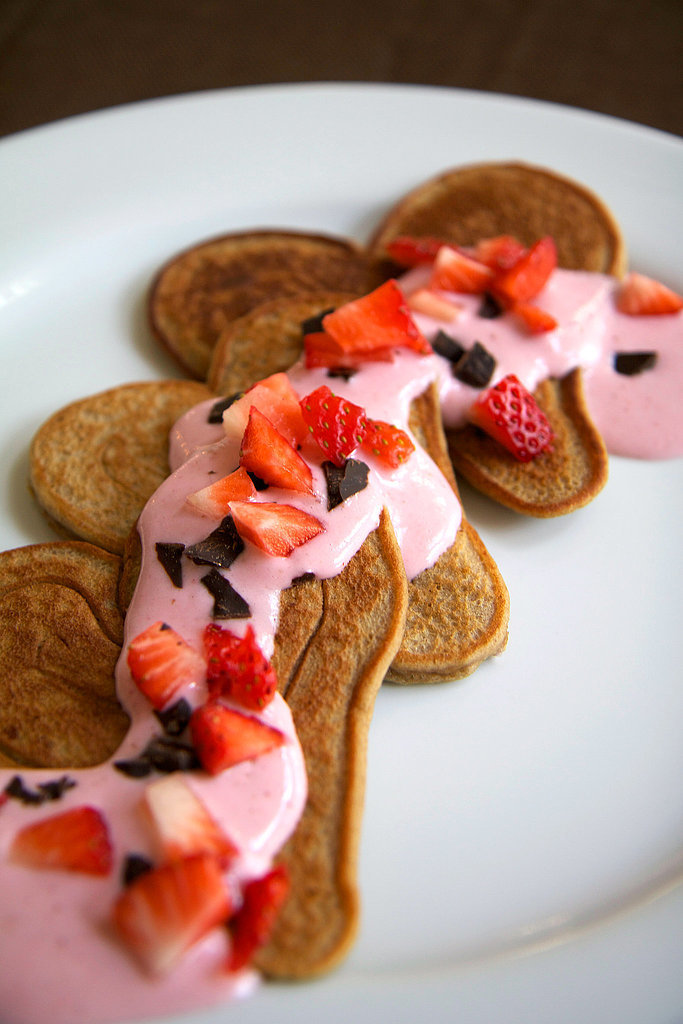 These low-calorie strawberry protein pancakes [26] are a sweet and tangy breakfast option that will leave you feeling full for hours.
Photo: Jenny Sugar
Watermelon Strawberry Mint Popsicle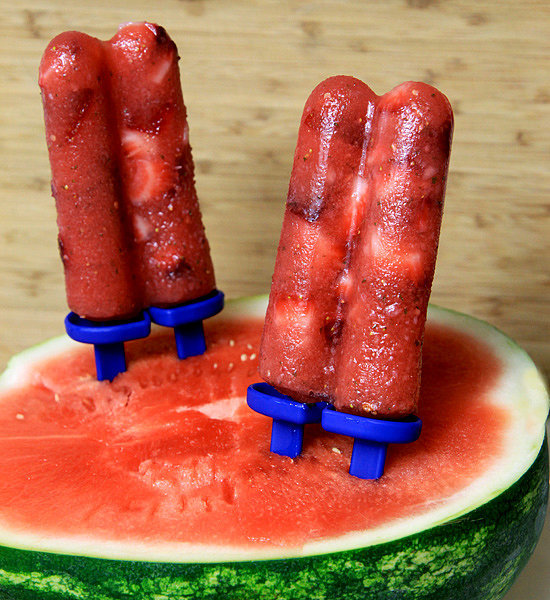 For a refreshing way to beat the hot Summer weather, cool off with a low-calorie watermelon strawberry mint popsicle [27]. The sweetness of the fruit is balanced by the refreshing taste of mint, creating a healthy treat that makes heat and humidity a little more bearable.
Photo: Jenny Sugar