If you're looking to lose weight, salads are bound to be a big part of your life. Luckily, there's no better season than Summer to enjoy the bounty of produce the season has to offer! There's nothing like wandering around the stalls of a farmers market on a bright sunny day as you sample all the ripe produce. If you're wondering how to make full use of all those fresh fruits and veggies, here are 14 in-season salads to help you celebrate Summer and stick with the game plan.
Photo: Jenny Sugar
Watermelon Caprese Salad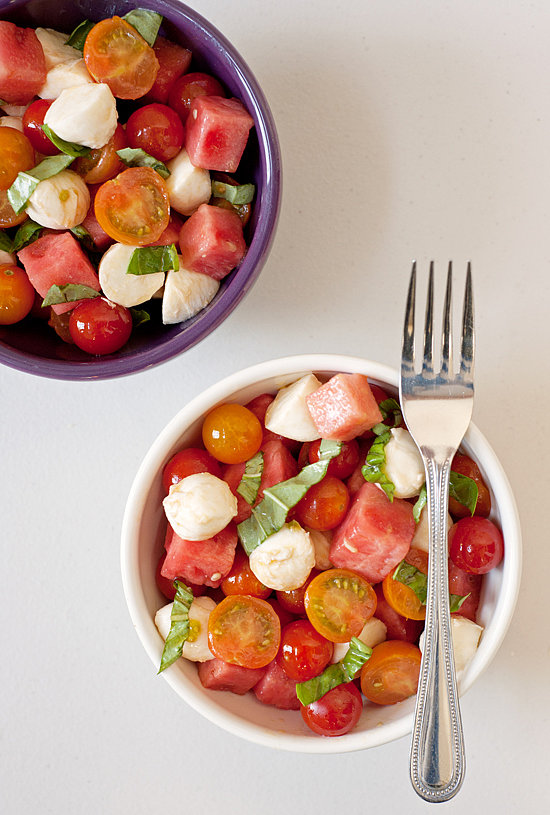 For a twist on the standard, try out POPSUGAR Food's recipe for watermelon caprese salad [1]. It's the perfect way to make the most of leftover watermelon from all your Summer BBQ endeavors.
Photo: Nicole Perry
Kale and Quinoa Salad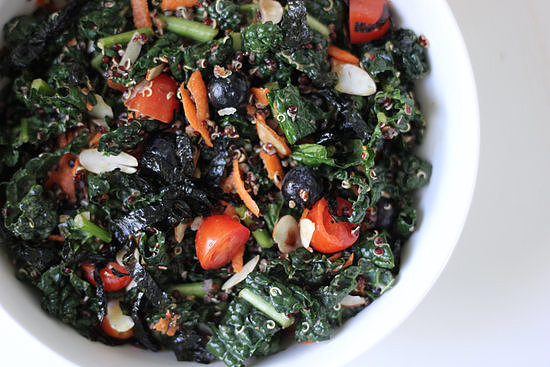 Toss your grape tomatoes and blueberries into an Asian-inspired kale and quinoa salad [2] with sesame soy ginger dressing and sliced nori. It has the perfect blend of healthy fats, protein, and fiber for a filling meal.
Photo: Leta Shy
Easy Taco Salad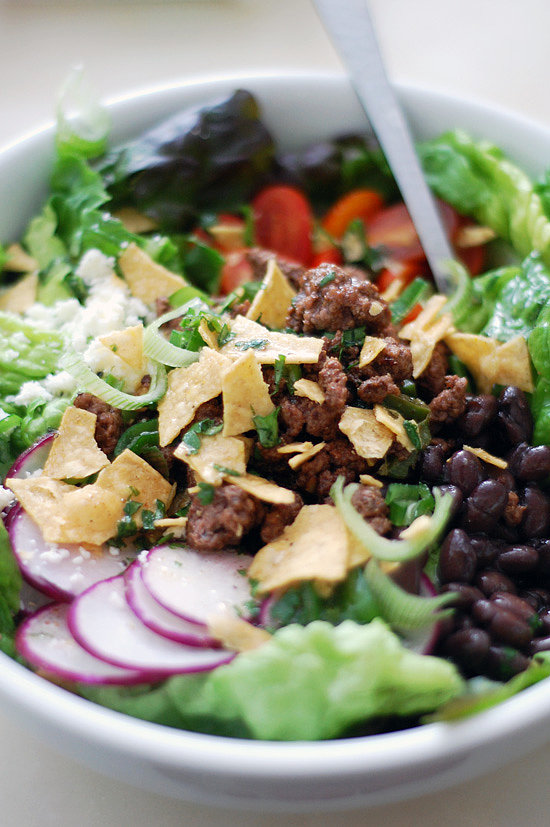 If you're craving the flavors of your favorite cantina, channel them into this light yet satisfying taco salad [3] that's loaded with fresh flavors and without all the calories and fat. To keep things even lighter, consider subbing lean ground turkey for the beef.
Photo: Camilla Salem
Raw Pad Thai Salad
Veggie noodles are all the rage for good reason! They can cut major carbs from just about any recipe. This raw rainbow pad thai [4] subs in Summer zucchini noodles for extra flavor and crunch.
Source: Oh She Glows [5]
Potato and Asparagus Salad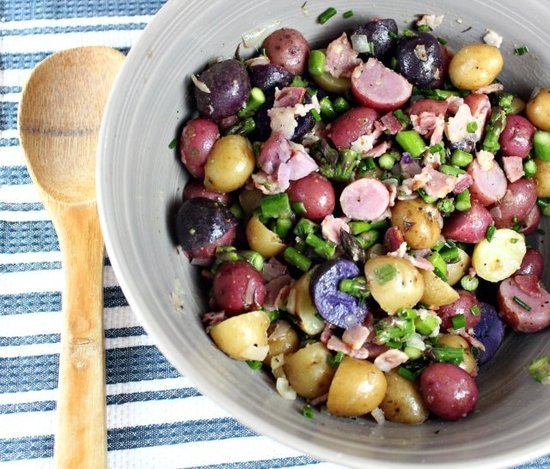 Your next barbecue hit: this potato and asparagus salad [6], which keeps things healthy by bulking up with veggies and switching up the calorie-laden traditional dressing.
Source: Gen Y Foodie [7]
Rainbow Quinoa Salad
This beautiful veggie-packed quinoa salad [8] screams Summer! A bowl of this gluten-free goodness is under 350 calories, offering 13 grams of protein and seven grams of fiber. Any vegetarians or vegans looking for a protein-rich recipe to support weight loss will fall hard for this salad.
Photo: Jenny Sugar
Lemony Toasted Quinoa and Cabbage Salad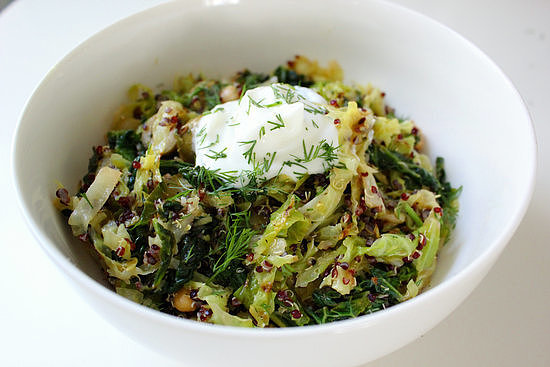 Each ingredient in this lemony toasted quinoa and wilted cabbage salad [9] aids digestion, making it an ideal recipe for clean-eating adventures. Quinoa, chickpeas, and cabbage are responsible for the high-fiber content, while the detoxifying properties of lemon and the digestion-supporting dollop of Greek yogurt are added bonuses for your body (and taste buds).
Photo: Leta Shy
Strawberry Avocado Salad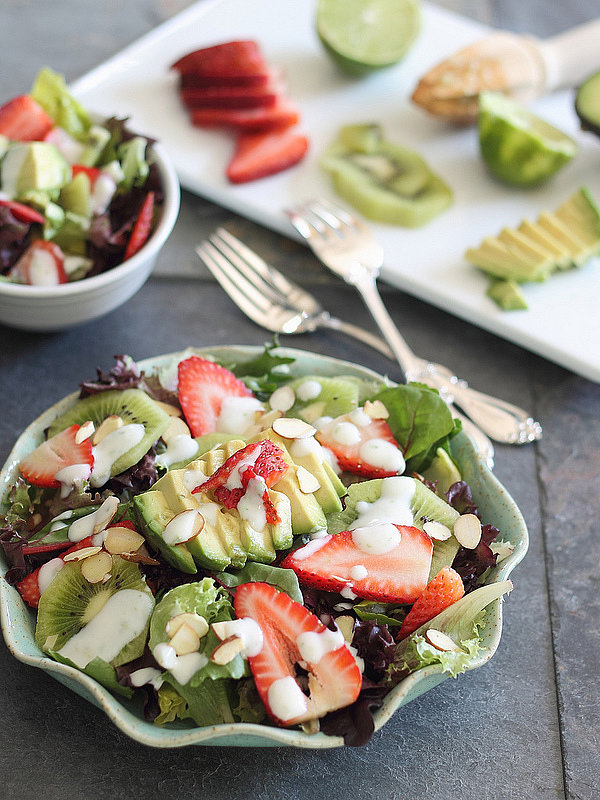 An interesting array of Summer produce goes into this fiber-rich strawberry avocado salad [10]: avocado, strawberries, and kiwis are all tied together with a honey lime dressing. The avocados are high in monounsaturated fatty acids, which can help diminish belly fat.
Source: Running to the Kitchen [11]
Tomato Fennel Salad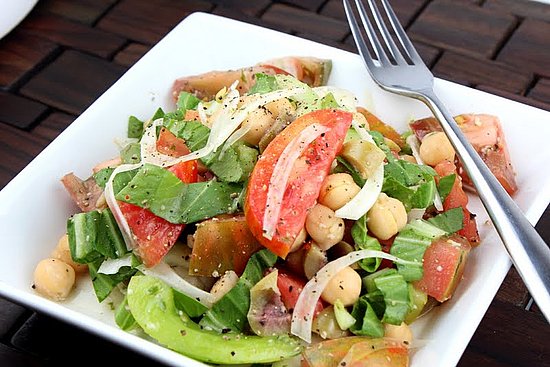 The season's heirloom tomatoes are paired with crisp, spicy fennel in this Summer tomato fennel salad [12]. Throw in some protein-rich chickpeas, and you've got a well-balanced and filling lunch.
Source: Gen Y Foodie [13]
Thai Citrus Chicken Salad
The combination of cabbage, carrot, and daikon in this citrus chicken salad [14] is an antioxidant-rich trifecta! This recipe supports your digestive system and keeps your body hydrated in warmer temperatures. It's also high in protein and low in fat, carbs, and calories. In short, it's everything you're looking for in a filling salad that supports weight loss.
Photo: Leta Shy
Cilantro-Lime Quinoa Salad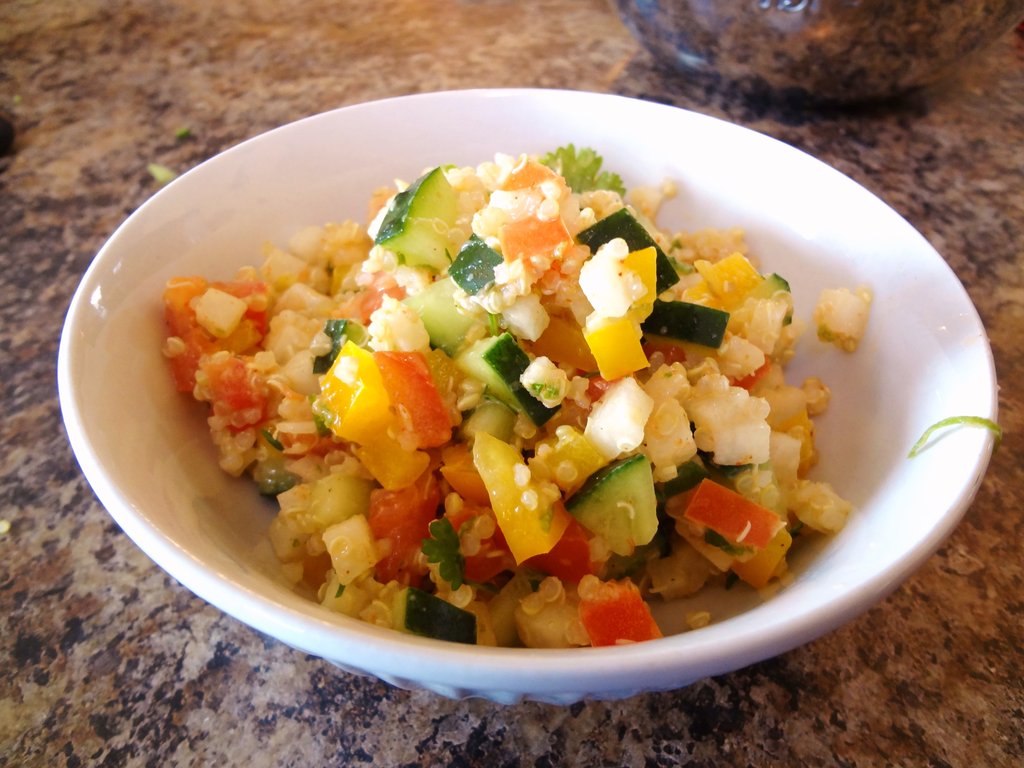 Fresh, bright flavors like cilantro and lime beg to be eaten in the sun, and who doesn't love fiber-filled quinoa? Get yourself in a summery mood with this cilantro-lime quinoa salad [15], shared with us by The Fit Cookie.
Source: The Fit Cookie [16]
Tropical Arugula Salad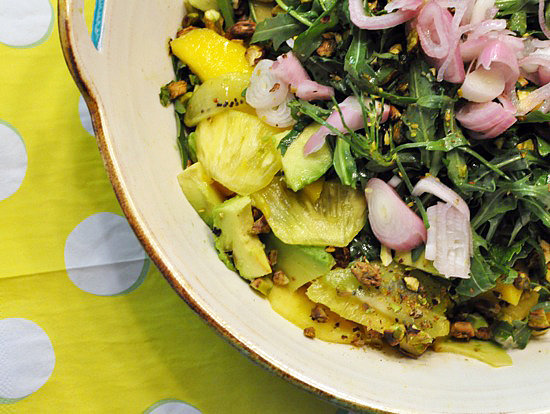 For a fruit salad recipe that can stand alone as a lunch, try this easy pineapple and arugula salad [17] that can help beat belly bloat. The ingredients are seasonal with a tropical flair, plus the simple vinaigrette is light, healthy, and versatile.
Photo: Lauren Hendrickson
Moroccan Couscous Salad
This Moroccan couscous salad [18] makes a great main dish for vegans and omnivores alike. The whole wheat Israeli couscous paired with chickpeas ensures plenty of protein, while the apricot, pistachios, and spices give it a uniquely Moroccan flavor profile.
Source: Gen Y Foodie [19]
Cucumber Caprese Salad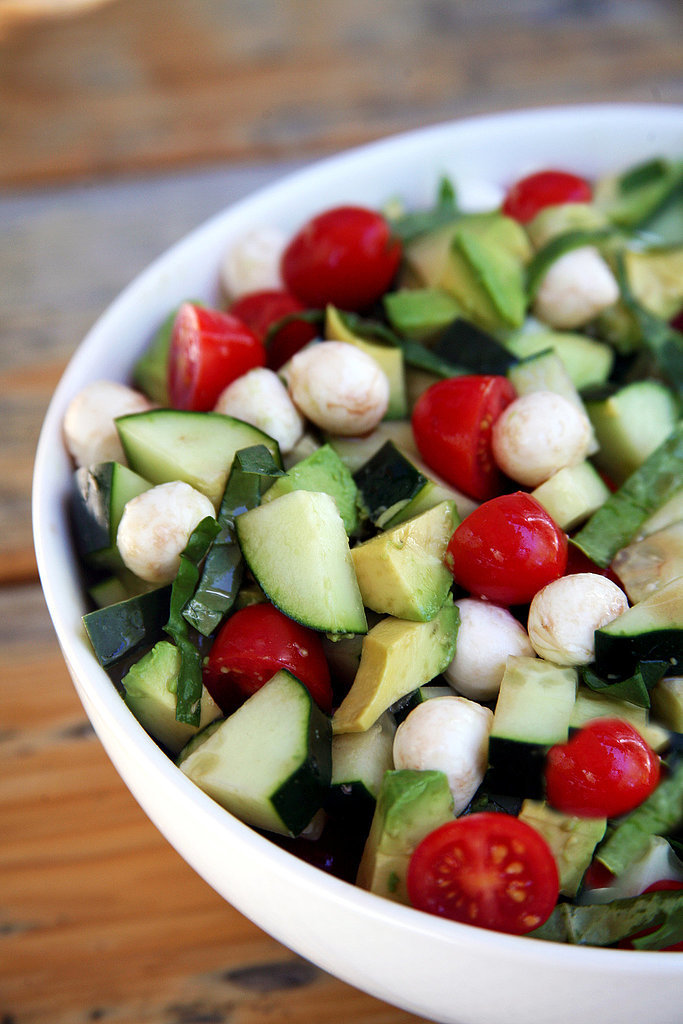 Another riff on the classic caprese comes in the form of this hydrating and refreshing cucumber caprese salad [20] that might turn into your new go-to recipe. Higher in protein, fiber, and anti-inflammatory omega-3s, this delicious salad aligns with your Summer goals!
Photo: Jenny Sugar