What we're craving these days are satisfying and easy wraps loaded with all our favorite fillings. While extra bread can load on the calories, swapping your standard bun for a tortilla wrap or tasty greens can make a huge, healthful difference in your meal. Let's get rolling! Here are 21 tasty wrap recipes that will inspire your fit palate.
Veggie Chard Wraps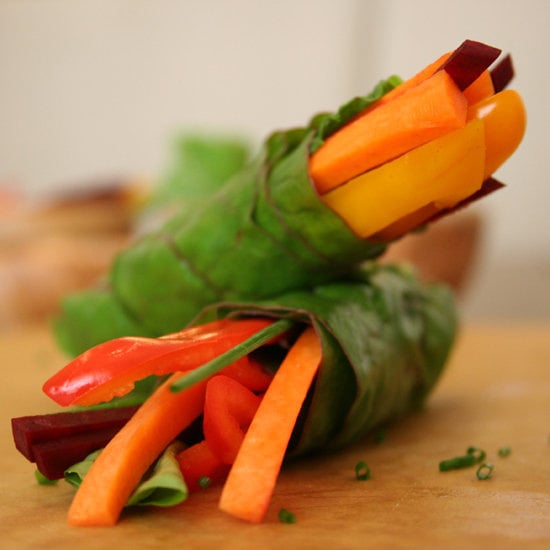 Beautiful veggie chard wraps [2] are bursting with tasty color. Crunchy, spicy, and equipped with a delicious ginger-lime dipping sauce, they're a yummy lunch option or elegant snack.
Raw Gorilla Wraps
Give your cold-cut sandwich routine a rest, and opt for this creative lunch instead. These fresh, raw, and fast collard green wraps [3] feature a unique filling: ground walnuts, seasoned with tamari (a Japanese soy sauce that contains little to no wheat), cumin, and other spices and topped with your favorite salsa.
Cobb Salad Wrap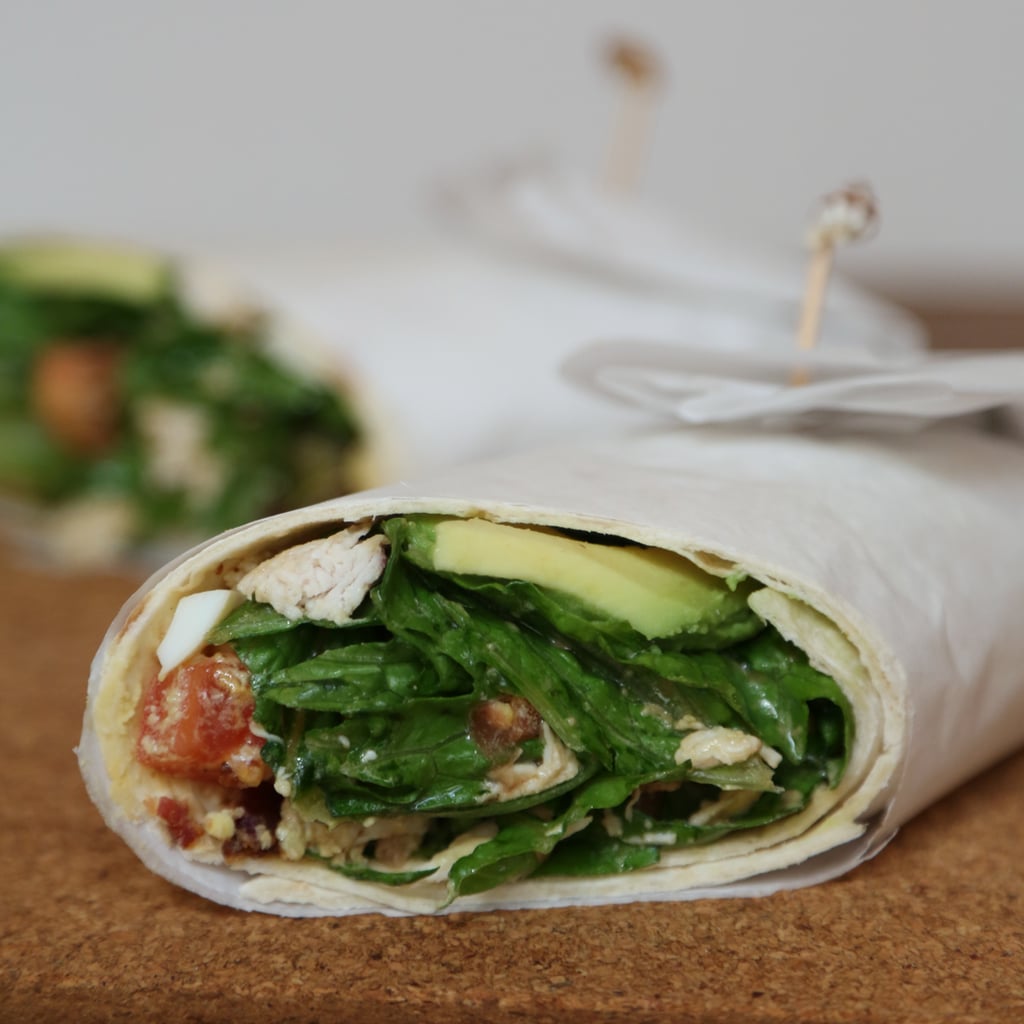 Roll up the classic Cobb salad in a tasty wrap recipe [4]. To lighten things up, sub in extra veggies for (most of) the bacon.
Quinoa Wrap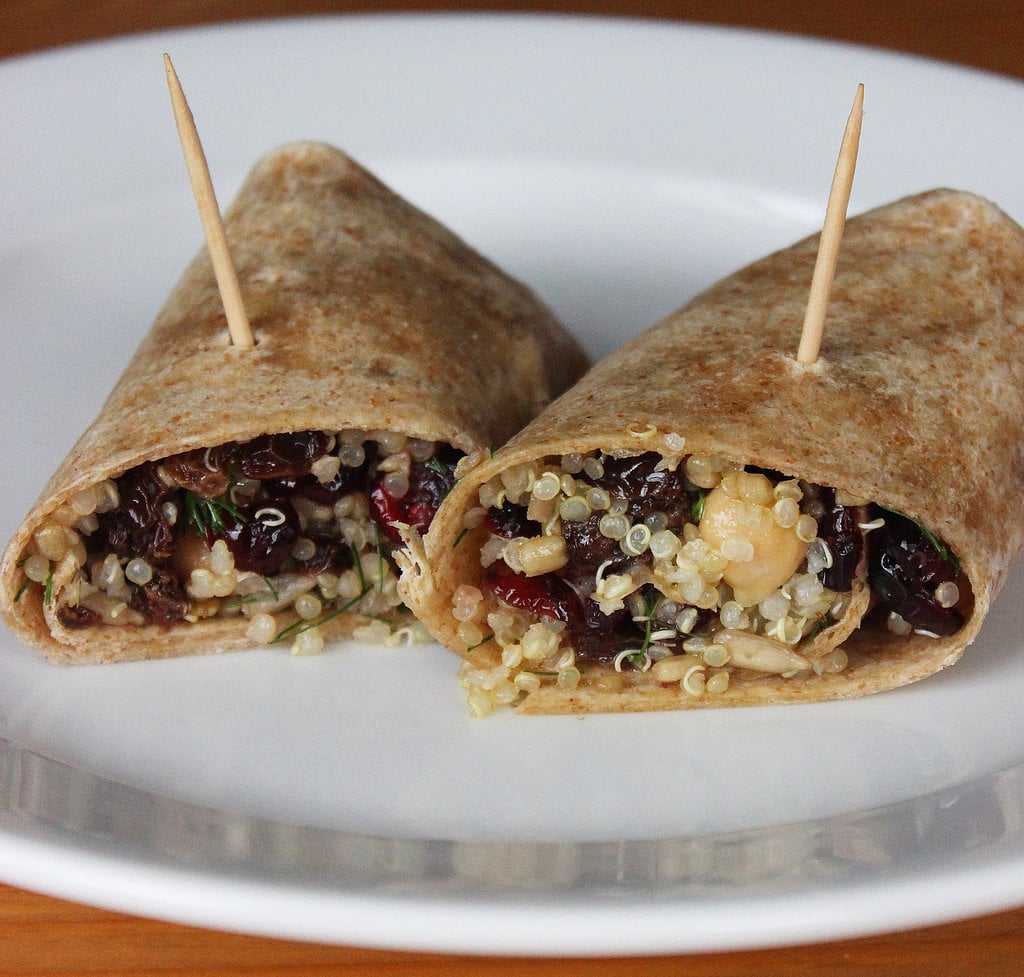 If you're looking for a light-yet-satisfying vegan meal, this filling wrap [5] has your name all over it. Quinoa and chickpeas combine for a protein-packed recipe, offering nearly 20 grams per serving! Dried cranberries and raisins provide just the right sweetness, while fresh dill and lemon brighten up the filling.
Tandoori Steak Wraps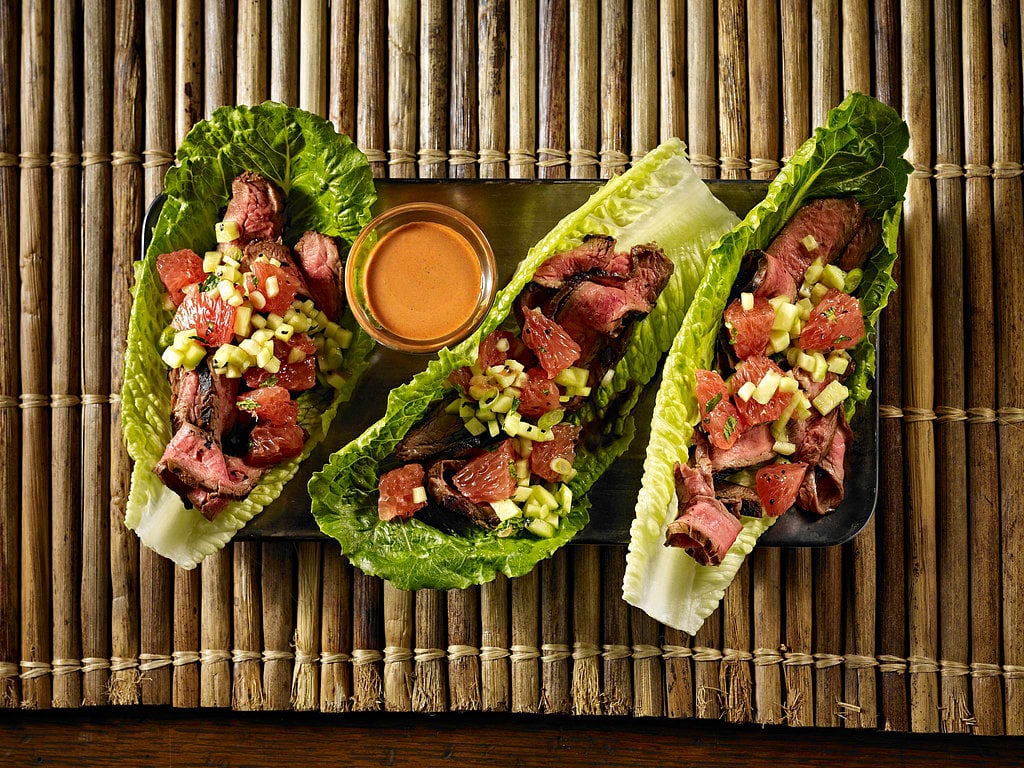 Crisp and hydrating romaine lettuce leaves are the vessel that keep these tandoori steak and grapefruit wraps [6] together. English cukes, green onions, and mint bring extra green power to this recipe, and a Greek-yogurt-based sauce ties everything together.
Chickpea Salad Wrap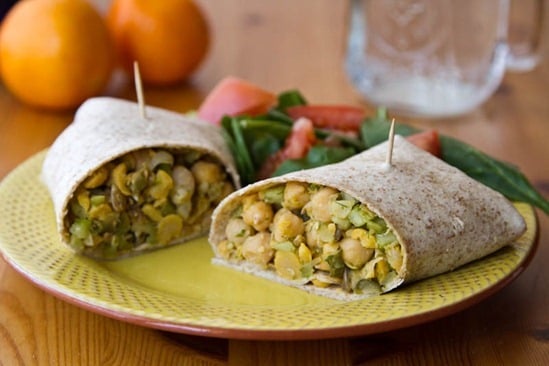 Angela at Oh She Glows created these beautiful, vegan-friendly chickpea salad wraps [7] that are fresh, crunchy, and just under 400 calories per serving.
Spinach-Feta Wrap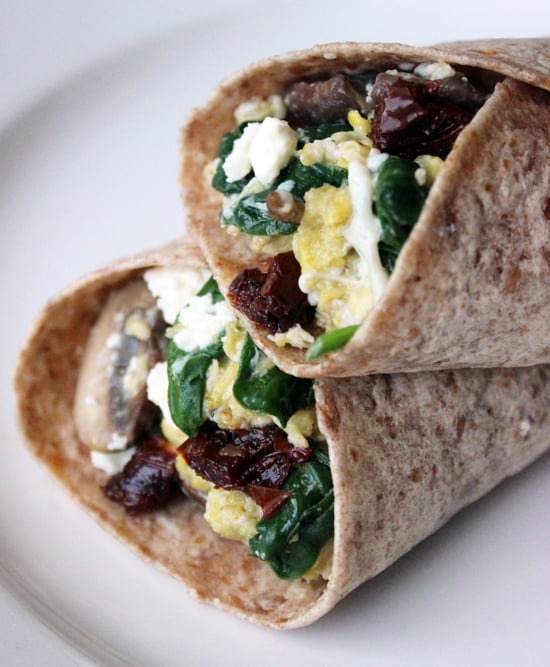 Love the Starbucks spinach and feta wrap, but not so in love with the preservatives and sodium that come with every bite? Skip the lines, and cook up your own homemade spinach-feta wrap [8] that's lower in calories and carbs.
Summer Tempeh Wraps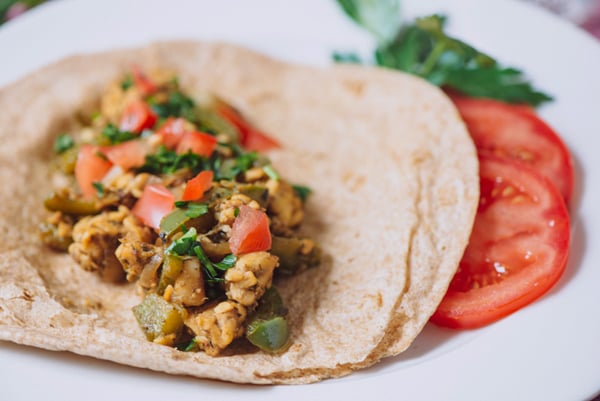 Make better use of your block of tempeh with these tasty temeph wraps [9]. Creatively spiced with Old Bay seasoning, these vegetarian wraps will be a hit in your kitchen.
Bean Burger Collard Wrap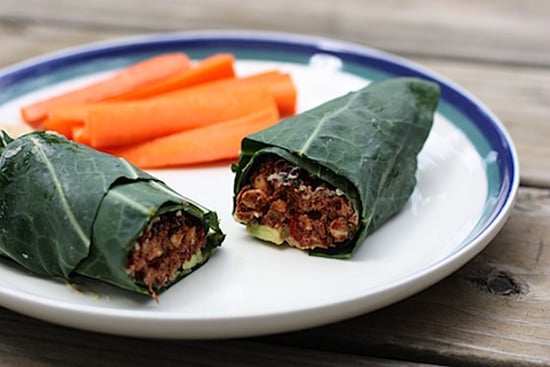 Leftover veggie burgers get a face-lift in these California bean burger collard wraps [10] — a perfect way to enjoy this Southern green without making it a creamy side.
Sonoma Chicken Salad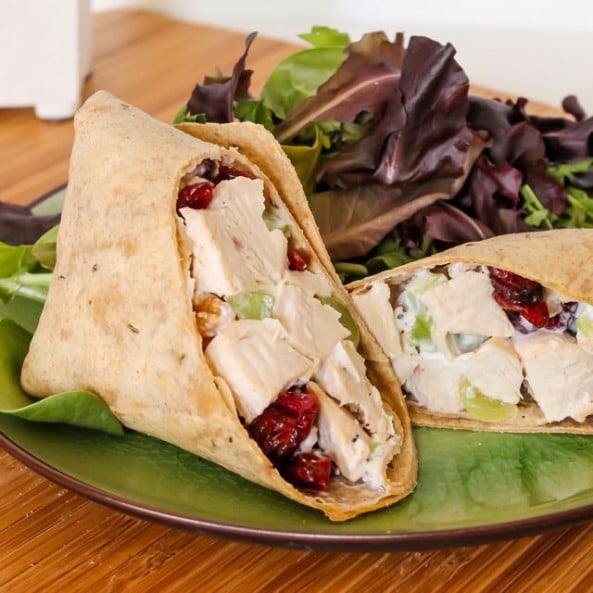 Lighten up the standard mayo-laden chicken salad and try this chicken salad wrap [11] that uses plain yogurt and apple cider vinegar to tie everything together.
Spinach Veggie Wraps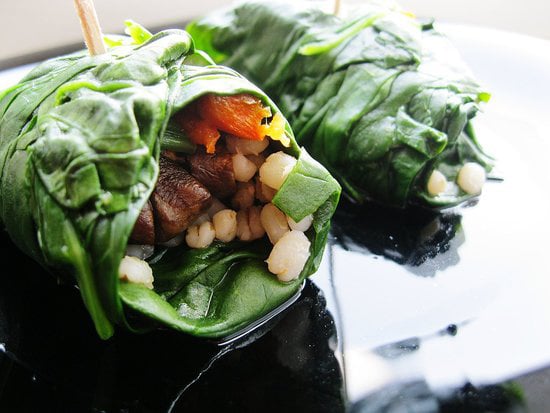 Easy five-ingredient spinach wraps [12] loaded with veggies and barley are an ideal recipe to help debloat and detox.
Roasted Turkey Wrap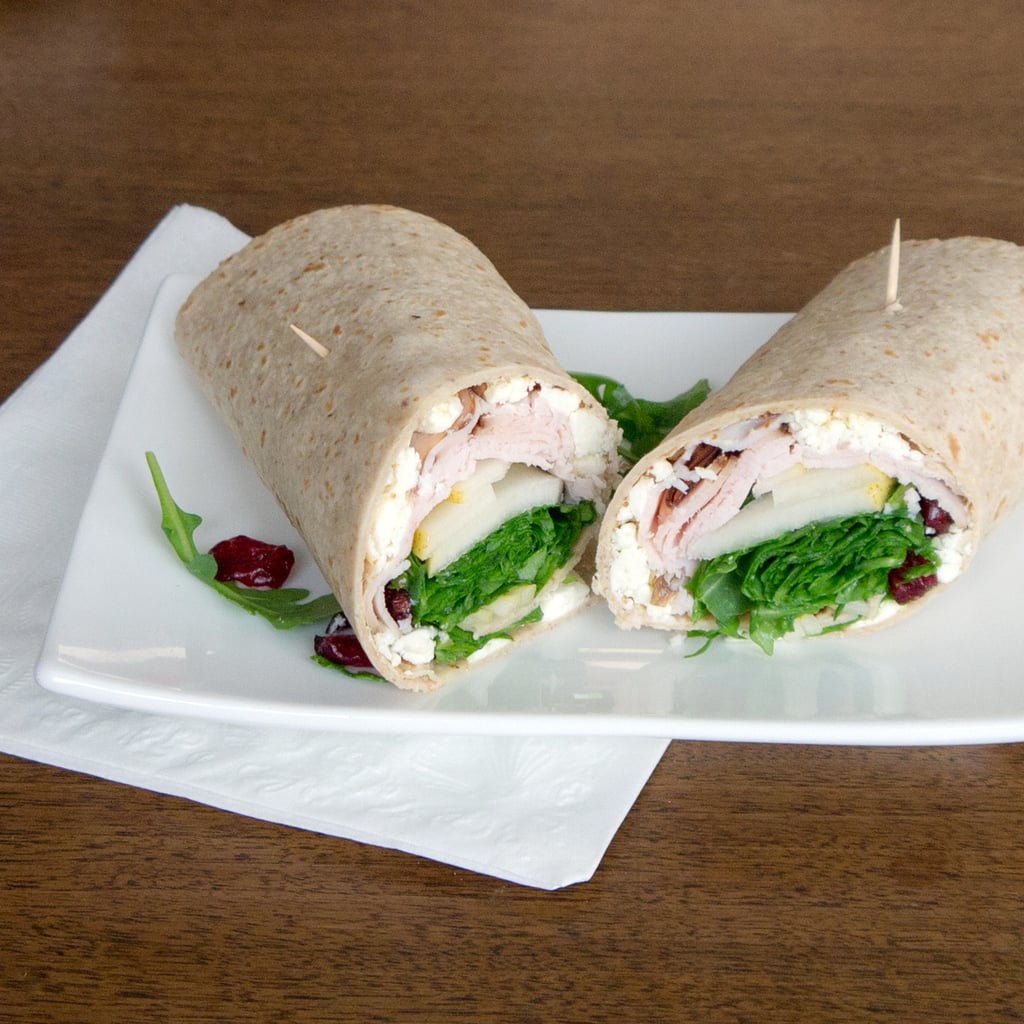 Take your turkey sandwich to the next level with a roasted turkey wrap [13]. Fresh produce like arugula and pears, plus a little bit of feta, are rolled up with turkey in a whole-wheat wrap.
Dr. Weil's Tofu Lettuce Cups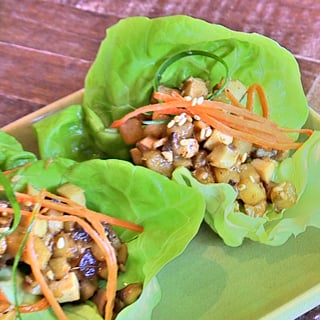 Dr. Weil's True Food Kitchen's recipe for shiitake tofu lettuce cups [14] is chock-full of antioxidants and helps fight PMS.
Vegan Cheese and Veggie Wraps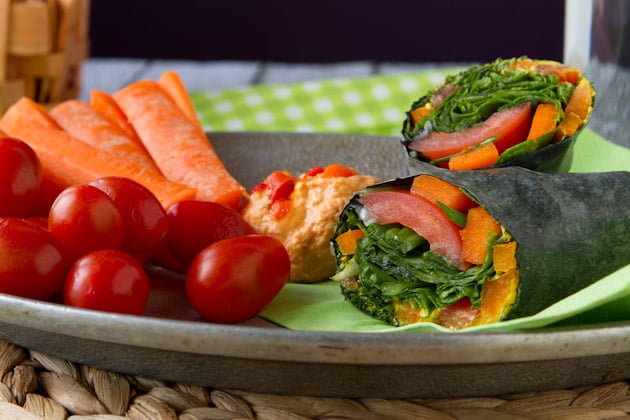 These simple vegan and gluten-free "cheese" and veggie wraps [Array] are rolled up in rice and nori sheets. They're easy to make ahead for lunch and enjoy the next day.
Cat Cora's Tuna Nicoise Wrap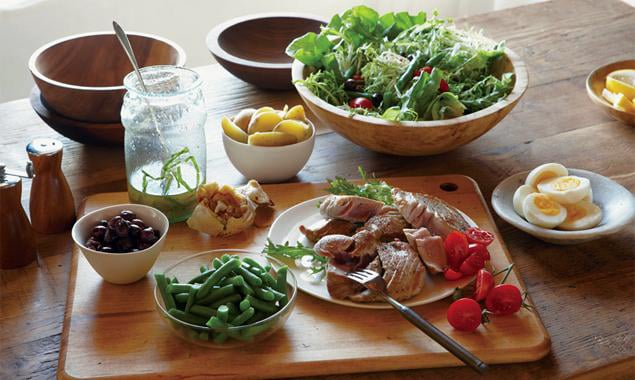 Celebrity chef Cat Cora offers her recipe for healthy tuna nicoise lettuce wraps [15] that would be a beautiful offering for a weeknight supper.
Sweet Chicken Tacos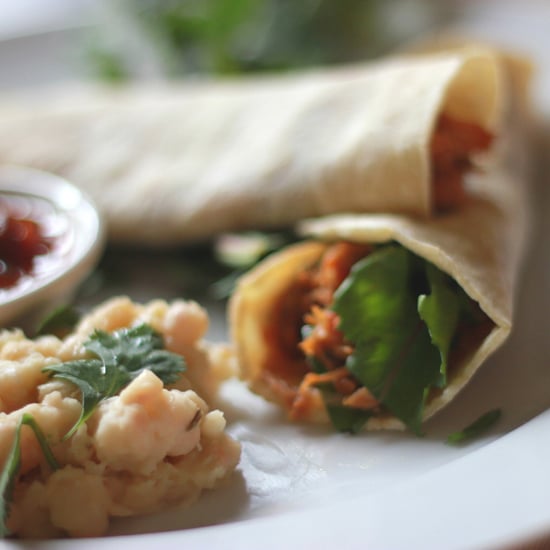 Inspired by Mexican flavors and tasty greens, these sweet chicken tacos with dandelion greens [16] are a great pick for a simple and tasty lunch.
Tuna Chard Wraps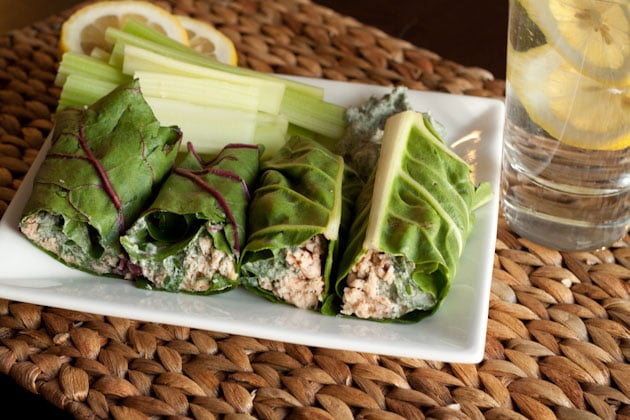 Instead of your standard lettuce wrap, learn to love chard. These tuna chard wraps [17] from Healthful Pursuit should do the trick.
Guacamole Wraps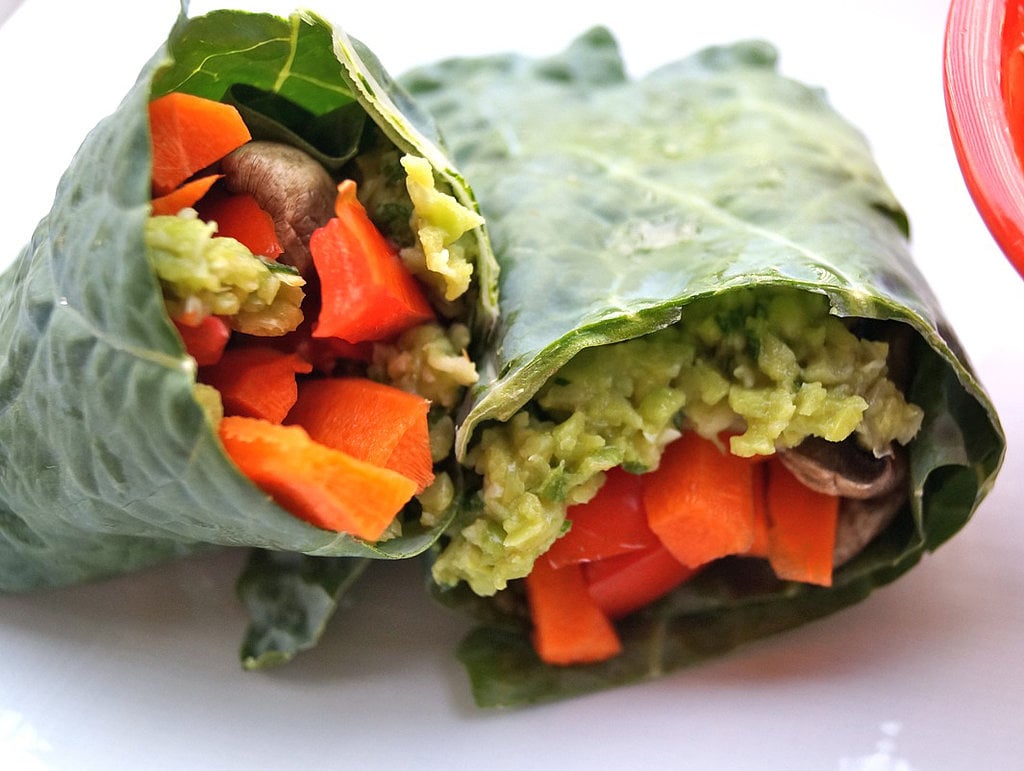 For a low-fat and protein-rich lunch, look to this Paleo-friendly collard green guacamole wrap [18]. This recipe is a perfect way to make use of leftover veggies in your crisper.
Grilled Greek Wrap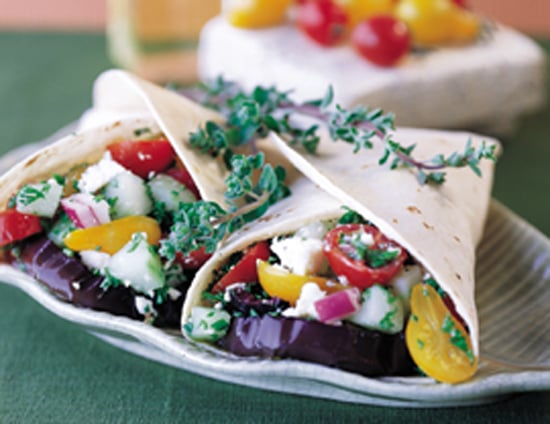 These healthy and tangy grilled Greek wraps [19] loaded with tomatoes, onions, and grilled eggplant are bursting with color and flavor.
Kale Chicken Caesar Wrap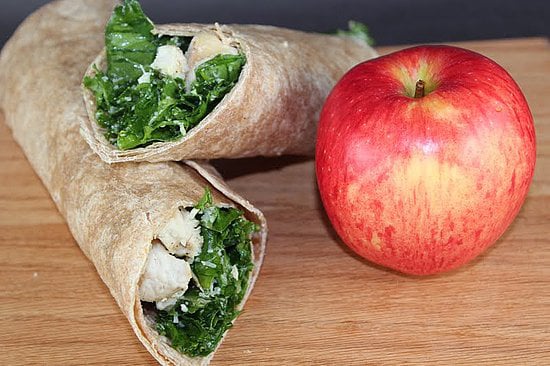 Get your green on by bringing some kale to your standard chicken caesar wrap [20] recipe.
Sushi Wraps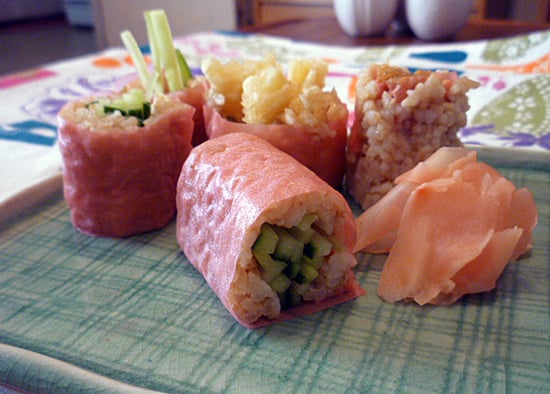 For healthier homemade sushi, be sure to load up on fresh veggies and brown rice. If you're looking for a sushi-inspired wrap to take to lunch or on the go, then be sure to check out our tips on healthy soy wraps [21].