ADVERTISEMENT ( more slides)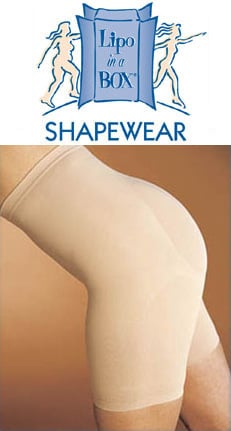 Sometimes the ease of liposuction seems slightly appealing, but getting a smooth back side and belly can be done without having to go through elective surgery. While this nonsurgical solution might not be permanent, it is certainly cheaper and a lot less painful. I am talking about Lipo in a Box. Don't you just love the name?
Basically this company sells undergarments that suck you in and shape you where you need it, so it makes you look like you dropped ten pounds. You can order bodysuits, camisoles, slimming briefs, briefs that cover your belly, thongs that cover your belly, slimming shorts that cover your belly, and high waisted capris.
I think this is a brilliant way to help women feel confident and good about their bodies. I'm not saying this gives them a reason to ditch their workouts and head for the nearest Krispy Kreme counter, but if it helps women to have a more positive self-image, then I'm all for it. Want to see what other styles they have? Then