Miranda Kerr's Ballet Barre Workout
Get Miranda Kerr's Supermodel Shape With Her Favorite Ballet Workout!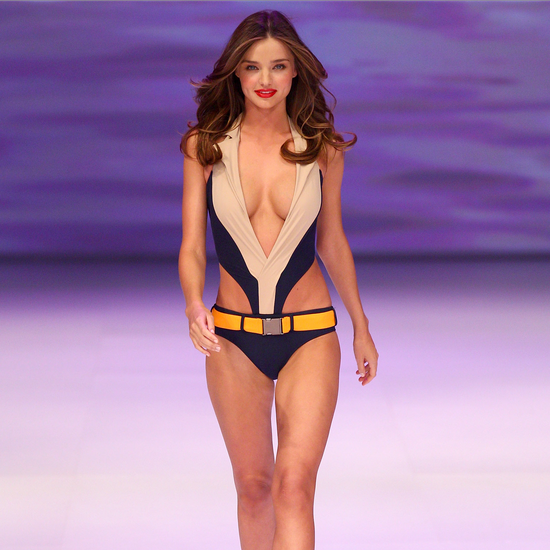 Victoria's Secret beauty Miranda Kerr is a firm believer in clean eating, and to tone her body, she's all about the barre. Her ballet-inspired workout is perfect for sculpting shapely shoulders and tightening the tush. We got the lowdown on Miranda's five favorite moves from Andie Hecker, her trainer and founder of Ballet Bodies. You don't need any dance experience to work these moves, but you just might find your inner ballerina when you find your deep abs. Try the moves and let us know what you think in the comments section below.
View Transcript »
Transcript
Miranda Kerr uses a hybrid of Pilates and ballet moves to keep her body in supermodel shape. Today we have her trainer, Andy Hecker, show us some of her favorite moves. All you need is a pair of two pound weights, a chair or counter top for balance, and you're ready to go. Join FitSugar as we go one on one with with celebrity trainers, as they show us how to get the bod of their famous clients. So Andy, what's it like working with Miranda. Miranda's amazing, she never ruins her hard work with an unhealthy lifestyle or poor diet. She really lives a holistic life. Wonderful. Well, show me some of these great moves. I'm ready. Okay. This is great for toning your glutes and your arms basically, so you're just gonna go out to the side second position. Arm out. Okay. And straight leg and you're just gonna reach that leg out to with the arm in second, and you're going to Fondu arms across. You're going to plie in. Fondu means to melt. So everything is down and then you open out to the arabesque and Fondu. Open out. So the next one we're gonna go into is a lift. So you're finishing out the arabesque raise, so you're lifting all the way out to the arabesque. Chest is open and leg is lifted. And you're just gonna lift up, arm up over your head, lift your leg a little higher and arm those up and then lower the leg and drop the arm. Exactly. So lift it up and drop the arm really controlled, so the leg is really stretched and long, so you're elongating those muscles. So ballet is like a lot of body weight exercises, you're really gonna work just by holding and controlling those movements. Absolutely. It's all about opposition you're working against yourself. Yes. So now we're going to move onto inner thighs. This is an inner thighs split to a Sous-sus fit. It'll show itself. Let me do it. So we're gonna go flex your feet out and drop them down. You're gonna flex, flex, and point them up. Good. Flex, flex, point up. And this may be a dancerly move, but this is great for runners and for athletes to create that balance of the body, working that inner thigh. Yeah. So now, onto our next move. We're gonna work the outer butt and the outer thighs, so the gluteus medius and the outer thighs with this one. This is another ballet-infused sort of Pilates Fitness training move. It's sideline Developpe. So you're going to bend your knee up to the Passe, parallel Passe, extend out to Developpe and back into the Passe and then rotate it out to a turned out Passe. So in, extend it out Developpe, really extending, stretching those hamstrings and then rotate it back out. Perfect. That's great. From that Developpe, we're gonna go straight into just the parallel into turned out passe. So, just in and out. That's it. Very simple. Really isolating in here. And we're gonna burn it out. It gets the most upper glutes. For this next one, we're going to go into abs and we're going to also use the arms again, so we're gonna grab those two pound weights again, and these going to work your pecs a little bit and the anterior deltoids. So, nice, pretty, ballet shapely arms. So, arms are going to be out position. Legs are gonna be across low 5th position Sous-sus. So you're here, slight turn out. Pulling the lower abs in always and you're just gonna Let's start with some beats. So fifth position beats. You're gonna switch your legs. Beat, beat on the upper inner thighs, holding those arms right off the floor. Yeah. And we'll go straight into a Grand Battement, which means you're gonna stabilize, stay still in fifth position. Okay. And you're gonna kick one leg up leaving the other leg low, and then back of the turn out. Lift it up and bring it lower. Andy, thank you so much for that great workout today. You're quite welcome, you were awesome. You're a ballerina now. We'll see you next time We Get The Bod on FitSugar TV.