Lack of a gym membership is no longer an excuse for skipping workouts. Instead of relying on equipment, let your body be the gym. These 13 bodyweight workouts are effective, easy to follow, and plenty of fun! You can do these in the comfort of your living room!
Do-Anywhere Bikini Circuit
Tone all over with this printable strength-training plan [3] that's a great option all year long and offers the element of some heart-pumping cardio. If one of the moves is new to you, don't skip it; you can learn the details of each move here [4].
5-10-15 Workout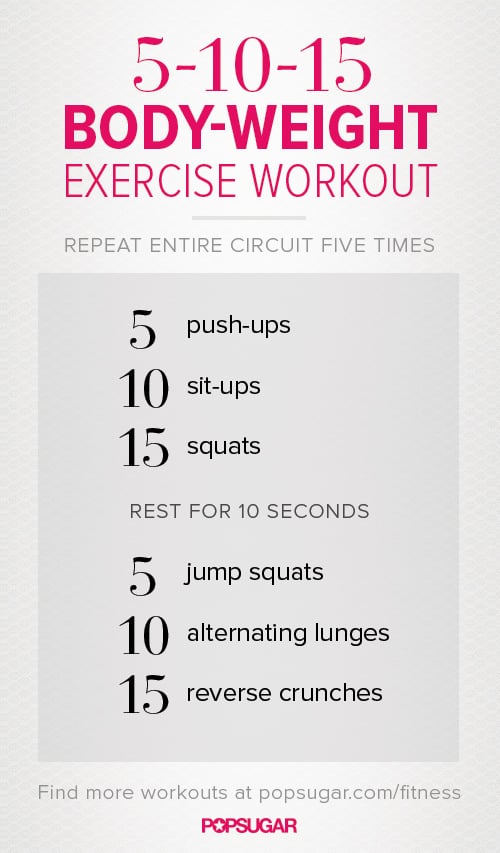 This 5-10-15 workout [5] is the perfect starter workout for bodyweight beginners — and once you start repeating the circuit, you'll see just how effective and challenging it can be! Get the printable version of this workout poster here [6], and start moving ASAP.
Long and Lean

Full of lengthening moves, this quick workout will strengthen your muscles while providing a good stretch. The Long and Lean Workout [7] is great the day after a long training run — it feels that good. Here's the workout poster [8].
Just HIIT It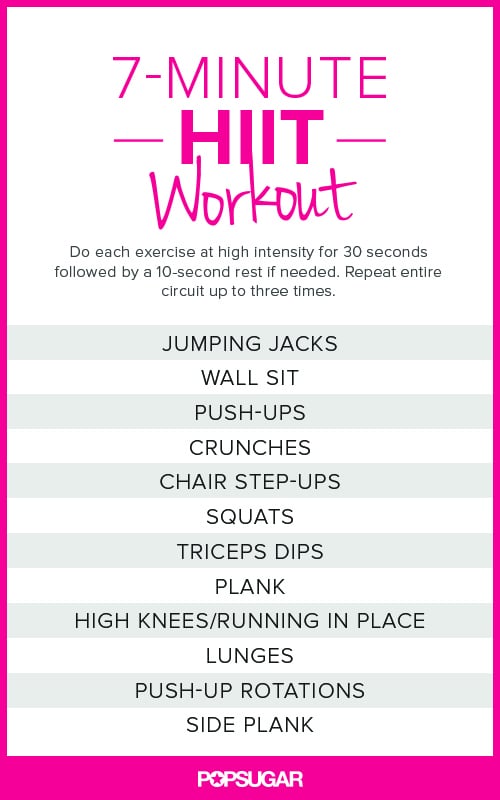 Seven minutes for a workout — who doesn't have time for that? That's why we've been loving this quick circuit workout! Learn how to do all the moves here [9], and get the printable poster of this 7-minute HIIT workout here [10].
Full-Body Plyo Workout

Jump, hop, and skip your way to a stronger body with this full-body plyometric workout. Learn more about each move here [11], then print out the workout poster [12] so it's ready to go when you are.
The "Anywhere" Workout

In need of a time-saving bodyweight workout plan? Let this week-long plan [13] take the guesswork out of the equation. These short workouts can be performed on their own for a quick strength-training session or combined with your cardio routine. Check out this printable version [14], so you can have it with you every day of the week.
Flat-Abs Bodyweight Workout

You can flatten your abs without crunches! This workout tones your entire body but with an emphasis on strengthening your abs. Find the poster here [15] but click here for how-tos [16] on each exercise.
Superset Tabata Time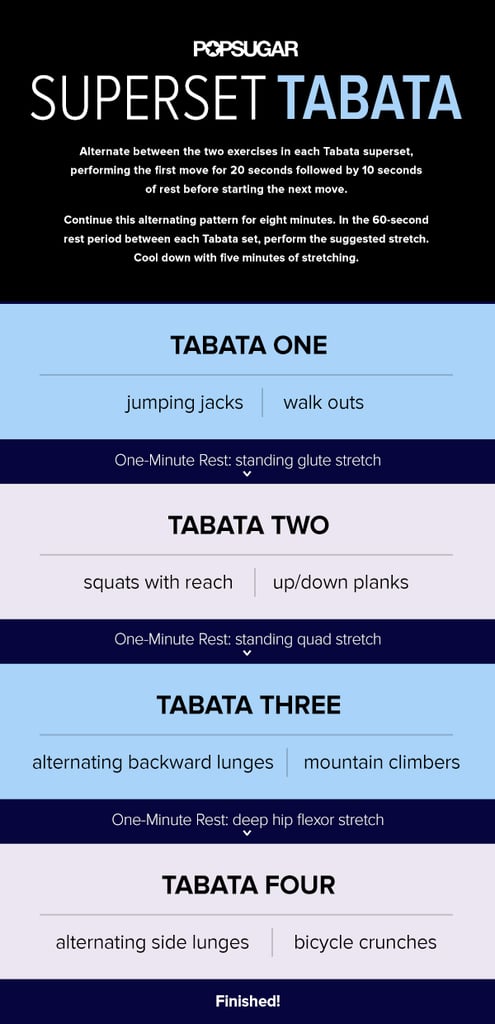 Tabata is all the rage for good reason, so get set to burn major calories: print out this workout [17], and get your timer ready (we like the free programmable app SIT — simple interval timer [18]). Get more information on how to do each exercise here [19].
The Busy-Woman's Workout

Every exercise in this quick sweat session works multiple muscles for an efficient and effective workout. Click here for the poster [20] after you read up on how to do these multitasking moves [21]. Now, get at it!
No-Excuses Workout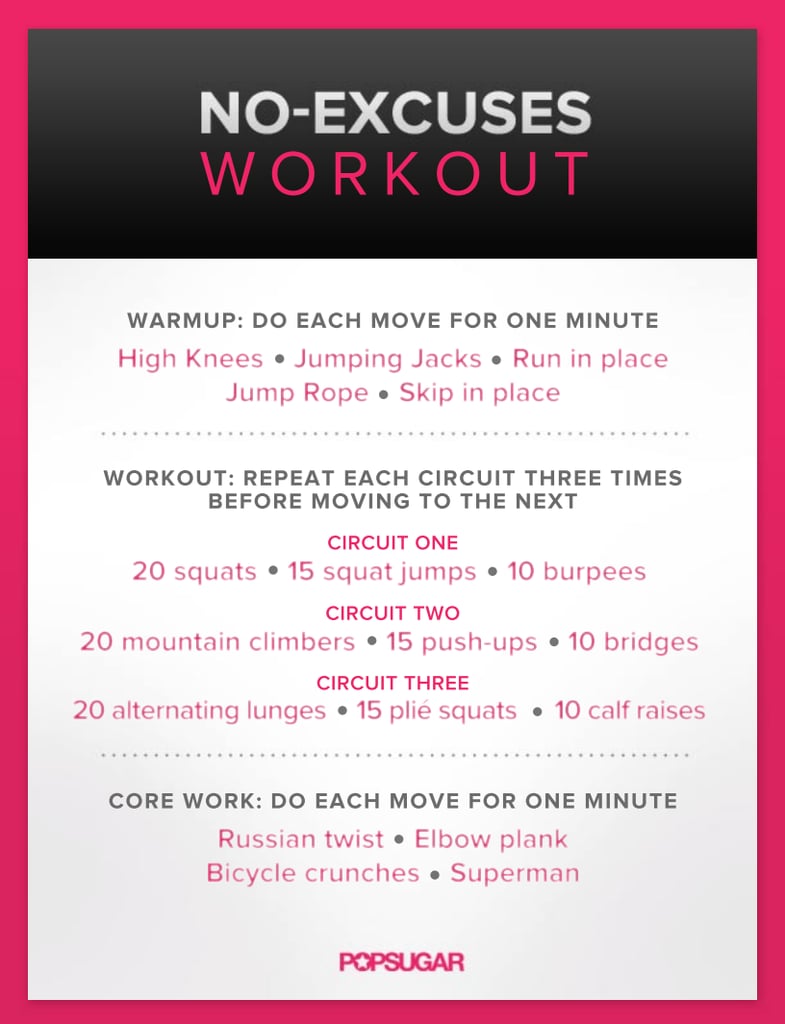 Torch calories and build some metabolism-boosting muscle with this straightforward plan [22]. Simply warm up, work out, and train your core, and you're done. Click here for the printable version [23], so you can hang it on your fridge to remind you to get your sweat on.
Total-Body Tabata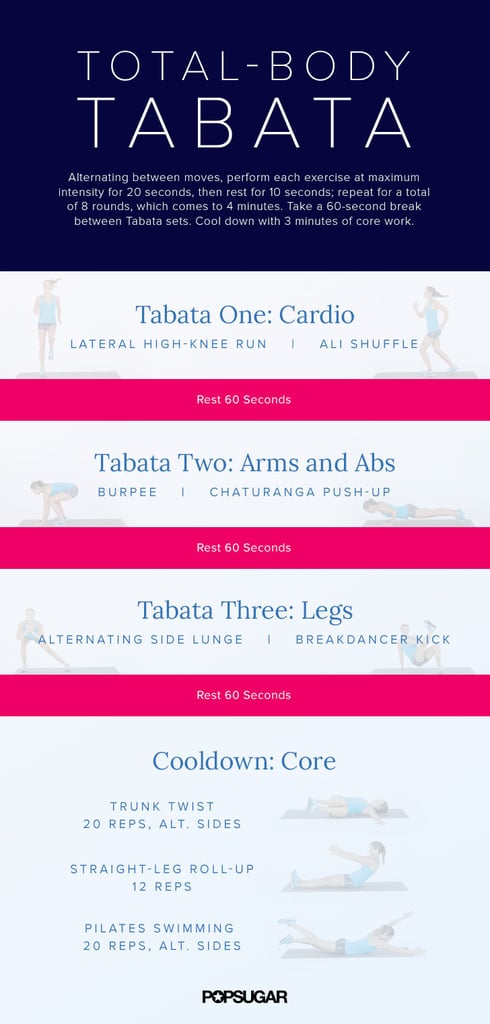 This 20-minute Tabata [24] workout is quick and effective. We even added some core exercises for your cooldown so no muscle goes unworked. Here's the printable poster [25].
Fire Up Your Core Circuit Workout
While your core is certainly targeted, your whole body will be feeling the burn with this dynamic core circuit workout [26] that combines strength-training moves with light cardio. Just print out this poster [27], and tone your core at home, the office, or the gym.
High-Intensity Tabata Training
This calorie-blasting 40-minute Tabata session [28] moves so quickly that it's hard to get bored. And with no equipment needed, you have no excuse not to give this effective full-body workout a try. Click here for a printable PDF [29] of the workout. Take it to the gym or tape it to your fridge to remind you to get moving.