Pumpkin Caipirinha Cocktail
Healthy Halloween Cocktail: Pumpkin Caipirinha
Like us on Facebook
Halloween is only a few days away, but we've got a cocktail to help start the celebration early! Using Fall ingredients like ginger, nutmeg, and antioxidant-rich pumpkin, this cocktail is definitely a treat to get you in a festive Halloween mood. Best of all, it's not weighed down with sugary juices or refined sugars; since pumpkin is naturally sweet on its own, the drink only needs a touch of agave nectar to round it out.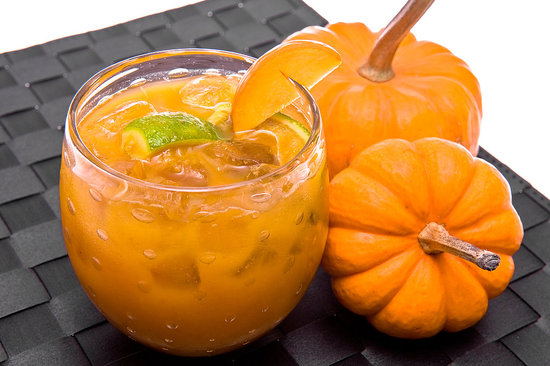 Learn how to make this pumpkin cocktail after the break!
Ingredients
1/2 lime, cut into 4 pieces
1/2 oz. agave nectar
crushed ice
1 1/2 oz. cachaça (can substitute with a white rum)
1 1/2 oz. pumpkin puree
1/2 oz. ginger liqueur (can substitute with 1/2 oz. homemade ginger simple syrup or 1 tsp. freshly peeled and grated ginger)
For garnish:
grated nutmeg
lime wedge
pumpkin sliver
Directions
The base of this recipe uses cachaça — a popular distilled spirit from Brazil that is made from sugarcane. If you don't have cachaça, feel free to use rum instead. Both spirits are made from unrefined sugars, though cachaça tends to be a tad tarter and sharper.
In a cocktail shaker, combine lime and agave nectar (if using fresh ginger, add it at this time); muddle. Add ice, cachaça, pumpkin puree, and ginger liqueur; shake well. Garnish drink with grated nutmeg, pumpkin sliver, and lime wheel.
Makes one cocktail.
Information
Category

Drinks, Cocktails