Kick your ab workout up a notch by adding weights, and you'll work your upper body at the same time. These four moves will effectively give you that burn that lets you know you worked it!
Source: Thinkstock [1]
High to Low Woodchop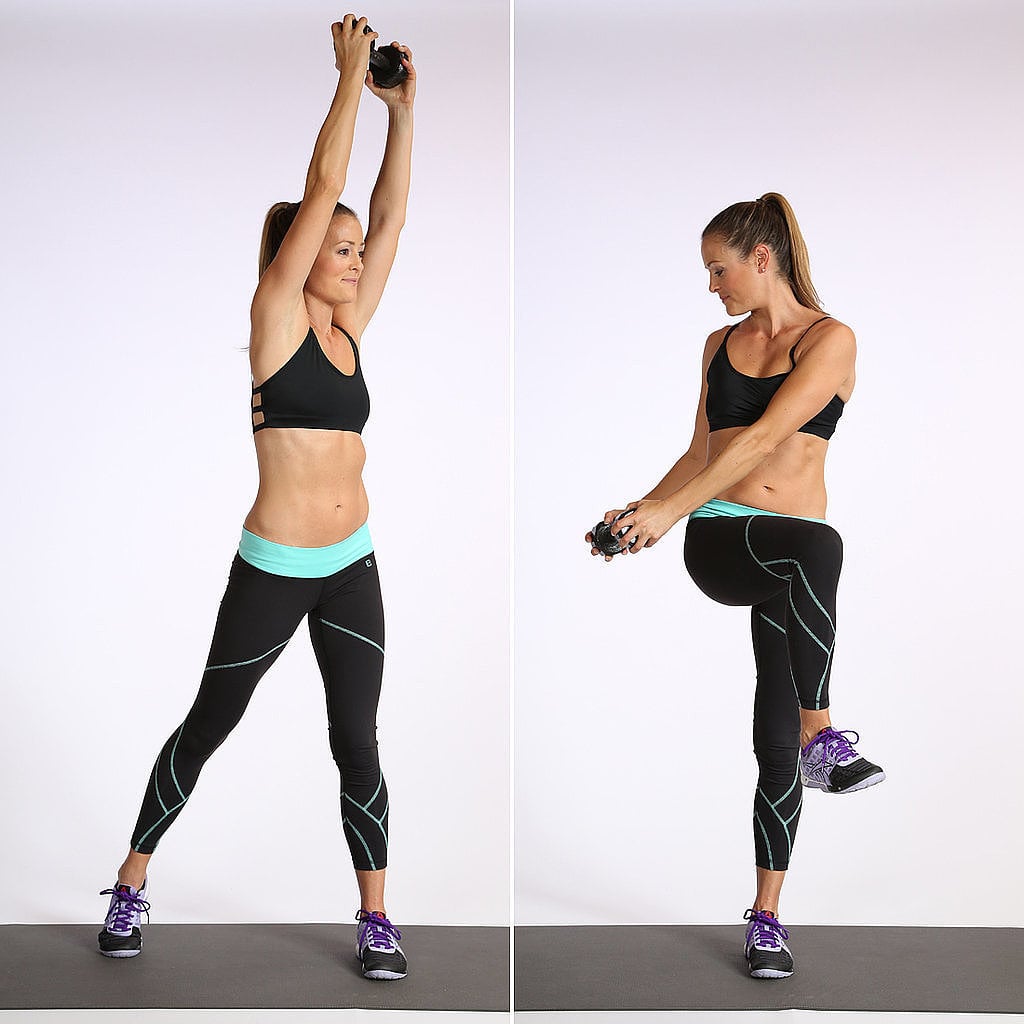 We love the woodchop, and this variation is one of celeb trainer Gunnar Peterson's favorites [2].
Holding an eight- to 10-pound dumbbell overhead, twist to the left, pivoting your right foot as needed.
Exhale, and slice the dumbbell across your body to the right as you raise your right knee, bringing the weight to the outside of your right hip.
Raise the weight back to starting position, and lightly tap your right toes to the floor. This completes one rep.
Repeat as many reps as you can on one side for 30 seconds, then repeat on the other side for another 30.
Coordination Fly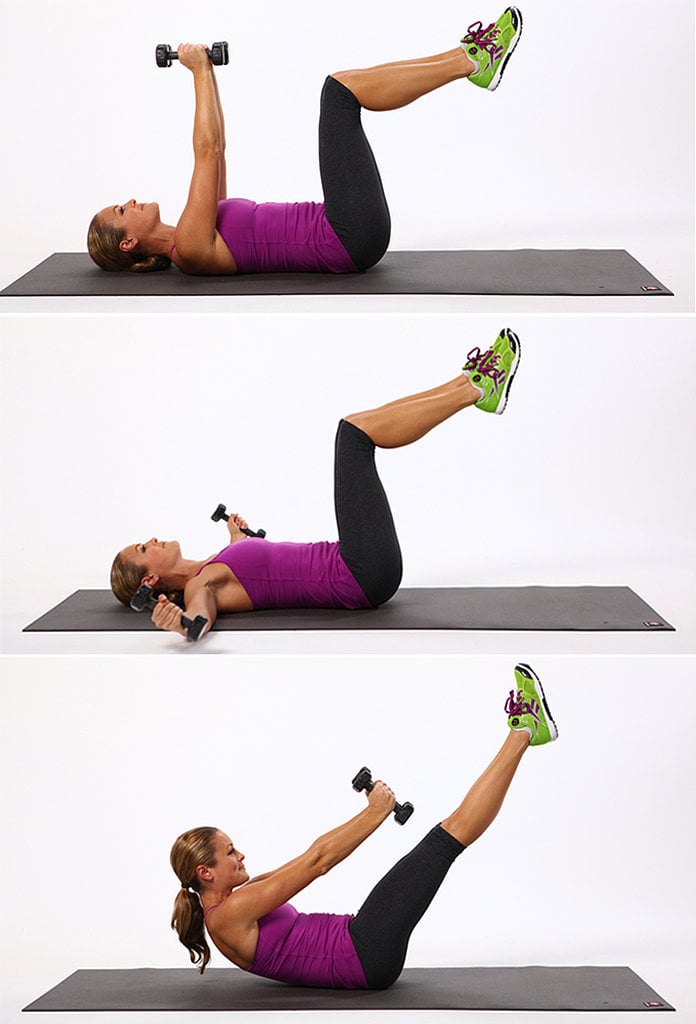 The secret sauce in this exercise: use your abs to control your movement on the way down. Uncurl slowly instead of just letting gravity pull you down.
Lie on your back with a three- to five-pound dumbbell in each hand. Raise your arms straight up above your chest, with a slight bend at each elbow. Raise your legs up to tabletop, with knees and hips bent to 90-degree angles.
Inhale and open your arms to your side, with a slight bend at each elbow. Exhale as you bring your arms back up to starting position.
Once your arms are back straight, lift your upper back and curl up toward your legs, pushing your weights toward your shins. As you curl up, stretch your legs out in front of you.
Uncurl your spine slowly as you lower your upper body to the floor while bending your knees back to 90-degree angles. Once your head is back on the floor, release your arms to back out by your side, making sure not to let your upper arms touch the floor.
Repeat for one minute.
Plank and Rotate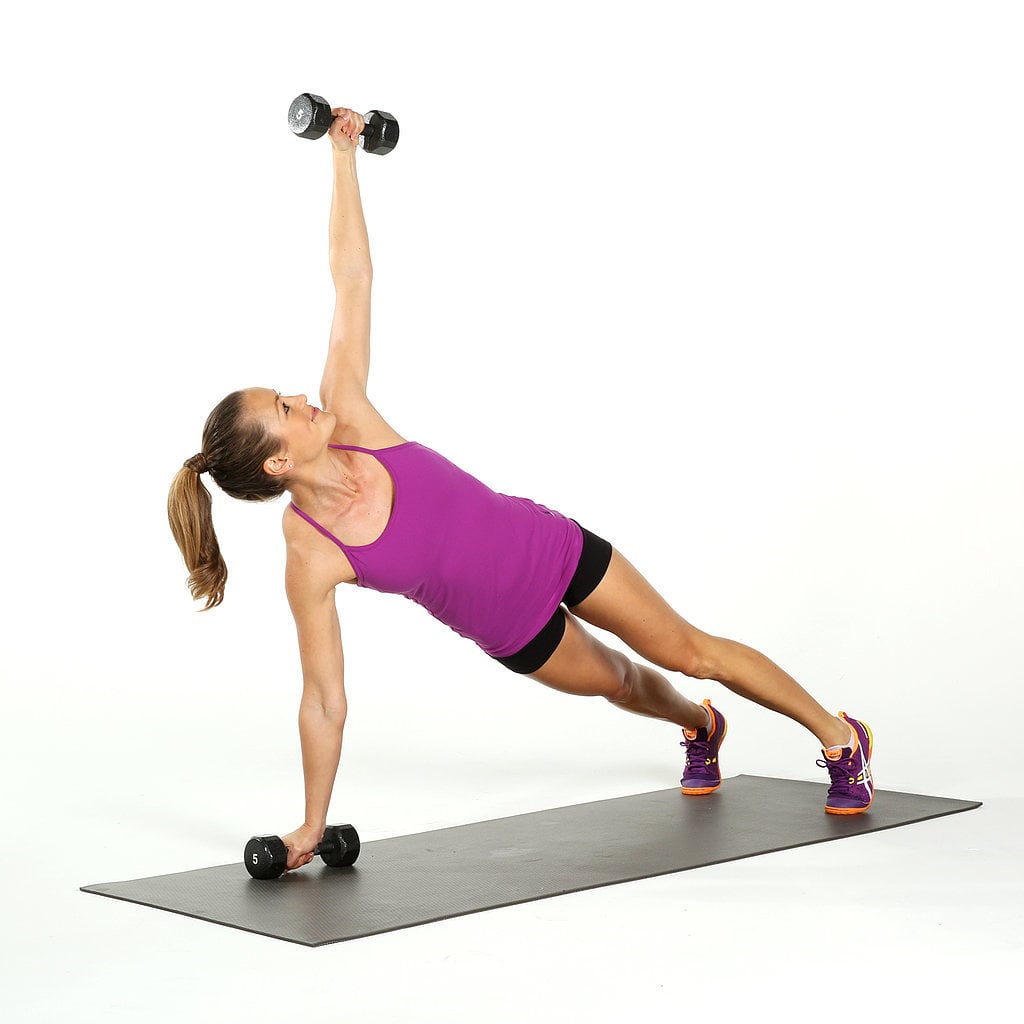 No arm or core workout would be complete without the mighty plank. Twisting in this classic position fires up the core and works those love handles.
Begin in a plank position holding a five-pound dumbbell in each hand, keeping your wrists stiff to protect the joints. Open your feet a little wider than hip distance.
Lift your left hand to the ceiling, twisting through your entire torso — keep the motion smooth and controlled. Your pelvis will rotate, but keep it level without letting it raise or drop.
Bring your left hand back to the floor, and repeat this action on the other side to complete one rep.
Continue alternating sides for one minute.
Double Crunch Pulse With Medicine Ball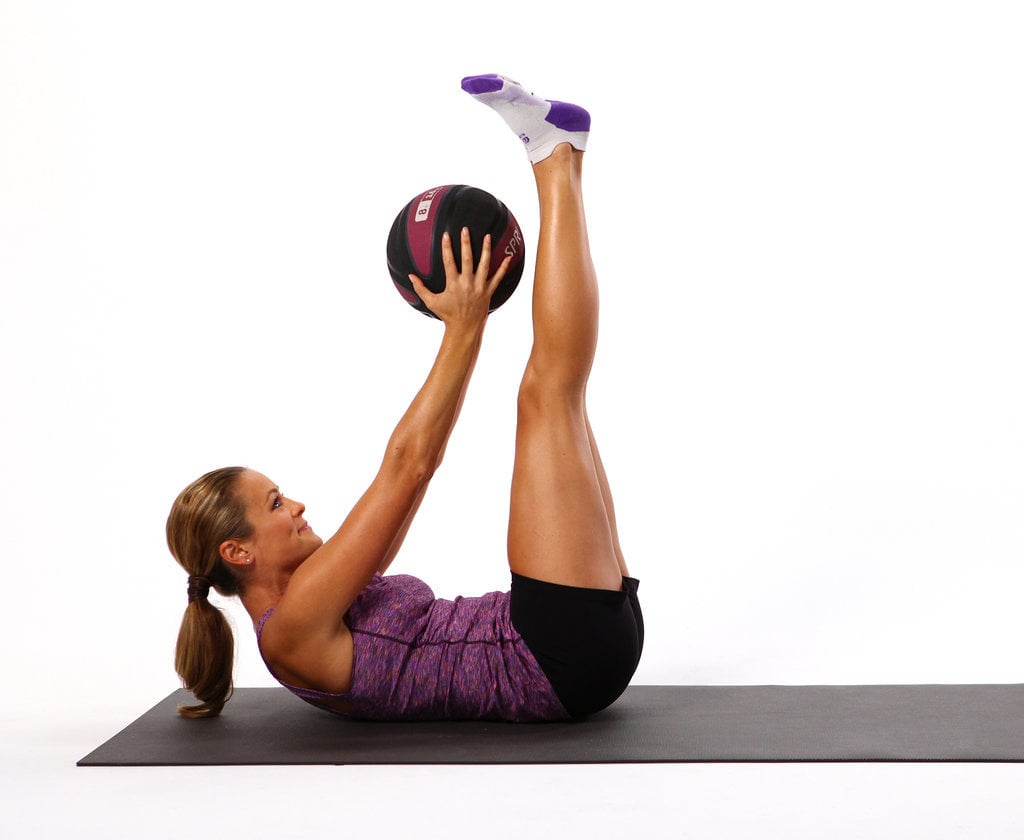 The slow and controlled pulse of this exercise keeps the abs engaged throughout the set, and adding the weight of a medicine ball kicks your abs into high gear and increases the burn. If you don't have a medicine ball, use a dumbbell instead; choose a weight between five and eight pounds.
Begin lying on your back with your legs in the air, toes toward the ceiling, holding the medicine ball over your chest with straight arms. Engage your abs to press your low back into the mat while lifting your head, neck, and upper back off the mat.
Exhale and round your low back so the bottom of the pelvis raises as you lift your upper body an inch higher off the mat. Aim the medicine ball toward your ankles as you perform this double crunch.
Inhale, and lower your pelvis and upper back an inch toward the floor. Continue this slow pulsing motion for a total of 20 to 25 reps.
Repeat for one minute.