Recipe For Baked Tofu
Healthy Recipe: Cumin and Honey Baked Tofu
If you're a vegetarian or looking to add more protein to your diet without added cholesterol or saturated fat, tofu is a great option. It's pretty unappetizing on its own though, so here's a simple recipe for sweet and salty baked tofu. It makes a flavorful topping on salad, pizza, and sandwiches, or is delicious on its own.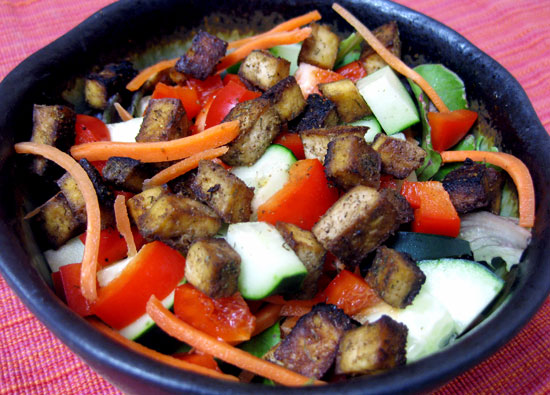 To see this easy, no-fail recipe, read more.
original recipe
Cumin and Honey Baked Tofu
Ingredients
1 15-ounce block of extra firm tofu
2 tablespoons reduced sodium tamari (soy sauce)
1 tablespoon honey
1 teaspoon thyme
1 teaspoon dill
1 teaspoon cumin
Directions
Preheat the oven to 400° F.
Gently squeeze the block of tofu between your hands to remove excess liquid. Dice it into cubes.
Spray Pam onto the bottom of a small pan. Add the tofu.
Pour the tamari onto the tofu cubes. Stir with a spoon to evenly coat. Drizzle on the honey, and then sprinkle on the thyme, dill, and cumin.

Bake for 20 to 30 minutes, or until desired firmness. Enjoy right away or store in an airtight container in the fridge.
Information
Category

Side Dishes, Other
| | |
| --- | --- |
| Serving Size | 1/3 batch |
| Calories | 131 |
| Total Fat | 6.1 g |
| Sat. Fat | 1.2 g |
| Cholesterol | 0 mg |
| Sodium | 419 mg |
| Carbs | 9.9 g |
| Fiber | 1.6 g |
| Sugars | 6.8 g |
| Protein | 12.5 g |
If you have a tasty and healthy recipe to share, post it in the Healthy Recipe Group. I am always looking for new dishes to try.