When you're looking to boost your metabolism and burn more fat, the foods you use to fuel your body can help — all day long! Here are the best fat-burning recipes for breakfast, lunch, dinner, and even snacks that all include the nutrients you need to support your goals. Each is made with ingredients known to help boost metabolism to help you hit your goals sooner!
[Breakfast [1]] [Lunch and Dinner [2]] [Snacks [3]]
— Additional reporting by Leta Shy, Michele Foley, and Jenny Sugar
Morning Jump-Start Smoothie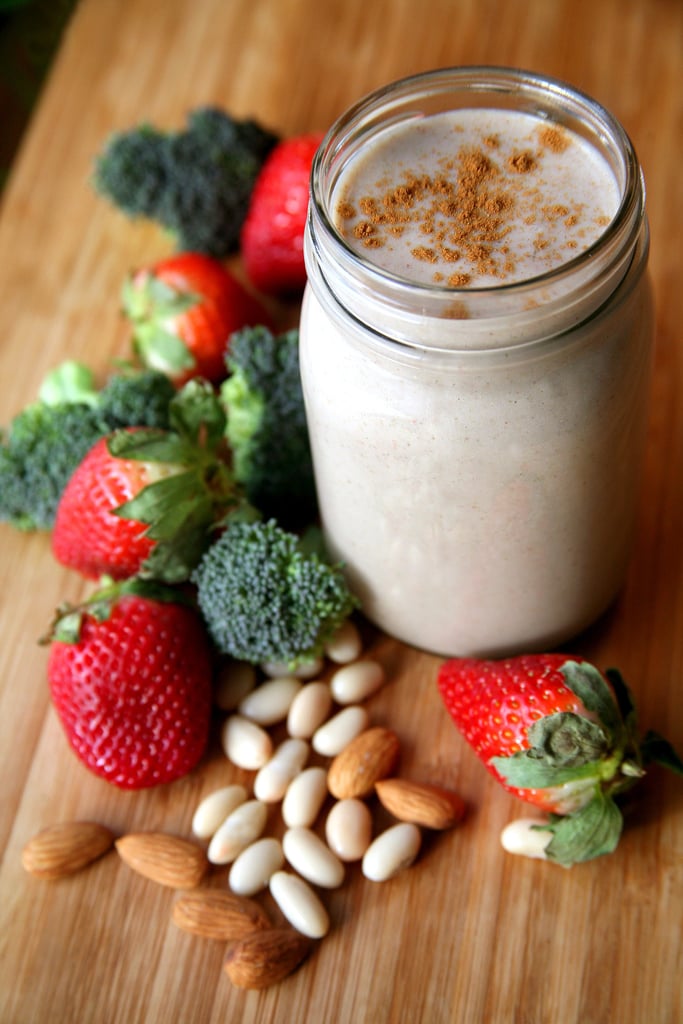 Start your day right with a glass of fat-burning ingredients, like calcium-rich Greek yogurt, almonds, and broccoli; high-fiber and vitamin-C-rich strawberries; and spicy cinnamon, among other metabolism-boosting ingredients [4].
Calories: 345
Spicy Shakshuka
With more than 20 grams of protein and nearly 40 percent of your recommended fiber for the day, this 350-calorie meal [5] consists of perfectly poached eggs swimming in a fragrant and spicy tomato sauce bath. To amp things up in the nutrition department, garbanzo beans are added for even more protein, while Swiss chard adds vitamin A, vitamin C, and iron. Both the cinnamon and red pepper flakes bring some serious fat-fighting spice to your plate!
Calories: 339
Pineapple Kale Blueberry Smoothie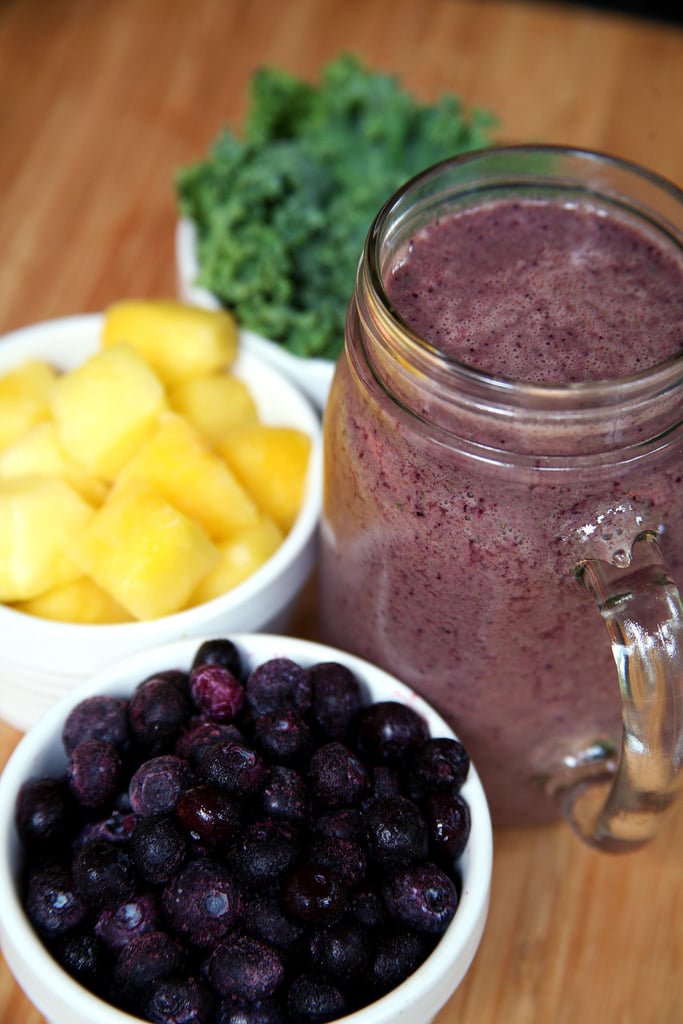 The Greek yogurt in this flat-belly smoothie [6] provides a good amount of calcium and protein, both of which can aid in weight loss. The smoothie also contains several ingredients — like blueberries — that have been shown to help diminish belly fat. If that's not enough, you also get the sweetness of pineapple, which contains an enzyme that helps ease digestion and banish bloat.
Calories: 283
Overnight Oats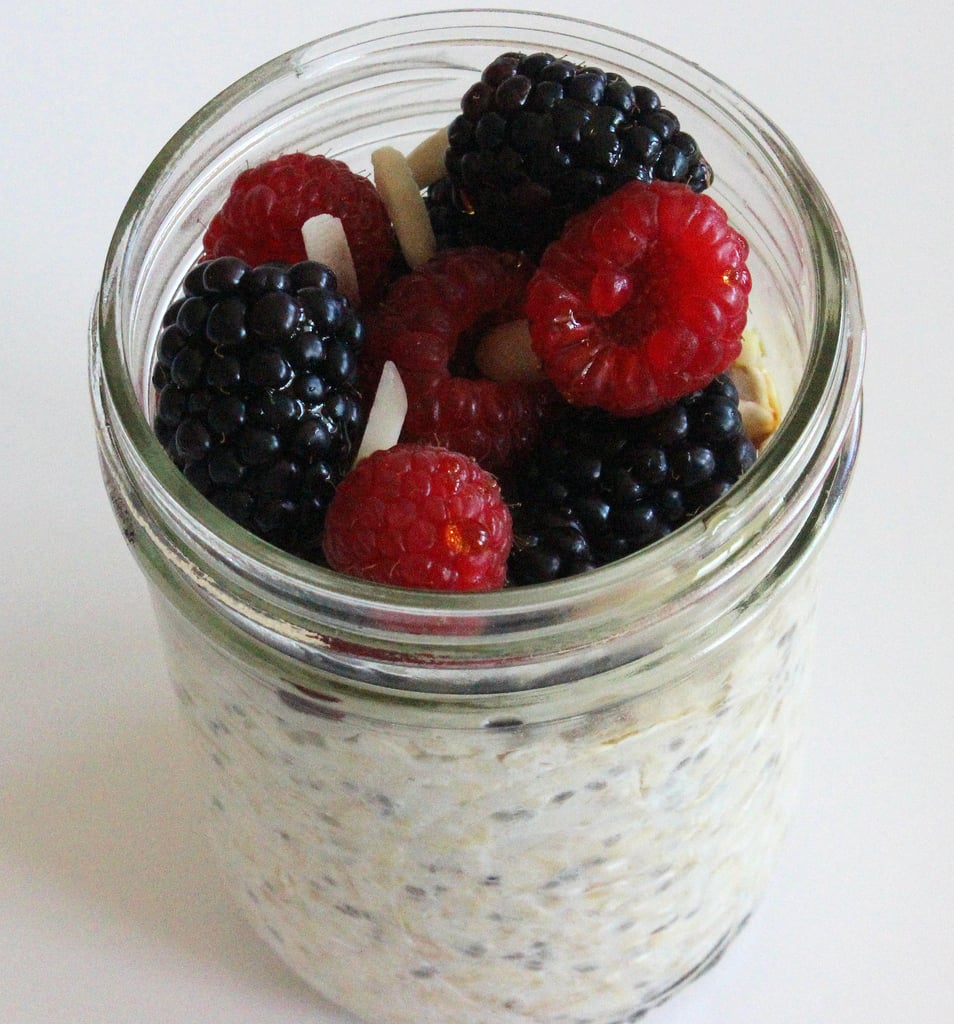 High in protein and fiber, this whole-grain overnight oats [7] recipe will keep hunger at bay all morning long. Moreover, this recipe supports healthy digestion and can even help you beat belly bloat [8]. We topped off this jar with blackberries, raspberries, a few slivered almonds, and a slight drizzle of maple syrup, but feel free to get creative with your favorites.
Calories: 345
Gwyneth's Blueberry Muffins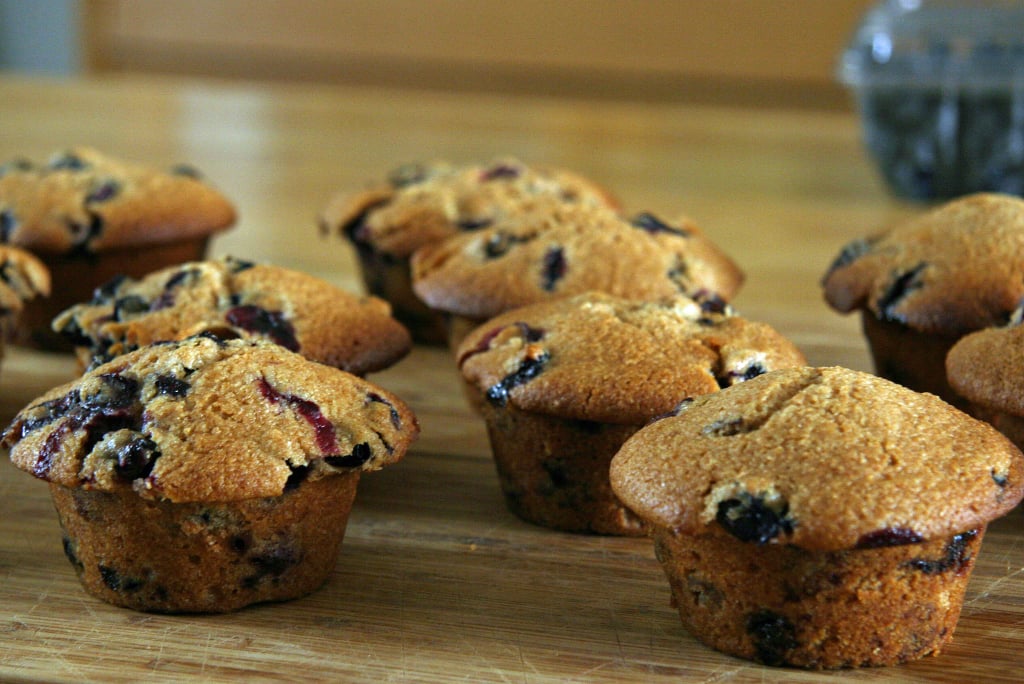 A muffin that actually fights the dreaded muffin top? We'll take two. Gone are the dairy and processed sugar, leaving a satisfying breakfast muffin [9] that is literally bursting with antioxidant-rich blueberries — yes, those same blueberries that have been shown to target pesky belly fat.
Calories (per muffin): 221
Cinnamon and Green Tea Smoothie
Not only will the caffeine in this smoothie [10] give you much-needed energy, but cinnamon and green tea have also been shown to have metabolism-boosting properties.
Calories: 139
Blueberry Barley Bake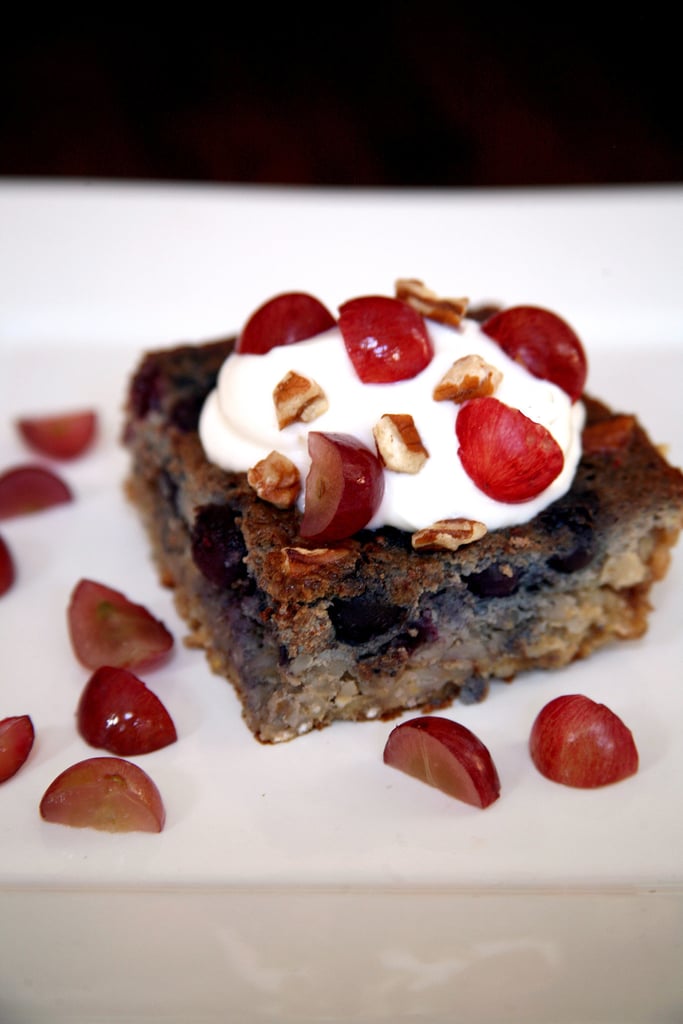 This make-ahead blueberry barley bake [11] contains fat-fighting blueberries, pearled barley, and cinnamon. This Summer bake will keep you satisfied all morning long!
Calories: 239
Whole-Grain French Toast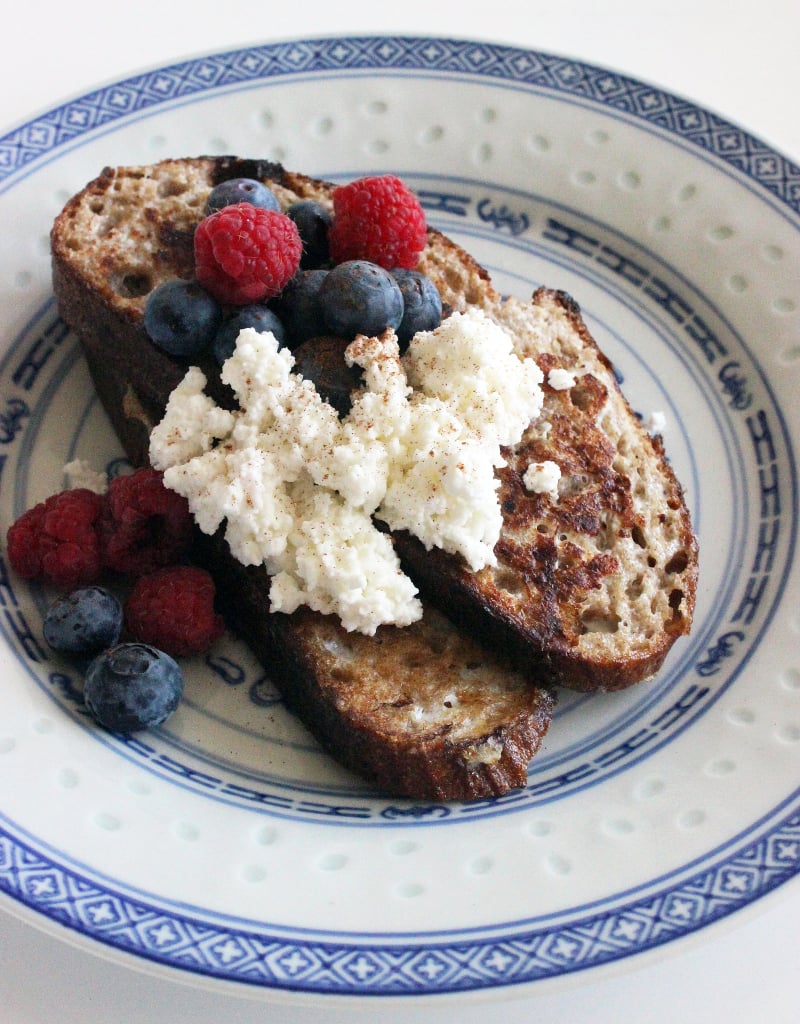 French toast is one of those decadent, high-calorie recipes we've saved for a special indulgence — until now. Celebrity trainer Harley Pasternak's recipe makeover for whole-grain french toast [12] with ricotta cheese offers more than 20 grams of protein with just over 250 calories per generous serving. Protein-rich ricotta and the fat-burning duo of Summer berries and cinnamon make this recipe a winning brunch option.
Calories: 252
Santa Fe Vegetable Soup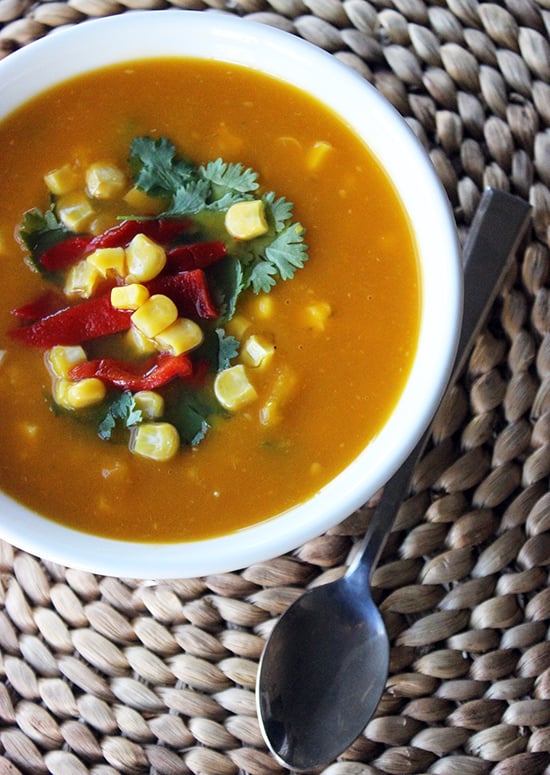 This Paleo-friendly vegetable soup [13] simmers nicely in your slow cooker for dinner — be sure to make enough for an easy lunch the next day. While this recipe uses shredded chicken and chicken stock, you can substitute them with more beans and vegetable stock for a vegetarian dish that still packs in the protein you need to fight fat.
Calories: 321
Tortilla-Less Soup
A spicy low-carb "tortilla" soup [14] that's ready in 20 minutes? Sign us up. Since there are so many flavors in this comforting Mexican soup recipe, you won't even miss the high-calorie, high-carb strips of tortilla.
Calories: 194
Ginger-Carrot Soup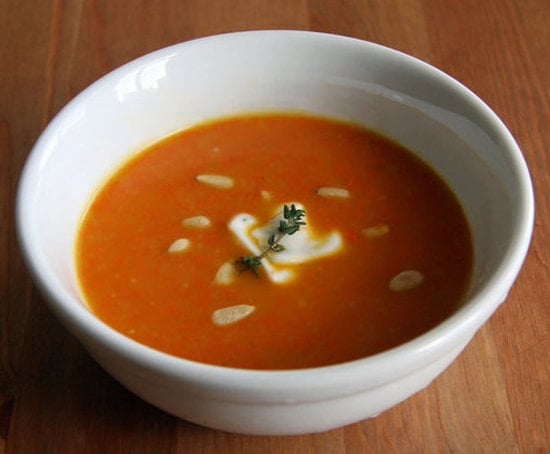 A bowl of this detoxifying ginger-carrot soup [15] is high in vitamin A, vitamin C, and manganese, which aids digestion.
Calories: 262
Turmeric-Spiced Tomato Soup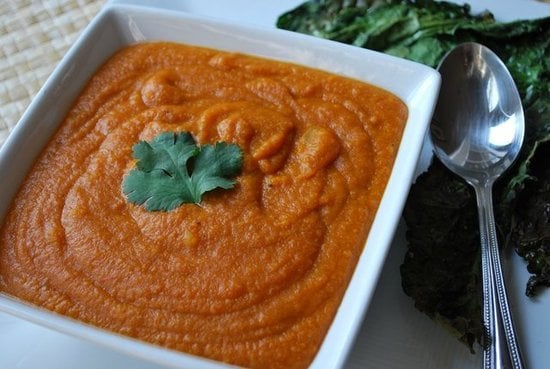 Kick up the good-for-you nature and flavor of tomato soup with this curried tomato soup [16] that adds turmeric, ginger, and cinnamon to the classic comfort dish — three spices known to boost your metabolism!
Calories: 244
Burrito Bowl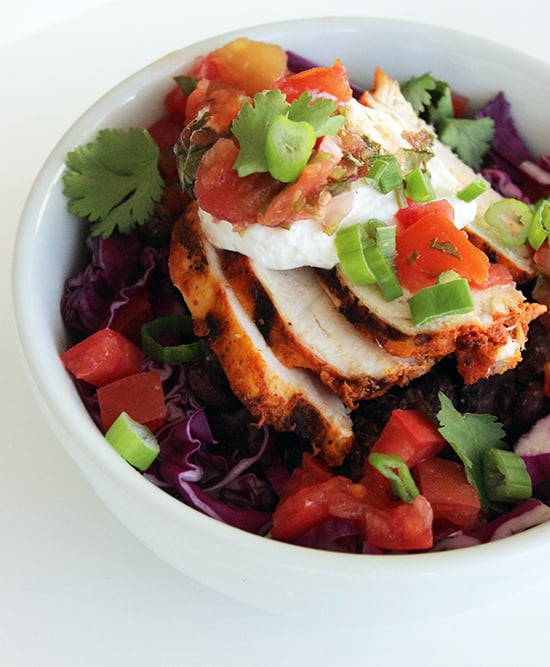 Move over, Chipotle. This healthy burrito bowl recipe [17] is half the calories and easy to make (the secret is precooked chicken breast). In under 10 minutes, you'll have a fresh lunch that hits all your Mexican takeout cravings. Plenty of protein plus a dollop of Greek yogurt keeps bloat at bay.
Calories: 350
Avocado Shell Salad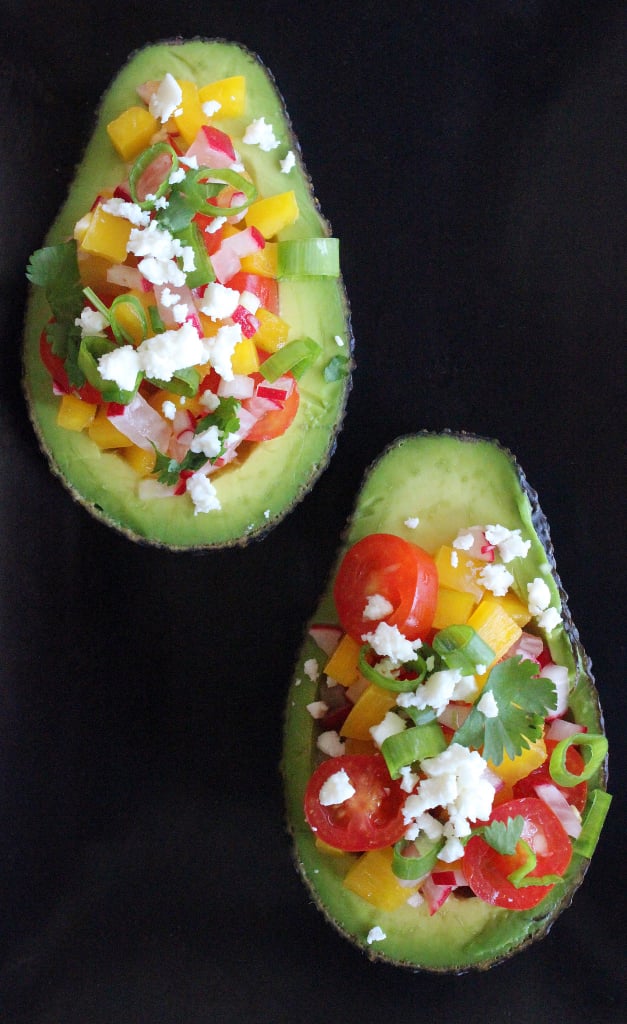 No need for the oven for this refreshing dinner! This avocado shell salad [18] has 60 percent of your recommended fiber for the day, aids in digestion, and may even diminish belly fat [19].
Calories: 468
Blueberry, Quinoa, and Kale Salad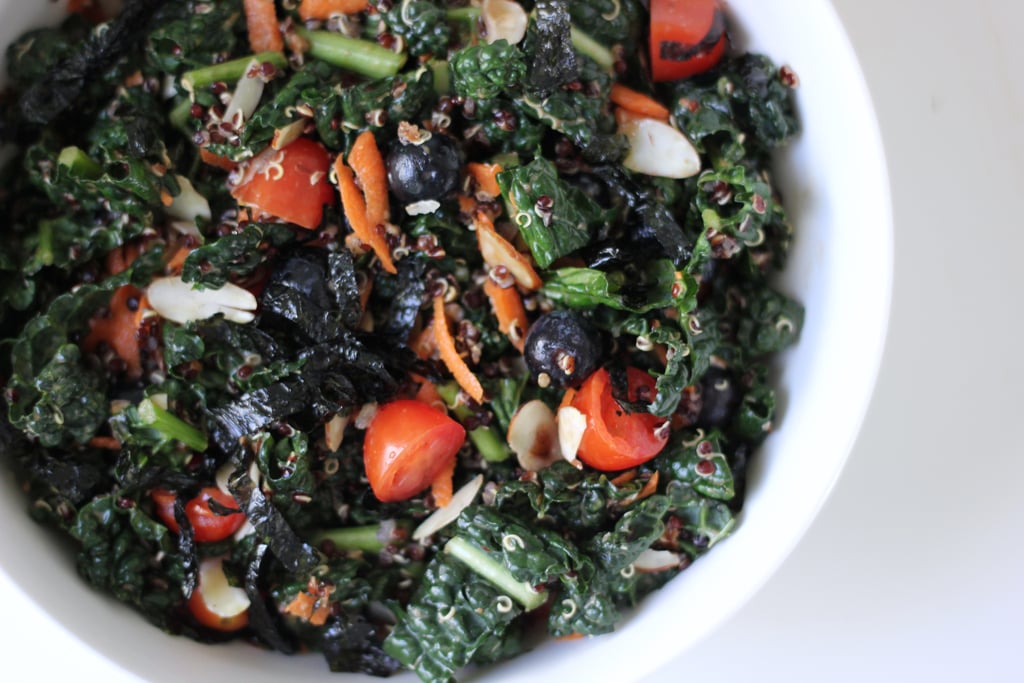 This colorful salad [20] has a bit of everything: blueberries, carrots, tomatoes, almonds, nori, kale, and quinoa, all blended with an Asian-inspired soy ginger dressing. Talk about eating a fat-fighting rainbow!
Calories: 377
Cabbage and Hemp Detox Salad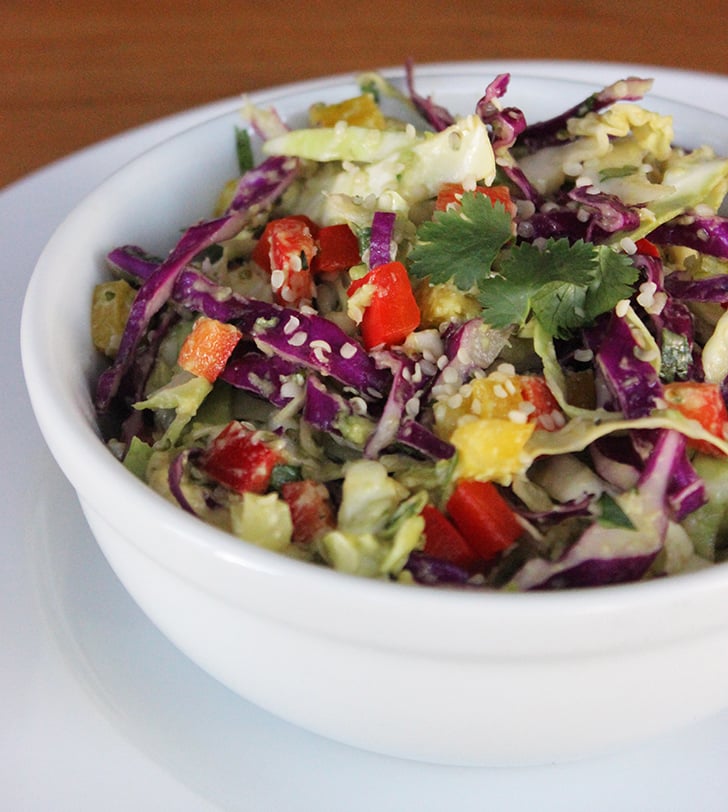 If you're on the hunt for a quick and tasty detoxifying recipe, this crunchy cabbage and hemp salad [21] is for you. If you haven't tried them yet, it's time to give hemp seeds a try. They're a great source of fat-fighting omega-3s and vitamin E for vegans and vegetarians, and the combination of the cold-pressed oil and seeds in this recipe gives this fresh salad a nutty flavor you'll love.
Calories: 381
Baby Kale Sesame Chicken Salad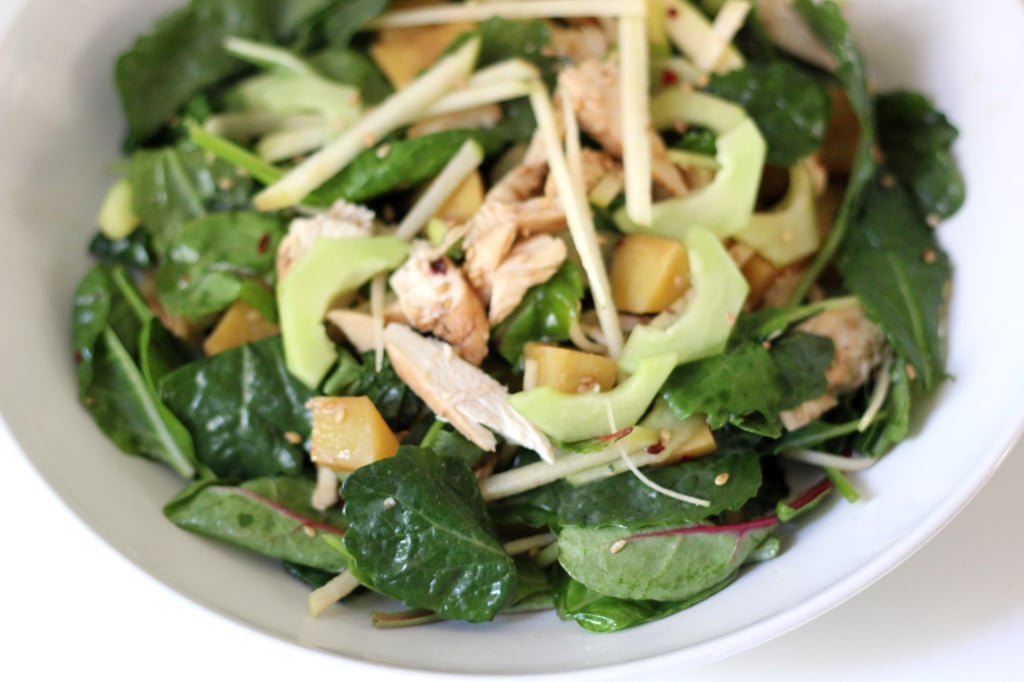 If you want to get on the kale bandwagon but aren't a fan of the leaf's strong taste, baby kale is your new best friend. The young leaves are mild tasting, much like spinach, but still pack the same nutrients as their older counterparts. This easy baby kale and sesame chicken salad [22] makes for a flavorful and protein-rich lunch.
Calories: 414
Spicy Cauliflower Lasagna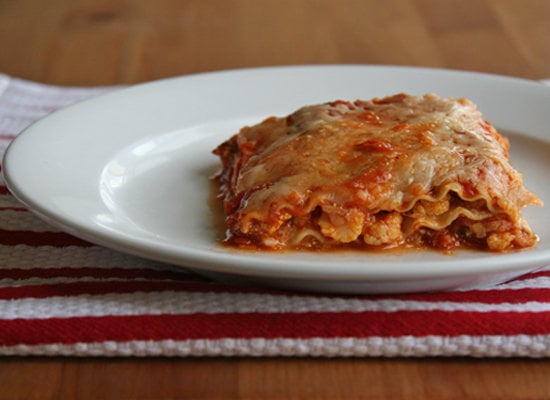 Cinnamon and red pepper flakes give this healthy version of lasagna [23] an amazing depth of flavor and metabolism-boosting properties!
Calories: 324
Paleo Stuffed Peppers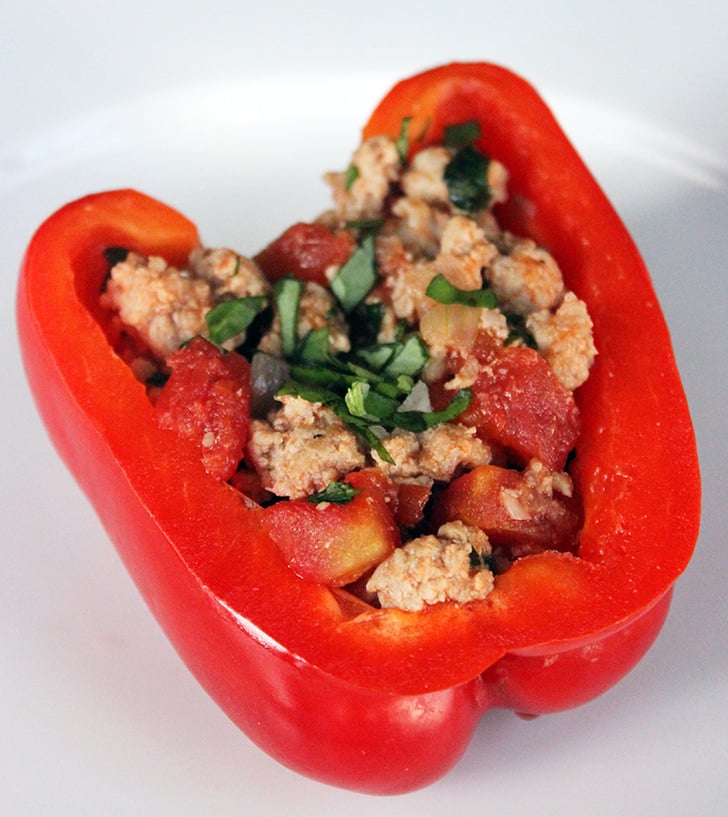 Save a serving of these light and easy Paleo stuffed peppers [24] for the next day. You can dice the peppers and serve them atop a bed of greens for a nutrient-packed lunch that will keep you energized throughout the day.
Calories: 285
Spicy-Sweet Potato Burgers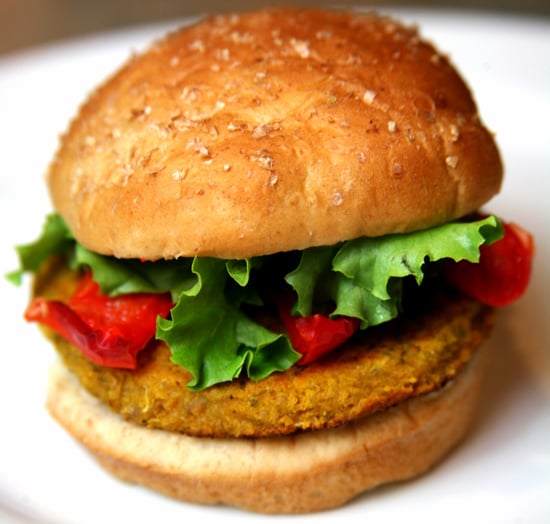 Bring some healthy spice to your new favorite veggie burger. This seasonal sweet-potato burger [25] that brings cayenne to the mix can be baked in the oven.
Calories: 202
Sushi Bowl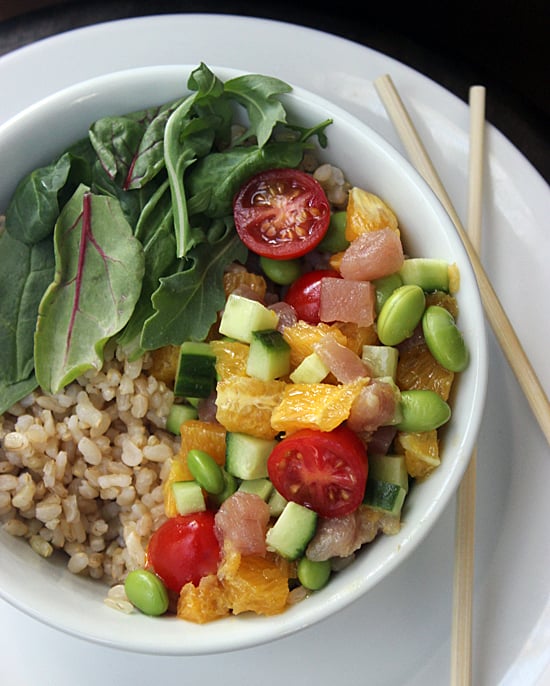 A chirashi sushi bowl [26] may seem fancy, but it's the perfect simple and easy meal that offers a ton of anti-inflammatory omega-3s and plenty of protein. Just be sure you look for sushi-grade fish, and remember to keep everything refrigerated until lunchtime.
Calories: 402
Vegan Spiced Lentils and Quinoa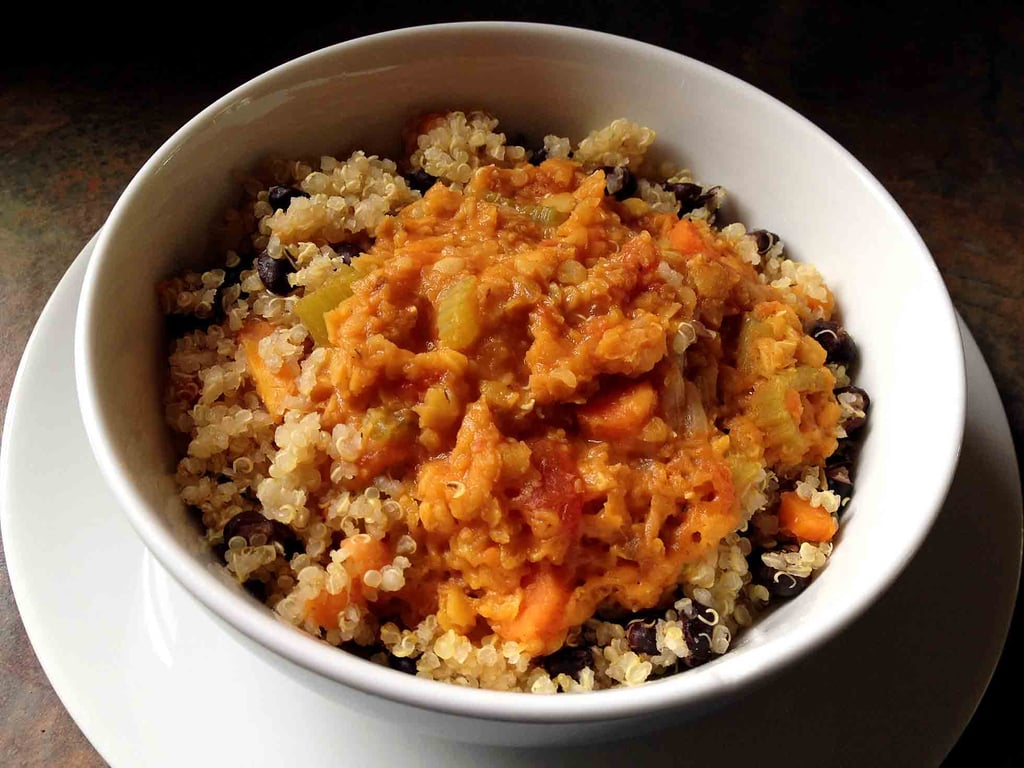 This vegan spiced lentils and quinoa [27] dish is so good, you'll want to make a big batch on Sunday to enjoy throughout the week. Chock-full of protein, fiber, and good-for-you spices, this meal is sure to become a lunch staple.
Calories: 370
Apple Cabbage Detox Salad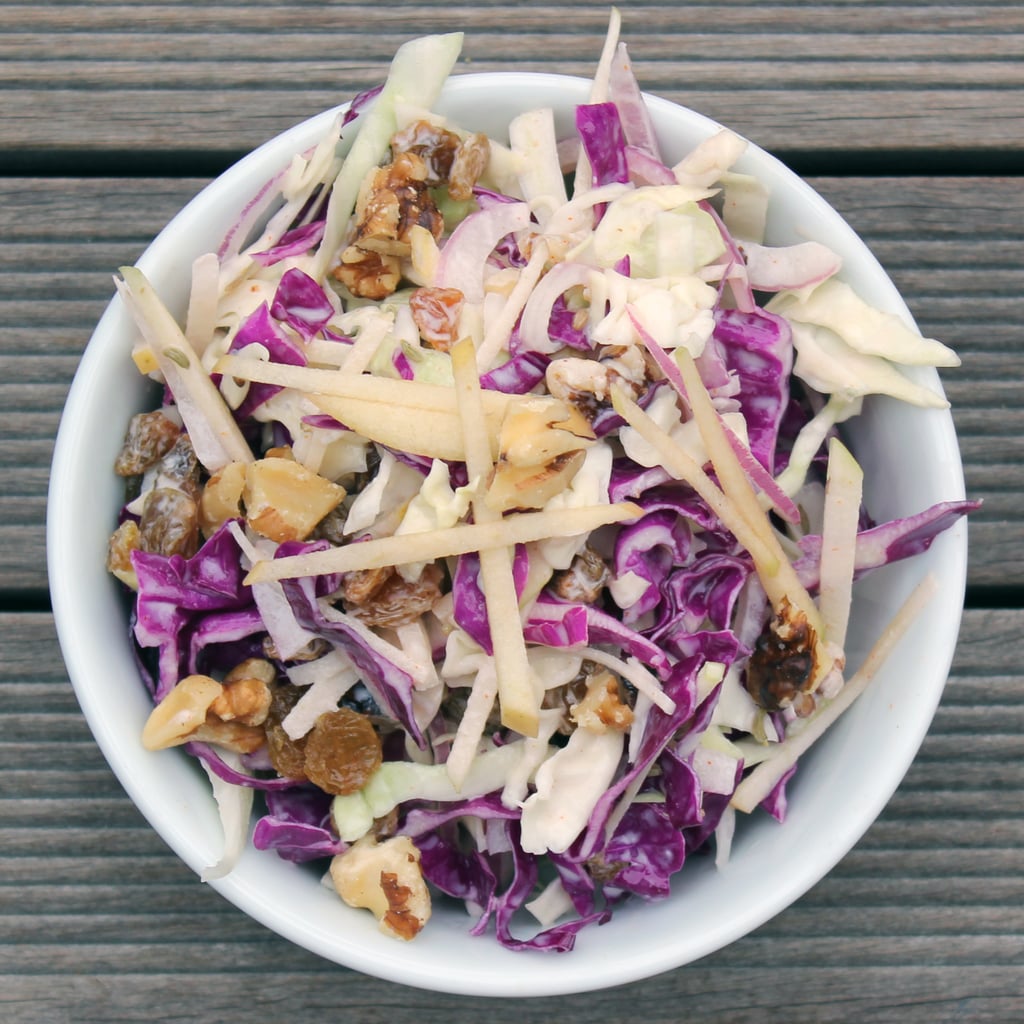 For a lightened-up take on classic coleslaw, whip up this detox salad [28] instead. Apples marry with the dynamic duo of red and Savoy cabbage, combining for a fiber-filled meal that aids in digestion. The addition of fennel seeds adds to the fiber factor, plus a kick of cayenne boosts your metabolism.
Calories: 289
Slow-Cooked Mexican Chicken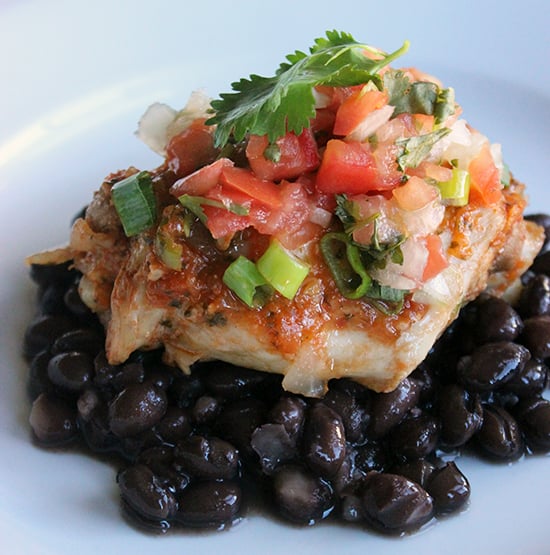 Another slow-cooked meal that takes 15 minutes to prep and works well as leftovers for lunch: this Mexican-style chicken and beans meal [29] is full of flavor as well as fat-fighting protein.
Calories: 381
Spicy Sweet-Potato Salad
High-fiber sweet potatoes in this spicy salad recipe [30] can regulate blood sugar and help you lose weight, while an antioxidant-rich red pepper and jalapeño dressing ties everything together.
Calories: 270
Easy Bean Burger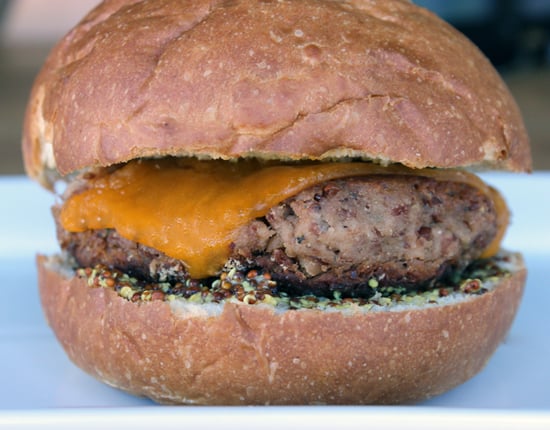 Whip up a few of these easy bean burger patties [31] early in the week, and you'll have a protein-packed vegetarian base for several lunches that fuel strong muscles. Make a burger, add the chopped patty to soups, or make low-carb wraps. These quick patties are extremely versatile, and the fiber content will keep you full for hours on end.
Calories: 520
Vegetarian Soba Noodle Salad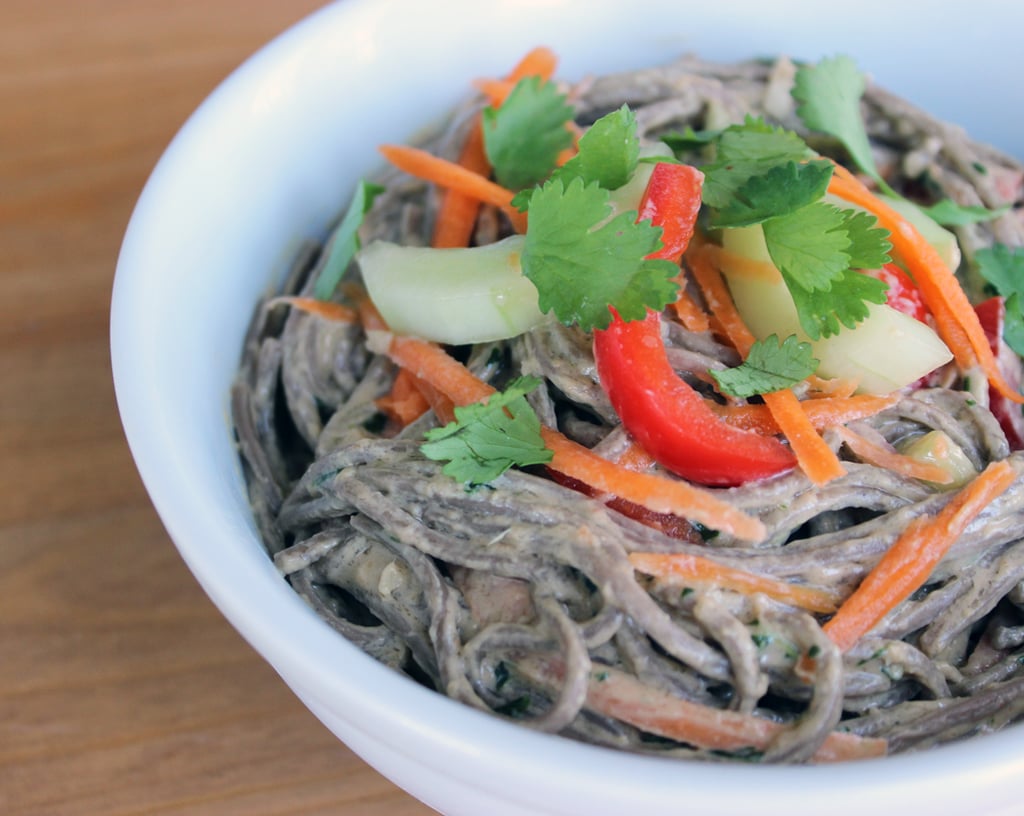 This Thai-inspired soba noodle salad [32] is chock-full of veggies and flavor — in fact, the peanut-butter-based dressing gets better the next day (hello, leftovers!). This is a great option if you're vegetarian or looking for a meatless midday meal that supports your goals. Keep in mind — the spicier you make it, the more metabolic power you give the dish!
Calories: 424
Thai-Spiced Hummus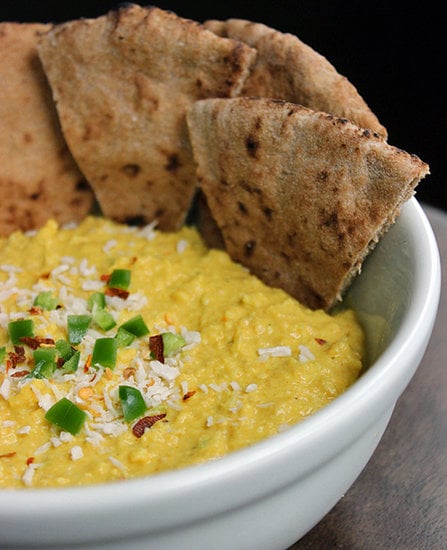 Healthy spices like turmeric and curry help make this fiber-rich coconut curry hummus [33] the perfect combination of tangy and spicy.
Calories: 170
Cinnamon-Spiced Chickpeas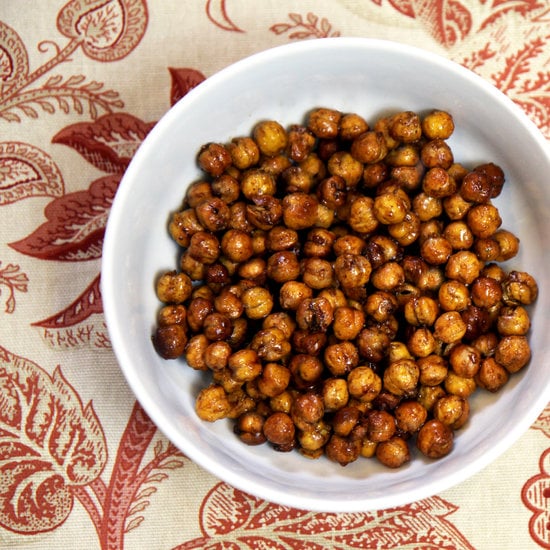 Boost your energy levels and metabolism with this treat: cinnamon-spiced chickpeas [34]. Once roasted, chickpeas offer a satisfying crunch, and this creative spice blend makes it a tasty, low-calorie snack.
Calories: 146
Curried Kale Chips
Instead of overspending at your health food store, cook up these cheesy curry kale chips [35] in your own kitchen. Inspired by one of our favorite flavors of Rhythm Superfoods kale chips, this snack is high in vitamins A and C, protein, fiber, and iron.
Calories: 194
Strawberry Banana Creams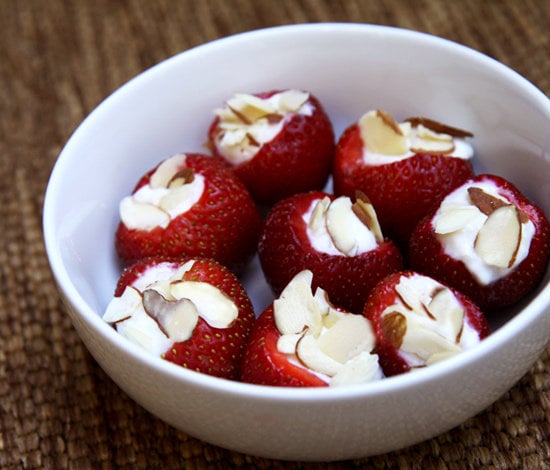 This vitamin-C-rich low-calorie dessert [36] tastes like strawberry cheesecake! It's made with a handful of ingredients you probably already have in your kitchen, so it's a cinch to whip up. Can you believe this easy-to-make sweet treat is under 150 calories per serving?
Calories: 145
Green Tea and Avocado Popsicles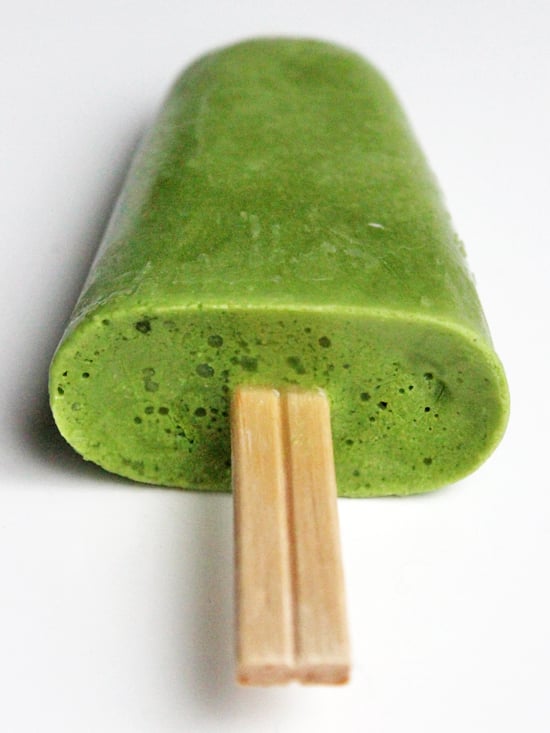 Greek yogurt and ripe avocado lay the base for this creamy, fiber-filled green popsicle [37], while caffeinated Japanese matcha powder provides the kick you need to beat the dreaded afternoon slump and boost your metabolism.
Calories: 222