Whether you're preparing a Fourth of July meal for the whole crew or just for yourself, it's fun to get in the patriotic spirit and show your appreciation with some red, white, and blue edibles. Click through for healthful dish ideas that can be made for every meal of the day.
— Additional reporting by Hilary White
Photo: Anna Monette Roberts, Jenny Sugar, and Lizzie Fuhr
Frozen Yogurt Cupcakes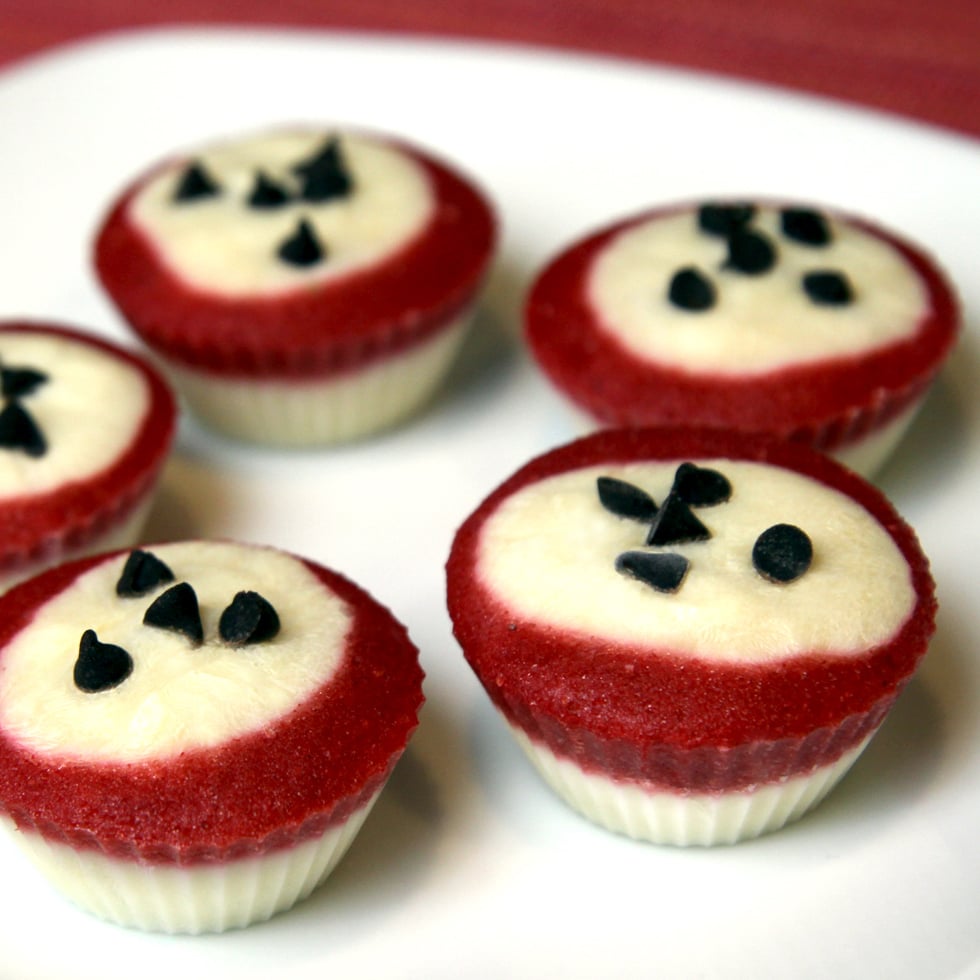 These are made with Greek yogurt, fresh strawberries, and bananas, and while low in calories, fat, and cholesterol, they're still lusciously sweet and smooth. The best part? Each of these red, white, and chocolate mini ice cream cupcakes [1] is only 30 calories but offers three grams of protein. So go ahead and have another, and another, and another!
Greek yogurt is super high in protein, something your body needs to repair and build muscle, so these make a perfect post-workout treat.
Photo: Jenny Sugar
Red, White, Bean, and Basil Frittata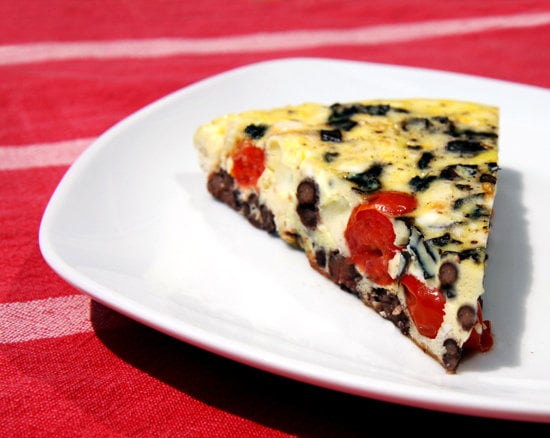 Made with sweet cherry tomatoes, cubes of mozzarella cheese, black beans, and purple basil, this high-protein dish is bursting with savory flavor. Pair your under-200-calorie piece [2] with whole-wheat toast or a side salad for the perfect breakfast, lunch, or even dinner.
Tomatoes contain lycopene, an antioxidant that has cancer-fighting properties [3] and helps combat free radicals that can damage cells.
Photo: Jenny Sugar
Strawberry, Blueberry, and Feta Salad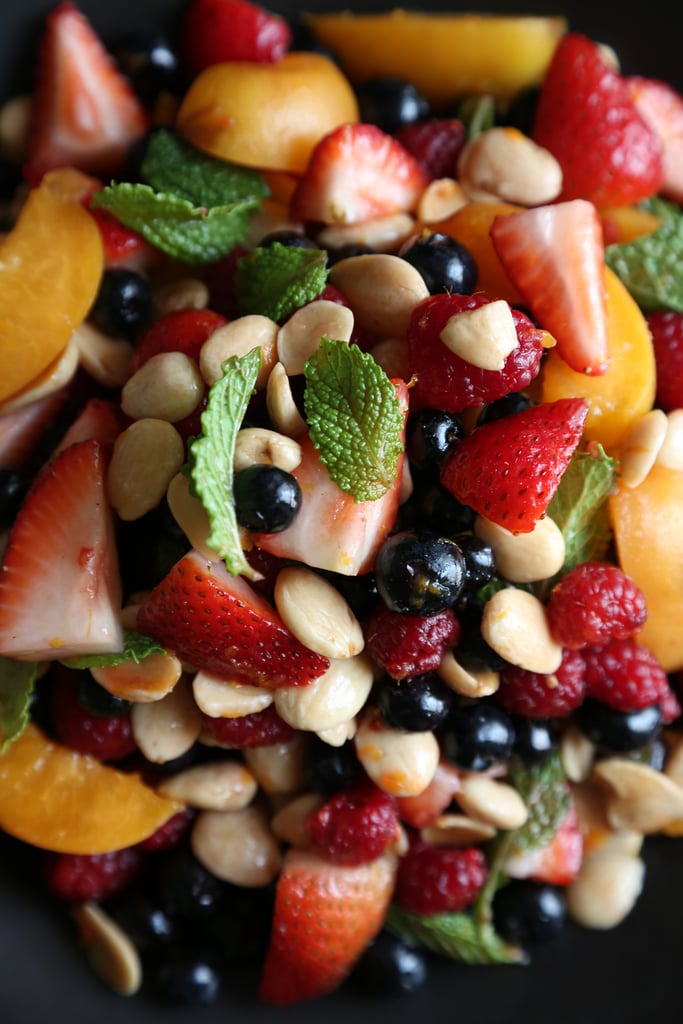 This simple fruit salad [4] is bursting with fresh Summer produce and vibrant red, white, and blue color. The almonds add a little crunch, calcium, and protein.
Having a fruity salad is a great way to skip the high-calorie dressing while adding tons of juicy flavor.
Photo: Anna Monette Roberts
Red, White, and Blue Fruit Kebabs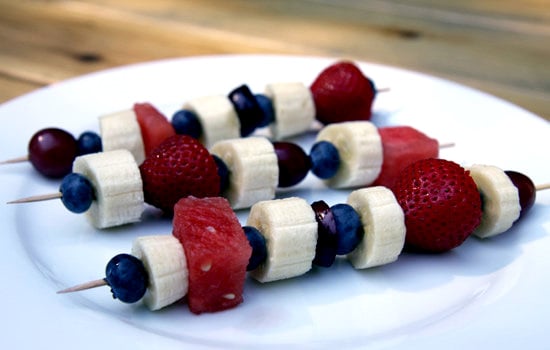 Whip up these red, white, and blue fruit kebabs [5] ahead of time, or set up bowls of red, white, and blue ingredients with skewers so your Fourth of July guests can make their own. Who could resist this colorful dessert?
Fruit offers fiber and vitamins without the fat and cholesterol found in typical desserts, and it's much lower in calories, so you can enjoy a sweet bite without worrying about your waistline.
Photo: Jenny Sugar
Quinoa and Black Bean Bites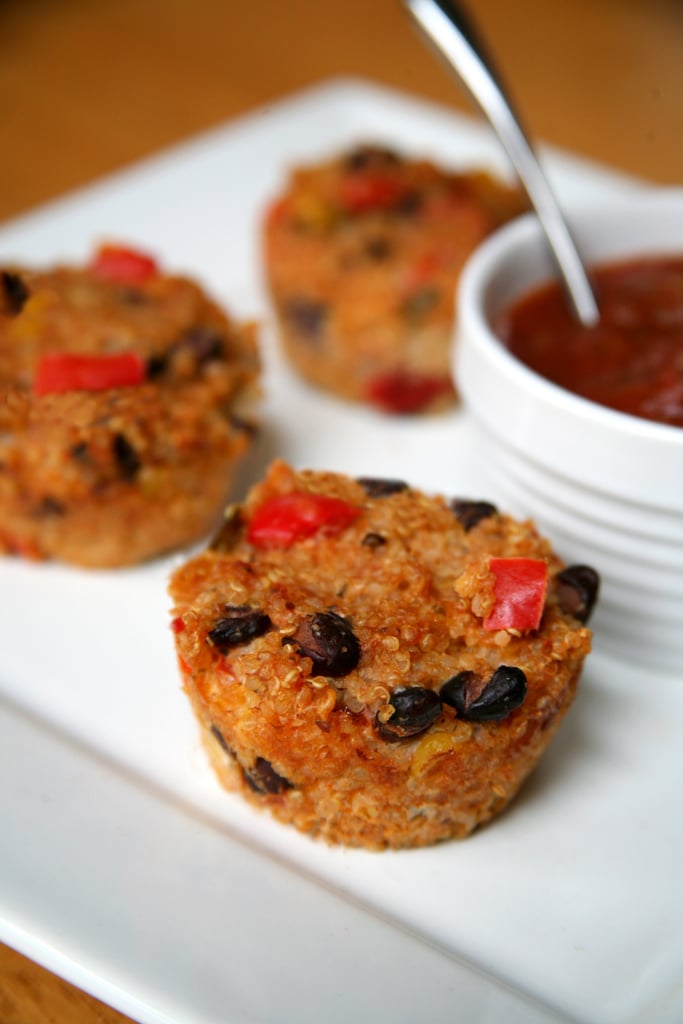 OK, OK, so black beans aren't blue, but they're close enough! These tasty quinoa and black bean bites [6] are perfect for lunch or dinner.
Black beans are protein powerhouses that also offer a good amount of soluble fiber, which can help lower bad cholesterol.
Photo: Jenny Sugar
Summer Fruit Poppers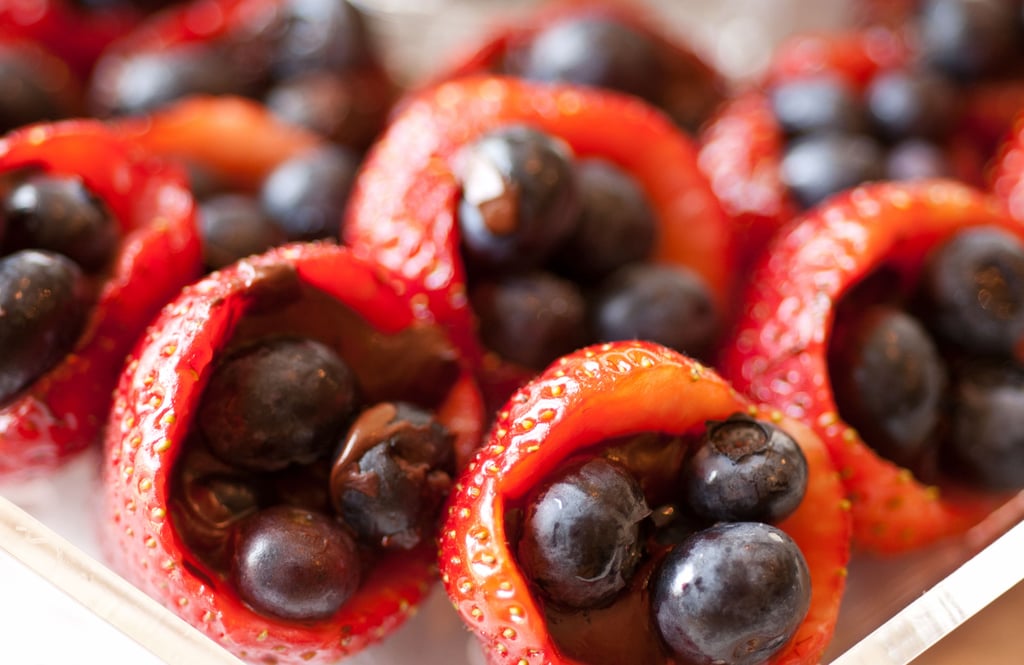 Full of Fourth of July flare, these strawberry and blueberry bites [7] are perfect as an appetizer or small snack.
Blueberries aid in aid in digestion and can decrease belly fat, while strawberries are full potassium (and flavor!).
Source: Fit Skitz [8]
Blue Potato Hash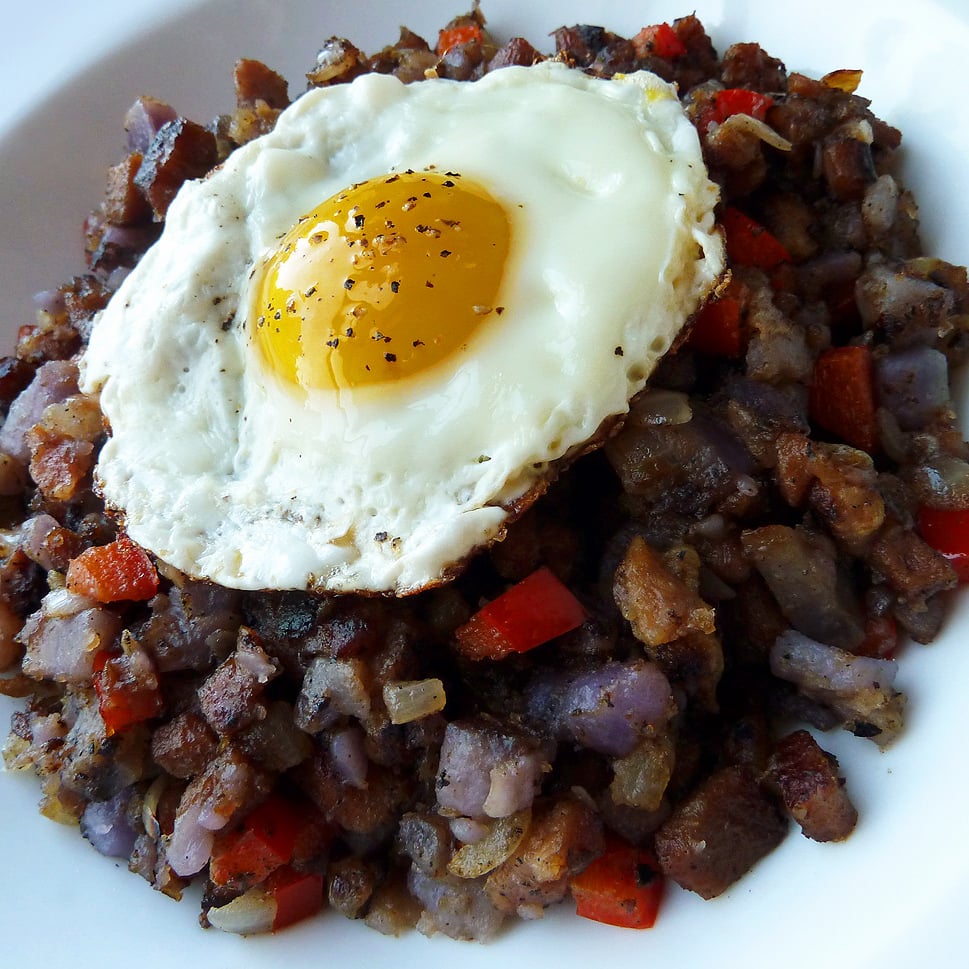 Wake up and fill your belly with hash browns made with blue (also called purple) and red bliss potatoes, onions, and red peppers. Top with an egg, and you've got a filling breakfast full of fiber and protein and color.
Blue potatoes certainly add color to your plate, but studies show that they also can combat high blood pressure [9].
Source: Flickr user arnold | inuyak [10]
Patriotic Pancake Breakfast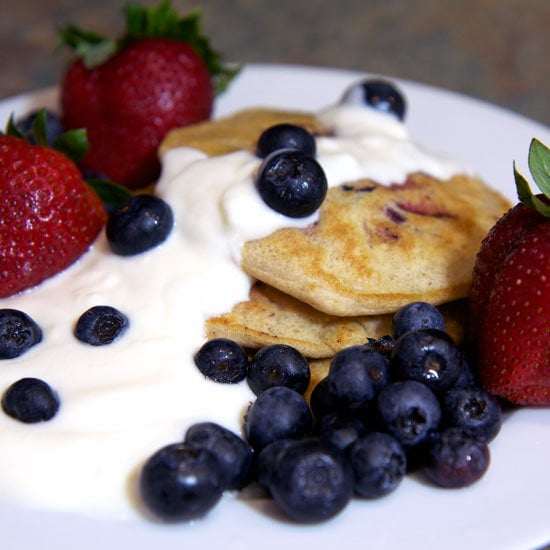 This recipe for whole wheat mixed berry pancakes [11] has raspberries, strawberries, and blueberries in the batter with a cinnamon-yogurt topping. If you want to get really festive, then split the batter into two and add puréed red berries to one bowl and puréed blueberries to the other. Alternative red and blue pancakes on the plate, and top with the yogurt sauce.
Blueberries are not only sweet and juicy; they also contain high levels of phytonutrients, which act as antioxidants to fight cancer [12]. They can also decrease belly fat and aid in digestion.
Photo: Jenny Sugar
Watermelon, Black Olive, and Feta Skewers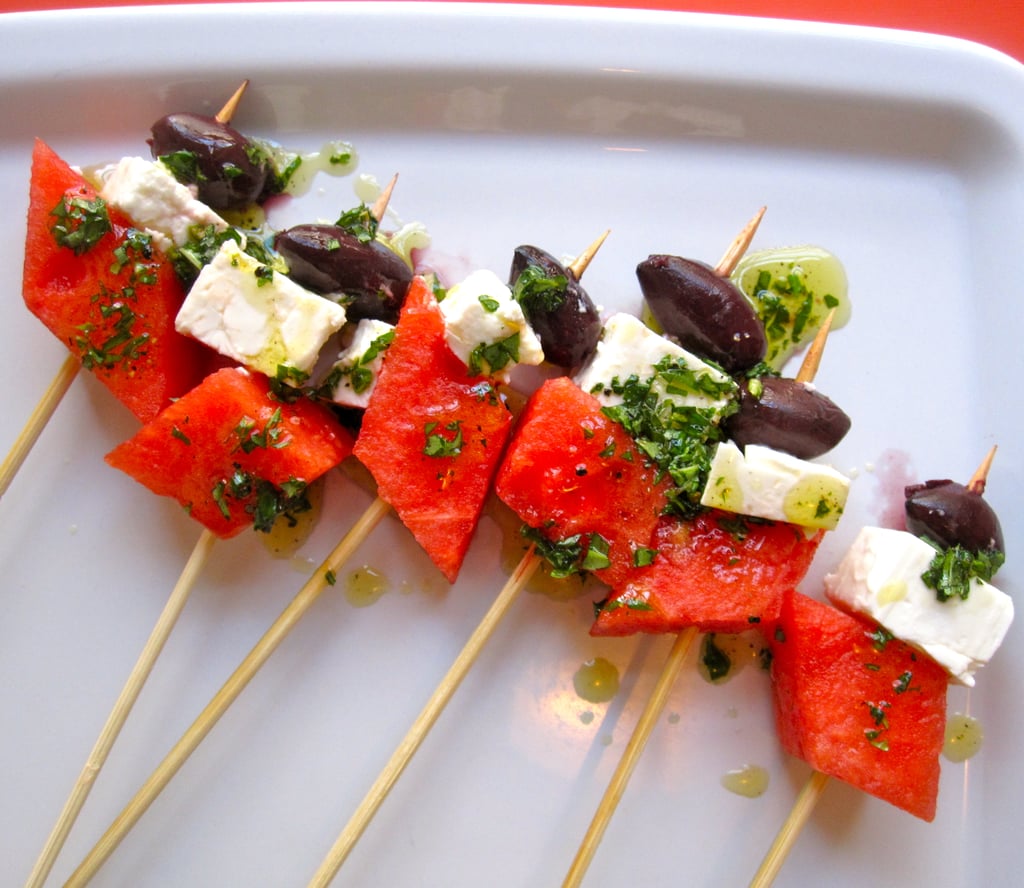 So simple and savory, these skewers [13] are made with fresh watermelon, black olives (it's close to blue!), feta cheese, and minced herbs. If you're craving something with a little more substance, then pile this mixture atop grilled pizza dough.
Watermelons are rich in antioxidants and potassium, and also aid in rehydration (they are 92 percent water!) so they make a perfect post-workout treat.
Photo: Katie Sweeney
Healthy French Toast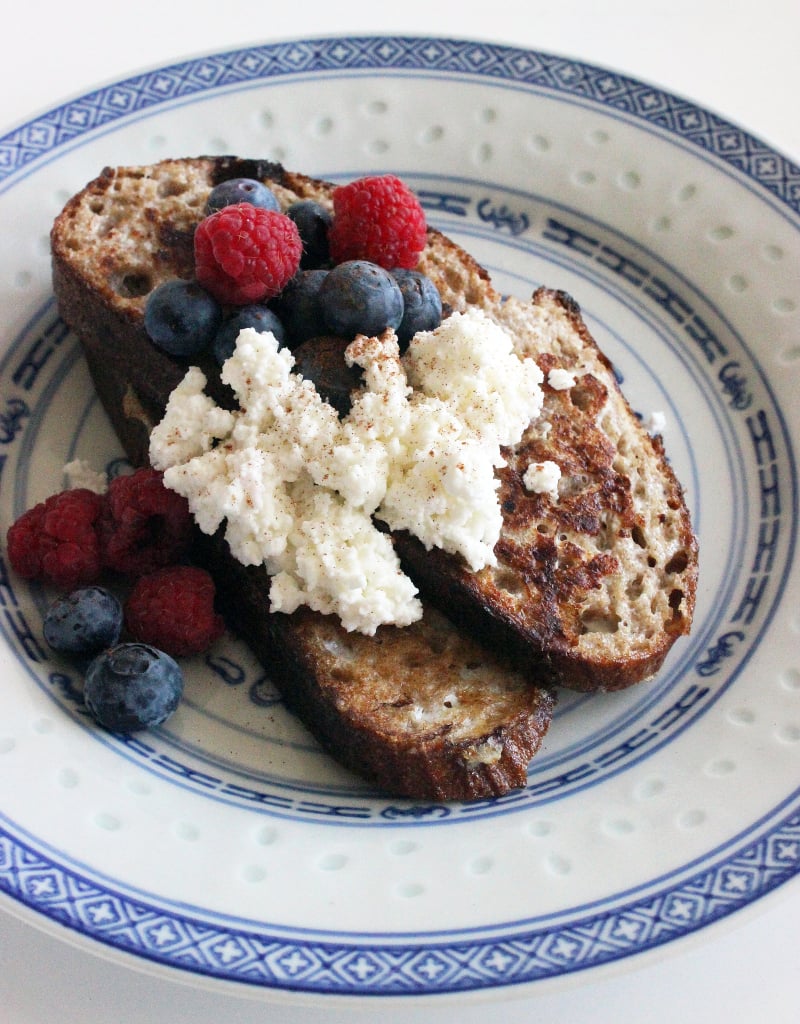 For a decadent brunch, cook up a couple warm slices of healthy french toast [14] (made with whole grain bread and egg whites) and top them with sliced blueberries and raspberries.
Raspberries are full of antioxidants, antimicrobials, and anticarcinogenics, and can even help with weight loss due to their metabolism-boosting properties.
Photo: Lizzie Fuhr
Berry Trifle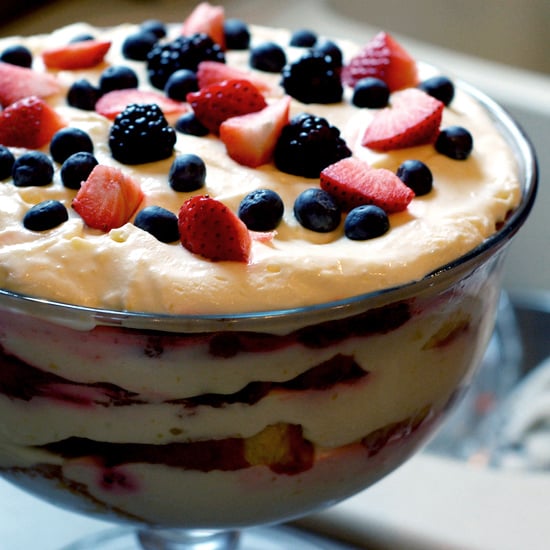 Skip the high-fat and high-calorie whipped cream and make your trifle with greek yogurt [15]. Layer your trifle with loads of berries, like strawberries, blueberries, blackberries, and raspberries.
Strawberries are not only low in calories and high in flavor, but they're also bursting with potassium [16].
Source: Flickr user brooklyn [17]
Blueberry Soup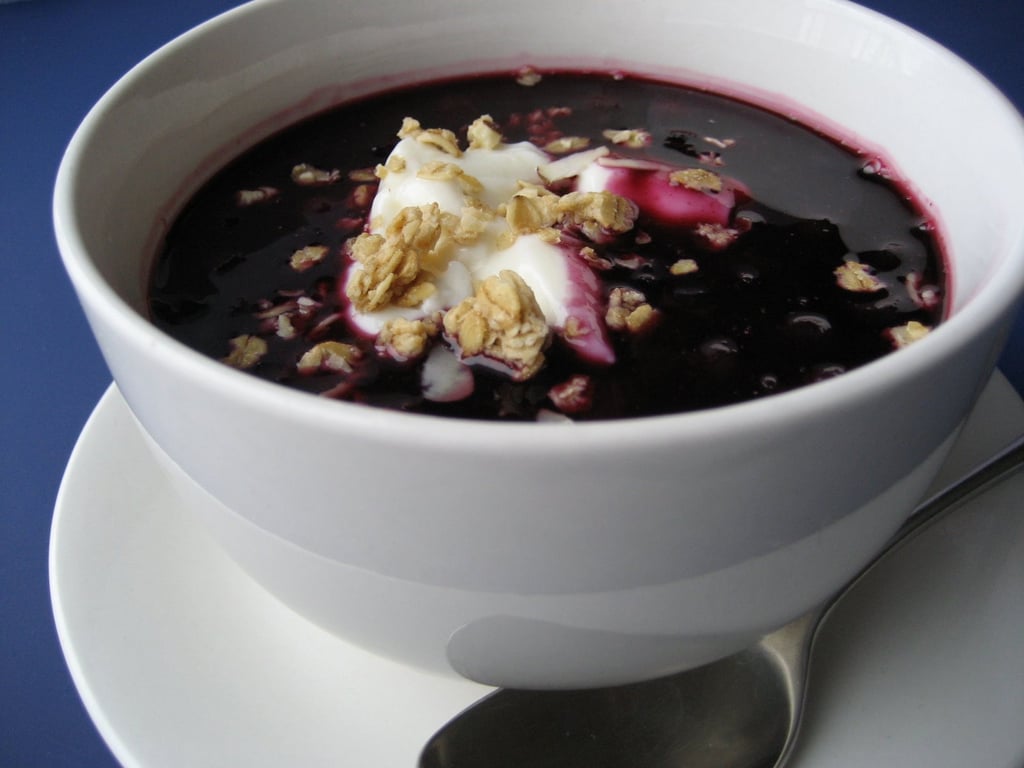 Don't knock it till you try it! Served warm with a dollop of yogurt and half a strawberry, this bowl of blueberry soup [18] is festive and filling.
Blueberries offer vitamin C, fiber, and are an excellent source of manganese, which is important for bone health.
Source: Scribbit [19]
Blueberry Red Pepper Salsa With White Corn Chips
Get fruity on the Fourth and dice up a bowl of this homemade blueberry red pepper salsa [20]. Serve with white corn chips or as a unique and tangy topping for grilled chicken or fish.
Red bell peppers are an excellent source of vitamin C, and since cooking peppers can damage some of the beneficial phytonutrients, this dish allows you to enjoy them raw.
Red, White, and Blue Popsicles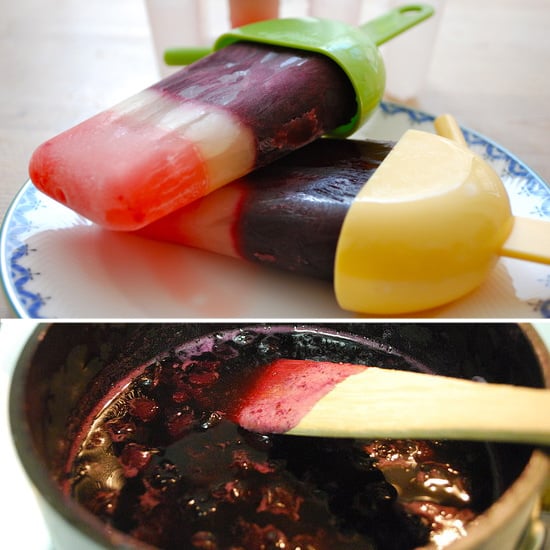 Much healthier than the traditional Bomb Pop [21], these fruity red, white, and blue popsicles [22] are so refreshing. The red part is watermelon, the white is lemon, and the blue is blueberry.
Watermelon contains antioxidants galore [23] and is especially high in vitamins A, C, and B6, and it's really low in calories.
Photo: Rebecca M Gruber
Fresh Fruit and Yogurt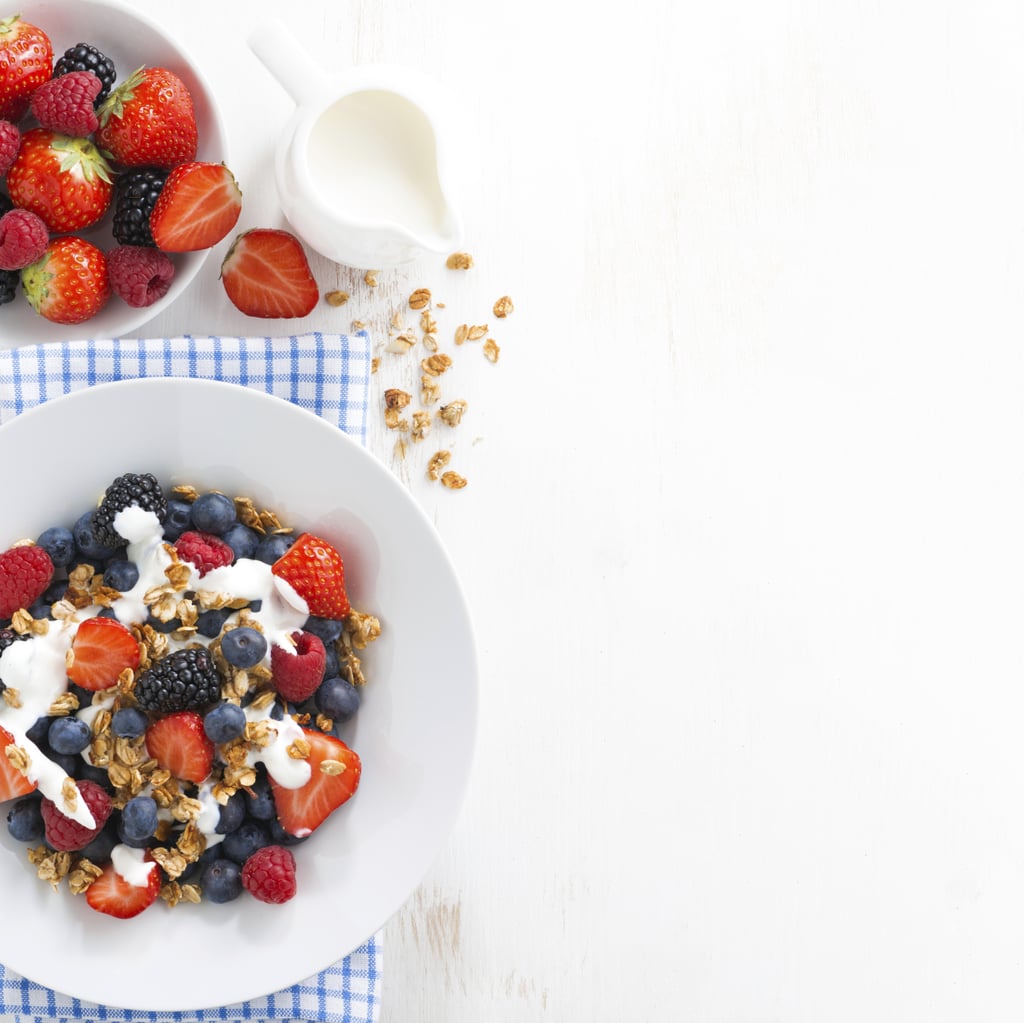 If you're short on time but still want to show your patriotic spirit, then wash up some fresh berries and add them to Greek yogurt with granola.
Berries are rich in antioxidants and fiber, making them an all-around win for your health.