Tracy Anderson Prenatal Workout For a Toned Butt
See How Tracy Anderson Keeps Celebrity Moms-to-Be in Shape!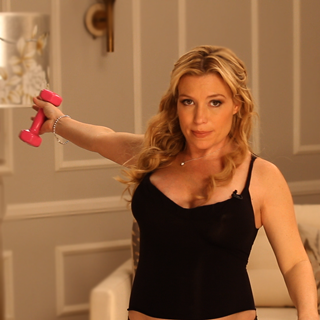 It seems like dancing diva Tracy Anderson trains half of Hollywood these days, and she keeps these celebs fit and toned during their pregnancies, too. Tracy worked with Molly Sims while she was expecting, and now you can learn three of her signature moves designed to keep moms-to-be feeling and looking their best. These exercises focus on the backside, because as Tracy says, there's no reason your "butt can't look as good as possible, for as long as possible" when pregnant.
Before starting an exercise regimen when pregnant, be sure to consult your physician.
View Transcript »
Transcript
It can be hard to stay motivated when pregnant, with your body's new limitations and constant fatigue. So I'm here with pregnant celebrity trainer, Tracy Anderson, who's gonna show us how to keep our behinds toned and active while still having that growing belly. PS, she's also trained pregnant Gisele, Molly Sims, Jennifer Lopez; so you are the expert. In women, yes. In women. Pregnancy as you know is a whole different ballgame. And every single stage of pregnancy you feel different, and how you move feels. So, we are going to show you some moves that you can do throughout your pregnancy. Tracy, tell us, what are things that we should avoid when pregnant? You really want to listen to your body first and foremost. You're gonna have days where you feel tired or days where something just doesn't feel right and nobody can tell you better than you can tell yourself what you can handle each day. You also don't wanna get overheated. This is the most important thing. You don't want to get too hot. Right. There are a lot of dangers associated with that, and everybody's barometer for what hot it is is different, so you just It's better to than sorry when you're pregnant. So, the first move, like I said, is going to incorporate stretching. I really advise that you use a chair, just for balance especially with your pregnancy, you never know when you start to move, what's gonna happen. So, as your belly grows, you really need to focus on pushing your hips back. So, you're gonna dip down to the ground and then punch the weight up. And it really stretches your hamstrings as well, which you're gonna start to feel really tight, especially in your third trimester. Yeah. You're just gonna feel like you can't stretch out enough, and it's a really important thing, especially in your hips. You're just gonna get down and up. And if you want to try it on the left side, you can. Okay. So, feet just shoulder width apart. Yup. Exactly. And then just punch the weight up. That's great. And you can do this 30 times on each side. For the next move, you want to make sure that you have a really sturdy chair. And you're going to kneel on the chair with your left knee first, left arm on the back of the chair, right arm on the front of the chair, and you're going to lift the leg up, cross it behind the left butt cheek, all the way up at a high diagonal, and then bring it back down. Go ahead and let your hip go with it. There's no reason why our butts can't look as good as possible for as long as possible. So a move like this really helps with that. And I can really feel this in my core, which is nice cause it's hard to get a good core workout pregnant. And after about 30 of those you'll feel that in your bump. I feel it, I got it, I got a cardio. Good job.For the last move, I'm gonna show you a move that lets your uterus hang loose, which is really great. So, you're going to kneel down on a mat and we're gonna put our right arm out in front of our left arm, and I'm gonna put my leg in this inverted position, and this is a position that I use a lot where the knee is rotated in and the foot is really swung out to the side as far as you possibly can. As you swing that leg up across the back, you're going to drop the right elbow, to give you a little more range of motion. And you're going to extend the leg straight across at an upward diagonal. So, the arm comes up, as the knee touches the ground, and then as you travel up, the elbow comes down to the mat like that. That's here, and here. Again, we're working through the center of our body as well so we are contracting our abdominal muscles without disturbing the little growing baby. By strengthening your butt muscles, you're preventing bad posture, and back aches. Yeah, it kind of good stuff that comes with pregnancy. Very true. Now, there's so much thrown at us when we're pregnant. If you had to sum it all up with one tip, It's such a special time, and it's not just about you right now. Yeah, this is preparation for motherhood. You got to think about something else. You're very true. And so, great. Thank you so much for your tips, Tracy. Thank you so much. Thank you. And stay tuned to Fit Sugar TV for more pregnancy work outs, we'll see you next time.