Vegan Gravy Recipe
Savory Vegan Mushroom Gravy For Thanksgiving
Like us on Facebook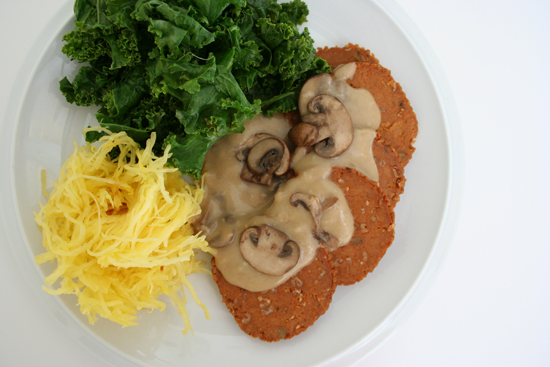 Vegans deserve to have a yummy, thick gravy too. This particular recipe is delicious on seitan, tofurky, or on Field Roast grain meat loaf, as pictured. Roasted spaghetti squash and steamed kale are quick, colorful, and nutritious complements as well.
See recipe after the break.
Original Recipe by Anna Monette Roberts
Vegan Mushroom Gravy
Ingredients
3 tablespoons extra-virgin olive oil
1 8-ounce container mushrooms, thinly sliced
2 tablespoons all-purpose flour
1 cup mushroom or vegetable broth
1 cup unsweetened almond milk
Salt and pepper to taste
Directions
This vegan gravy is thickened using a roux, which is a mixture of equal parts fat and flour cooked until the flour has darkened. Cooking the flour gives the gravy a toasty flavor and dissolves the flour, so you are left with silky smooth texture without any grit.

The key to getting its rich, nutty flavor is to let the gravy simmer for 15-20 minutes at the end. If you don't like mushrooms, opt for vegetable broth instead.
In a sauté pan over medium high heat, add 1 tablespoon of oil. When oil is heated through, add sliced mushrooms. Sauté for 7-10 minutes, or until tender. Pour mushrooms into a side dish, and return sauté pan to the stove.
Heat remaining 2 tablespoons of oil over low heat. Whisk in 2 tablespoons of oil. Cook and whisk continuously for 30-35 minutes, or until roux is peanut butter brown. Slowly and carefully pour in vegetable broth and almond milk while whisking continuously. Simmer for 15-20 minutes.
Stir in sautéed mushrooms. Salt and pepper to taste. Serve over mashed potatoes or a vegan protein.
Serves 4.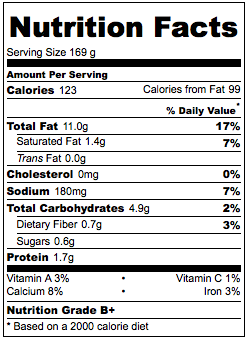 Source: Calorie Count
Information
Category

Condiments/Sauces