Vegetarian Lettuce Wraps From True Food Kitchen Fight PMS
Fight PMS With Shiitake Tofu Lettuce Cups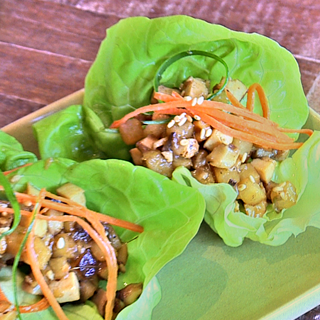 When PMS cravings strike, skip the Doritos and try this recipe for Shiitake Tofu Lettuce Cups, created by chefs at Dr. Andrew Weil's True Food Kitchen instead. The flavor profile — salty and crunchy — is sure to please your palate, while the ingredients work to alleviate the symptoms that accompany Aunt Ruby's monthly visit.
If getting healthy is one your goals for the year, be sure to check out our Get Fit For 2012 giveaways with prizes to jump-start your January: a year's worth of sneakers from Asics, a $500 gift card for Under Armour, a new food processor from Magimix, and KIND snacks for a year!
View Transcript »
Transcript
It's been said that certain foods reduce PMS, so we're here to test it out at Dr. Weil's True Food Kitchen with Executive Chef Michael Stubner who's going to how to make PMS-busting tofu lettuce cups. This simple snack can curb bloating, cramps and help balance your hormones by featuring whole soy products, which Dr. Weil is a huge fan of. I am a strong proponent of eating whole soy foods moderately and regularly. To make the tofu lettuce cups you need, [xx], shitake mushroom, cashews, super firm tofu, ginger and lemon grass, a little expeller press canola oil and teriaki sauce. And what you're gonna need for the garnish is some bibb lettuce tops, a little julienne carrot, scallion and toasted sesame seeds. Make sure your wok is nice and hot. We're going to add these ingredients because you need a super high heat to wok, it stir fries very quickly. Alright now it's time to plate it. Now garnish. We are garnishing it with julienne carrots and scallions and some toasted sesame seeds. That's it, and there you have it. I've been dying to try these. Let's dig in. You got it. So delicious. So you're noticing all the different textures and flavors? Yeah, the crunchy, the salsy, it really compliments nicely. Thanks so much for showing us this recipe. Thank you. In terms of diet, I think the anti-inflammatory diet is very helpful, so I would increase consumption of omega three fatty acids. I think soy foods can be very helpful because of the phytoestrogen that they contain. All soy goods are tofu and tempeh, edamame, soy nuts, soy milk. Thanks so much for being with us today. Thank you, a pleasure. See you next time on FitSugarTV.