When you're on a weight-loss journey, lunches out every day aren't part of the program, but there's nothing worse than putting in all the effort to pack a lunch only to feel famished just an hour after eating it. Look to these 10 healthy and hearty recipes full of ingredients that aid digestion, boost your metabolism, and keep you full and satisfied for under 400 calories. Best of all, these recipes are absolutely delicious.
Tortilla-Less Soup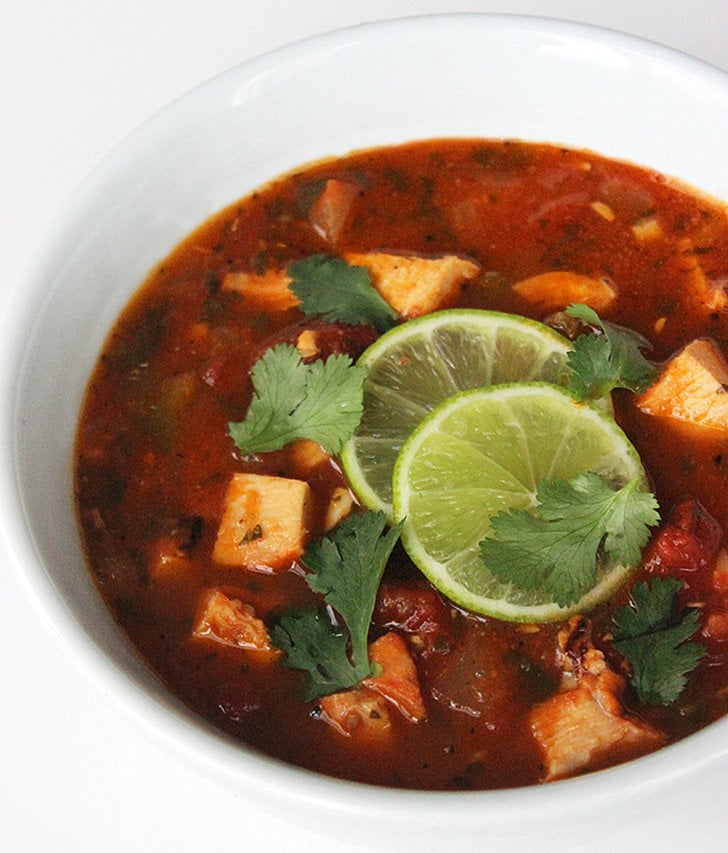 Find a new favorite soup in this oh-so-easy low-carb, high-protein recipe. This fresh and vitamin-C-rich tortilla-less soup [1] brings a helping of metabolism-boosting spice to the table with the addition of a hot jalapeño pepper. Cook up a big pot of soup over the weekend, and you'll have a satisfying, no-hassle lunch for the next few days at work.
Total calories: 291
Photo: Lizzie Fuhr
Thai Citrus Chicken Salad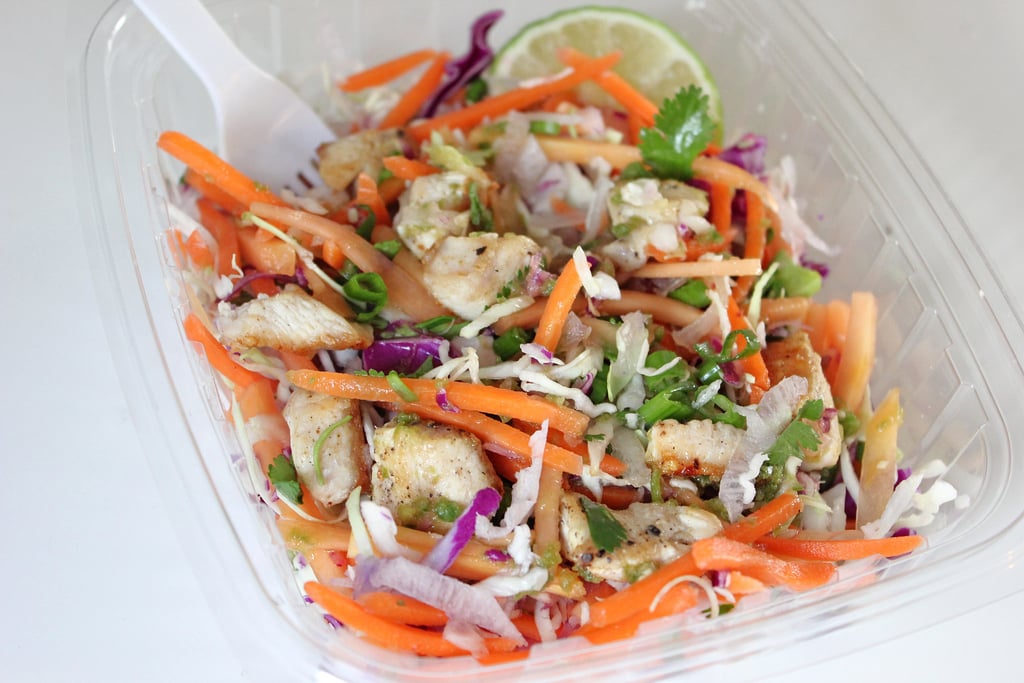 The combination of cabbage, carrot, and daikon in this citrus chicken salad [2] is an antioxidant-rich trifecta! This recipe supports your digestive system and keeps your body hydrated in warmer temperatures, and it's high in protein and low in fat, carbs, and calories. In short, it's everything you're looking for in a filling salad that supports weight loss.
Total calories: 223
Photo: Leta Shy
Apple and Cabbage Salad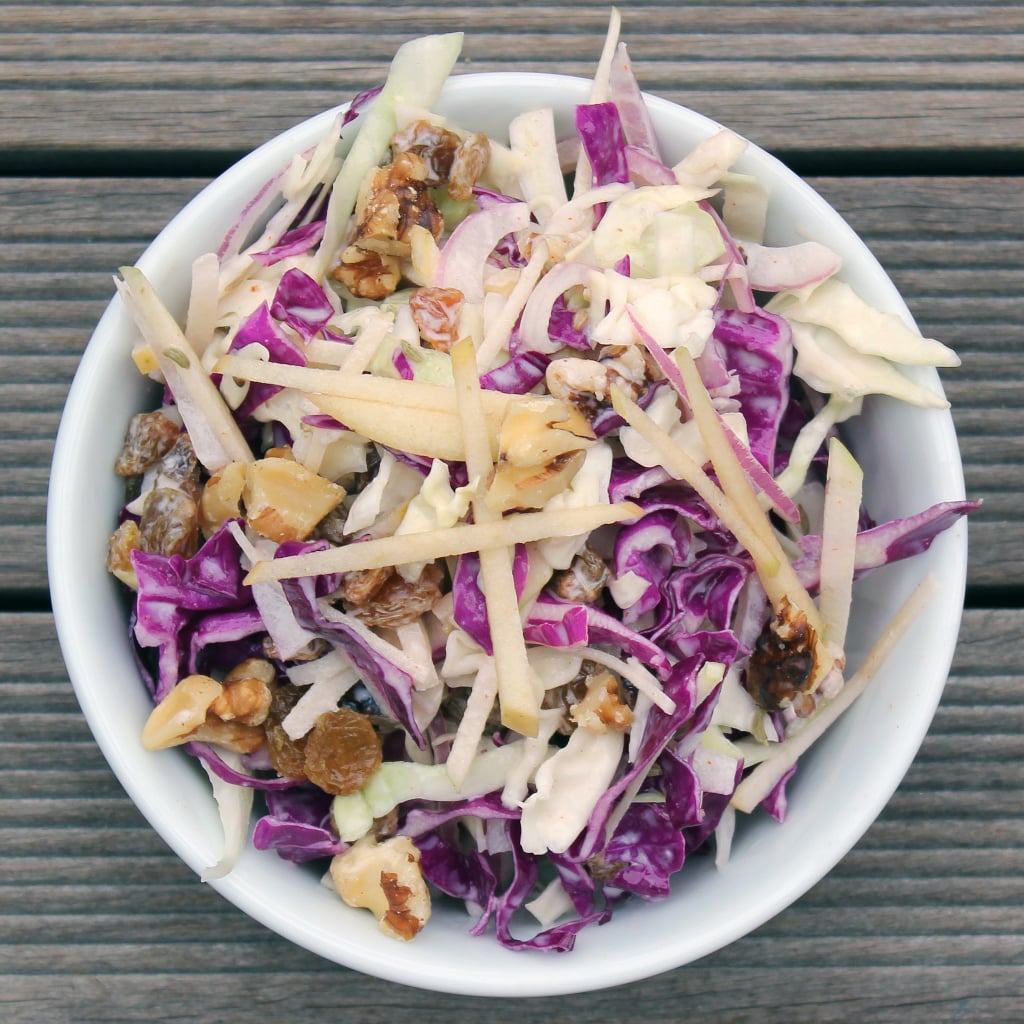 For a detox salad that satisfies, you need to try this Candice Kumai recipe [3] ASAP. Apples and two kinds of cabbage come together for a fiber-filled meal that aids in digestion. The addition of fennel seeds adds to the fiber factor, plus a kick of cayenne boosts your metabolism. Serve with a grilled chicken breast or turkey slices for extra protein.
Total calories: 289
Photo: Lizzie Fuhr
Fresh Burrito Bowl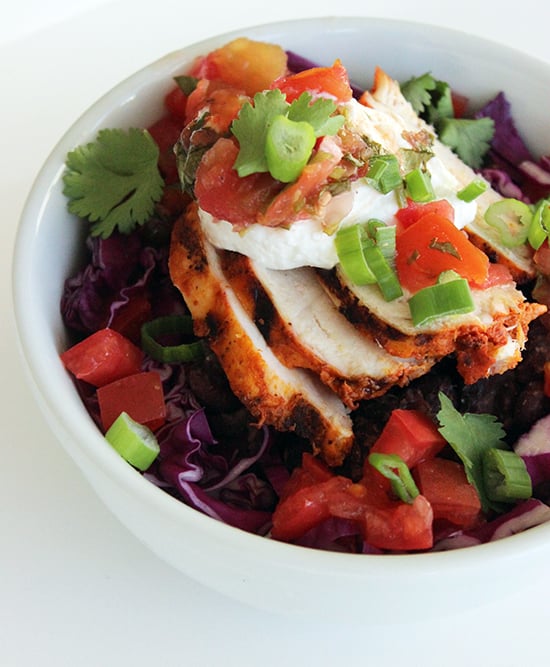 Satisfy Mexican fast-food cravings with this quick and delicious burrito bowl [4] you can make at home in less than 10 minutes. A precooked chicken breast, fresh produce, and a few healthy staples are all you need for this nutrient-dense, low-calorie meal that offers over 40 grams of protein and 8 grams of fiber per serving. This one is perfect to refuel your body after a midday strength-training session.
Total calories: 350
Photo: Lizzie Fuhr
Lemony Toasted Quinoa and Cabbage Salad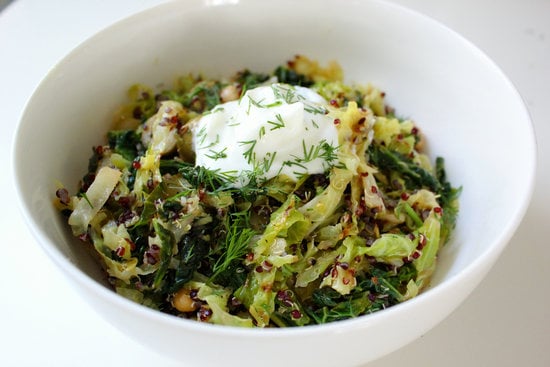 Each ingredient in his lemony toasted quinoa and wilted cabbage salad [5] aids digestion, making it an ideal recipe for clean-eating adventures. Quinoa, chickpeas, and cabbage are responsible for the high fiber content, while the detoxifying properties of lemon and the digestion-supporting dollop of Greek yogurt are added bonuses for your body (and taste buds).
Total calories: 348
Photo: Leta Shy
Spicy Sweet Potato Salad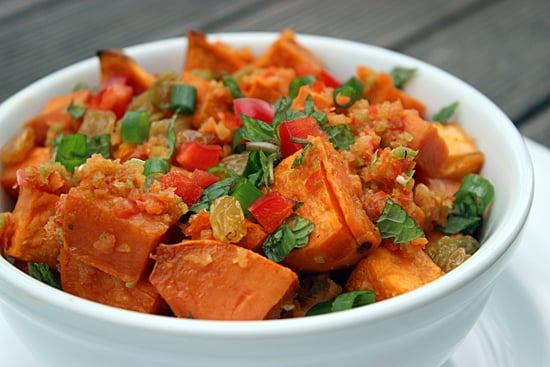 High-fiber sweet potatoes can regulate blood sugar and help you lose weight, while an antioxidant-rich red pepper and jalapeño dressing kicks up your metabolism, tying everything in this spicy recipe [6] together beautifully. Enjoy this dish for dinner, and bring delicious leftovers to work the following day; this recipe's flavors are even more delicious as leftovers. Serve with some chicken breast to up the protein factor.
Total Calories: 270
Photo: Lizzie Fuhr
Raw Veggie Salad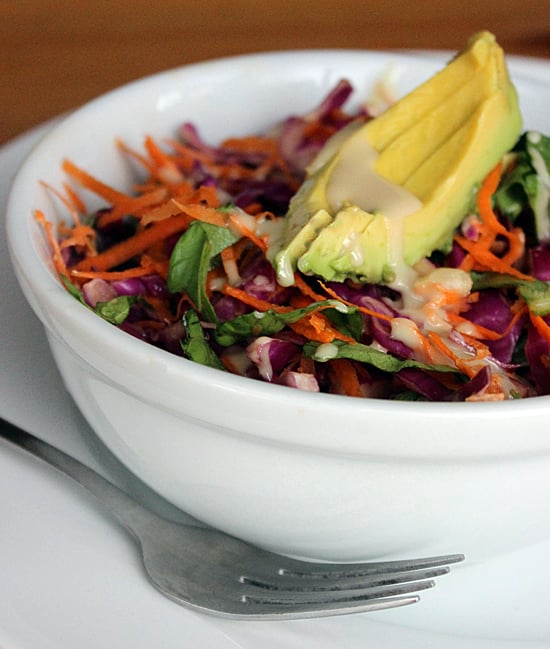 High in fiber, vitamin C, and vitamin A, this raw rainbow salad [7] adds color and flavor to any meal. The water content in romaine works to hydrate your body, while the high fiber content in the red cabbage and carrots aids in healthy digestion, making it a great addition to any long-term weight-loss or shorter detox plan. Add avocado, quinoa, or lean protein to bulk up this salad for a satisfying lunch.
Total Calories (with dressing, including a quarter of an avocado): 275
Photo: Lizzie Fuhr
Indian-Spiced Curry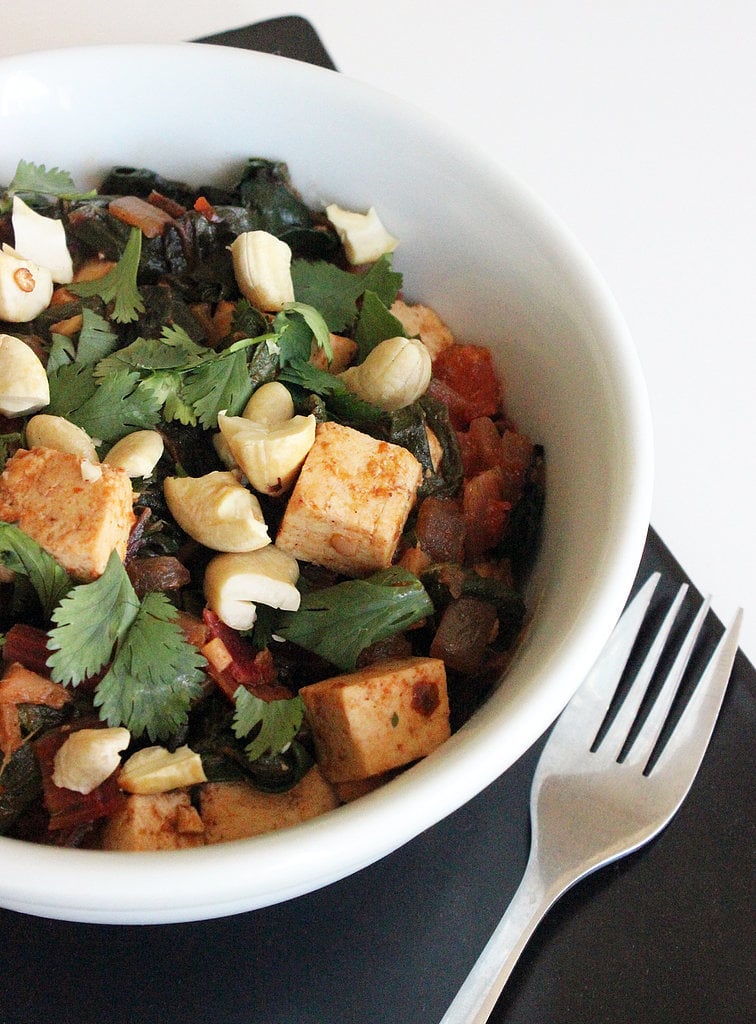 A bowl of this Indian-spiced tofu and chard [8] has the protein and fiber to keep you satisfied all afternoon long. Even better, the combination of turmeric and ginger gives this recipe both metabolism-boosting and anti-inflammatory properties. It's one of my favorite ways to refuel my body after a challenging yoga class.
Total calories: 222
Photo: Lizzie Fuhr
Rainbow Quinoa Salad
This beautiful veggie-packed quinoa salad [9] screams Spring! A bowl of this gluten-free goodness is under 350 calories, offering 13 grams of protein and seven grams of fiber. Any vegetarians or vegans looking for a protein-rich recipe to support weight loss will fall hard for this recipe.
Total calories: 331
Photo: Jenny Sugar
Polenta and Beans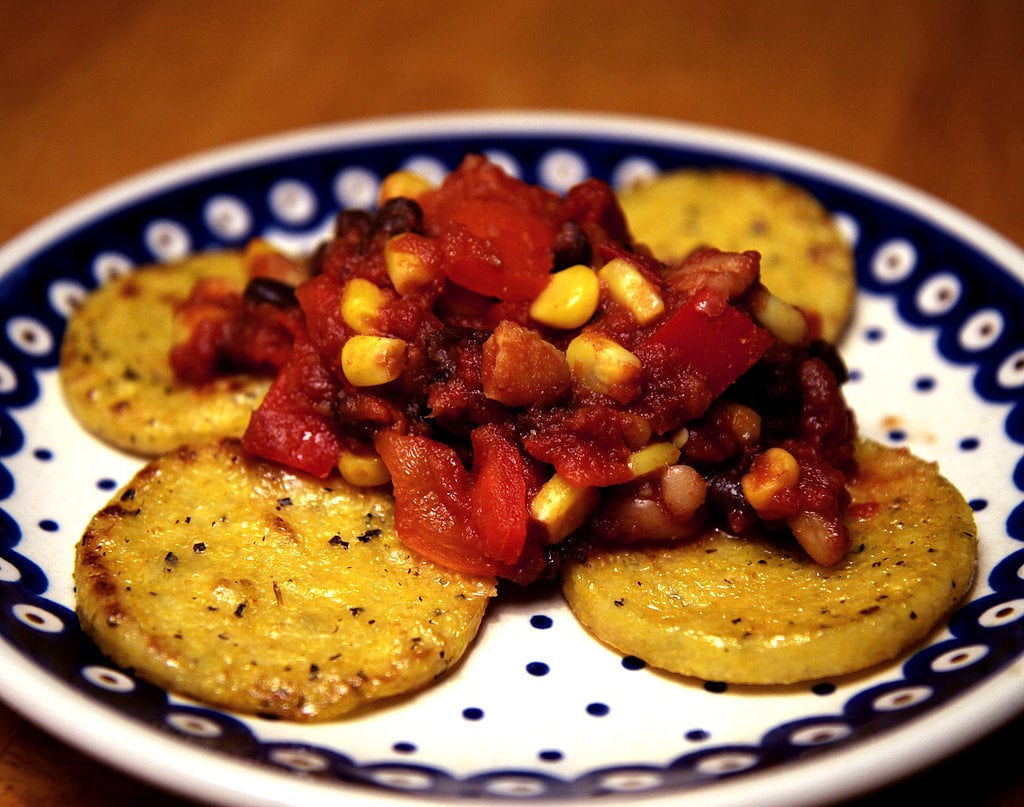 If you're ready to get creative at lunchtime, let vegan polenta and beans [10] come to the rescue. It's a filling and spicy meal that offers more than 10 grams of vegan-approved protein for under 300 calories.
Total calories: 284
Photo: Jenny Sugar