You Asked: Daily Avocado Snack – Too Much?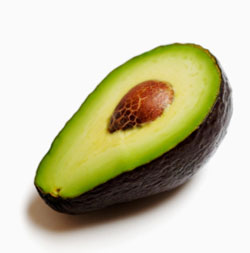 You're asking and I'm answering . . .
Hi Fit. I was wondering if eating avocados every day is unhealthy and bad for my diet? I love avocados and i just recently was wondering if when I get super hungry before lunch or dinner, I could eat one? I know it has a bad rep for being a fatty fruit/veg..but I wanted to make sure and I was hoping you could help because I honestly don't know! Thanks!
– Amorous of Avocados Ava

I too love avocados; they are green creamy goodness. While avocados do contain a high amount of fat, they mostly contain monounsaturated fat, which is one of the healthy and beneficial fats that might actually help prevent heart disease and enhance memory. However, fat is still fat even if it is the "good" kind. The recommended daily intake (RDI) of fat is 65 grams and one cup of avocado contains almost one third of your fat intake for a day, about 23 grams. (One cup of avocado equals about 150 grams, a little over half a pound, and roughly the equivalent of a medium avocado.) Aside from fat content, avocados offer plenty of antioxidants like lutein and beta carotene.

I think a better approach is to eat a half an avocado a day. This will lower your fat intake, but you will still get to enjoy the ease and taste of snacking on an avocado. Half an avocado contains about 8 grams of fiber and 3 grams of protein, making it a great pre-meal or pre-workout pick me up. I like to spread avocado on toasted whole wheat bread, which is why I often refer to avocados as vegan butter. This makes the perfect snack, mixing the fat, protein and carbs.

How do you like to eat avocado? Share the details in the comments section below.