Some parts of the country continue to experience unwavering bouts of heat. Stay cool during the dog days of Summer with a few ideas, from starters and sides to salads and sweets, that don't require the use of your oven or your stove.
— Additional reporting by Nicole Perry, Anna Monette Roberts, and Susannah Chen
Photos: Anna Monette Roberts, Nicole Perry, Susannah Chen
Mango Lassi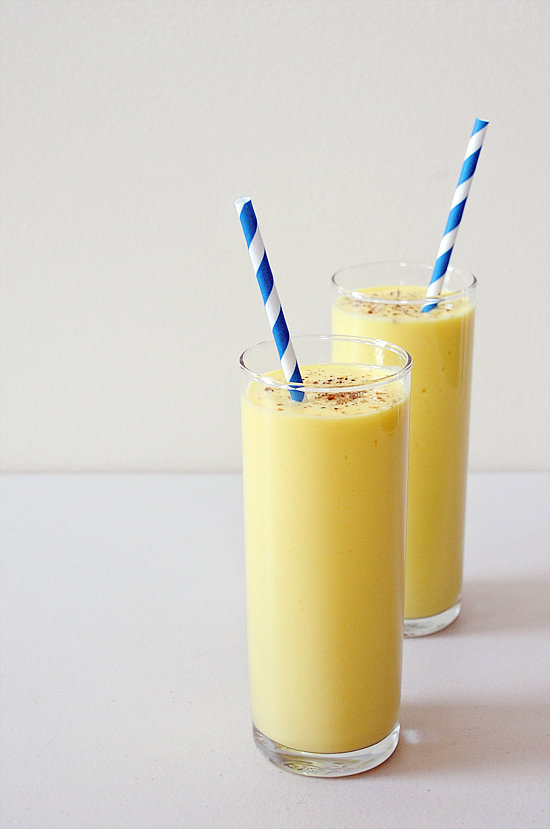 The yogurt and mango smoothie, also known as a mango lassi [1], makes for a sweet-tart way to start the day.
Photo: Nicole Perry
Summer Fruit Salad With Mint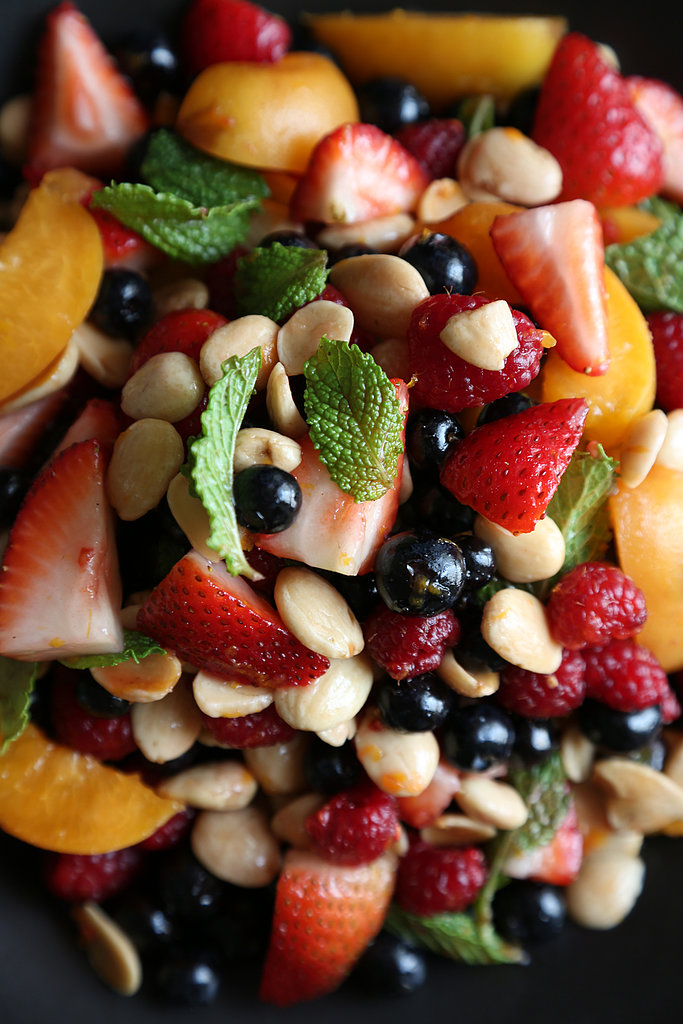 Boost the flavor of your Summer fruit salad [2] by tossing in mint and lemon zest. To stave off hunger, add Marcona almonds for a filling protein.
Photo: Anna Monette Roberts
Kale, Cantaloupe, and Ginger Smoothie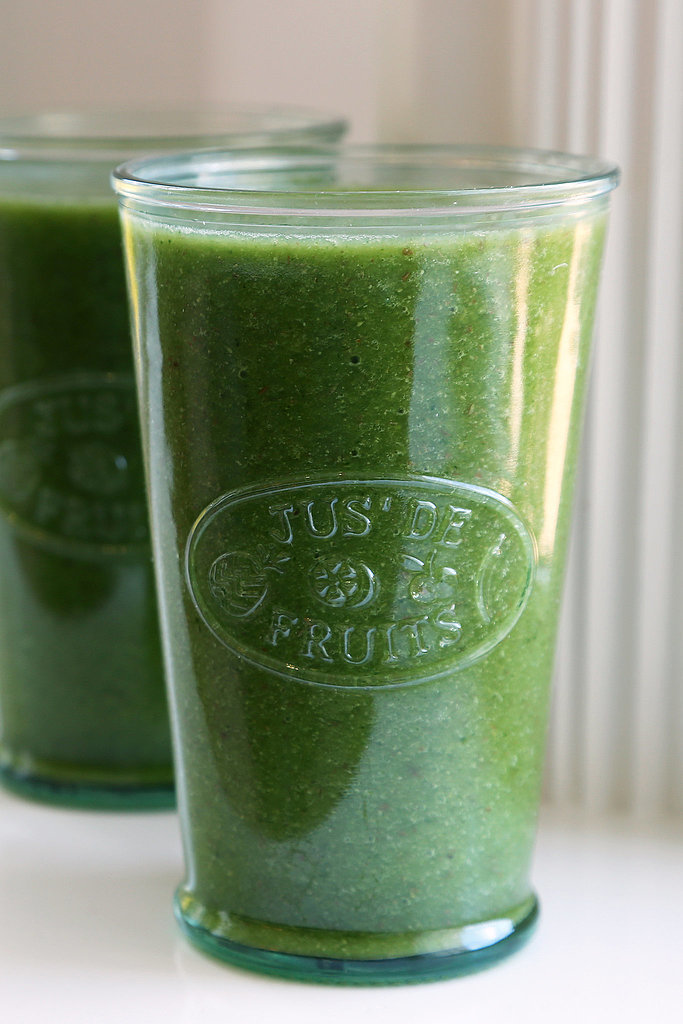 The natural sweetness of this green smoothie [3] comes courtesy of fresh cantaloupe, while kale gives it its grassy color, and ginger brings tingly heat.
Photo: Anna Monette Roberts
Cottage Cheese Toast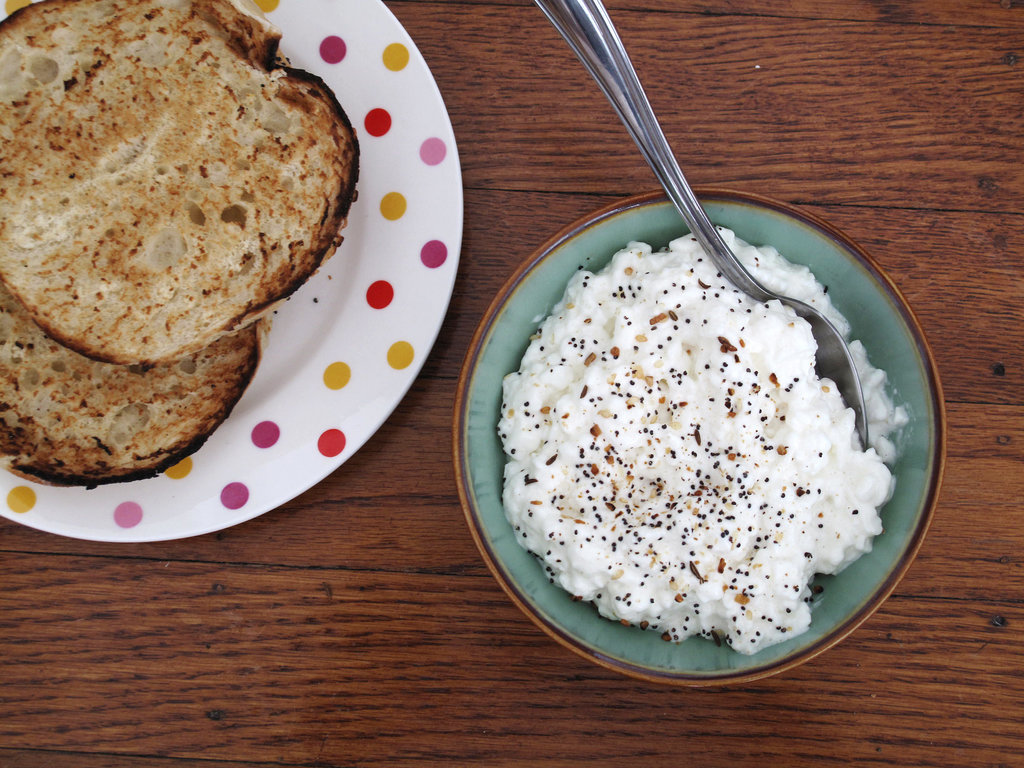 Flavor cottage cheese with a familiar mix-in [4] like everything bagel spices, then dollop it over toast.
Photo: Susannah Chen
Banana Almond Smoothie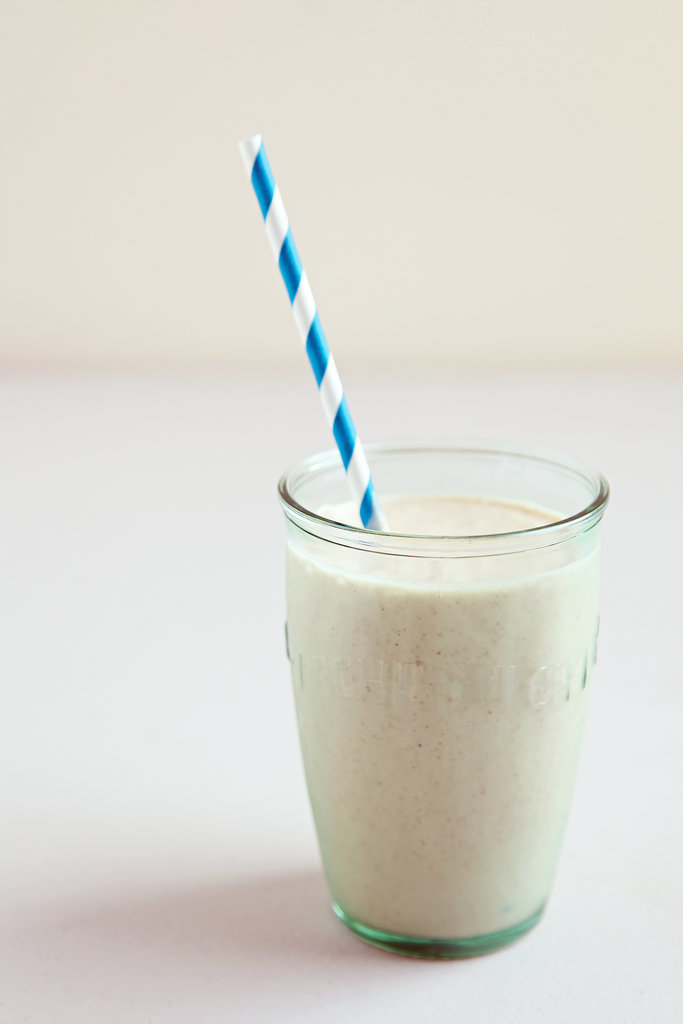 Perfect for a busy weekday morning, this banana almond smoothie [5] has a thick and creamy texture more akin to a milkshake.
Photo: Nicole Perry
Greek Yogurt With Granola and Jam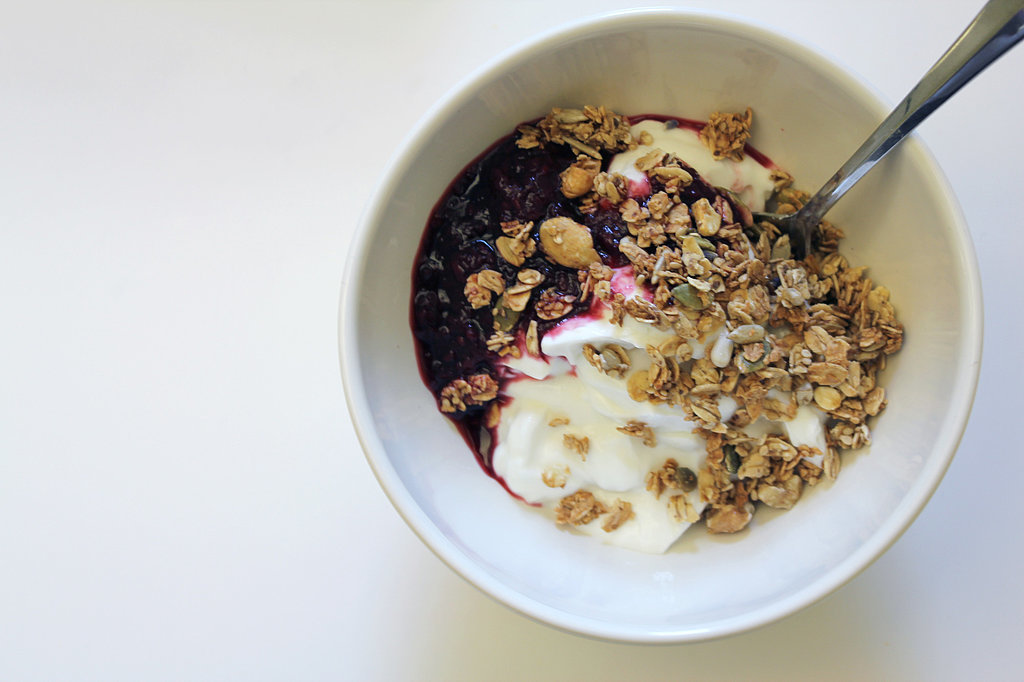 If you start your day with Greek yogurt, keep things interesting by adding mix-ins [6] like jam or even lemon curd [7].
Photo: Camilla Salem
Tropical Green Smoothie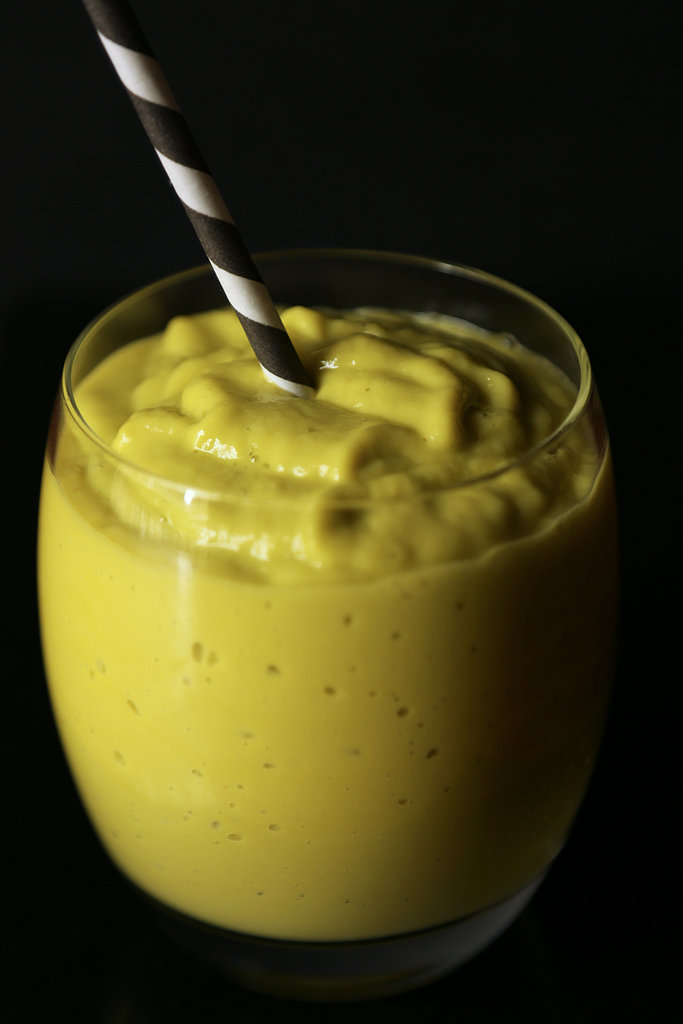 Avocado offers a green hue and creamy texture in this tropical smoothie [8] made with mango and pineapple.
Photo: Anna Monette Roberts
Citrusy Fruit Salad With Pistachios and Goat Cheese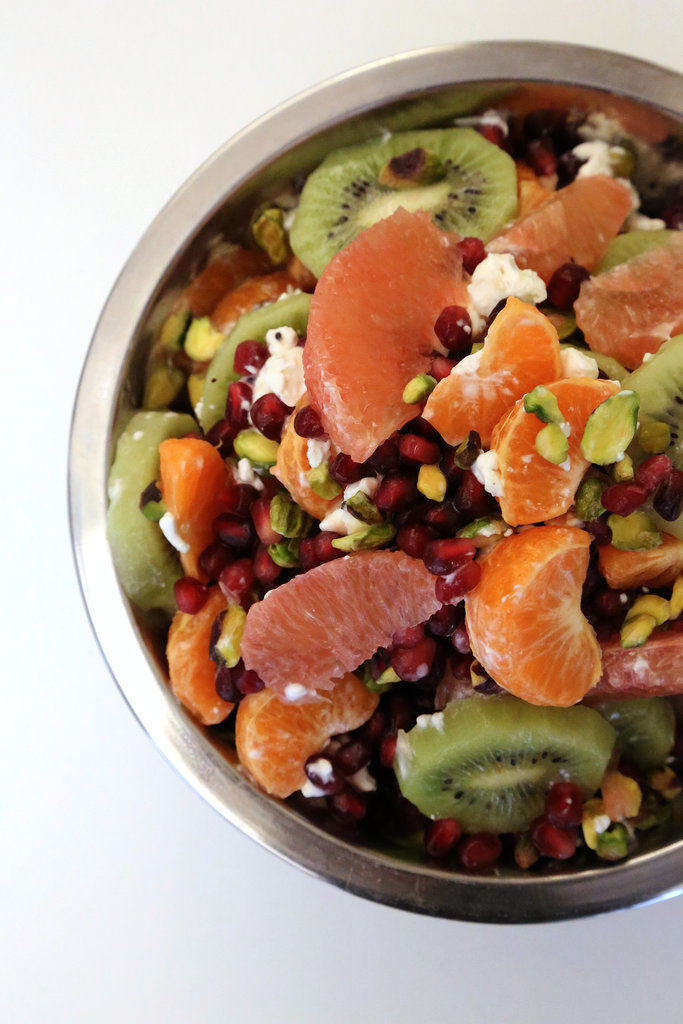 Need fruit salad inspiration? Look no further than this citrusy fruit salad [9] with creamy gobs of goat cheese and crunchy pistachio nuts.
Photo: Anna Monette Roberts
Homemade Gravlax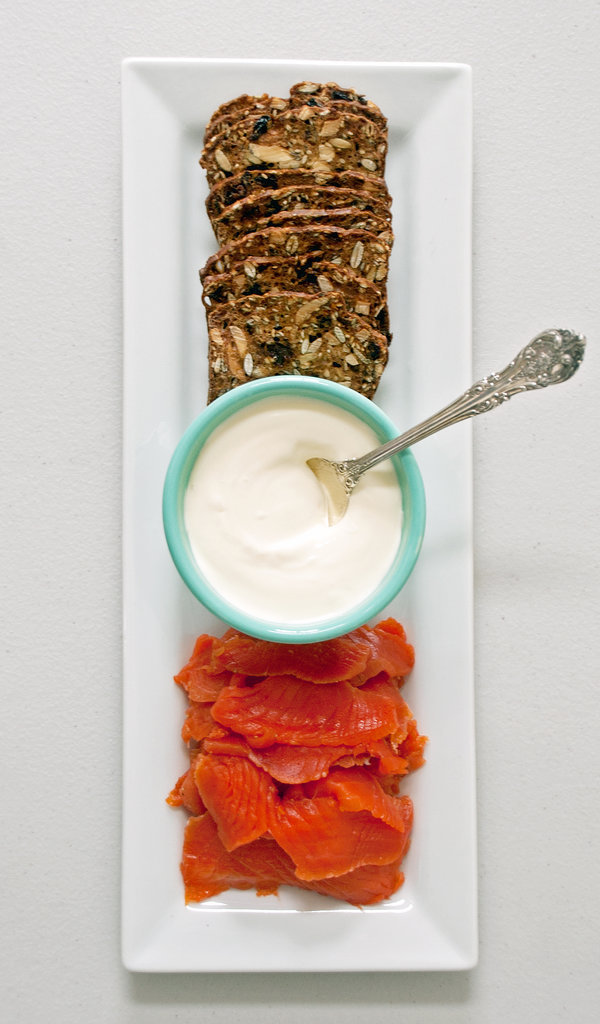 Curing your own gravlax [10] couldn't be simpler. It just takes a few days in the fridge, then you're on your way to salty, salmony bliss.
Photo: Nicole Perry
Cantaloupe Yogurt Bowl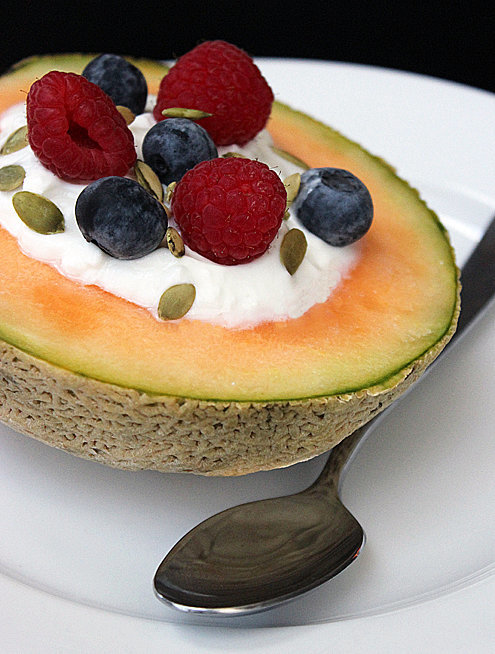 Another fresh way to serve greek yogurt is by filling it in a cantaloupe half [11], then sprinkling berries and pepitas over the top.
Photo: Lizzie Fuhr
Classic Hummus Dip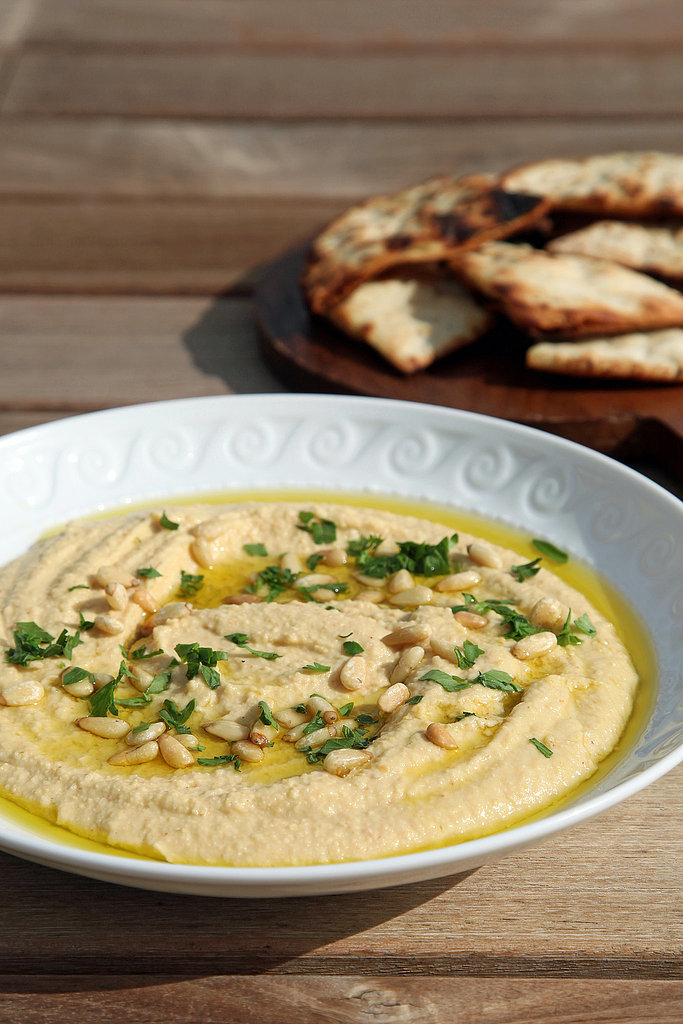 Classic hummus [12] is exactly what a warm day calls for.
Photo: Nicole Perry
Greek Antipasto Bites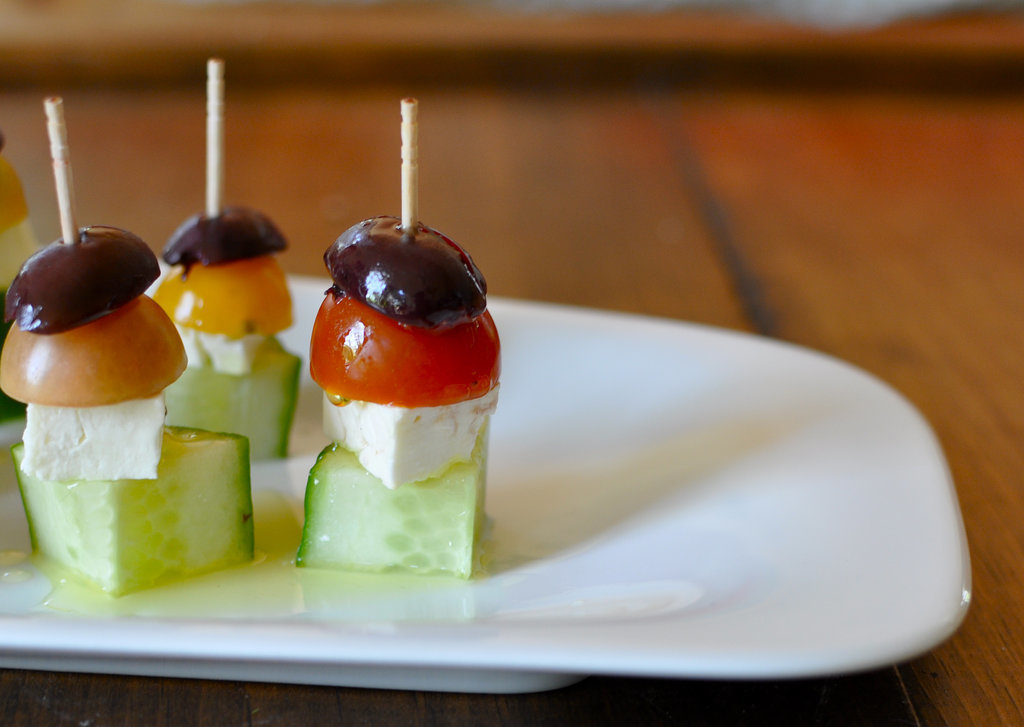 What could be more genius than the Mediterranean combination of cucumber, tomatoes, olives, and feta? Why, the same combination on a stick [13].
Photo: Lauren Hendrickson
Watermelon, Radish, and Avocado Tacos
Part taco, part salad, part lettuce-cup, all delicious, this light dish starring juicy watermelon, creamy avocado, and nutty pine nuts is a must-try bite. Watch the video, then print out the easy recipe [14].
Watermelon, Feta, and Arugula Salad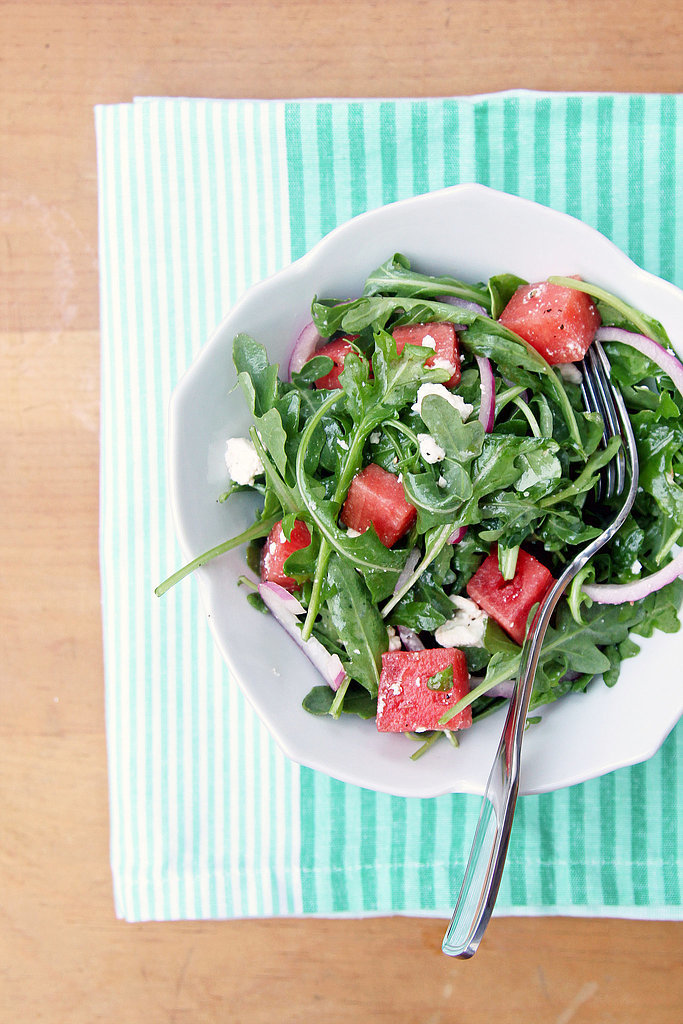 Sweet watermelon, briny feta, and bitter arugula make for a light and flavorful Summer salad [15] combo.
Photo: Nicole Perry
Pineapple Salsa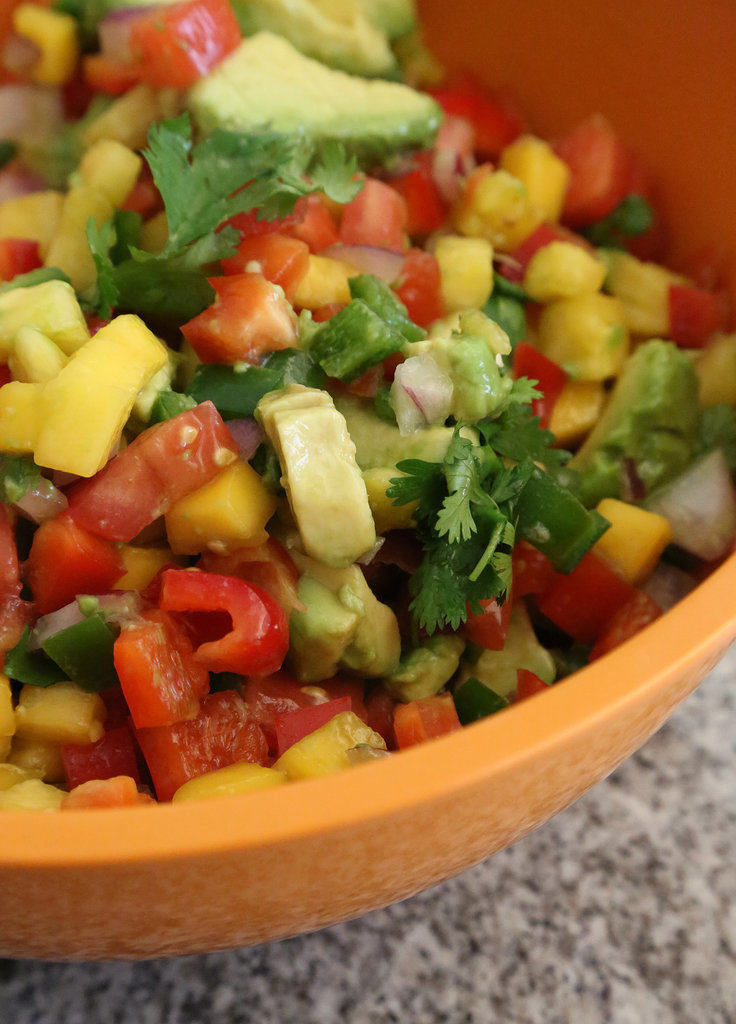 There's no cooking involved in this pineapple salsa [16] featuring the fresh tropical fruit along with avocados, mango, cilantro, and more.
Photo: Anna Monette Roberts
Ribboned Vegetable Salad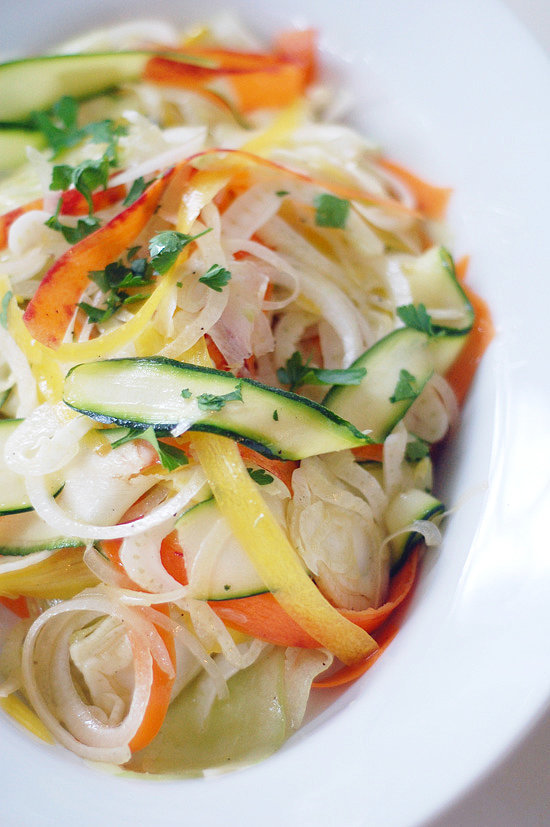 Peel cucumbers, Summer squash, and carrots to create a picture-perfect garden salad [17].
Photo: Camilla Salem
Chilled Corn and Avocado Soup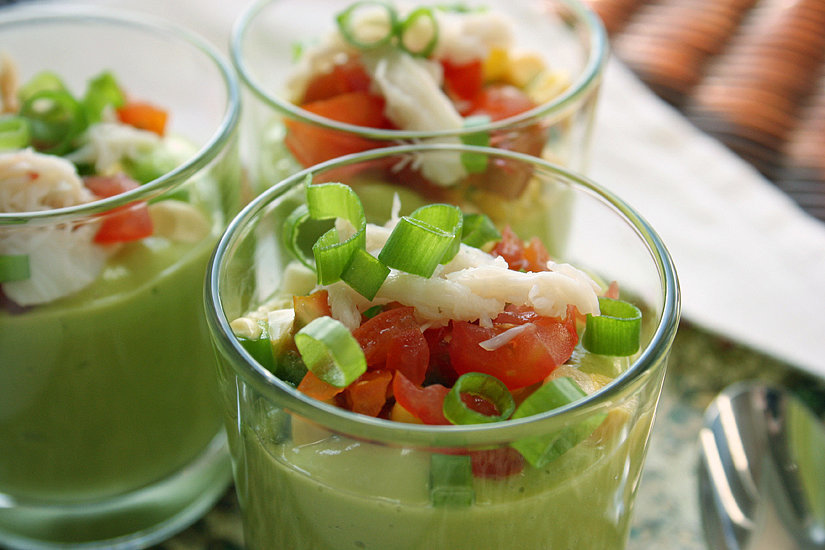 This creamy, chilled corn and avocado soup [18] is full of fresh produce and topped off with a salty little bonus: a generous dose of briny crab meat.
Photo: Anna Monette Roberts
Greek Salad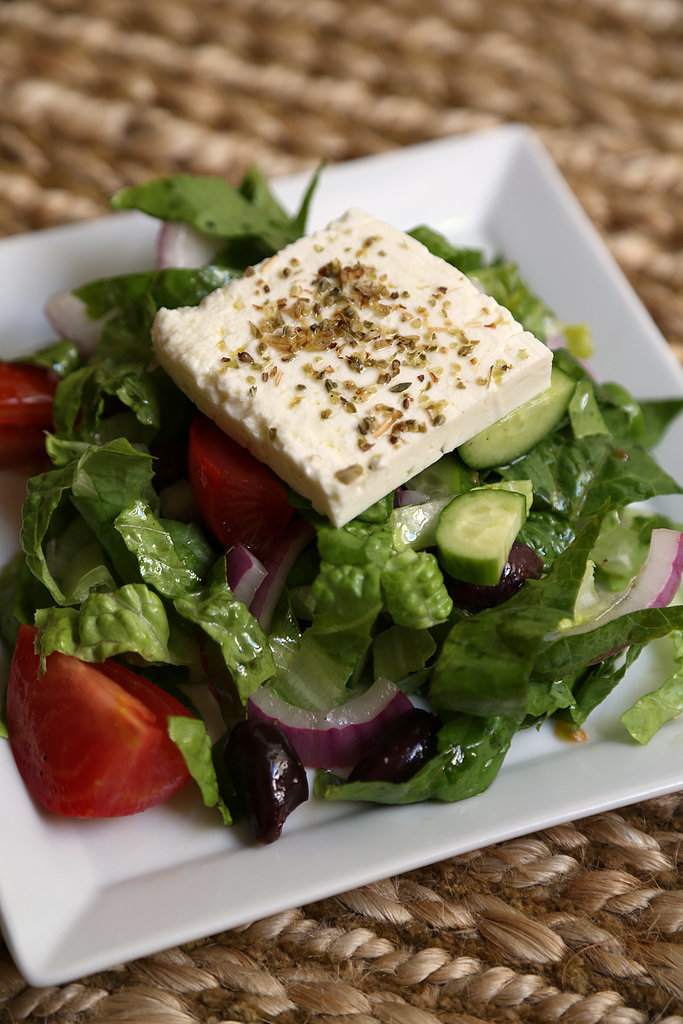 Fast, easy, and refreshing thanks to ample quantities of cool, crisp produce like cucumbers and tomatoes, classic Greek salad [19] is practically tailor-made for hot Summer nights.
Photo: Anna Monette Roberts
Watermelon Caprese Salad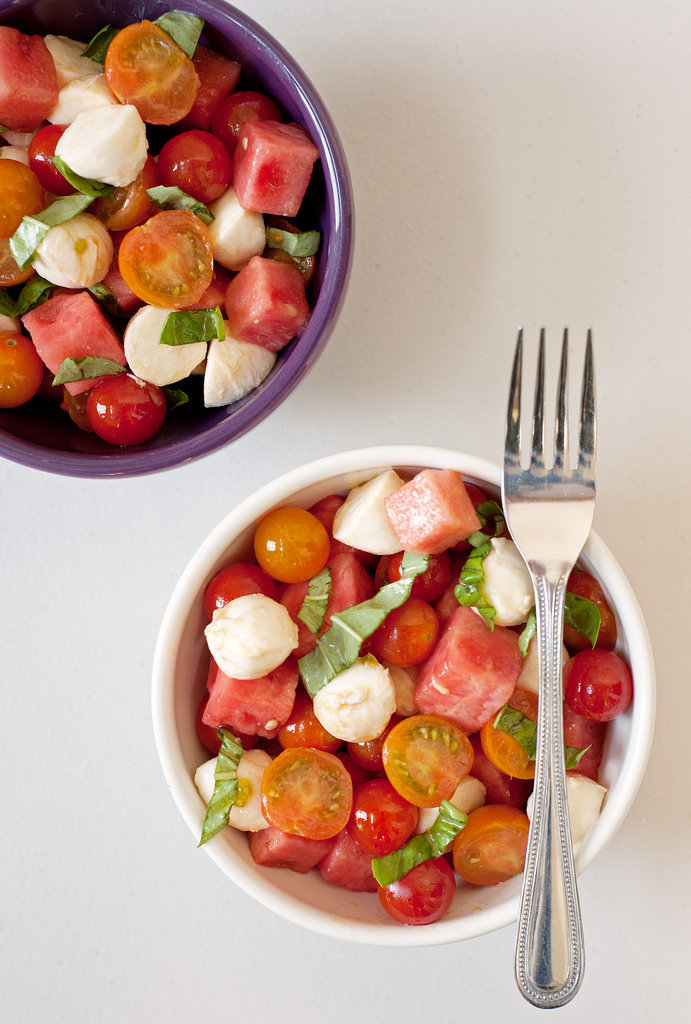 Add a sweet twist to a summertime standby — caprese salad — by tossing in some cubed watermelon [20].
Photo: Nicole Perry
Apricot, Goat Cheese, and Almond Bites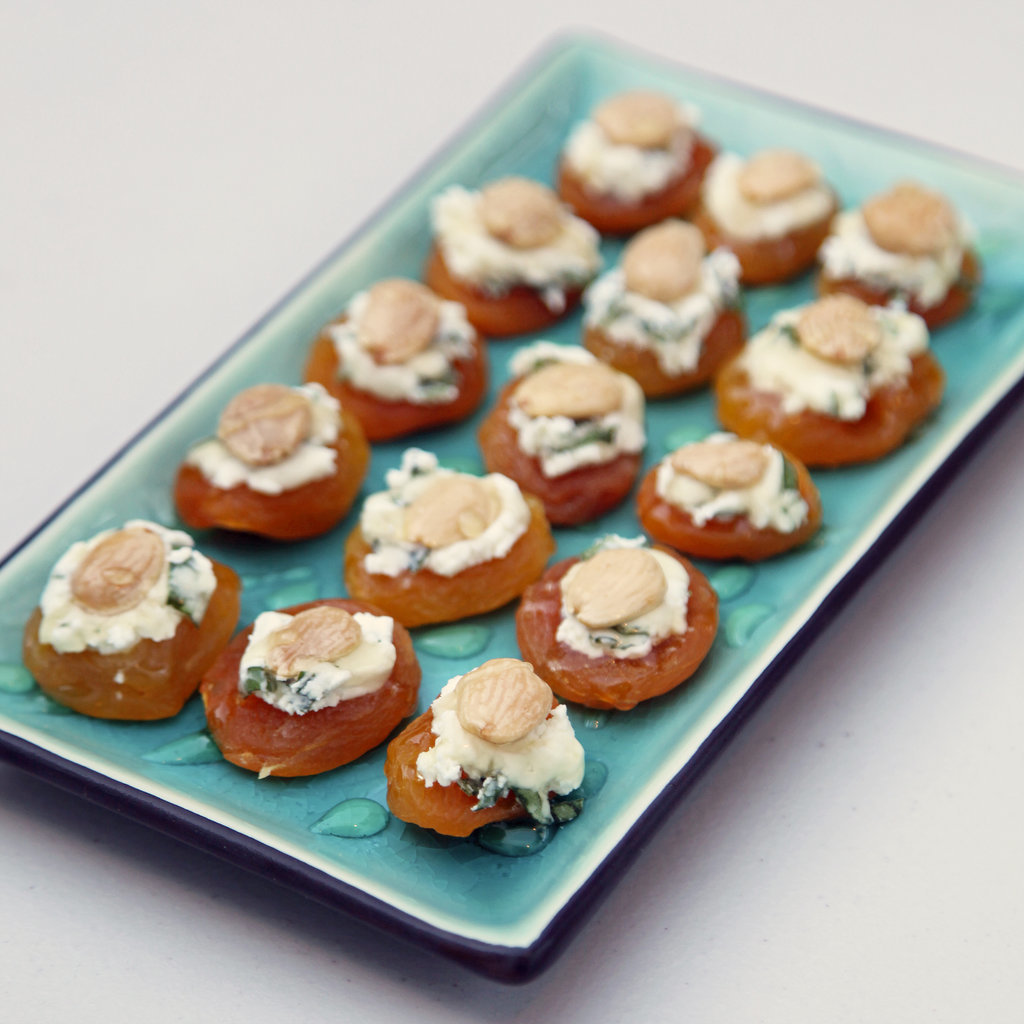 Apricot and goat cheese bites [21] are the ideal finger food — the salty and sweet appetizers are ready in just a few minutes and will be gobbled up in even less time than that.
Photo: Nicole Perry
Smoked Salmon Salad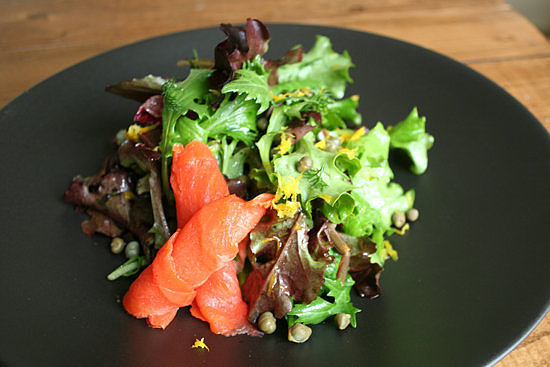 A simple green salad [22] becomes far more satiating, even meal-worthy, with the addition of smoked salmon.
Photo: Anna Monette Roberts
Hawaiian Ceviche with Pineapple Salsa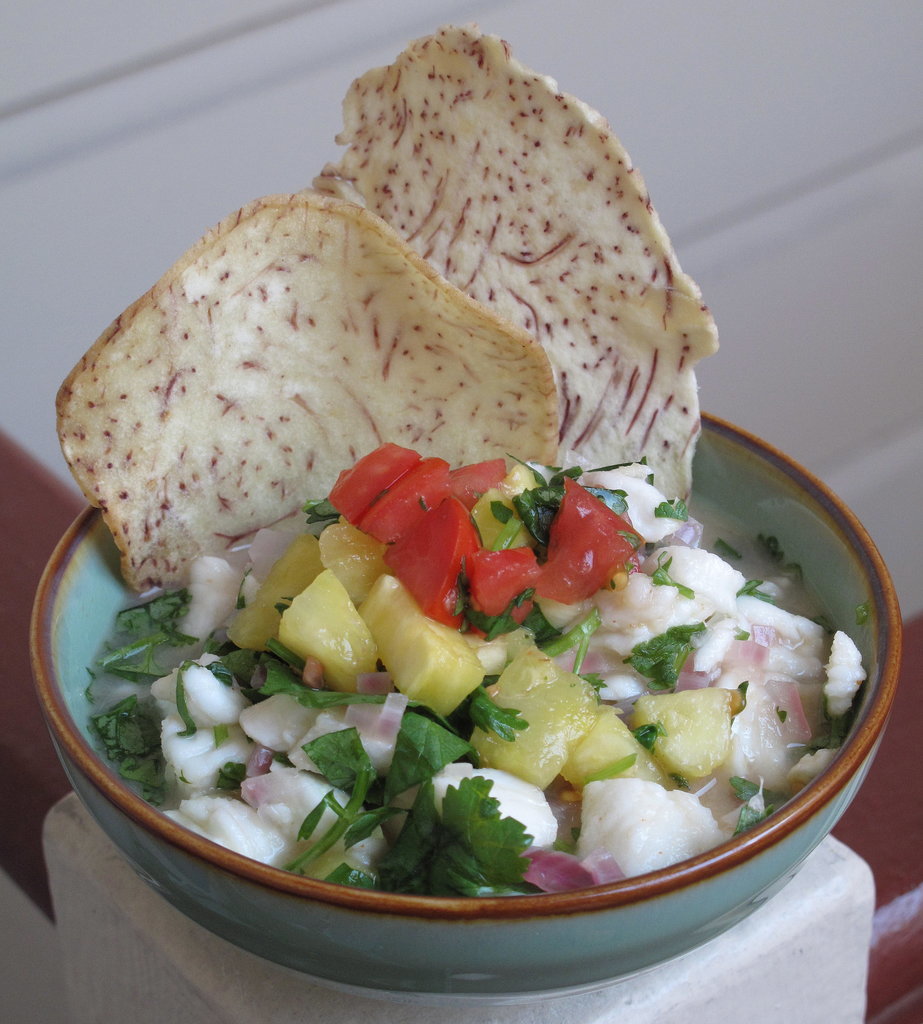 Channel the tropics by dining on zesty ceviche [23] that calls for classic island ingredients like coconut milk and pineapple.
Photo: Susannah Chen
Black Bean Salad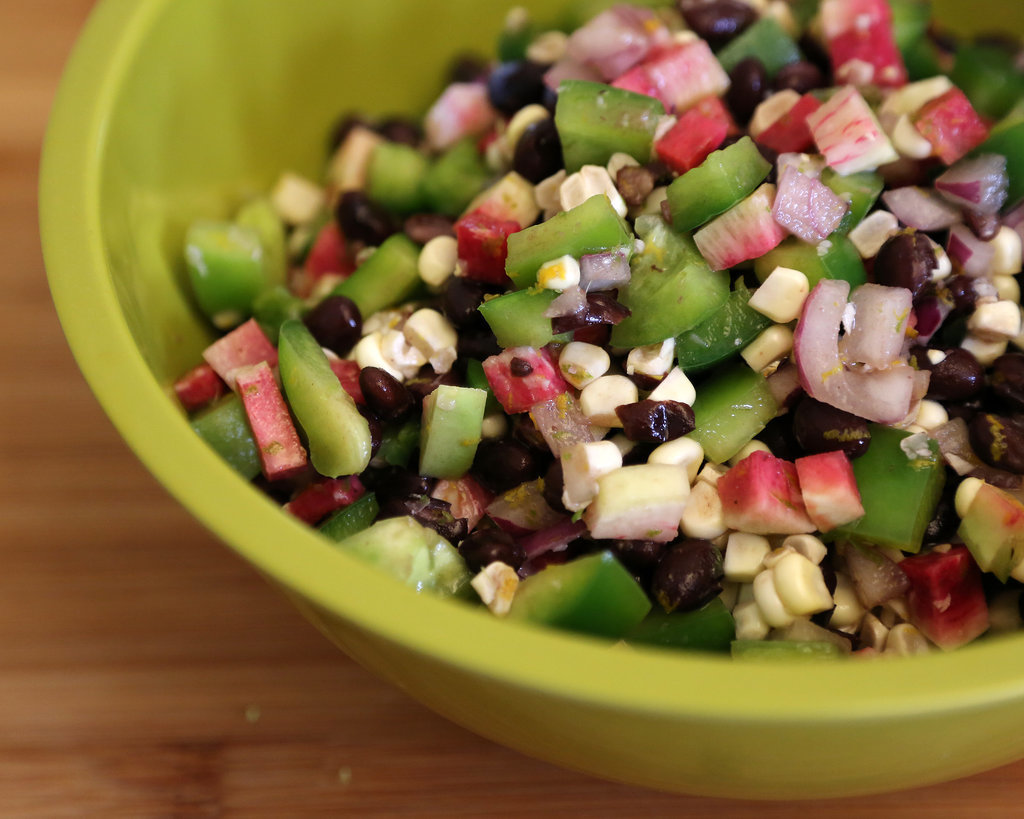 A no-cook black-bean salad [24] pairs citrus flavors with a hint of sweetness for an easy dish with plenty of flavor and crunch.
Photo: Anna Monette Roberts
Southeast Asian Gazpacho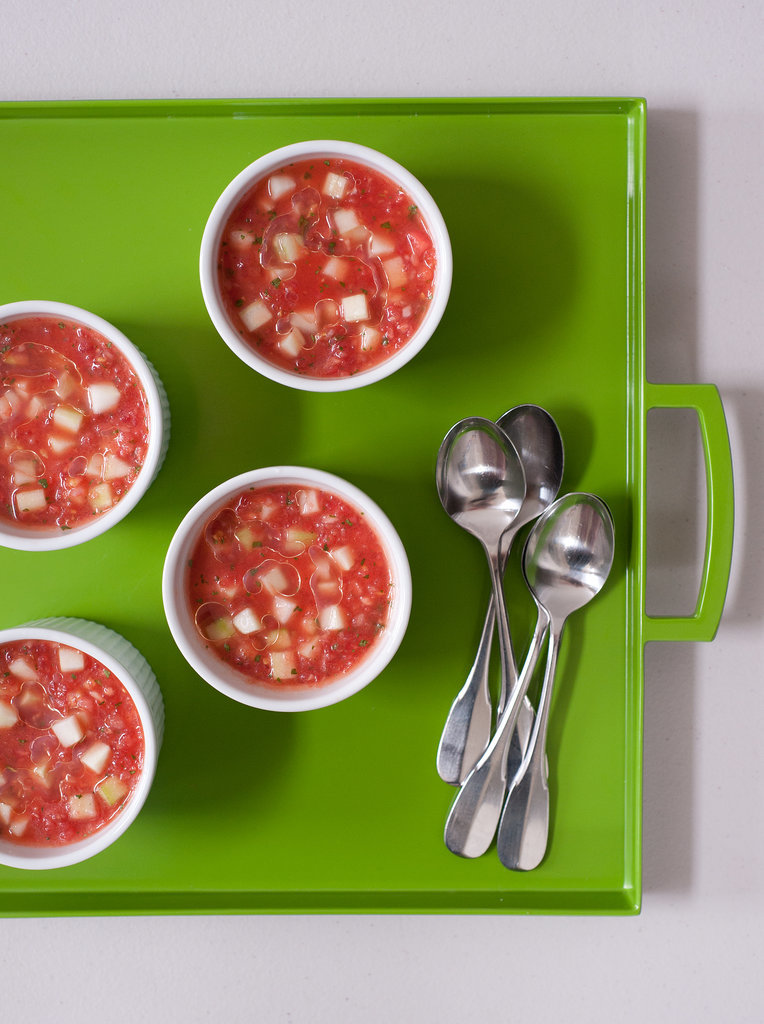 On a warm Summer day, the last thing that sounds good is hot soup. If you're craving lighter fare, cool down with a Southeast Asian-inspired gazpacho [25].
Photo: Nicole Perry
Six-Bean Salad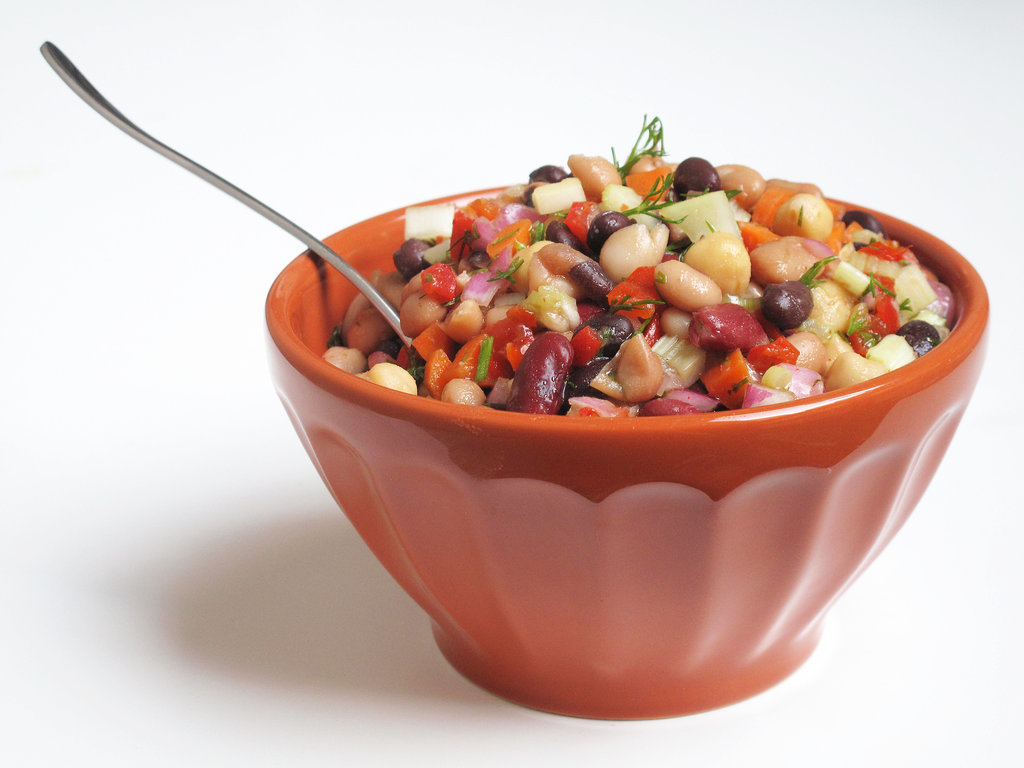 Perfect for picnics and brown-bag lunches, this six-bean salad [26] gets its tang from ketchup, pickled peppers, and balsamic vinegar; earthiness from the mixture of beans; and a delightful crunch from chopped carrots and celery.
Photo: Susannah Chen
Southeast Asian Tomato Salad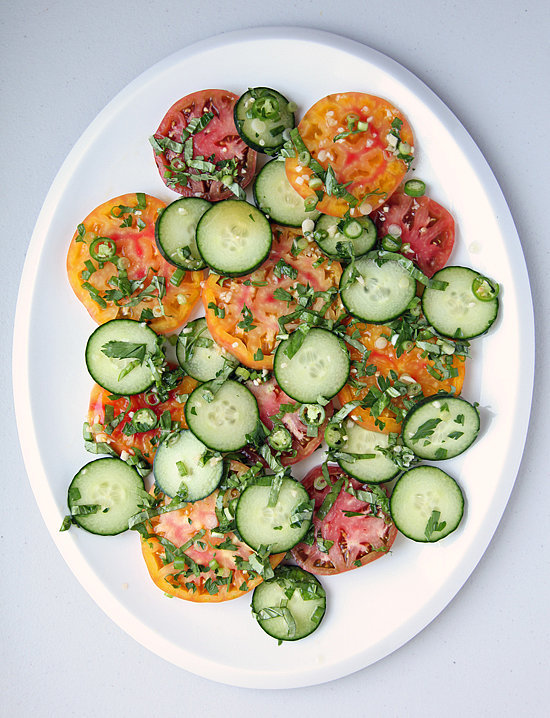 Spice up a tomato and cucumber salad [27] by topping it off with sliced jalapeño and cilantro.
Photo: Nicole Perry
No-Cook Tomato Sauce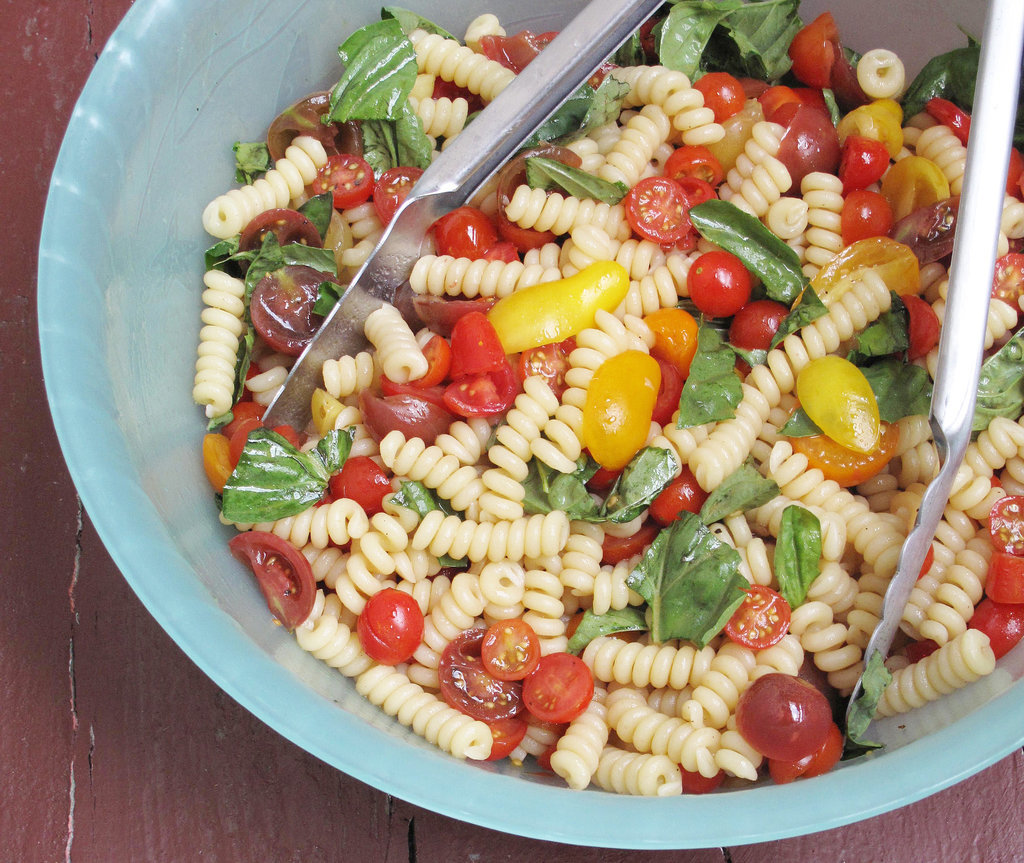 OK, this isn't strictly a no-cook recipe (you have to boil water for pasta) but its light and bright raw tomato sauce [28] is so easy and delectable we don't think you'll mind.
Photo: Susannah Chen
Marinated Chickpea Salad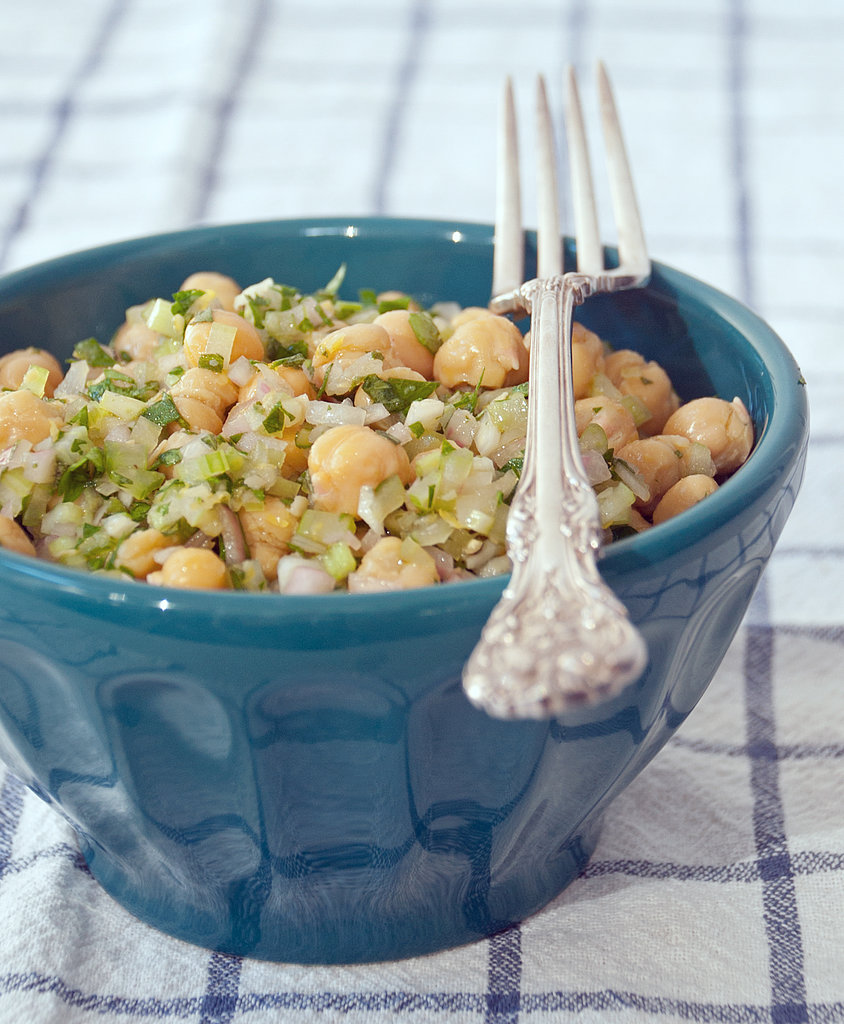 This crave-worthy marinated chickpea salad [29] is more than worth the extra time spent dicing and mincing as its even tastier the next day. Take leftovers to work for a satisfying brown-bag lunch.
Photo: Nicole Perry
Halibut Crudo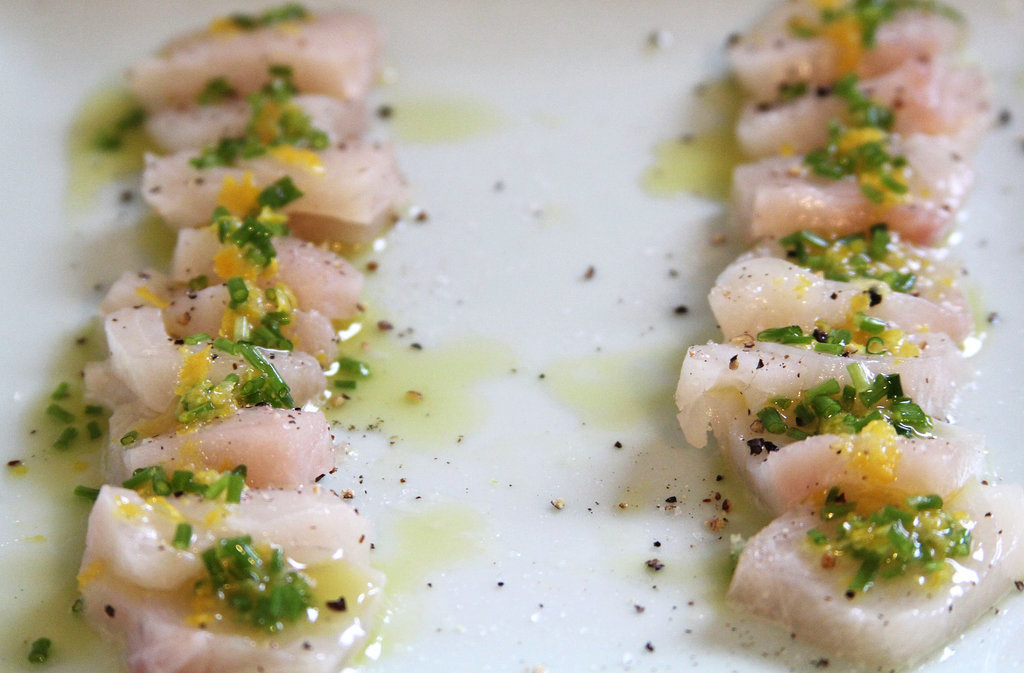 A halibut crudo [30] — a raw Italian fish dish similar to Japanese sashimi — is an excellent choice for an effortless and elegant appetizer or snack.
Photo: Susannah Chen
Savory Fruit Salad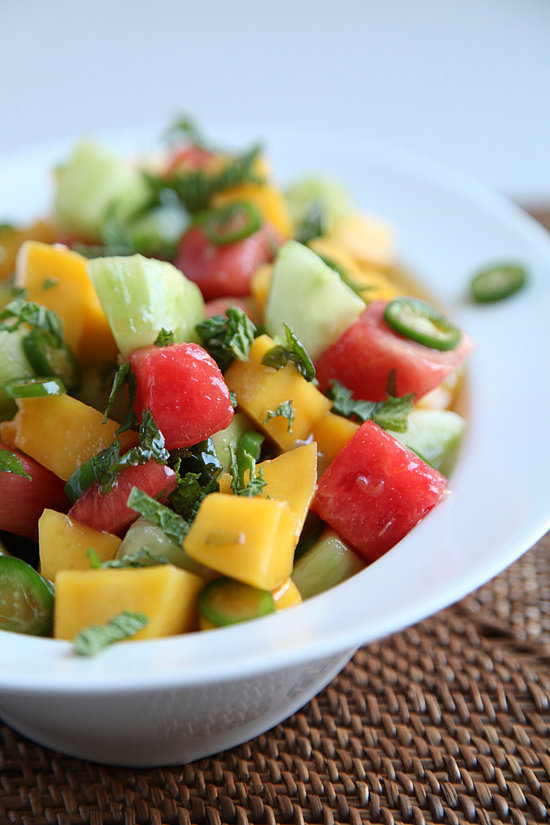 Fish sauce lends complexity to an umami-rich mango, cucumber, and watermelon [31] salad.
Photo: Nicole Perry
Miso Sesame Cucumbers
For an umami-packed salad [32], toss paper-thin cucumbers with miso, sesame seeds, and rice vinegar.
Photo: Nicole Perry
Avocado Tartine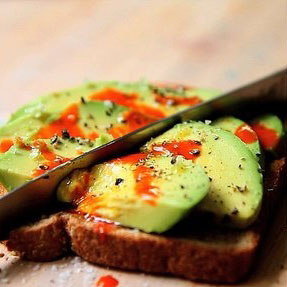 Who can resist avocado toast [33]? Rather than slathering butter on your favorite bread, try these savory toppings: avocado, hot sauce, salt, and pepper.
Cheese and Baguette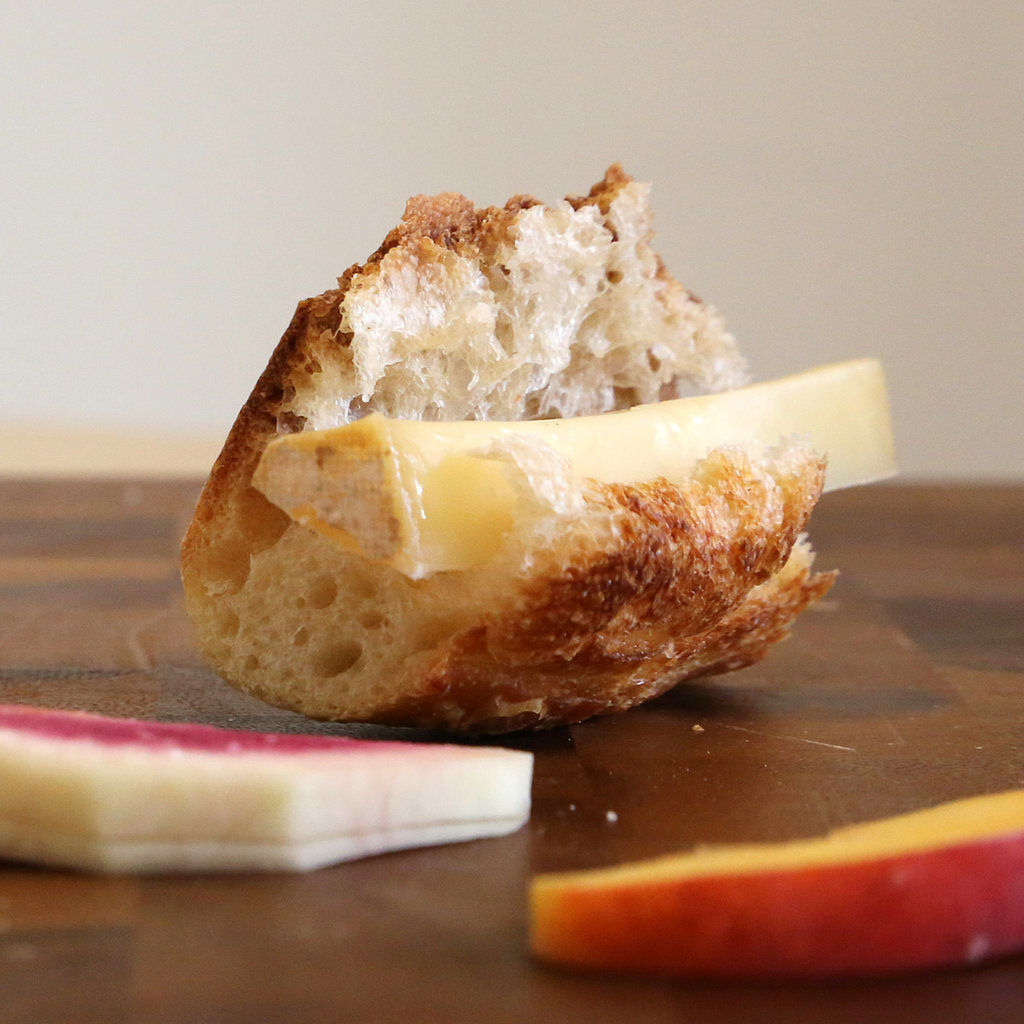 Keep your meal simple with a hearty spread of cheese and bread [34]. Sweeten the deal by pairing it with some of your favorite fresh fruit.
Photo: Anna Monette Roberts
The TMT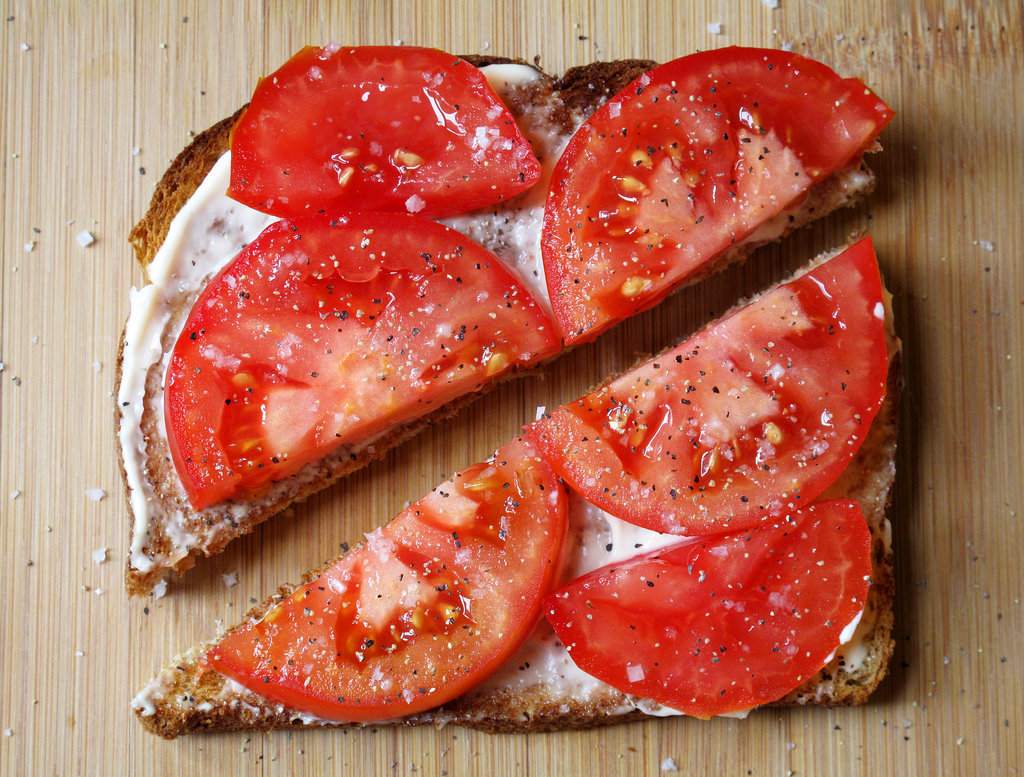 The TMT, or tomato-mayonnaise sandwich [35], is a lovable snack made of just three ingredients [36].
Photo: Susannah Chen
Cheese and Pickle Sandwich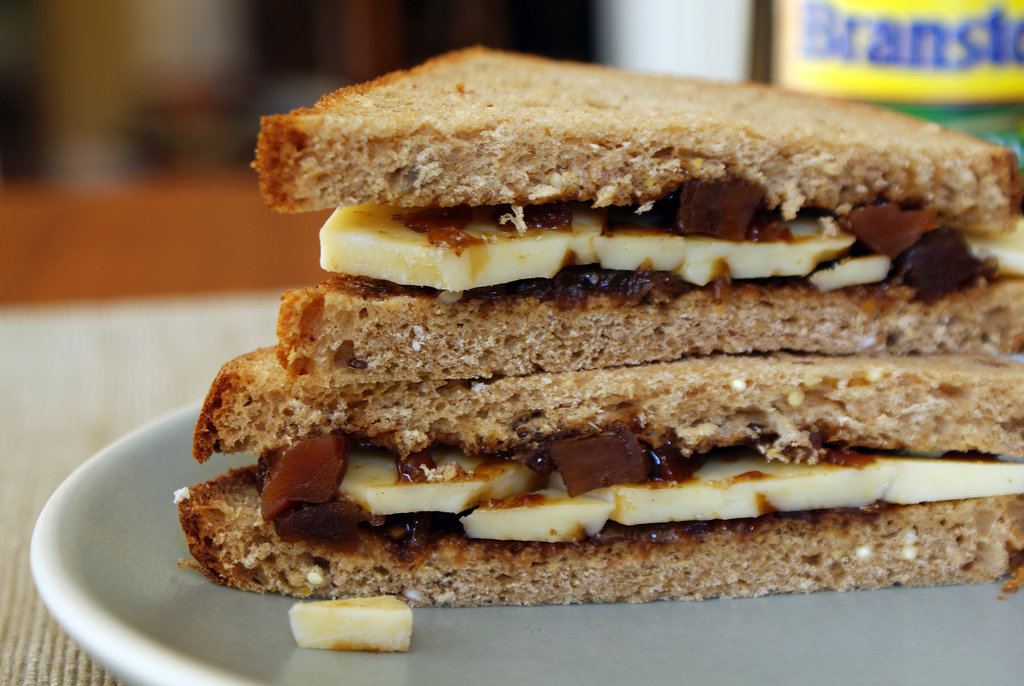 Cheddar cheese and Branston pickle — a salty-sweet British condiment that tastes like a chutney made from pickles — may seem like an odd combination, but one taste of this ultrasimple sandwich [37] (just add bread to the mix) and you'll be convinced of their affinity.
Photo: Nancy Einhart
Pita Bread With Mint and Feta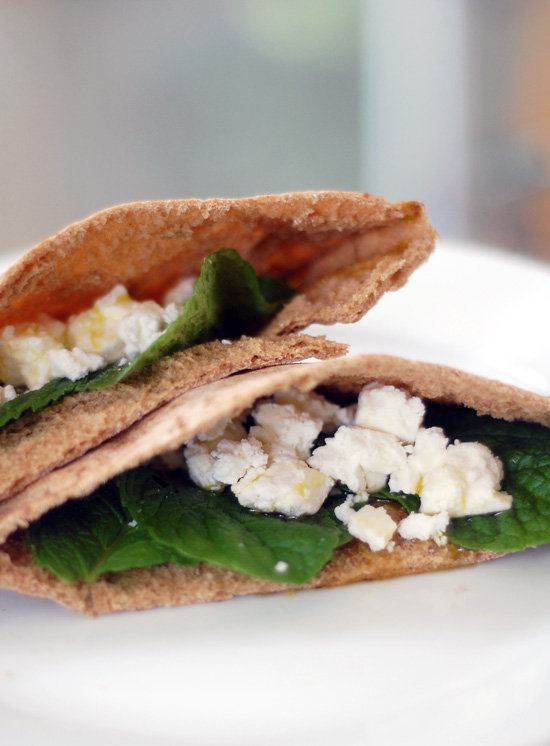 In a serious time crunch? A pita filled with Mediterranean flavors [38] will do the trick for a light meal.
Photo: Camilla Salem
Roast Beef Sandwiches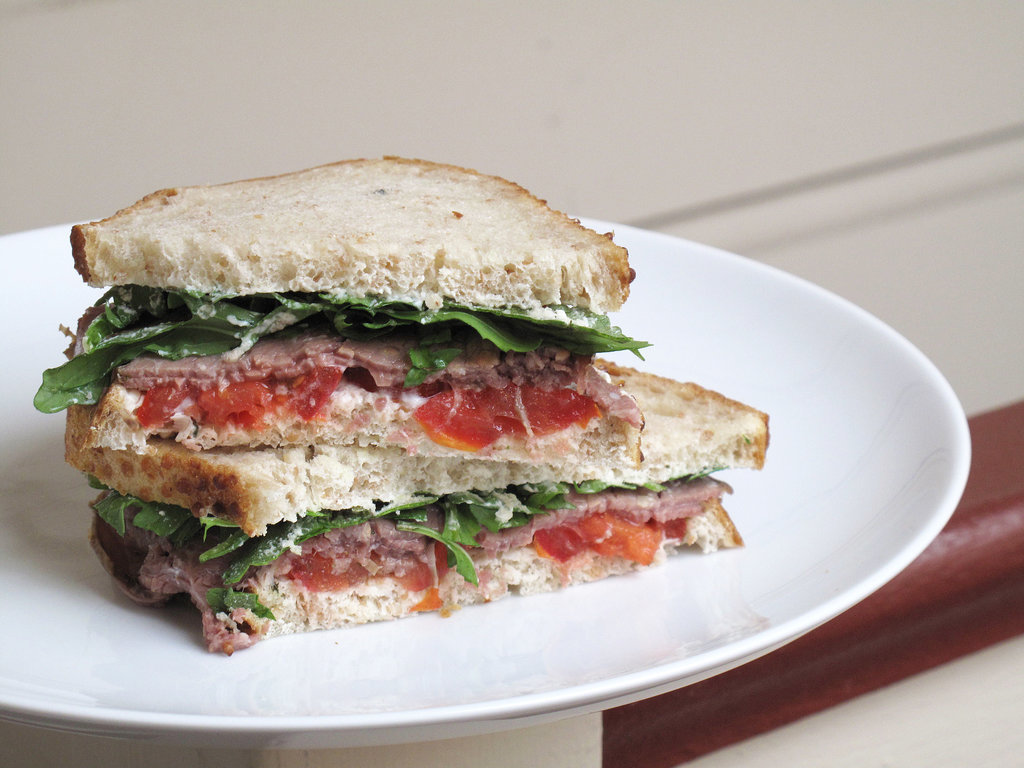 These aren't just any roast beef sandwiches: we love the tangy combination of chive spread, ripe tomatoes, beef, and sourdough bread [39].
Photo: Susannah Chen
Cucumber and Cream Cheese Sandwich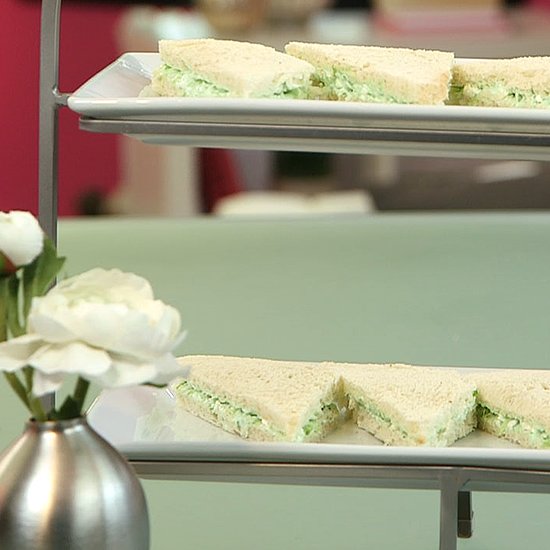 Bring the elegance of high tea to snack time with a platter of cucumber and cream cheese sandwiches [40].
Ham, Cheese, and Avocado Sandwich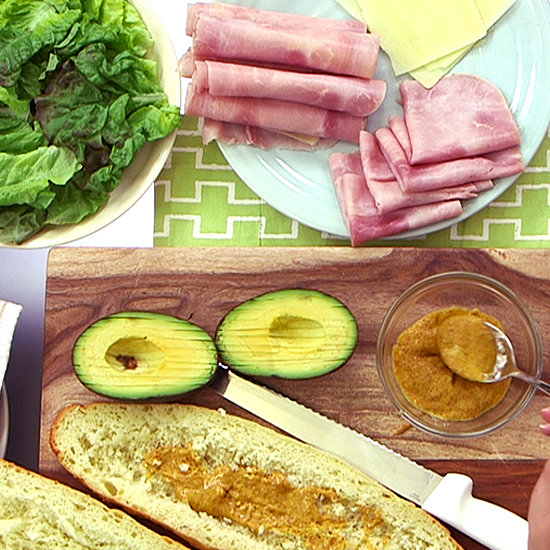 Cooking for a crowd? Try an easy-to-eat ham, cheese, and avocado sandwich that's a snap to scale up or down depending on how many mouths you have to feed. Watch the video to see how its done.
S'mores Snack Mix
No campfire? No problem! Drizzle melted chocolate over graham cracker cereal and garnish with mini marshmallows for an on-the-go s'mores snack mix [41].
Photo: Nicole Perry
Watermelon Cake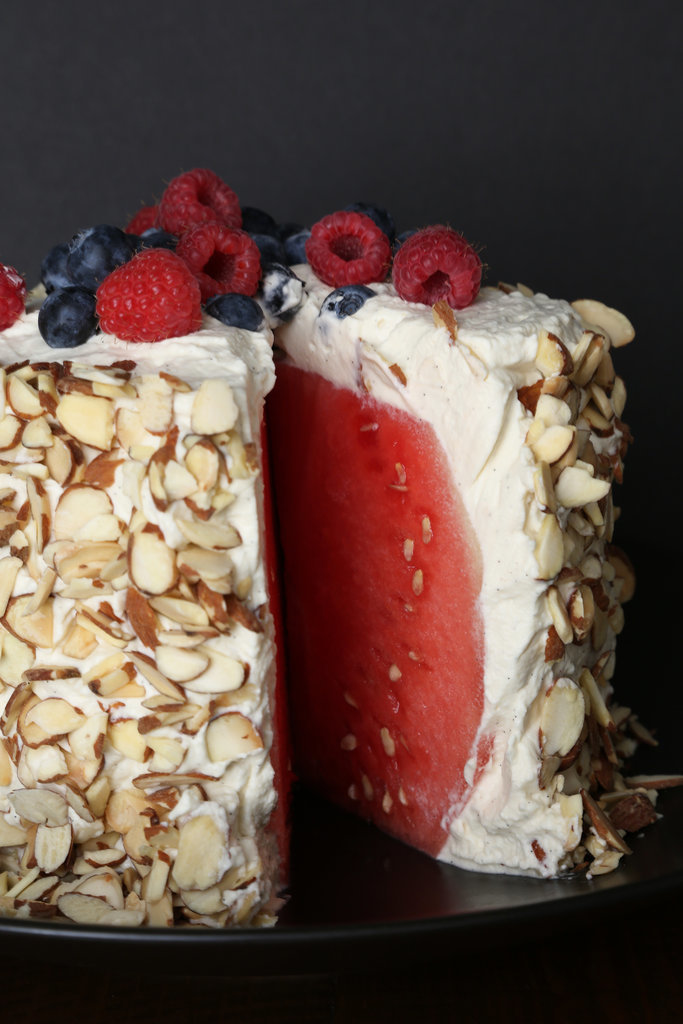 This no-bake dessert [42] might look like your ordinary layer cake, but it hides a juicy watermelon surprise beneath a layer of whipped cream and almonds.
Photo: Anna Monette Roberts
Speculoos Icebox Cake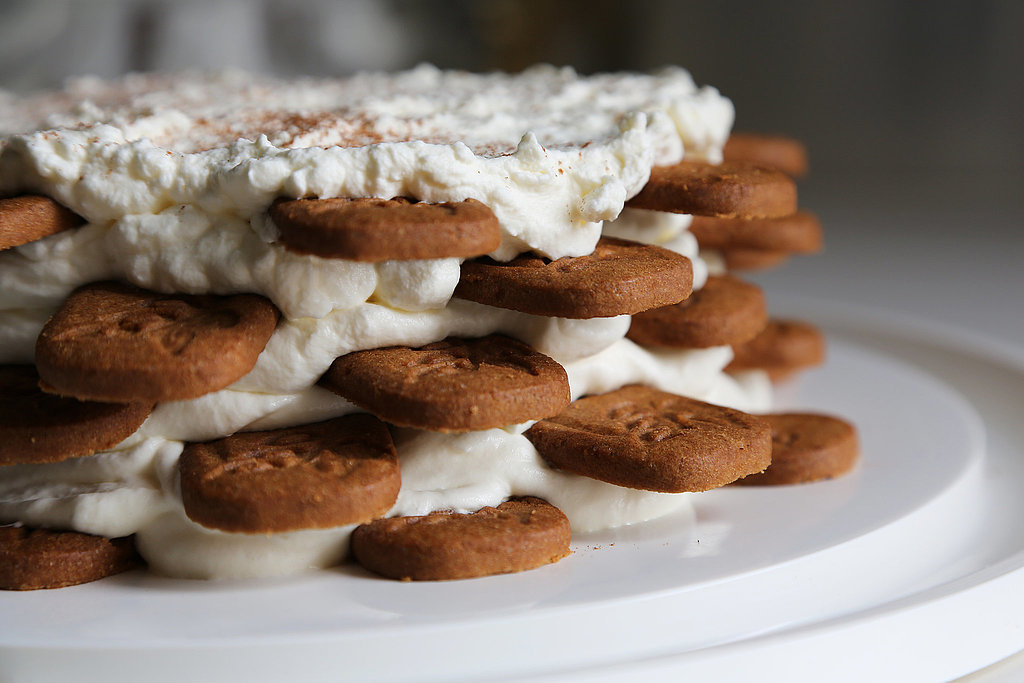 Try a new take on icebox cakes [43] by subbing in warmly-spiced speculoos cookies for the traditional chocolate ones.
Photo: Anna Monette Roberts
Arnold Palmer Granita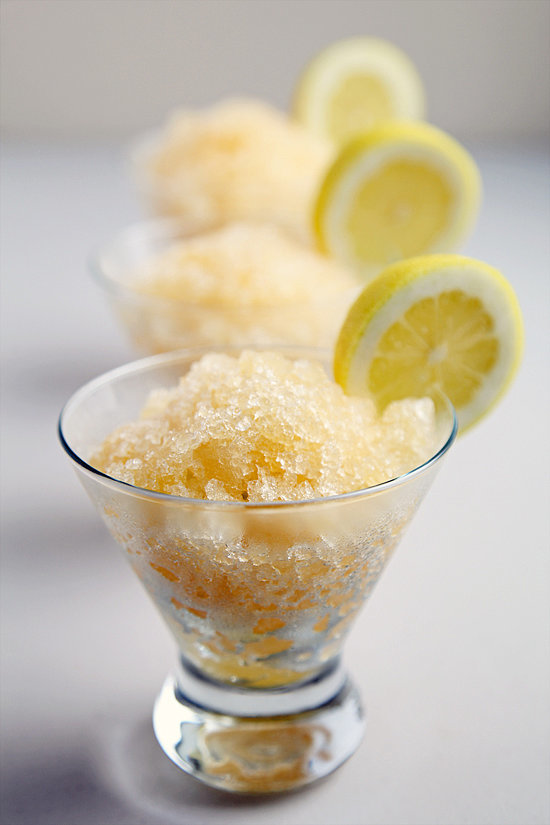 Cool down with a frozen, flaky take on the Arnold Palmer [44]. Think of it as a slushie for grown-ups.
Photo: Nicole Perry
Old-Fashioned Icebox Cake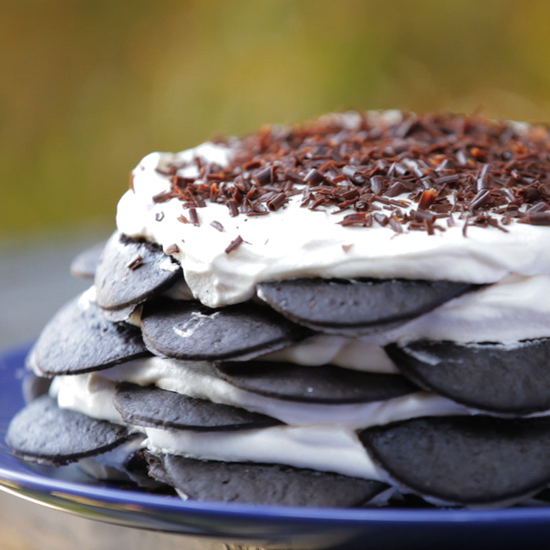 There's actually no cake at all in this icebox cake. Chocolate wafers soak up the moisture from whipped cream to create a soft, cake-like texture. Watch the video to see how it's done, and then print out the recipe [45].
Mini Grasshopper Pies
With an Oreo crust and minty marshmallow filling, mini grasshopper pies [46] are a cooling, colorful way to end a meal.
Photo: Anna Monette Roberts
Ice Cream Cake
Beginning bakers should spring for this ice cream cake [47] with whipped cream, ice cream sandwiches, coffee liqueur, and crushed peppermint candy.
Photo: Sarah Lipoff
Almond Nutella
Let's be honest; almond chocolate spread [48] is dessert. Spread it on toast or cookies. Better yet, just grab a spoon.
Photo: Nicole Perry
Sorbet With Citrus Vodka and Lime Zest
Sometimes the best desserts are the ones that are thrown together last minute. Freshen up store-bought sorbet [49] by topping it with citrus vodka and lime zest.
Photo: Camilla Salem
Strawberry Semifreddo
Sometimes you don't want to go through the trouble of making ice cream. This strawberry semifreddo [50] is the ultimate "lazy" person's ice cream recipe.
Photo: Susannah Chen
Icebox Cake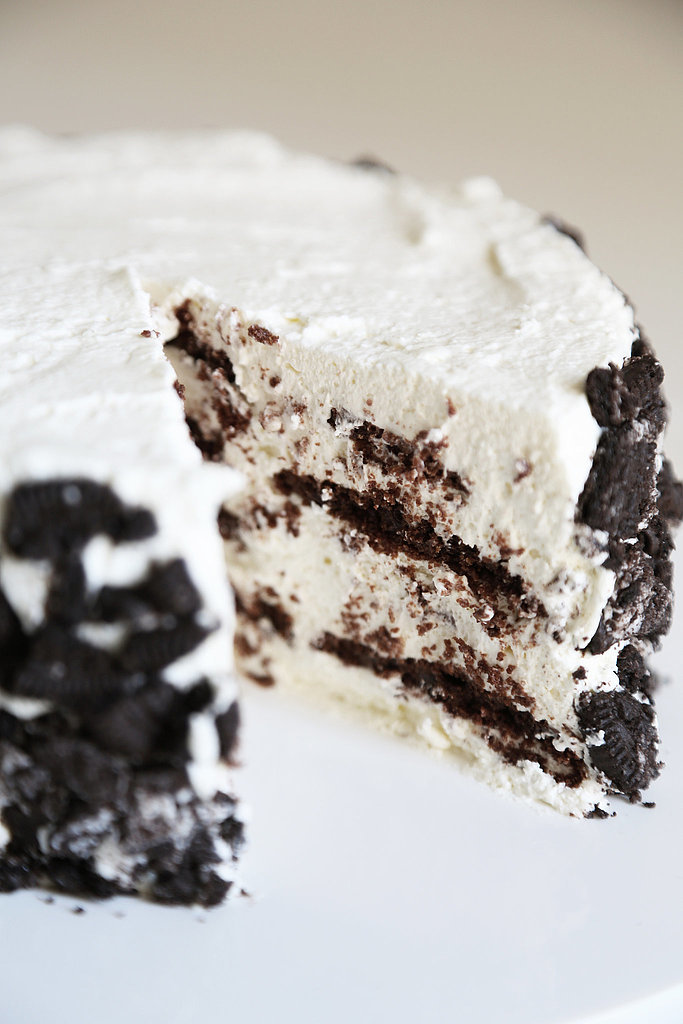 A no-sweat icebox cake [51] with chocolate cookies, cream cheese, Oreos, and whipped cream is melt-in-your-mouth perfect.
Photo: Anna Monette Roberts