52 Weeks of Baking: Cherry Clafouti
Like us on Facebook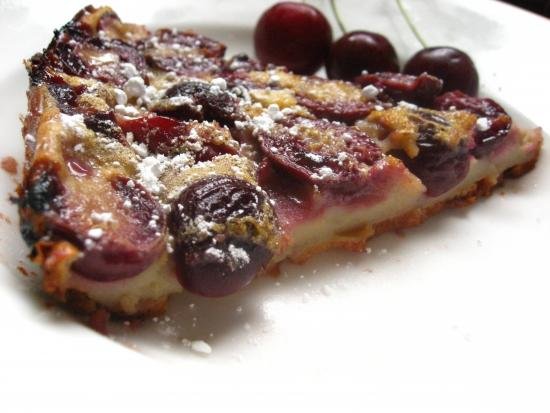 This week I decided to bake something French for travel week. I originally thought I'd make a classic creme brulee, but after flipping through Julia Child's wonderful Mastering the Art of French Cooking, I landed on a clafouti instead. The anniversary of Julia Child's birth is approaching and in order to celebrate, I thought it was time to try mastering something new.

So what is a clafouti (pronounced kla-foo-tee)? It's a custard-style baked French dessert, traditionally made with cherries (but you can substitute most any fruit). The batter is similar to pancake batter, but the result is more like a flan. It's wonderfully delicious served warm with powdered sugar on top, and is ridiculously easy to put together. To make this tonight, read more.



Clafouti
From Julia Child's Mastering the Art of French Cooking
1 1/4 cups milk
1/3 cup sugar
3 eggs
1 Tablespoon vanilla
1/8 teaspoon salt
1/2 cup flour
3 cups cherries, pitted (see *Note)
1/3 cup sugar
powdered sugar
In a blender blend the milk, sugar, eggs, vanilla, salt and flour. Pour a 1/4 inch layer of the batter in a buttered 7 or 8 cup lightly buttered fireproof baking dish. Place in the oven until a film of batter sets in the pan [this took about 3 minutes]. Remove from the heat and spread the cherries over the batter. Sprinkle on the 1/3 cup of sugar. Pour on the rest of the batter. Bake at 350 degrees for about 45 minutes to an hour. The clafouti is done when puffed and brown and and a knife plunged in the center comes out clean. Sprinkle with powdered sugar, serve warm.
*Note: I ended up halving the cherries and soaking them in a mixture of brandy and sugar for an hour.