Monday Meatballs
From A16 Food + Wine [5]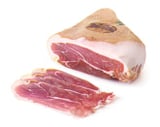 Ingredients
10 ounces boneless pork shoulder, cut into 1-inch cubes and finely chopped in a food processor
10 ounces beef chuck, cut into 1-inch cubes and finely chopped in a food processor
6 ounces day-old country bread, torn into chunks, chilled in the freezer for 15 minutes, and then finely chopped in a food processor
2 ounces pork fat, cut into 1-inch cubes and chilled in the freezer for 15 minutes and then finely chopped in a food processor
2 ounces prosciutto, cut into 1-inch cubes and chilled in the freezer for 15 minutes and then finely chopped in a food processor
1 cup loosely packed fresh flat-leaf parsley leaves, coarsely chopped
1 tablespoon plus 2 teaspoons kosher salt
2 teaspoons dried oregano
1 1/2 teaspoons fennel seeds
1 teaspoon dried chile flakes
2/3 cup fresh ricotta, drained if necessary
3 eggs, lightly beaten
1/4 cup whole milk
1 28-ounce can San Marzano tomatoes with juices
Handful of fresh basil leaves
Block of grana padano for grating
Extra virgin olive oil
Directions
Preheat the oven to 400°F. Coat two rimmed baking sheets with olive oil.
In a large bowl, combine the pork, beef, bread, pork fat, prosciutto, parsley, 1 tablespoon of the salt, oregano, fennel seeds, and chile flakes and mix with your hands just until all of the ingredients are evenly distributed. Set aside.
In a separate bowl, whisk together the ricotta, eggs, and milk just enough to break up any large curds of ricotta. Add the ricotta mixture to the ground meat mixture and mix lightly with your hands just until incorporated. The mixture should feel wet and tacky. Pinch off a small nugget of the mixture, flatten into a disk, and cook it in a small sauté pan. Taste it and adjust the seasoning of the mixture with salt if needed. Form the mixture into 1 1/2-inch balls each weighing about 2 ounces, and place on the prepared baking sheets. You should have about 30 meatballs.
Bake, rotating the sheets once from front to back, for 15 to 20 minutes, or until the meatballs are browned. Remove from the oven and lower the oven temperature to 300° F.
Sprinkle the tomatoes with the remaining 2 teaspoons salt, and then pass the tomatoes and their juices through a food mill fitted with the medium plate. Alternatively, put the entire can of tomatoes in a large bowl, don an apron, and then squeeze the tomatoes into small pieces with your hands.
Pack the meatballs into 1 large roasting pan or 2 smaller roasting pans. Pour the tomato sauce over the meatballs, cover tightly with aluminum foil, and braise for 1 to 1 1/2 hours, or until the meatballs are tender and have absorbed some of the tomato sauce.
Pull the pans out of the oven and uncover. Distribute the basil leaves throughout the sauce.
For each serving, ladle meatballs with some of the sauce into a warmed bowl. Grate grana padano over the top, drizzle with olive oil to finish, and serve immediately.
Serves 6.
Information
Category

Other, Main Dishes

Cuisine

Italian