Halloween [1] parties don't have to be all about the kitschy hot dog ghosts and eyeball deviled eggs. Instead, plan a menu that highlights pumpkin, squash, apples, and other fresh Fall produce. Yes, black and orange colors make an appearance, but naturally and not artificially. Have a happy adults-only Halloween!
Source: Cookie and Kate [2], Fake Food Free [3], A Cozy Kitchen [4], and Joy the Baker [5]
Pumpkin Pineapple Cocktail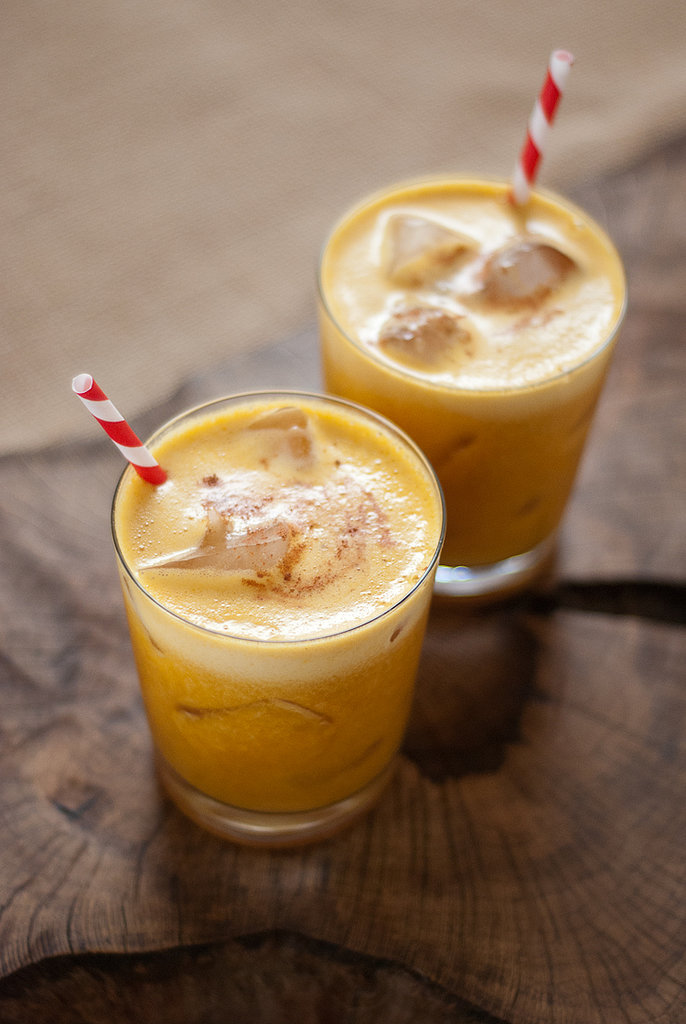 Start the night off by serving guests pumpkin pineapple cocktails [6], rum-based drinks sweetened with honey and garnished with pumpkin pie spices. Keep a big batch in a punch bowl so guests can refresh their cups throughout the night.
Source: Cookie and Kate [7]
Fall Squash and Goat Cheese Dip With Garlic Toasts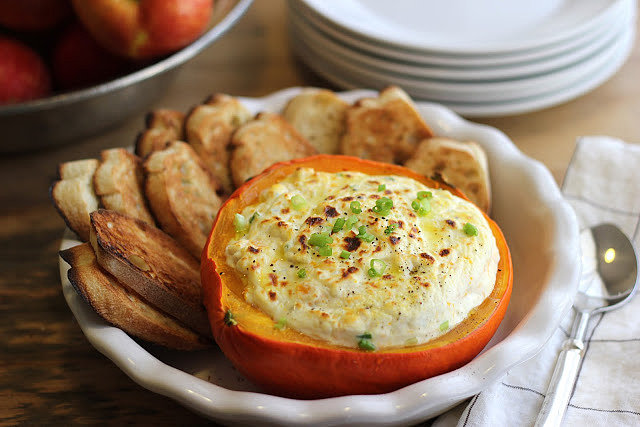 Fill roasted hubbard squash halves with a garlicky cream cheese and chèvre [8] mixture, and bake until the cheese becomes bubbly and golden brown. Instruct guests to scrape a bit of the cooked squash as they dollop the cheese mixture onto the garlic crostini.
Source: Everyday Occasions by Jenny Steffens Hobick [9]
Smoky Sausage, Kale, and Sweet Potato Soup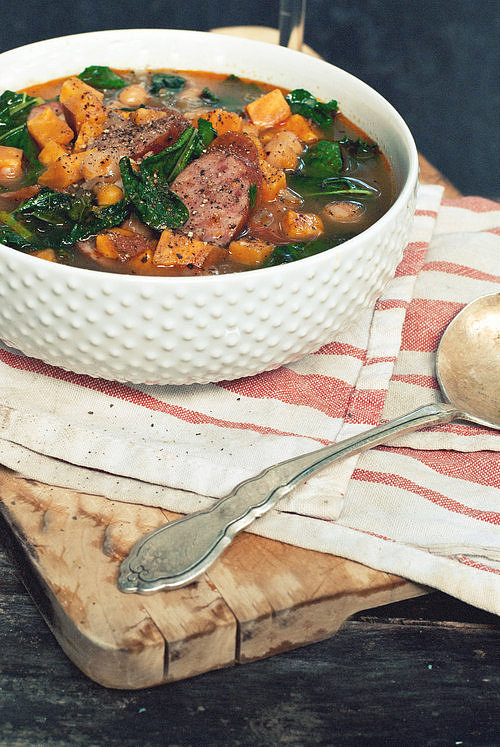 Soup can curb hunger as guests trickle in. Let guests ladle this seasonal sausage, kale, and sweet potato soup [10] into small bowls or coffee mugs.
Source: The Gouda Life [11]
Autumn Salad With Pumpkin-Orange Dressing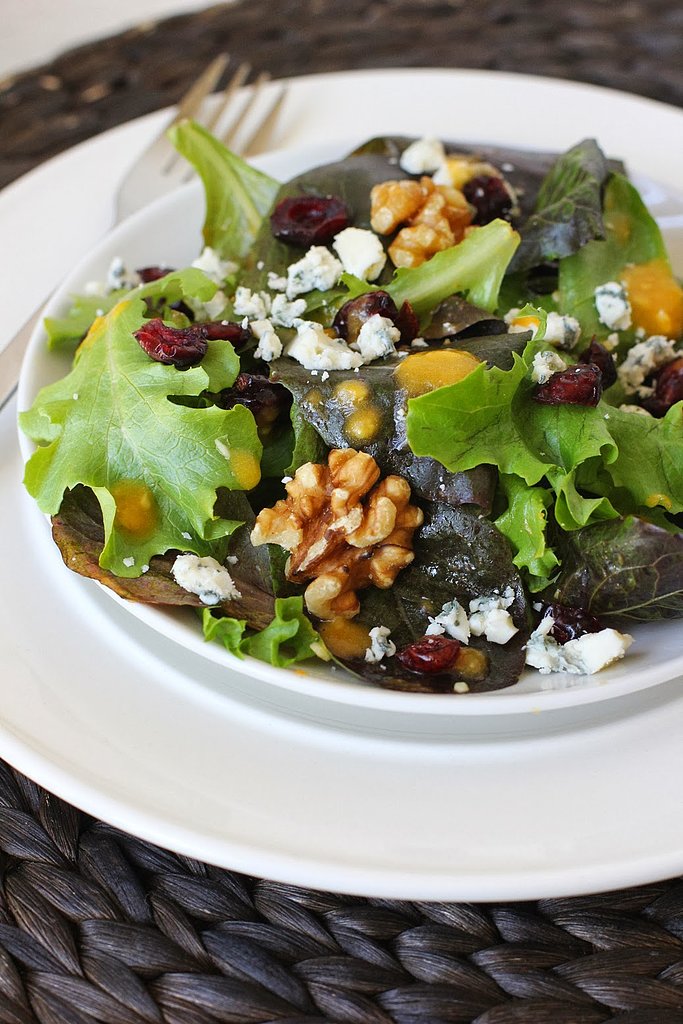 Take a traditional salad with walnuts, blue cheese, and dried cranberries [12], but dress it up Halloween [13] style with a vinaigrette made of olive oil, orange juice, rice wine vinegar, and pumpkin puree.
Source: Fake Food Free [14]
Mussels With Almond Butter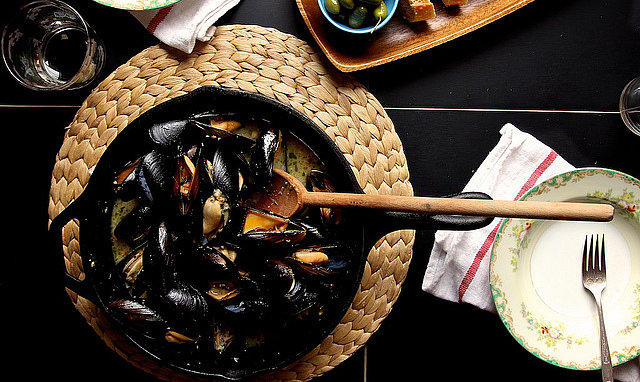 Beyond being the appropriate black and orange colors, mussels with almond butter [15] are an impressive, and startlingly easy, dish to prep and serve guests. Just be sure to include some sort of bread to sop up the buttery white wine sauce.
Source: Joy the Baker [16]
Pumpkin Garlic Knots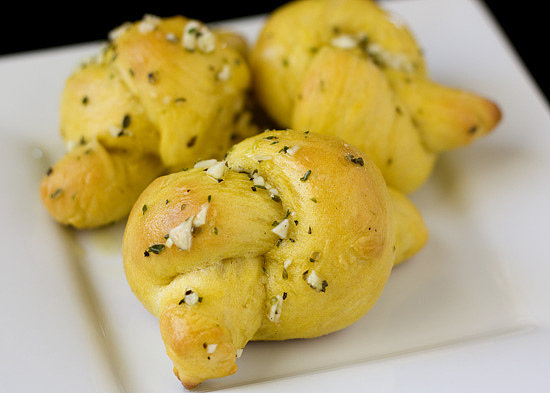 Dinner isn't complete without a big batch of pumpkin garlic knots [17]. The yeasty, bright orange rolls complement the soup and the mussels, but they are also excellent with a hefty smear of pumpkin butter (pumpkin purée and butter whipped together).
Source: Handle the Heat [18]
Bourbon-Spiked Caramel Apples With Smoked Sea Salt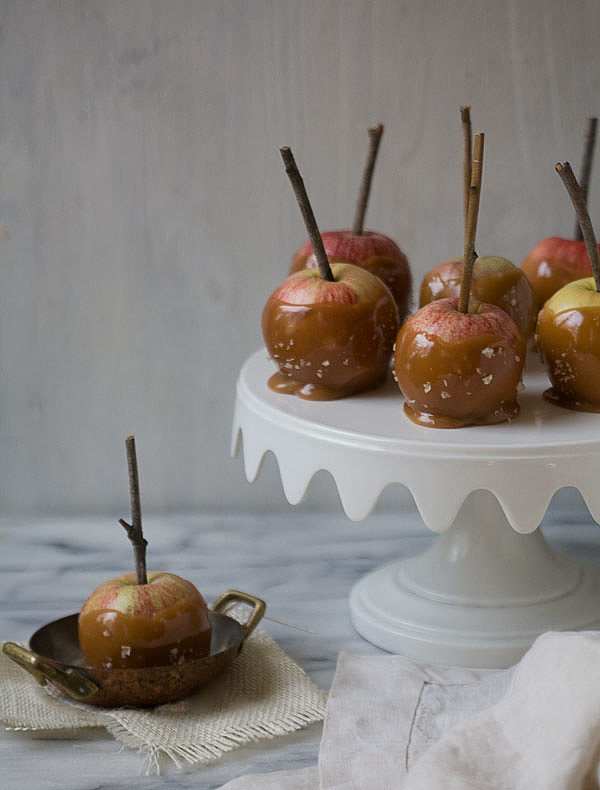 This is an adult party — so it goes without saying there will be no eyeball- or worm-studded desserts. Instead, channel Martha Stewart [19] and make bourbon-spiked caramel apples with smoked sea salt [20], complete with a twig stick handle.
Source: A Cozy Kitchen [21]