What do a deconstructed bowl of pho, a Cuban sandwich-quesadilla hybrid, and a cup of orchid vanilla almond frozen yogurt have in common? All three, and many more inventive bites, had attendees queuing up in winding lines to try a bite at the South Beach Wine and Food Festival's Trucks on Midtown's Tracks event [1] hosted by Andrew Zimmern [2] this past Sunday. Click through for a look at everything we nibbled, sipped on, and devoured on that lively, lovely afternoon.
AZ Canteen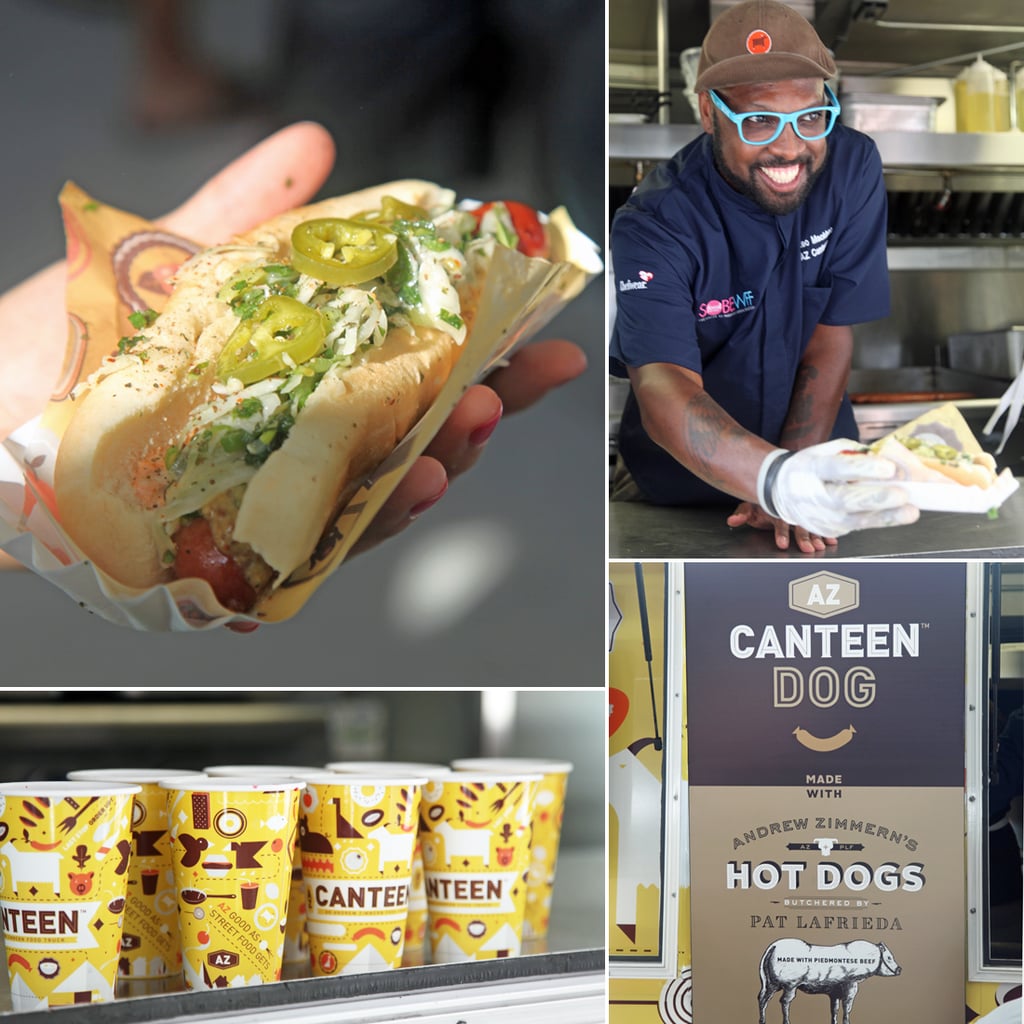 AZ Canteen, Andrew Zimmern's fledgling food truck, served the AZ Canteen Dog, a Piedmontese-cattle hot dog with slaw and pickled jalapeños, alongside tangy Jamaica hibiscus punch.
Palate Party
There was no mistaking the lump crab component in Palate Party's crab cake slider that was served up with roasted garlic aioli, sweet chili tomato jam and romaine lettuce on a classic bun.
Curbside Gourmet
Thai BBQ pork sliders served with apple ginger slaw tempted attendees passing by the Curbside Gourmet truck.
Joji Frozen Yogurt
Fro-yo fans enjoyed Joji's subtly floral orchid vanilla almond and chili chocolate soft-serve frozen yogurt.
Firewall Food Truck
Firewall's white pizza topped with spiny lobster, garlic butter sauce, mozzarella, scallions, and lemon juice delighted.
Potoffee
We greedily gobbled down Potoffee's sweet and salty toffee-coated potato chips.
Friar Tuck's
Friar Tuck's served the "Vandross," a glazed donut cheeseburger topped with maple bacon, lettuce, tomato, and sauce.
El Rey de las Fritas
El Rey de las Fritas dished out the "Original Cuban Frita," a crowd-favorite ground beef slider served on a Cuban roll with cooked onions and shoestring fries.
Ms. Cheezious
Ms. Cheezious — which was ultimately crowned the people's choice winner of the event — upped the grilled cheese ante with a "South in Your Mouth Melt" made up of smoked BBQ pulled pork, fried pickles, and cheddar cheese on Texas toast.
Gastropod
Pho lovers — ourselves included — flocked to the Gastropod airstream trailer to try their "gastroPho," a clever take on the Vietnamese soup comprised of beef tendon chicharrones, sous vide short ribs, mung beans, and Vietnamese herbs in an oxtail broth.
Walgreens
The drugstore chain previewed its Upmarket:juice line of juices, smoothies — pictured is a banana, peach, mango and vanilla rice milk offering — and fro-yo flavors like Tahitian vanilla and creamy tropical sorbet.
Smithfield
Sugar-glazed ham, mojo-marinated oven roasted pork, Swiss cheese, pickles, and yellow mustard made for an enticing bite when served between two slices of Cuban bread at the Smithfield truck.
Crazydilla
Cuban sandwich meets quesadilla in Crazydilla's Cubadilla, comprised of Cuban pork, Serrano ham, Swiss cheese, pickles, and a multigrain tortilla drizzled with a garlic mustard aioli.
Hip Pop's Handcrafted Gelato Bars
It was hard to pick a favorite between Hip Pop's chocolate-dipped pistachio gelato and passionfruit sorbet pops.
2 Jive Turkeys
The 2 Jive Turkeys truck offered up "Dyn-o-mite" Rolls — deep-fried turkey spring rolls drizzled with a red wine cranberry reduction.
Alisa's Cupcakery
Those with a raging sweet tooth found plenty of options on offer at Alisa's Cupcakery, including oreo, dulce de leche, and carrot cupcakes, as well as nutella-filled chocolate chip cookies.
Cubancube
Cubancube served the "Cuba Libre," a fried Spanish sweet potato stuffed with rum and cola braised ropa vieja paired with Materva-infused sugarcane.
Pescados Unidos
Miami natives: if you haven't yet tried seafood sausage, track down the Pescados Unidos truck and try its mahi, mango, and habanero sausage served with mango mustard, and a green papaya, jicama, and jalapeño slaw.
Brooklyn Italian Ice Company
Attendees cooled down with Brooklyn Italian Ice Company's "Brooklyn Bridge," a mango and lemon-swirled Italian ice.
Il Fiorento
Potato ravioli was topped with Parmesan fondue, radicchio, and walnuts at the Il Fiorento truck.
Slow Food Truck
Beef short rib sliders with queso fresco, arugula, and crispy shallots were on offer at the Slow Food Truck.
Waffleosophy Hong Kong Waffles
An insanely long line formed at the Waffleosophy truck to try their Hong Kong waffles topped with red curry braised beef and pickled pineapple.
Photo: Susannah Chen
Contenti Cupcakes
Cupcake fans could choose from classic flavors like red velvet and chocolate or the less conventional — think raspberry lemonade and a banana, chocolate, bacon and peanut butter buttercream confection — at the Contenti Cupcakes truck.