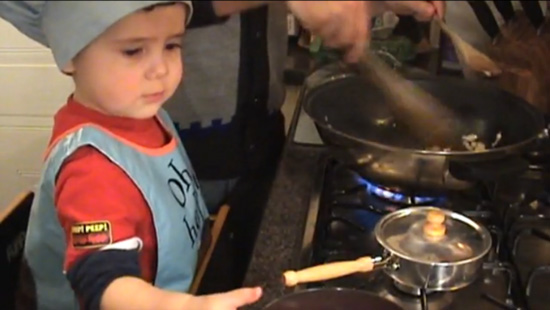 Two months ago, the big buzzword in the food world was
koodies
— kid foodies. And while the concept has been around for a while, it looks like the word has a brand-new poster child. Watford, England's, Archie Coffer is only 2 years old, and already he's being nicknamed "the miniature
Jamie Oliver
." He's one half of the father-son duo starring in
My Daddy Cooks
, a video and recipe blog with an international following. The toddler's father, Nick Coffer, has already signed with an agent, been filmed by the BBC, and has a book deal in progress.
Watch the father and son tag-team to make a vegetable frittata, after the jump.
It's less unnerving to watch Archie than that other infant with a cooking show; he's easily distracted and needs a lot of nudging as one would expect with a toddler. Yet despite the cute factor, the videos don't hold my attention — and I don't get why the kid needs to be in front of a stove at such a young age. What do you think of Archie Coffer?