Irish Soda Bread
Adapted from Nora O'Sullivan Moran
Notes
A cast iron skillet is an important part of Nora's recipe, but if you don't have one, use a cake pan, or form the dough into a round shape and bake on a cookie sheet. Keep in mind the cooking time may need to be adjusted. For instance, a 8-inch cake pan may require an additional 30 minutes of baking.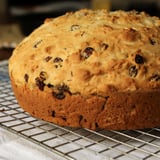 Ingredients
1 tablespoon butter, softened, plus more for pan and for serving
1/2 cup sugar
2 cups milk
1/2 teaspoon baking soda
2 tablespoons caraway seeds
1 cup raisins
4 cups flour
1 tablespoon baking powder
1 1/4 teaspoons salt
Directions
Preheat oven to 350°F. Grease a 9-inch heavy iron frying pan.
In a large mixing bowl, blend butter and sugar together with a wooden spoon.
In a separate bowl, combine milk, soda, caraway seeds, and raisins, then stir into sugar mixture.
In a bowl, sift flour, baking powder, and salt, and gradually add to sugar-milk mixture, beating with a wooden spoon, until a wet dough forms.
Turn into the prepared pan and bake for 1 hour, or until a cake tester comes out clean.
Turn out of pan and cool about 30 minutes before cutting. Slice and serve with butter.
Information
Category

Side Dishes

Yield

1 large loaf

Cook Time

2 hours