It's salty, rich, crunchy, smoky, and ridiculously savory . . . there's no meat that gets people going quite like it. (It is, of course, bacon.) These bubbling slices of pork belly have enthralled many a chef, foodie, and at-home cook because no matter what time of day it is, you can always dress up a basic dish with a rasher (or two) of this magical meat. Indulge and enjoy its savory flavors with these 21 fabulous recipes that owe their addictive quality to it.
Photos: POPSUGAR Studios, Nicole Perry, The Two Bite Club [1]
Bacon and Tomato Pasta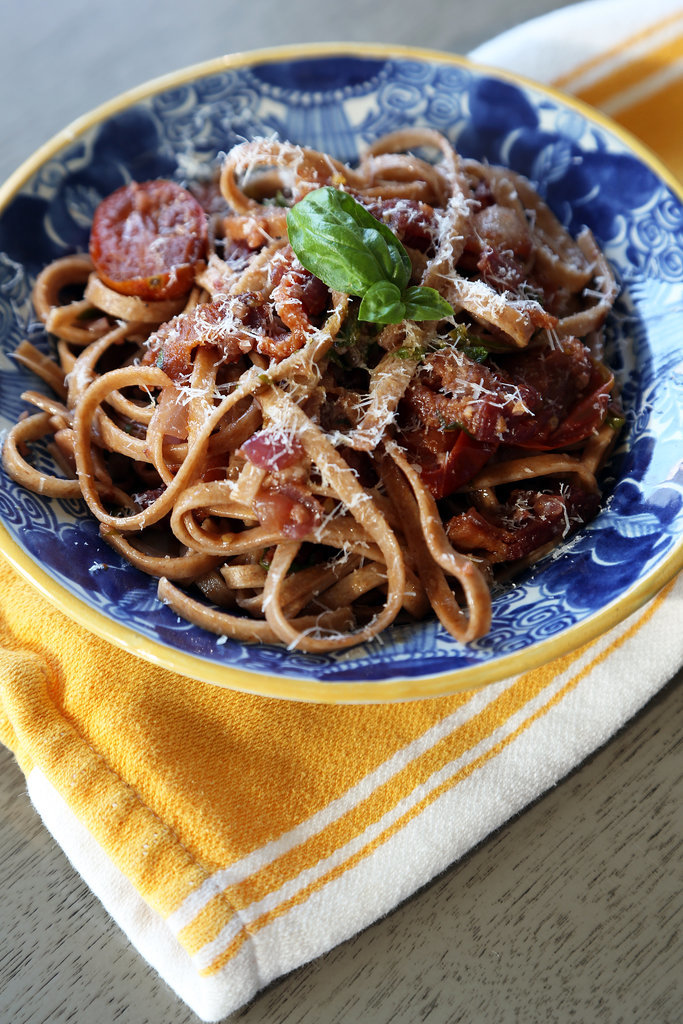 For a fast and easy dinner that is totally satisfying, make bacon and tomato pasta [2].
Roasted Chestnut Cornbread Stuffing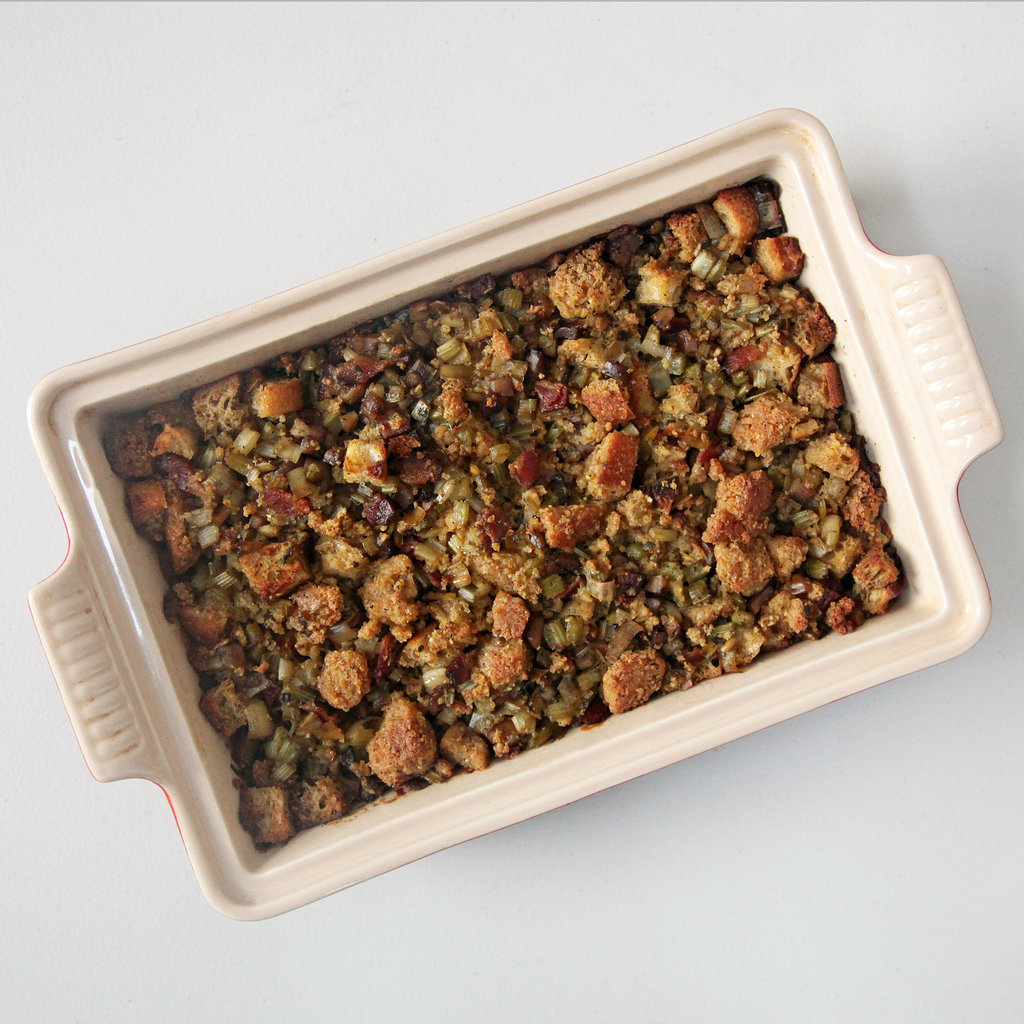 It doesn't have to be Thanksgiving to enjoy butter-rich stuffing. This cornbread version [3] marries the flavors of chestnuts, leeks, celery, maple syrup, and (of course) bacon for a balanced bite.
Sweet Potato and Bacon in Endive Boats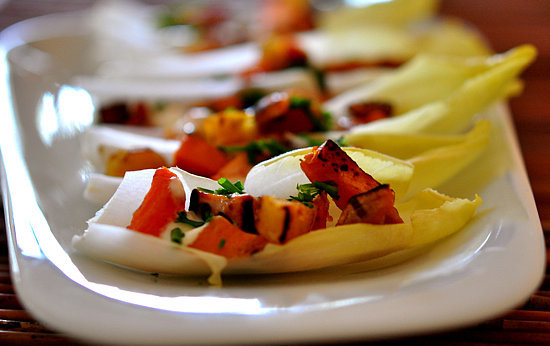 Who says bacon can't be elegant? These endive boats [4] filled with sweet potatoes and bacon are like a sophisticated baked potato.
Bacon Candy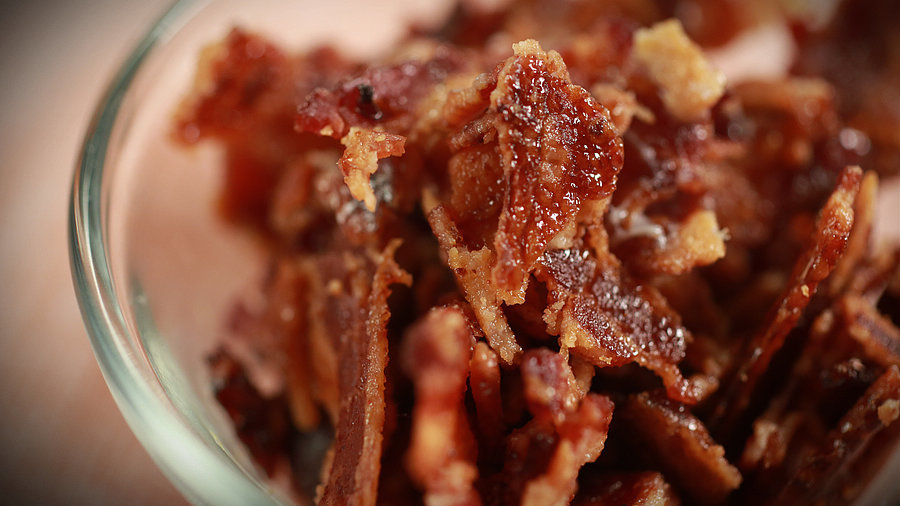 You've had bacon for breakfast, lunch, and dinner . . . so why not dessert? Bacon candy [5] is mouthwateringly sweet and salty and is the perfect topper for a maple cupcake [6] (that is if you don't shovel it all into your mouth first).
Pasta Carbonara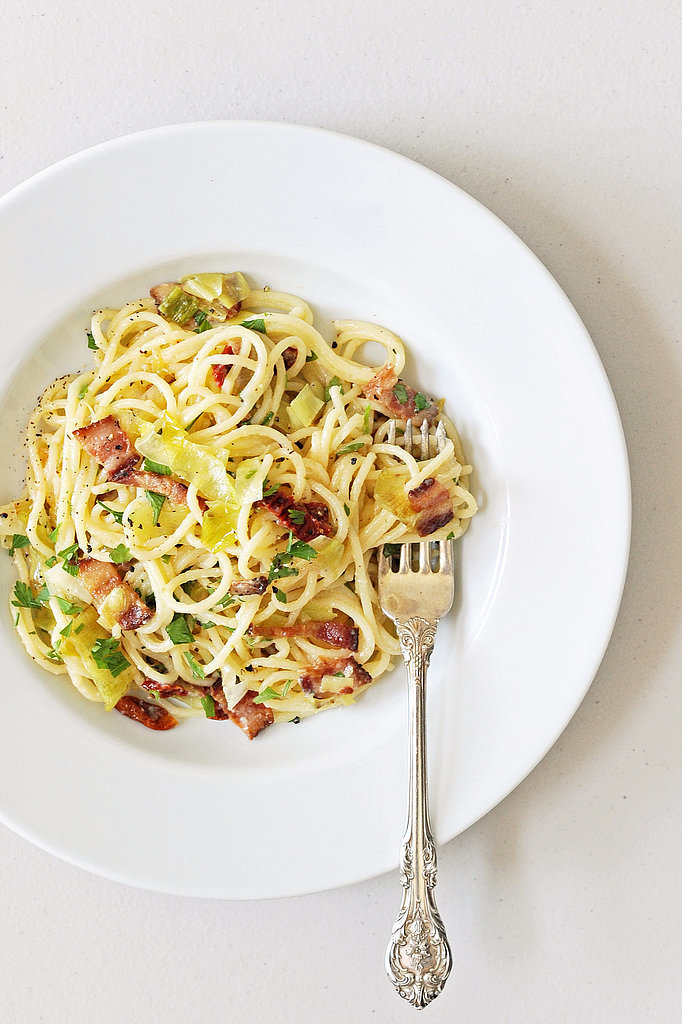 We can't talk bacon without mentioning pasta carbonara. While guanciale is traditional (and exceptional if you can find it), it's smokier cousin bacon is a stellar substitute. This recipe pairs pasta and pork belly [7] with leeks and sun-dried tomatoes for a bright spin.
Roasted Cabbage With Mushrooms and Bacon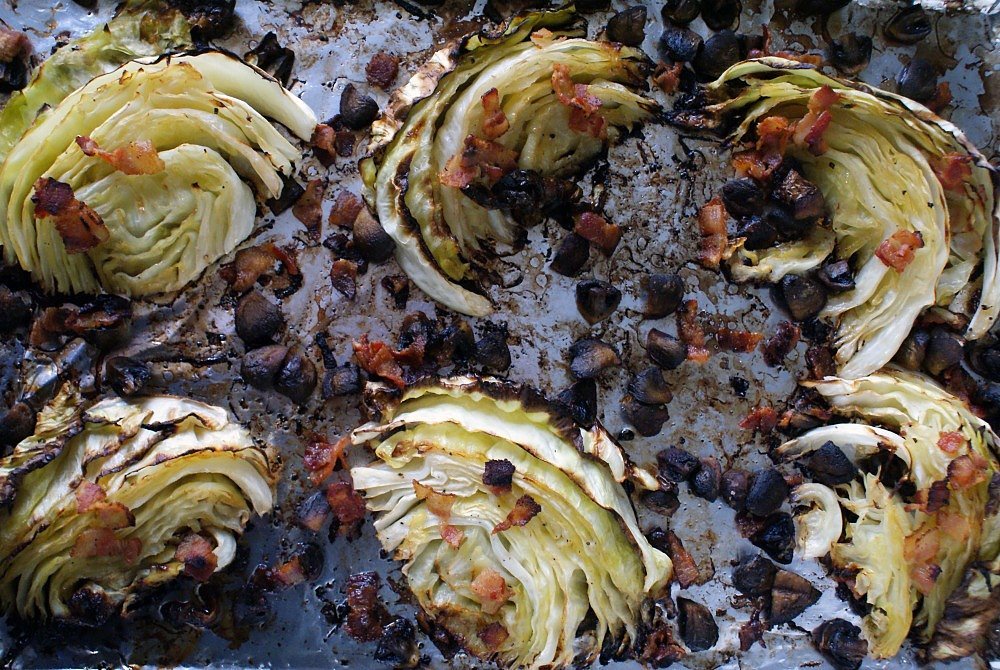 Roasting cabbage may be an unexpected move, but just trust, it works. This dish which pairs the cruciferous veggie with mushrooms and bacon [8] just might surprise you.
Oven-Roasted Bacon
For the morning after a night when you had just a little too much fun, soak up the hangover with a doughnut chip breakfast sandwich [9] featuring a fried egg and crispy bacon.
Oysters Casino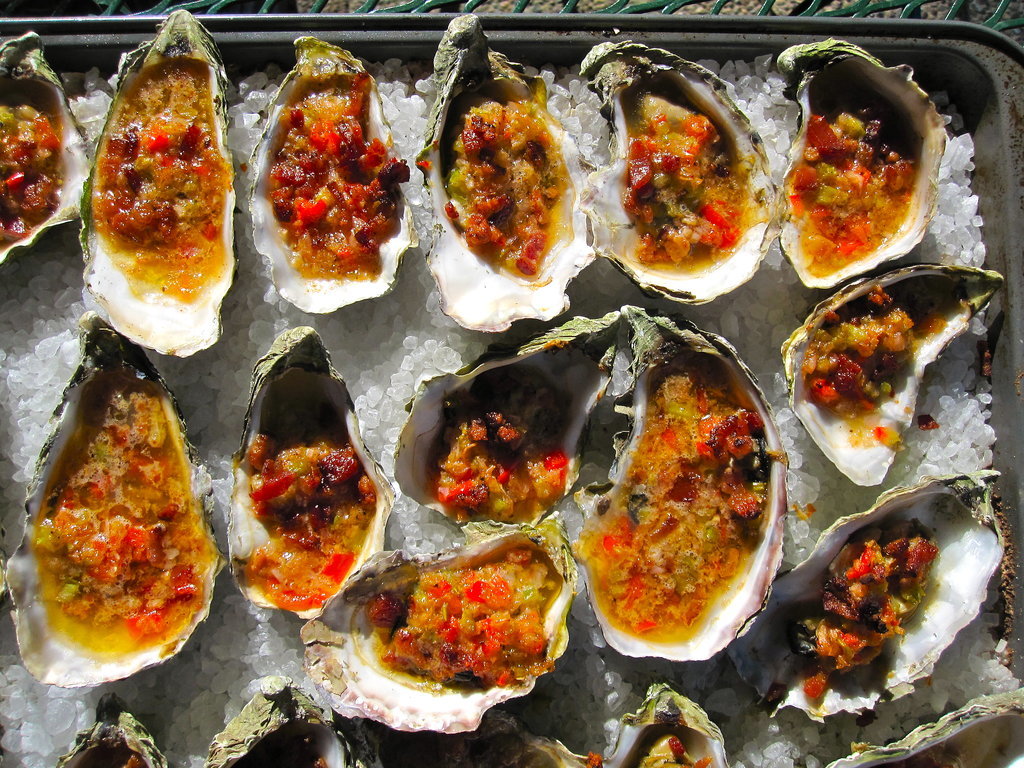 This butter and bacon-basted bivalve appetizer [10] can be prepared almost entirely ahead of time, making it an excellent option for entertaining.
Salad Lyonnaise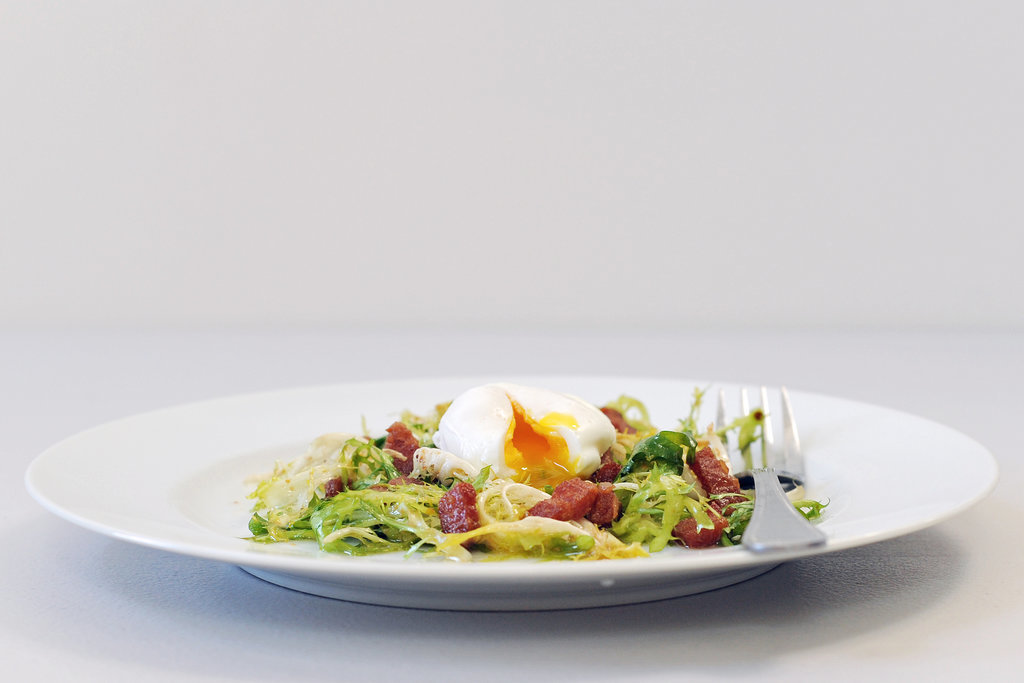 Not able to fit in a trip to France? This salad lyonnaise [11] with bacon and a poached egg may be the next best thing.
Turkey and Bacon Club Sandwich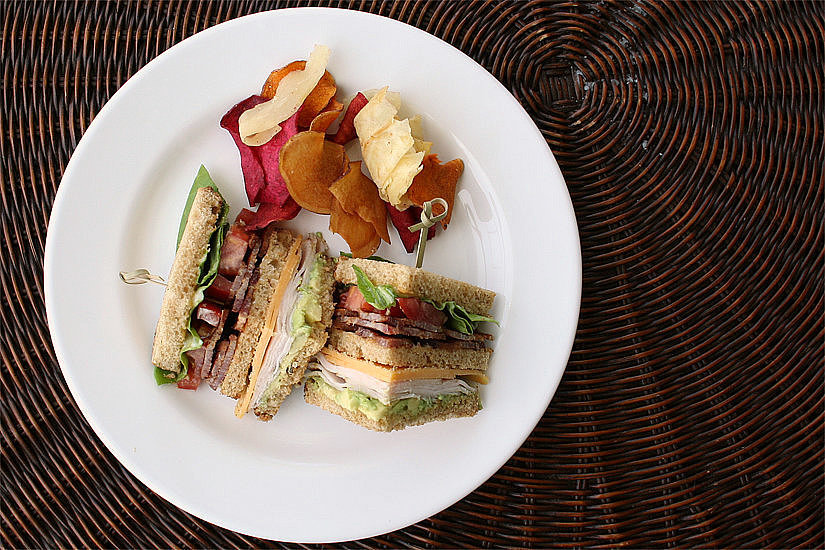 Bacon's crisp and chewy texture plays nicely with avocado, cheddar, and turkey in a fully-loaded club sandwich [12].
BLT Salad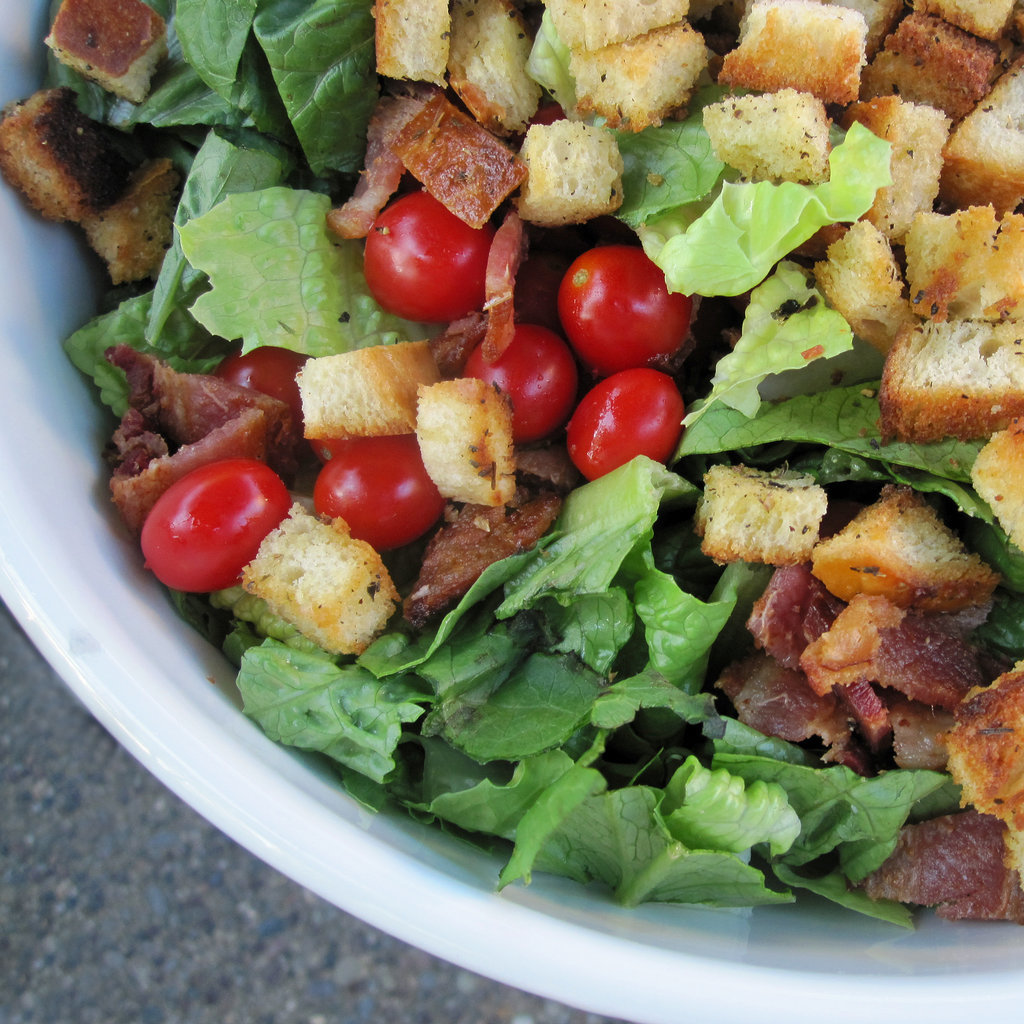 If you love the taste of a classic BLT, you're going to flip for this simple and delicious salad made with romaine lettuce, bacon, tomatoes, and croutons [13].
Braised Red Cabbage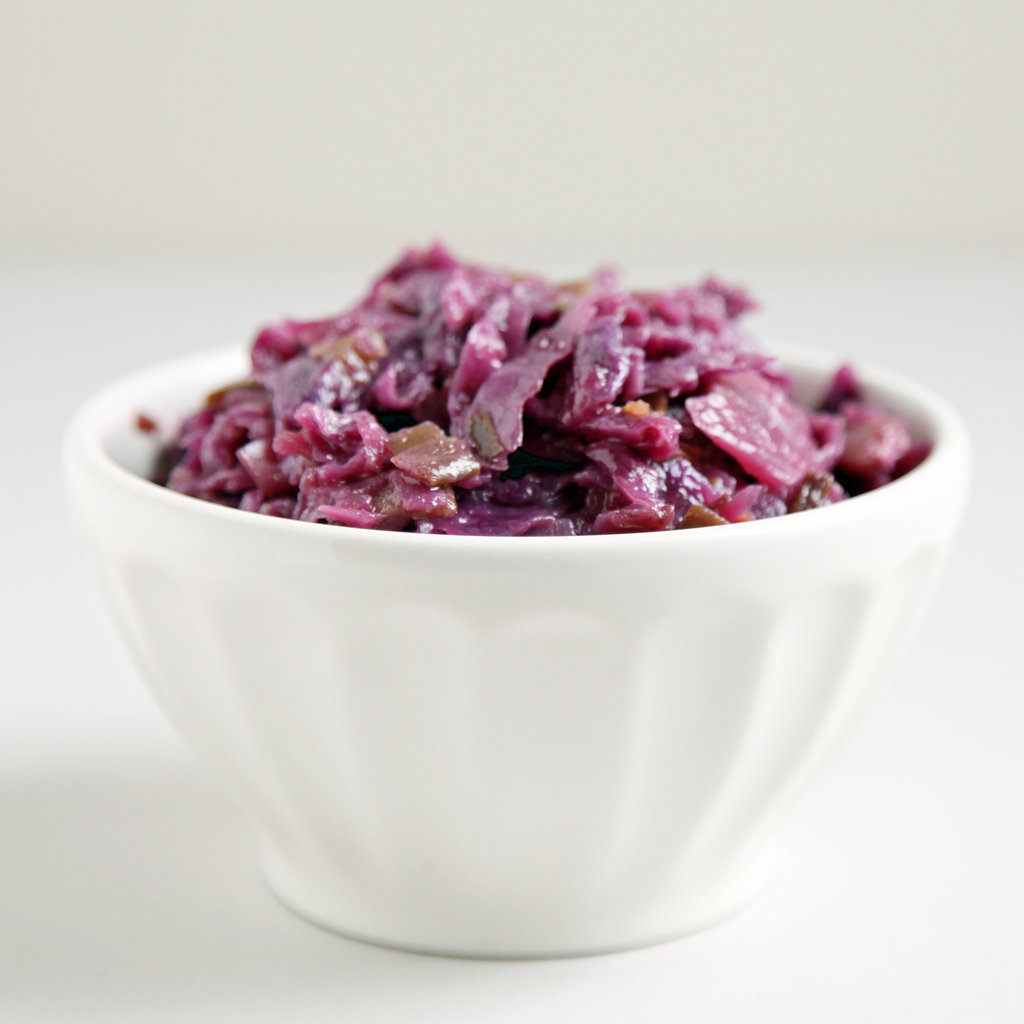 It may be just a side dish, but this bold red cabbage braised with maple and ginger [14] might just steal the show.
Bacon-Wrapped Dates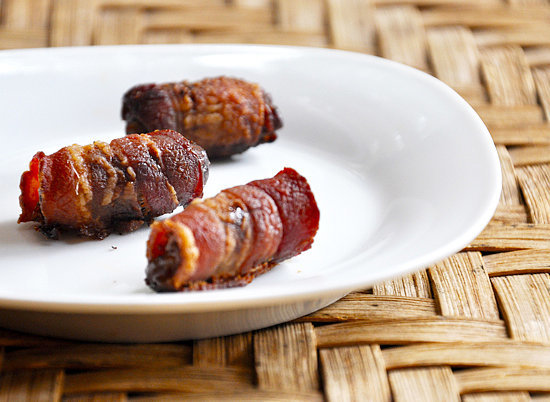 So simple, so delightful; bacon-wrapped dates [15] pack in complex, salty-sweet flavor despite utilizing a mere two ingredients.
Bacon and Arugula Flatbread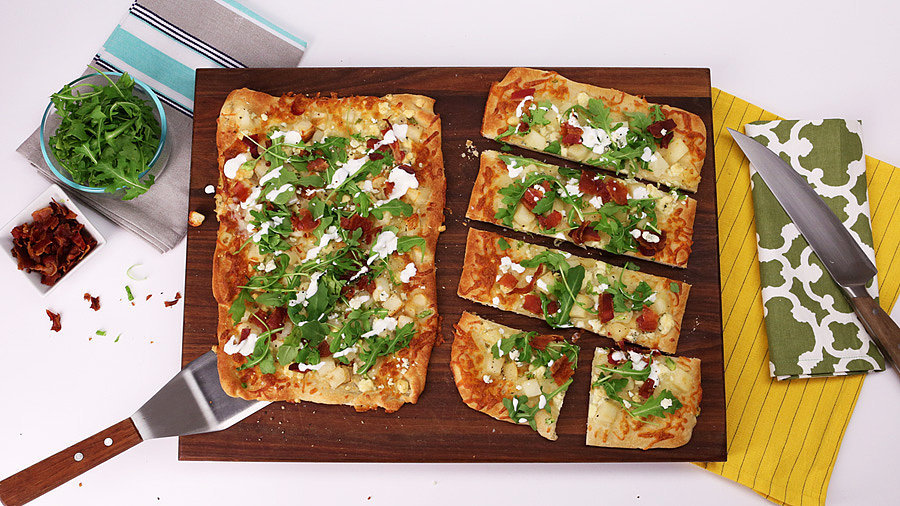 Pairing rich, salty bacon with bitter arugula is a great way to create a show-stopping flatbread [16]. Add tangy blue cheese and potatoes to complete this yummy appetizer.
Maple Bacon Cinnamon Rolls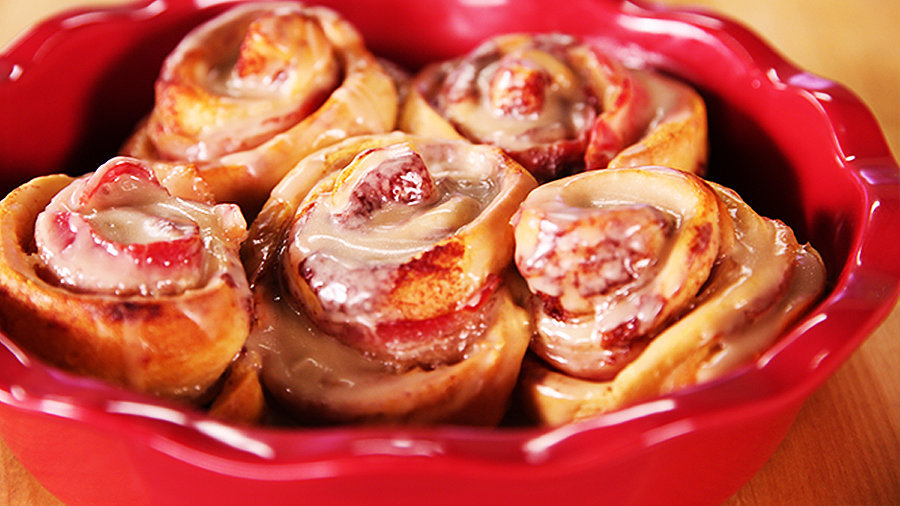 Add some pizzazz to brunch by baking up a batch of maple bacon cinnamon rolls [17]. This savory spin on your favorite sweet snack will win over your guests.
Bacon Jam
Whether you prefer to enjoy it at home or gift a jar to a friend, rich and smoky bacon jam [18] is a delicious spread for crackers, toast, burgers, or a plate of pasta.
Bacon-Wrapped Brie Cups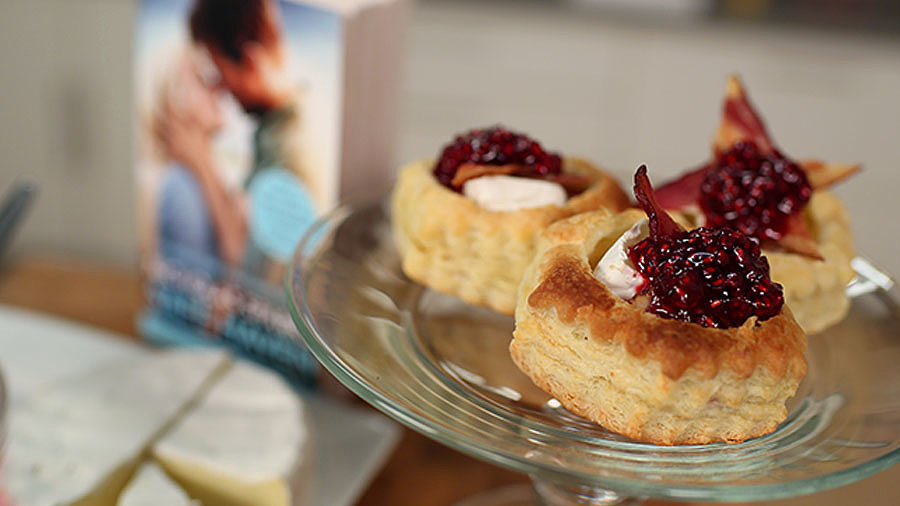 Think of these pastry bites stuffed with bacon and brie [19] as baked brie on steroids. Puff pastry cups are filled with brie, raspberry preserves, and bacon for a treat that pretty much everyone (aside from the vegetarians) will adore.
Cheesy Bacon Tater Tots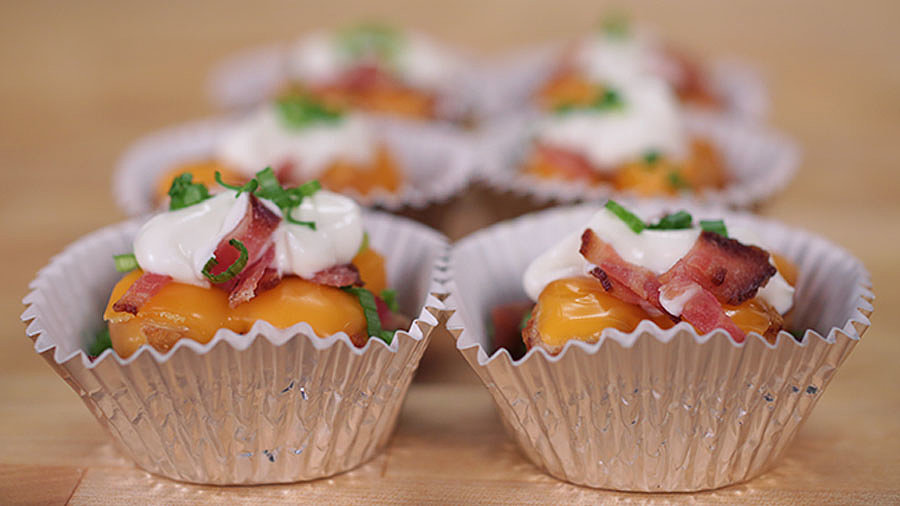 Need a game-day snack idea that will have your whole team cheering? Whip up these cheesy bacon tater tots [20] for your next tailgate.
Cobb Salad Wrap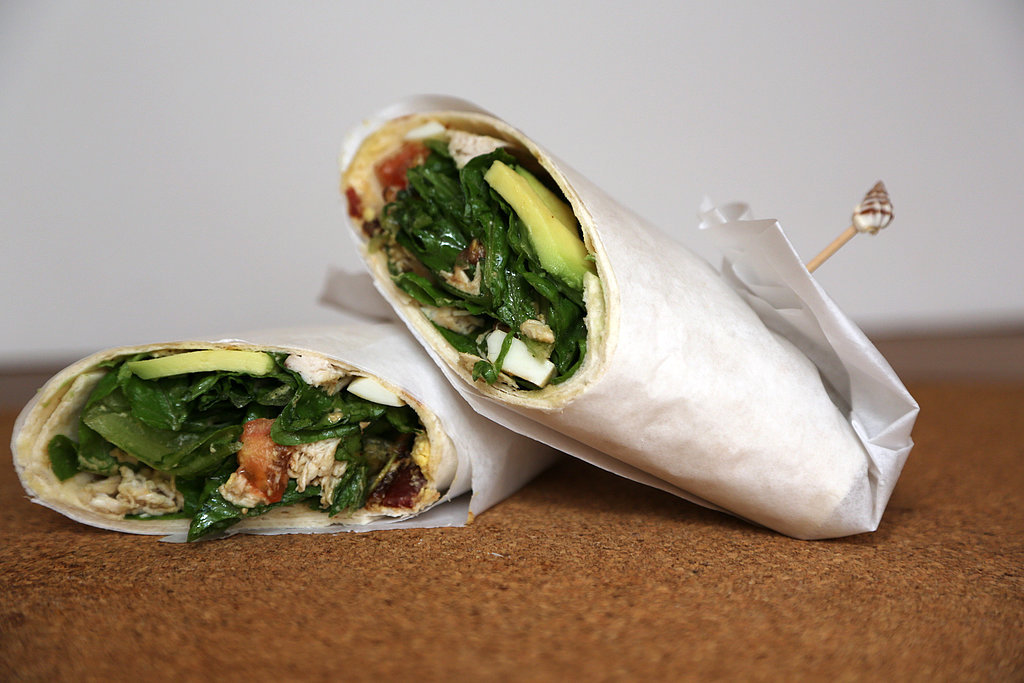 Stumped on what to pack for lunch? A cobb salad wrap [21] is a simple way to bring your favorite salad to work with you.
Chocolate-Covered Bacon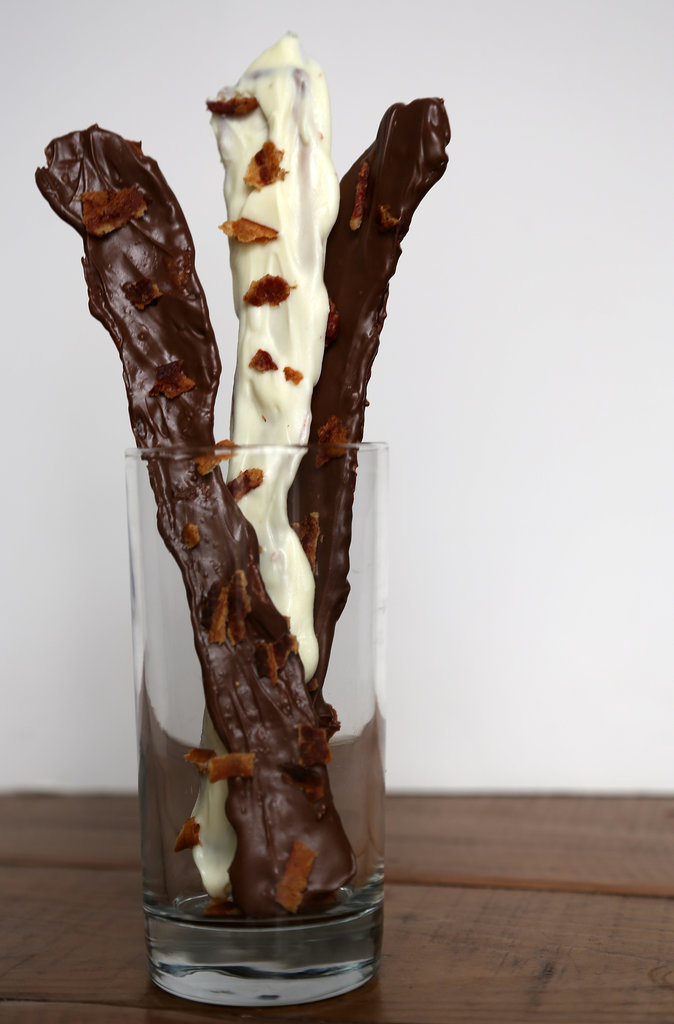 Chocolate-covered bacon [22] might sound weird (and it kind of is), but it's also exceptionally delicious. The bacon adds smoke and saltiness to bittersweet chocolate for an unexpectedly harmonious nibble.