Become Part of the New Carton and Win $1,000 For Your School!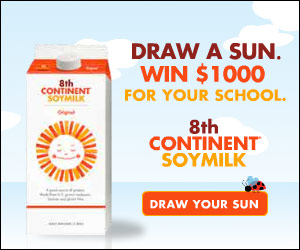 8th Continent Soymilk has a new look, and you can be part of it. Send in a sun drawing for a chance to win $1,000 in art supplies for your school and to be featured on our new packaging. For more details or to submit online, visit 8thcontinent.com/sun.
We are a family-run company, which means we only make products we'd want our own family to drink. That's why our delicious soymilk is made from beans grown with fresh water, clean air, and bright sunshine right here in the US. For more information about our line of products, visit 8thcontinent.com.