Beef Brisket Recipe
A Family Recipe From Gwyneth Paltrow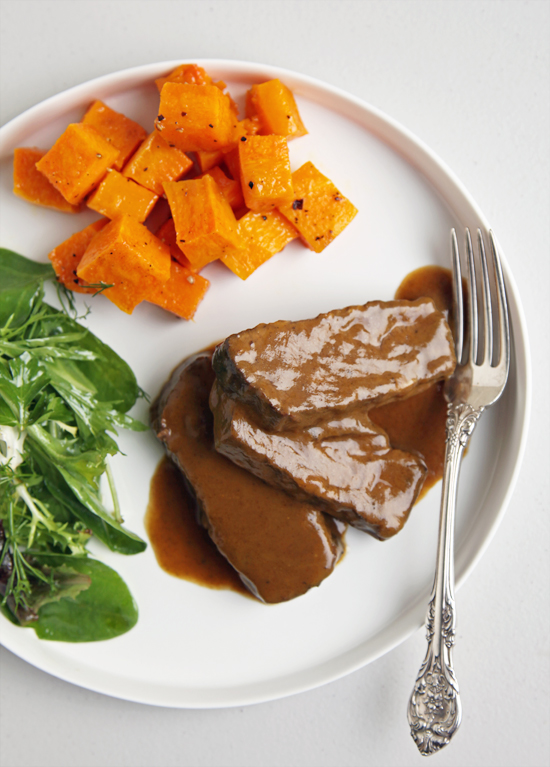 If you told me a few years back that I'd be turning to Gwyneth Paltrow — the then-macrobiotic queen — for culinary advice, I'd surely scoff. But today I'm doing just that (well, not asking her directly . . . although a girl can dream). Haters are always gonna hate, but if one can push skepticism aside, her recipes deliver and then some.
Handed down from her father's family (as many recipes from her charming cookbook are), this brisket is bound to be a classic on your family's table, thanks to its robust flavor, laissez-faire cooking method (low and slow braising), and a velvety sauce that begs to be sampled and sampled again from the pan.
What are you waiting for? Give this classic comfort food a shot.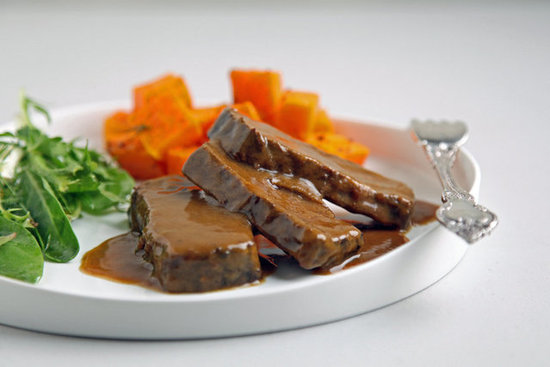 Notes
For the most tender and flavorful results, make the brisket a day ahead of time and reheat the next day.
Ingredients
1 3-pound beef brisket
1 tablespoon paprika (not smoked)
2 cloves garlic, minced
Kosher salt
1/2 teaspoon freshly cracked black pepper
7 tablespoons neutral oil, such as canola or grape-seed oil, divided
2 large yellow onions, peeled and thinly sliced
4 carrots, peeled and cut into 3-inch pieces
2 cups dry red wine
1/2 cup store-bought or homemade chicken stock
Directions
Preheat the oven to 300ºF.
Whisk together the paprika, garlic, two teaspoons kosher salt, pepper, and one tablespoon oil. Slather the spice paste all over the brisket, and set aside (at room temperature).
Heat two tablespoons oil in a large sauté pan set over medium-high heat, until shimmering. Add the onions and a pinch of salt and cook, stirring occasionally, until translucent and lightly browned in spots, about 10 minutes. Transfer the onions to a nine-by-13-inch casserole dish.
Add two more tablespoons oil to the pan, allow to heat till shimmering, then add the carrots and cook until browned in spots, about five minutes. Add the carrots to the onions.
Return the sauté pan to the stove, add two more tablespoons oil, and increase the heat to high. When the oil just starts to smoke, add the brisket and allow to brown undisturbed for about five minutes on each side. Place the brisket on top of the bed of vegetables.
Deglaze the pan by adding the wine and chicken stock and using a flat-sided wooden spoon to scrape up the brown bits from the pan. Bring the liquid to a boil, allow to simmer for three minutes, then pour it over the brisket and vegetables.
Cover the casserole dish tightly with heavy-duty tinfoil and braise for three hours in the oven.
Remove the brisket to a carving board to rest, then carefully ladle about half of the cooked vegetables and roughly one cup of the braising liquid into a blender, and blend till smooth. Add the vegetable puree back into the casserole dish and stir to combine (the puree helps to thicken the sauce).
Slice the brisket as thin or thick as you prefer and either serve immediately with the sauce and braised vegetables or return the slices to the casserole dish and refrigerate (tightly covered) for a day. If serving a day later, reheat it in a 300ºF oven until warm.
Information
Category

Beef, Main Dishes

Cuisine

Jewish

Yield

Serves 4, with leftovers