Beet Cupcakes With Cream Cheese Frosting
Adapted from Gorgeous Cakes [5] by Annie Bell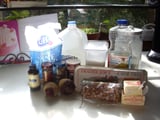 Ingredients
For the Cake
5 ounces raw beet, peeled and shredded (wear gloves and apron while shredding)
1 cup vegetable oil
1 1/4 cup sugar
3 medium eggs, separated
3 tablespoons 1 percent milk
1 cup roasted hazelnuts, chopped
1 1/2 cups flour
2 teaspoons baking powder
1/2 teaspoon ground ginger
1/2 teaspoon nutmeg
1/2 teaspoon cinnamon
For the Frosting
2 teaspoon beets, shredded
3/4 cup unsalted butter, softened
1 1/3 cup powdered sugar, sifted
2 cups lowfat cream cheese
1 teaspoon vanilla extract
1 teaspoon ruby red grapefruit zest
Directions
Preheat the oven 350°F. Place the hazelnuts on a cookie sheet and bake for 8-10 minutes. Be sure to check the hazelnuts frequently to ensure they do not burn. Once roasted place nuts on a kitchen towel. Cover the nuts with half of the kitchen towel and gently roll back and forth to remove the skins. Line a muffin tin with cupcake liners.
Beat oil and sugar in large bowl, then beat in egg yolks and milk.
Fold in beets and hazelnuts. Sift flour and baking powder together and stir into the batter. Add spices.
Using a clean bowl and beater beat the egg whites until they are stiff and fold them into the batter in three stages.
Fill cupcake liners and bake for 18-22 minutes or until an inserted knife or skewer comes out clean.
For the frosting, cream butter, and powdered sugar using a hand mixer. Blend in the cream cheese, vanilla, and grapefruit zest until smooth.
Place the 2 teaspoons of shredded beets in a cup with 2 teaspoons of boiling water. Let sit for a couple of minutes. The red liquid can be added to the frosting to make pink frosting without the aid of food coloring.
Frost the cupcakes once cooled completely and enjoy.

Makes 18 cupcakes.
Information
Category

Desserts, Cupcakes