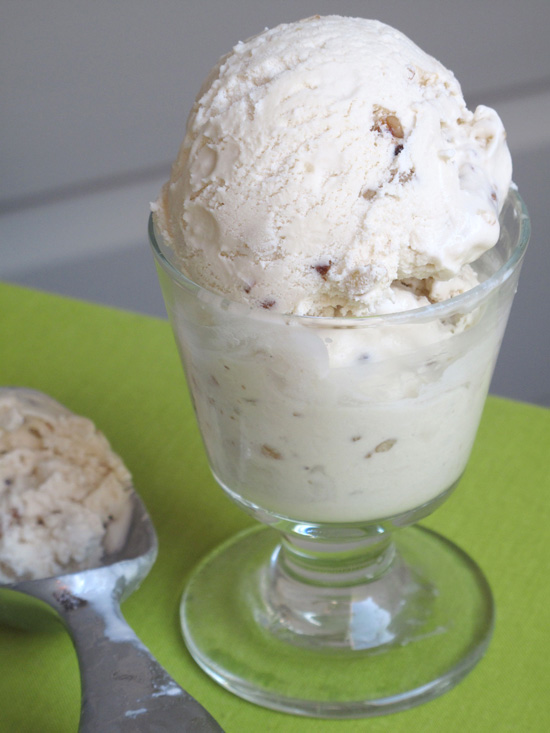 It's easy to be intimidated by the prospect of making your own ice cream — after all, it's one of the few dishes that requires its own dedicated piece of equipment. Use an ice cream maker once, however, and you'll find that it's the easiest appliance you'll ever need to use. In truth, that's not the tricky part;
tempering your ice cream is
.
To eliminate any potential disaster on your first ice cream try, start out with a recipe that doesn't call for an egg yolk or custard base. That way, you won't have to worry about your egg yolks curdling or scrambling, or the lengthy cooling time that follows. While gelato and frozen sorbet contain eggs, ice cream in its purest incarnation actually doesn't. This light, airy ice cream incorporates the rich flavors of maple syrup and walnuts with cream and a touch of milk. Beginners, if you're interested, keep reading for the basic recipe.
Ingredients
2/3 cup maple syrup, preferably grade B
2 cups heavy cream
2/3 cup whole milk
Large pinch kosher salt
3/4 cup chopped walnuts
Directions
Toast walnuts: Cook walnuts in a skillet at medium-high heat for 3-5 minutes, stirring frequently.
Make ice cream: In a large saucepan over medium heat, bring the maple syrup just to a boil. Reduce the heat to low and simmer to thicken for 5 minutes. Take the pan off the heat and whisk in the cream, milk, and salt. Transfer the mixture to a bowl to cool to room temperature, then chill until quite cold, at least 1 hour and up to 2 days.
Freeze ice cream: Freeze the mixture in an ice-cream maker according to manufacturer's directions. When the ice cream is almost at the desired consistency, stir in the nuts and continue freezing for another 5 minutes. Transfer the ice cream to an airtight container and store in the freezer.
Makes 1-1/2 pints.
Information
Category

Ice cream, Desserts

Cuisine

North American