Berry picking may sound like a tedious pastime, but there is nothing sweeter than sneaking sweet morsels out of an overflowing pail. Since berry season can't last forever, highlight these delicious fruits with recipes that cover breakfast, lunch, dinner, and dessert — you won't be disappointed. These 28 recipes will help you enjoy the sweet and tart taste of berries before it's too late!
Redhead in Bed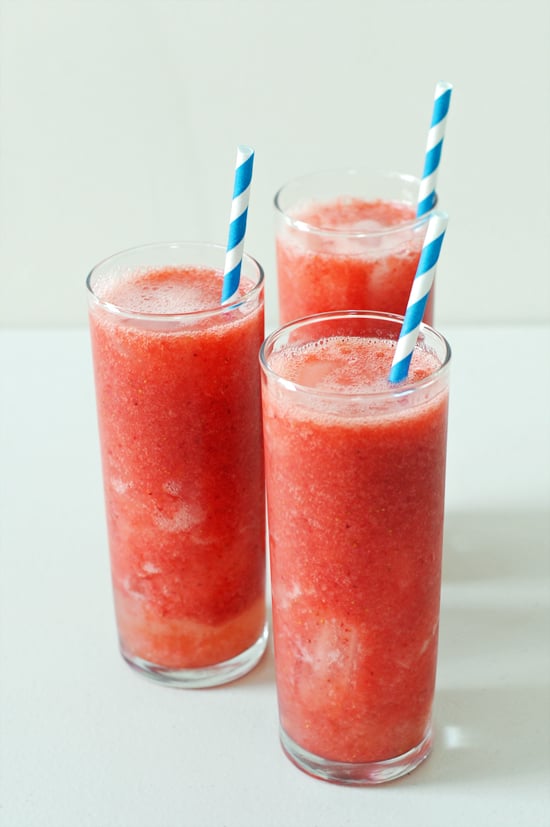 The bright flavors of strawberry, lime, and Riesling come together in this vodka-based cocktail [1], creating the ultimate drink for a hot day outdoors.
Strawberry-Lemon Bars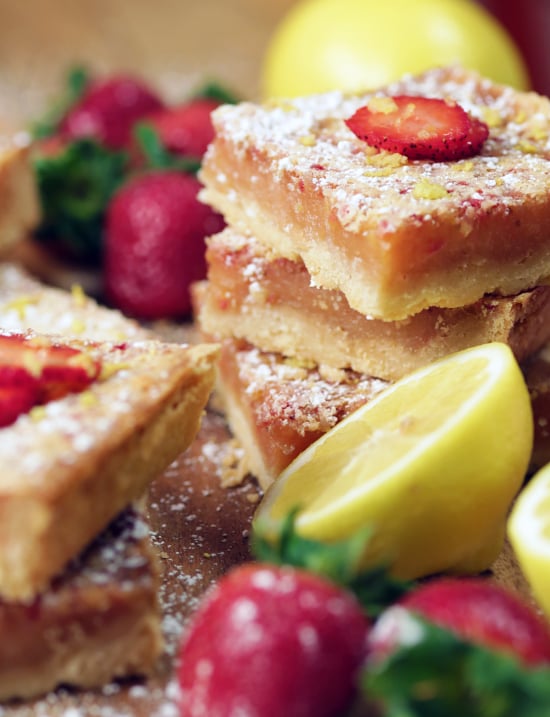 Update classic lemon bars with this strawberry lemonade [2] recipe. The tart squares are perfect for an end-of-season barbecue or a back-to-school bake sale.
Lemon Soufflé With Raspberry Coulis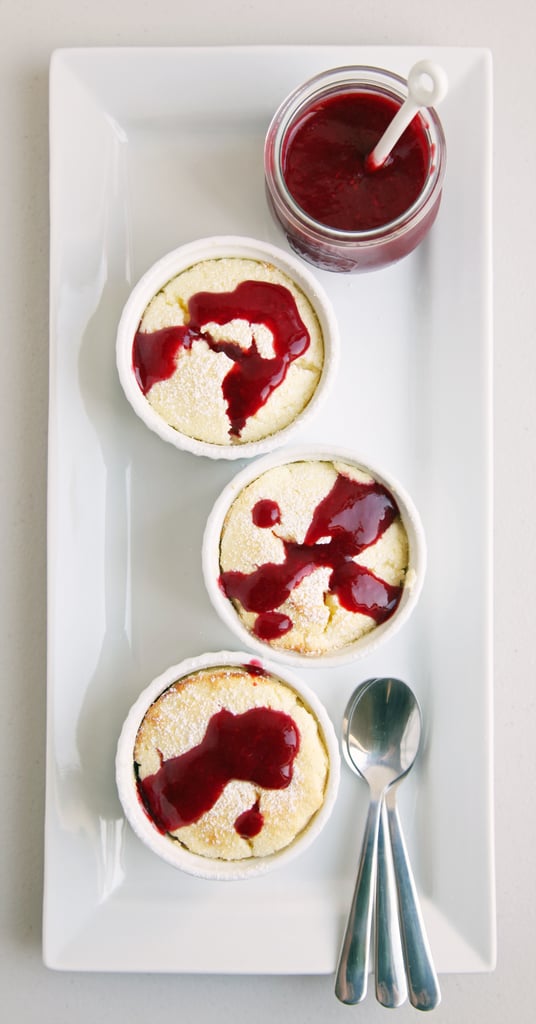 Ditch the standard chocolate soufflé for this lemon version drizzled with raspberry coulis [3]. It has the same light, delicate texture with a mouth-puckering twist.
Grilled Lamb With Blackberry Sauce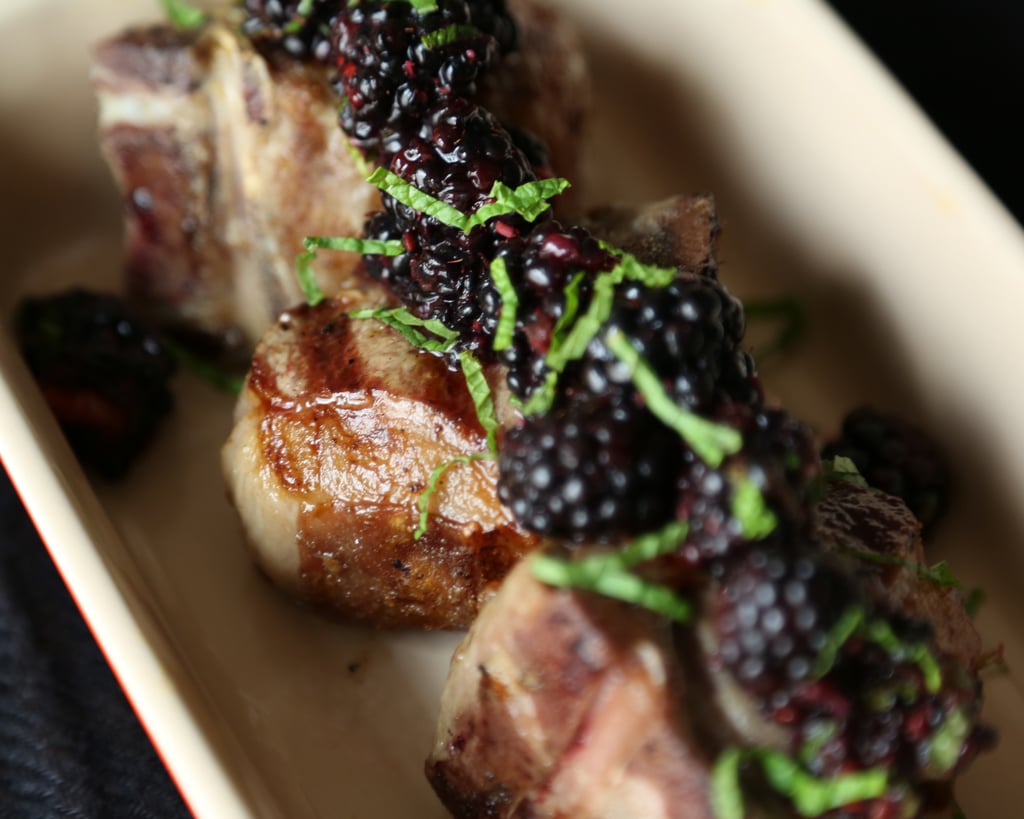 Though most frequently found in sweet treats, berries also add spunk to savory dishes. Top grilled lamb with blackberry sauce [4] for a bright and balanced dish.
White Cake With Blueberries and Raspberries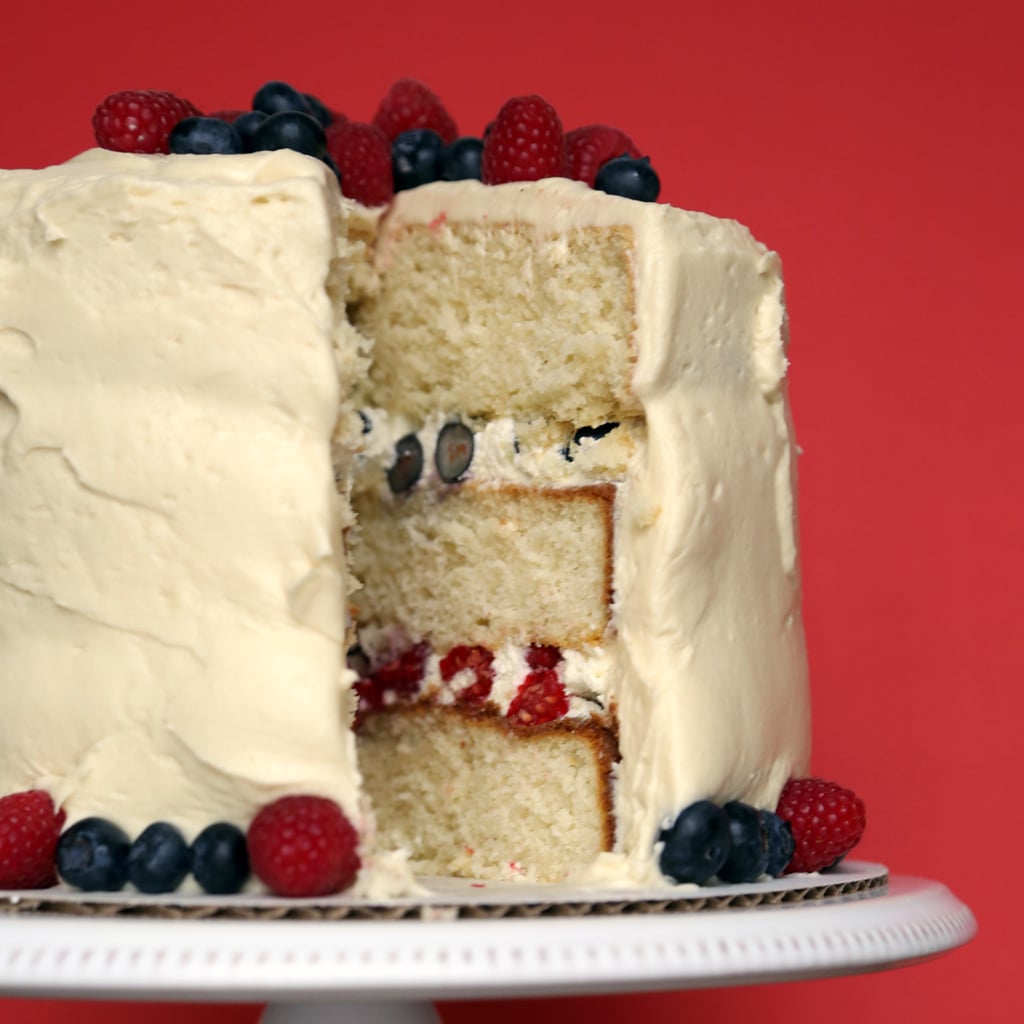 It doesn't have to be Independence Day to be inspired by red, white, and blue. This white cake with berries [5] is festive, fluffy, and rich.
Greek Frozen Yogurt With Raspberry Swirl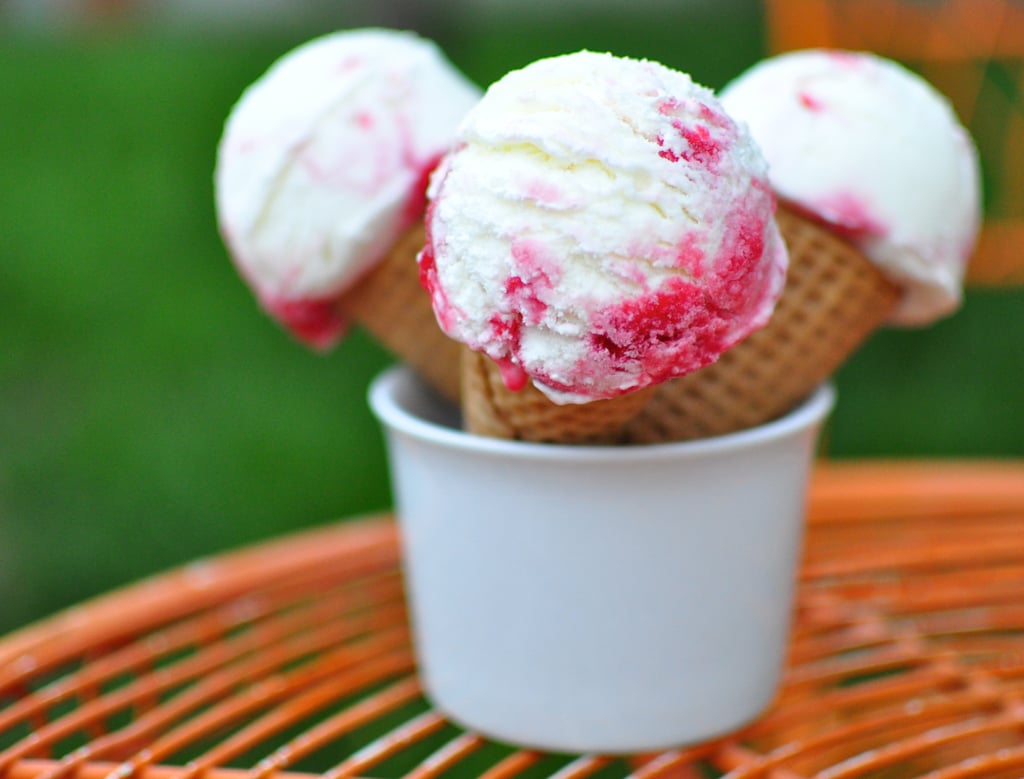 Cool off with a scoop of raspberry-swirled Greek frozen yogurt [6].
Blueberry-Nectarine Dutch Babies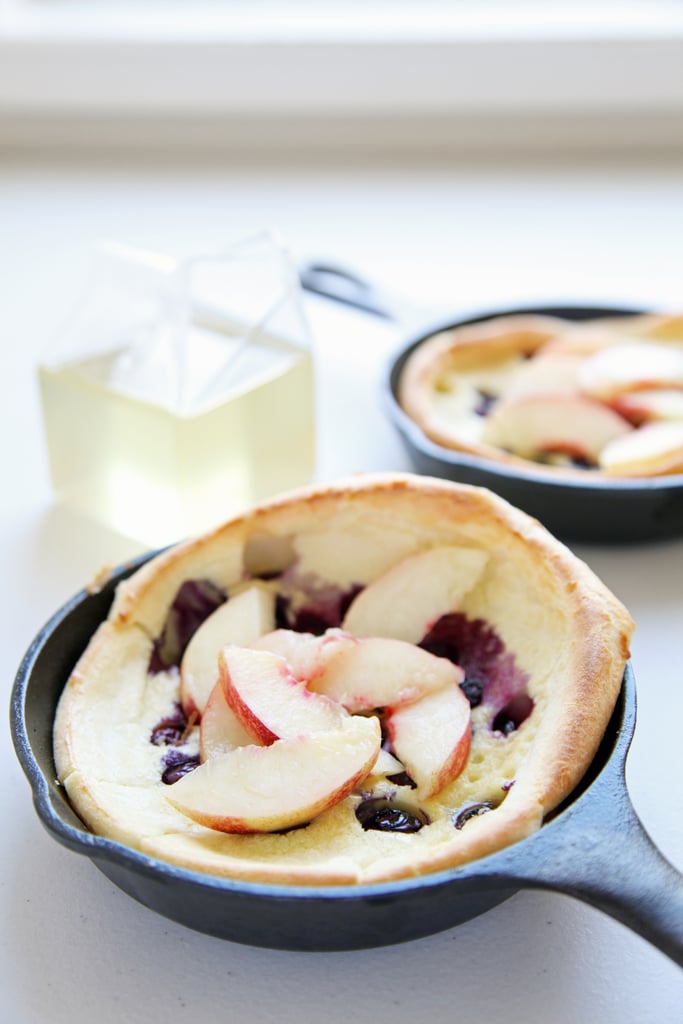 A dutch baby is basically a fluffy flapjack on steroids; add blueberries, nectarines, and ginger to the mix [7], and it's undeniably dreamy.
Blueberry Ricotta Pancakes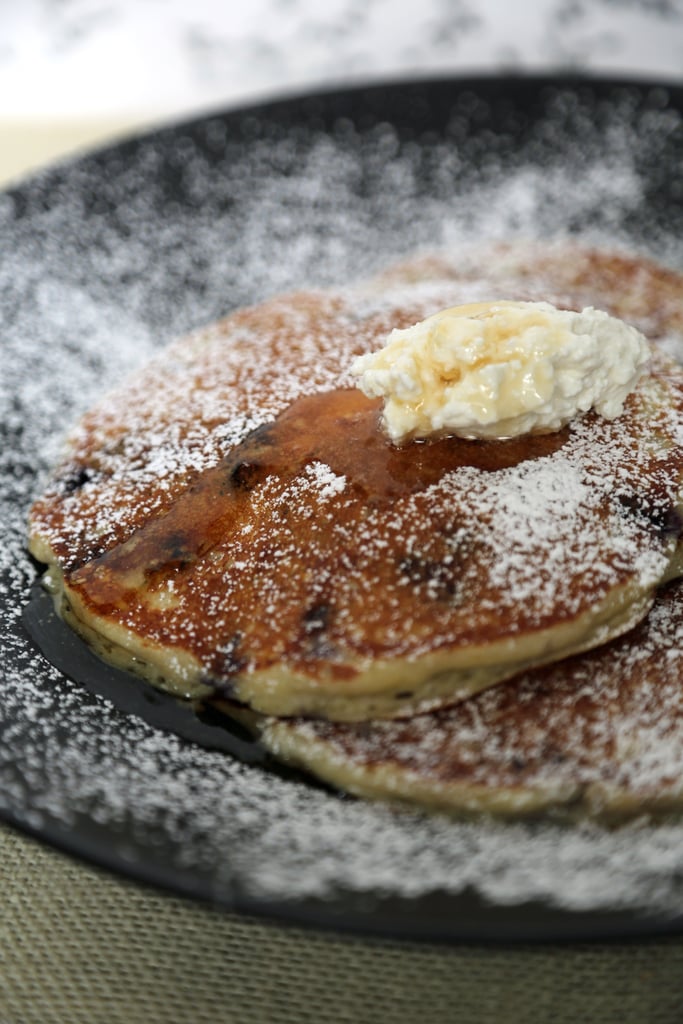 Lighter and airier than your typical pancake, thanks to the addition of ricotta cheese, these blueberry-studded beauties [8] practically melt in your mouth.
Blueberry-Mint Margarita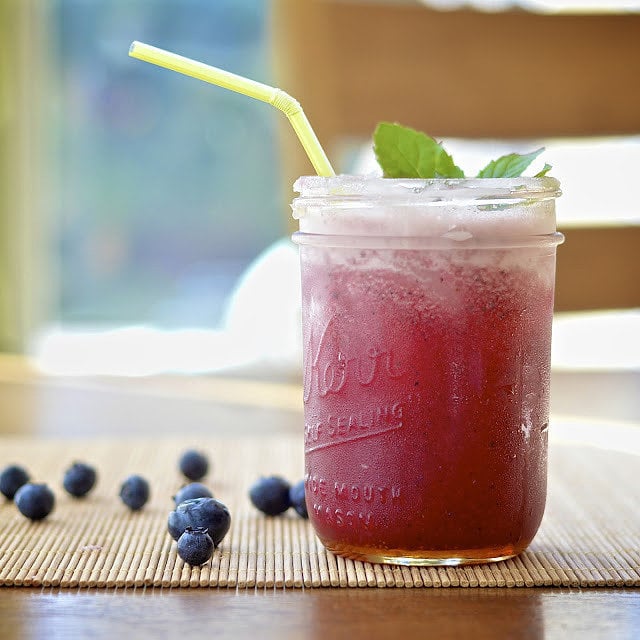 There's no warm-weather tradition quite as sweet as blueberry picking. Make use of your spoils with a refreshing blueberry-mint margarita [9].
Berry Tartlets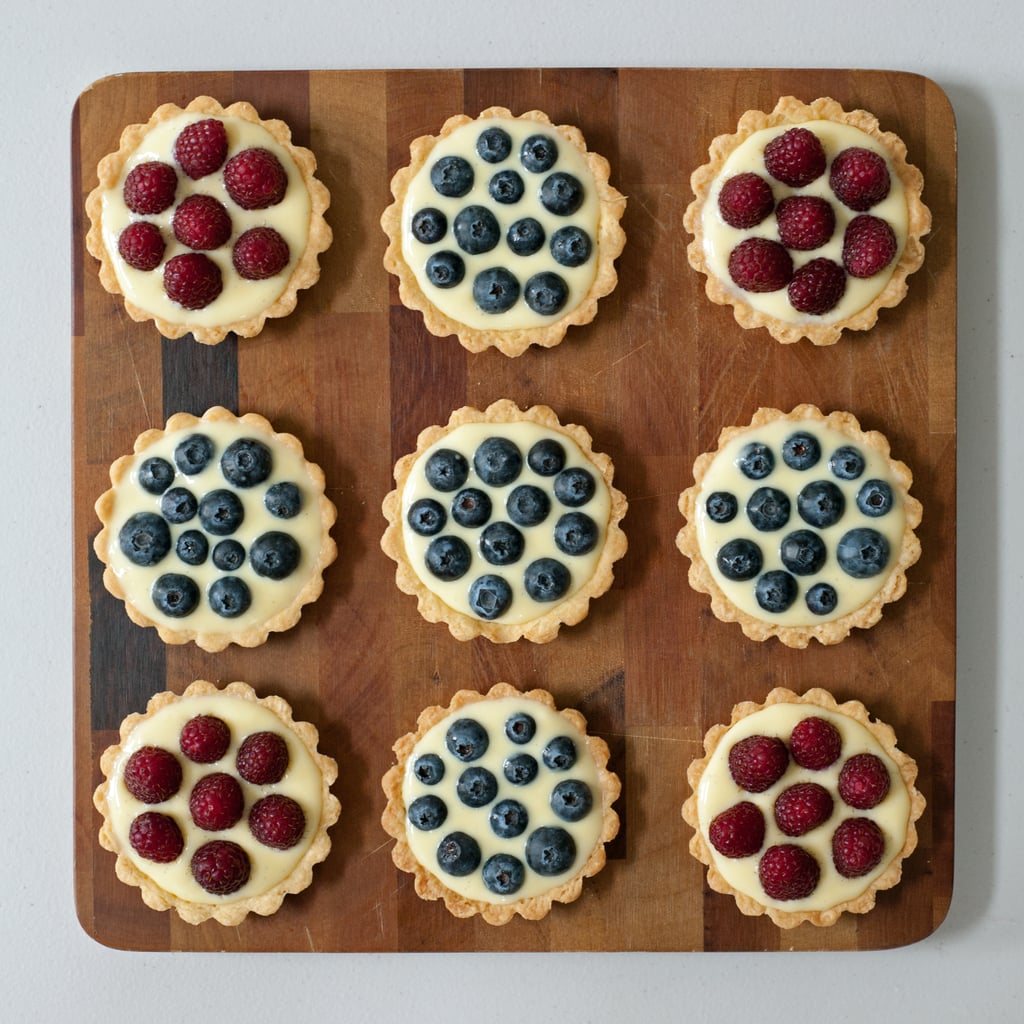 Adorable may not be the first word that comes to mind when you think dessert, but there's no other way to describe these French berry tartlets [10]. These minitreats are even elegant enough to serve at a bridal shower or wedding [11].
Watermelon-Berry Rosé Sangria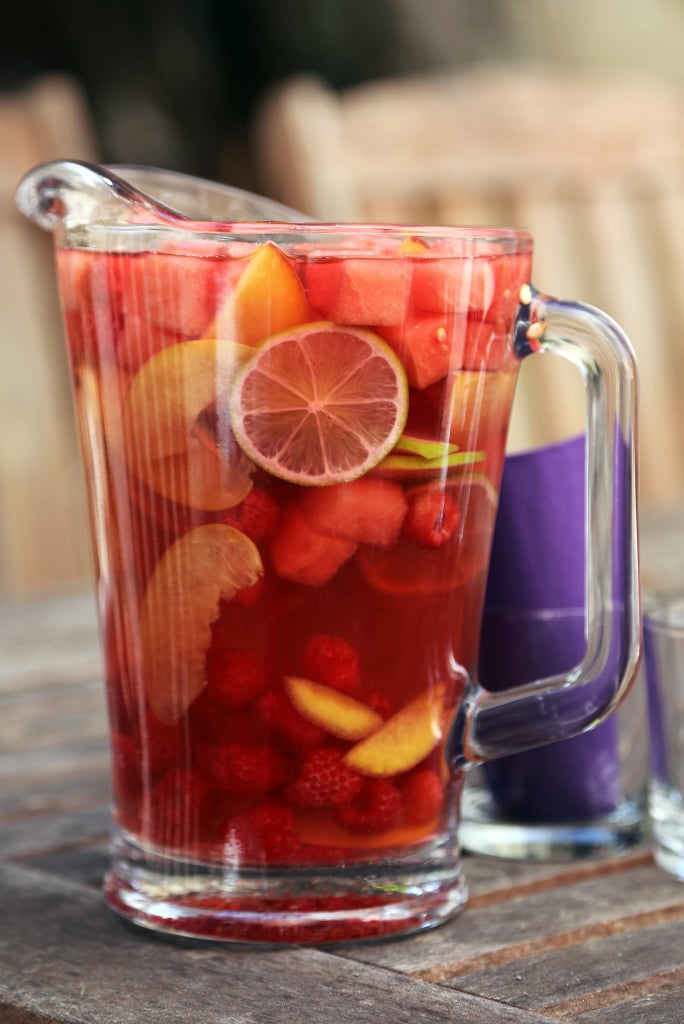 Sangria was made to sip while sitting outdoors at sunset. Mix up a batch of watermelon-berry rosé sangria [12], and get ready to relax.
Strawberry Jam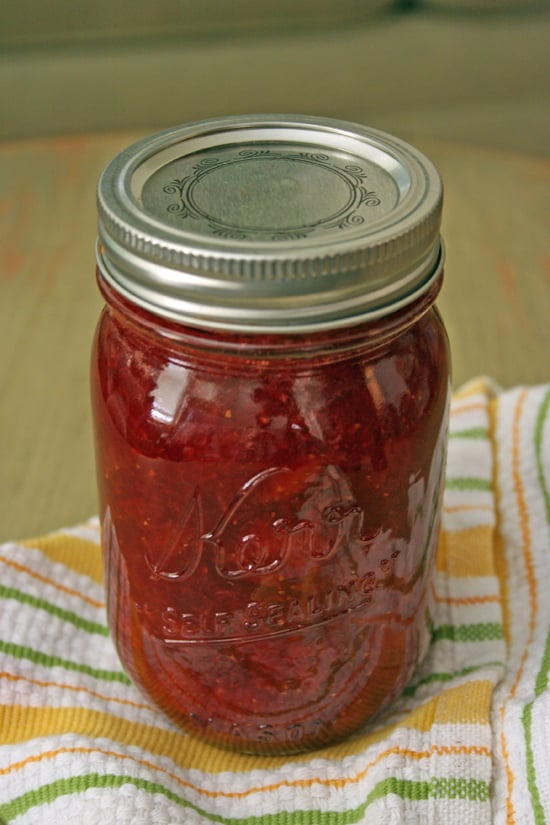 Whip up a batch of strawberry jam [13]. That way, once Fall arrives you can still enjoy the bite of this berry.
Strawberry-Peach Sangria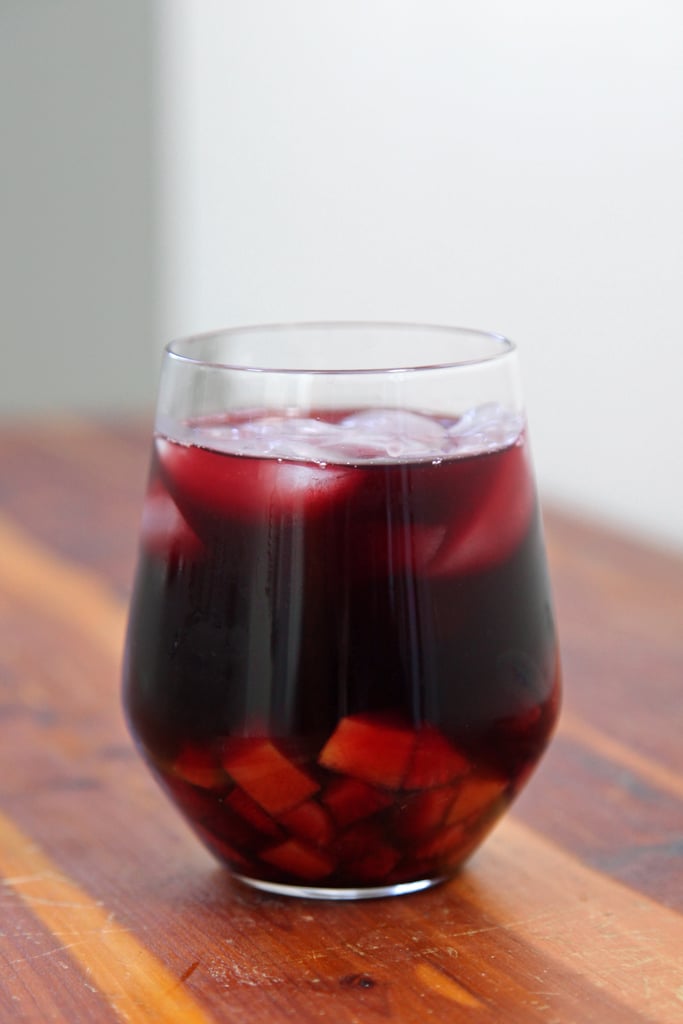 Warning: this strawberry-peach sangria [14] packs a real wallop.
Peach and Blueberry Ricotta Slice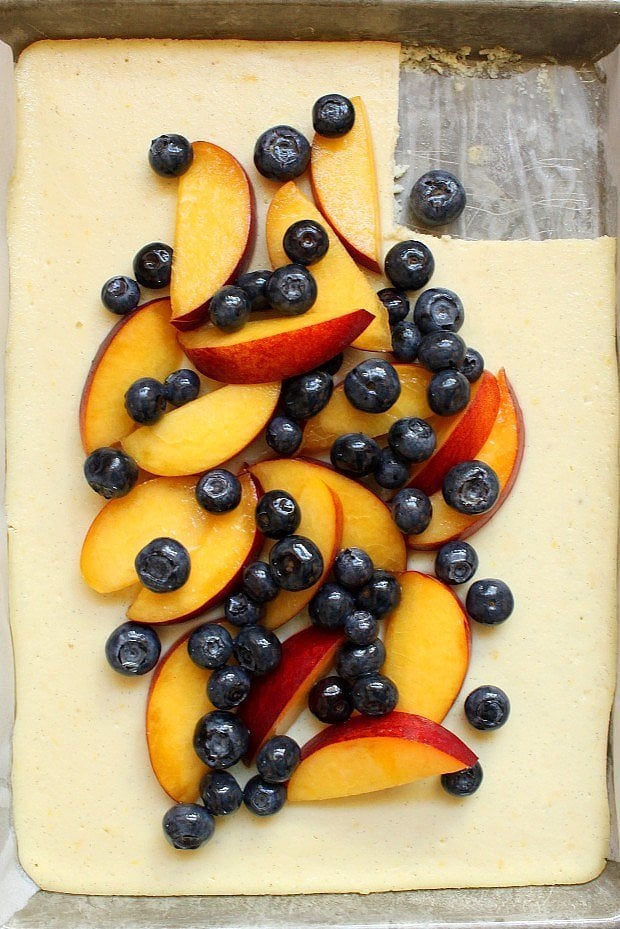 If you love the tangy taste of cheesecake, this peach and blueberry ricotta slice [15] is the recipe for you. It's easier to make and has the creamy, decadent texture of a traditional cheesecake.
Strawberry and Chocolate Grilled Pizza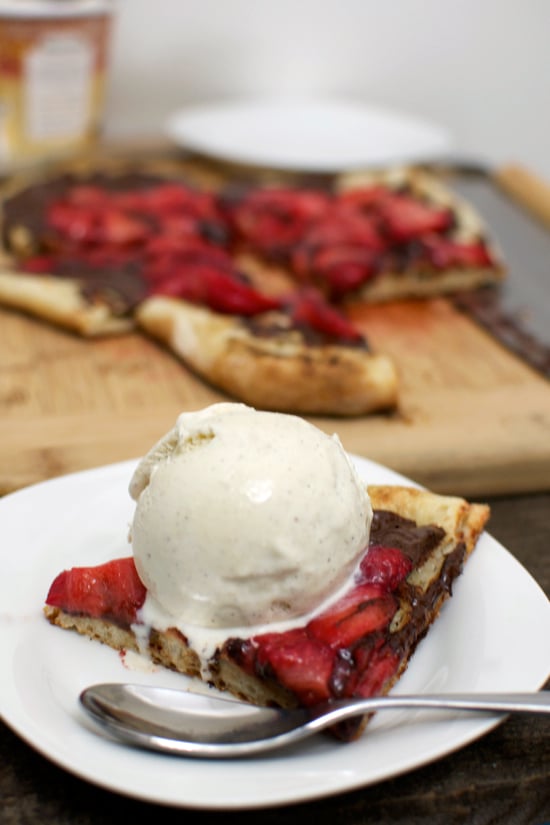 What's more delicious than a slice of pizza? Maybe a slice that's actually dessert. This chocolate and strawberry grilled pizza [16] is a warm, doughy delight that's best topped with a scoop of ice cream.
Ginger Berry Cobbler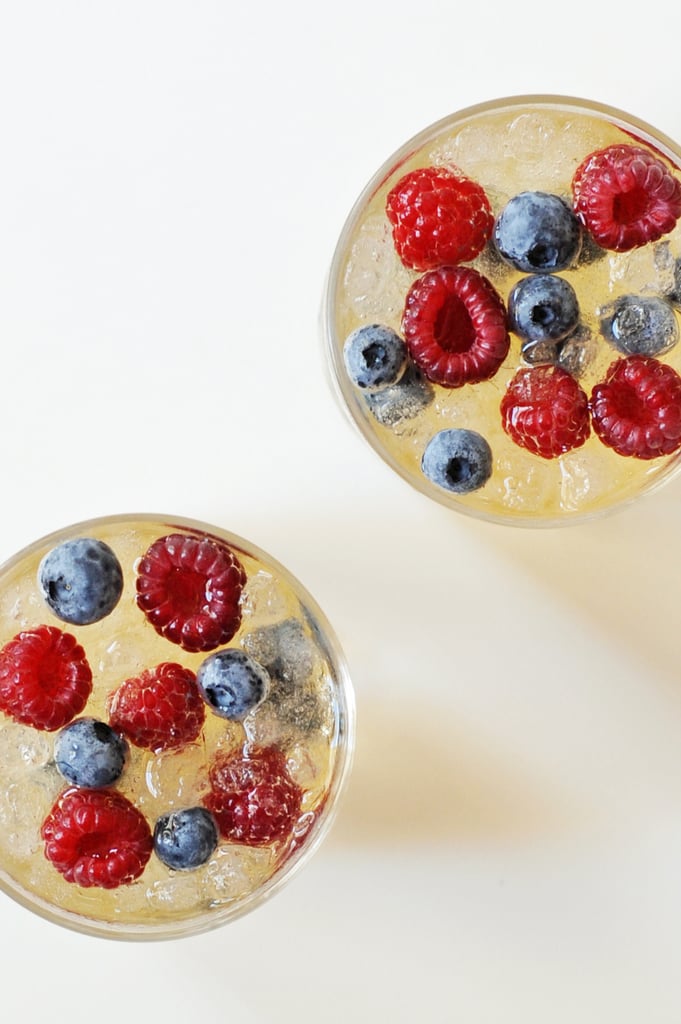 The zing of ginger plus the pop of fresh berries transform this ginger berry cobbler [17] into a Summer cocktail worth sipping on.
Strawberry Crumble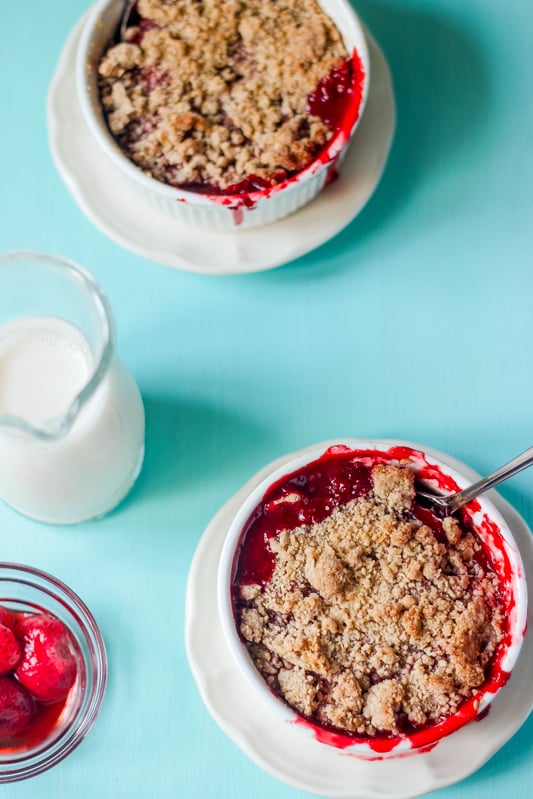 There's something so satisfying about the tangy and crunchy strawberry crumble [18]. The warm bubbling fruit and the sweet crust make a scrumptious combination. And did we mention that it only requires six ingredients?!
Strawberry Margarita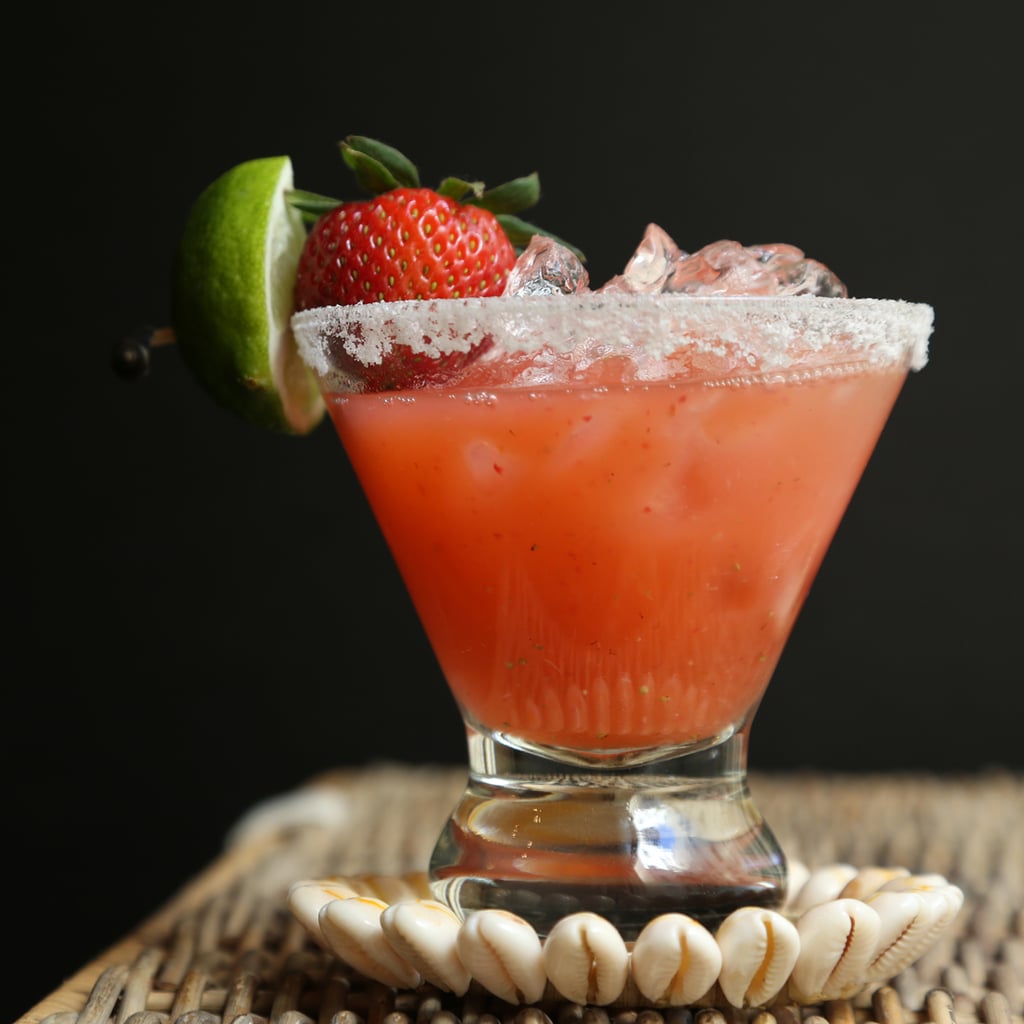 This sweet-tart strawberry margarita [19] is simply irresistible.
Peach Blueberry Cobbler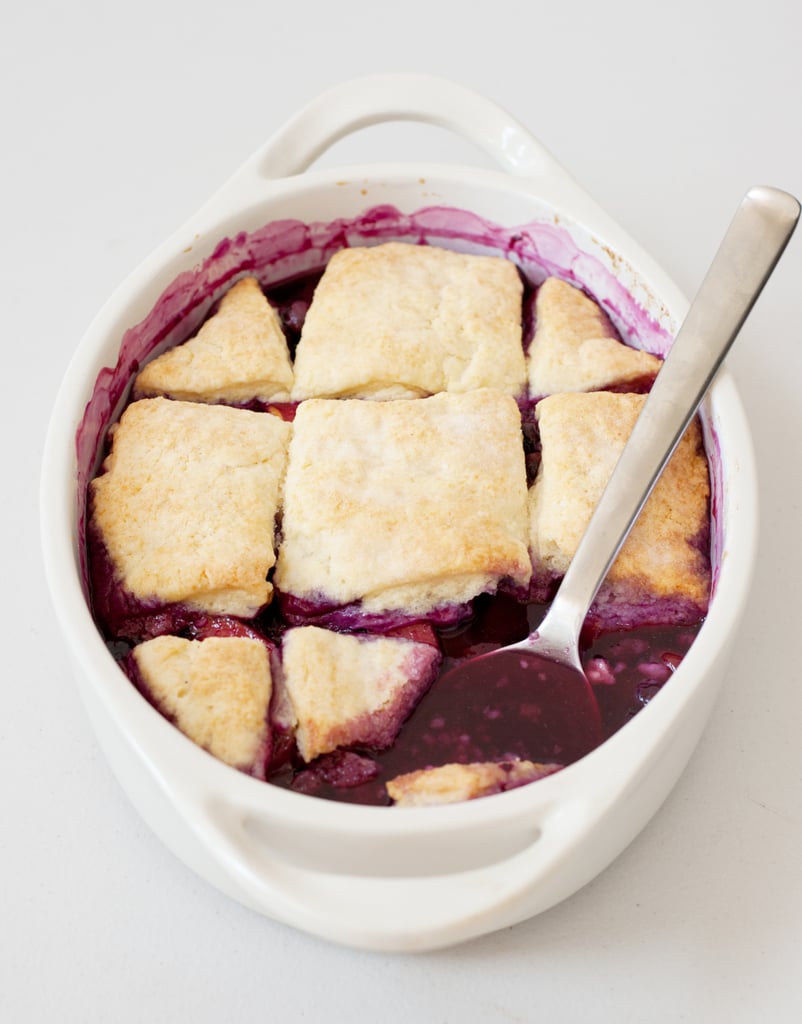 Easy to make yet impressive, this peach blueberry cobbler [20] is company-ready.
Strawberry Rhubarb Crumble
Strawberries and rhubarb are a classic pairing, and for good reason, which will become immediately clear from one bite of this cardamom-spiced crumble [21].
Eton Mess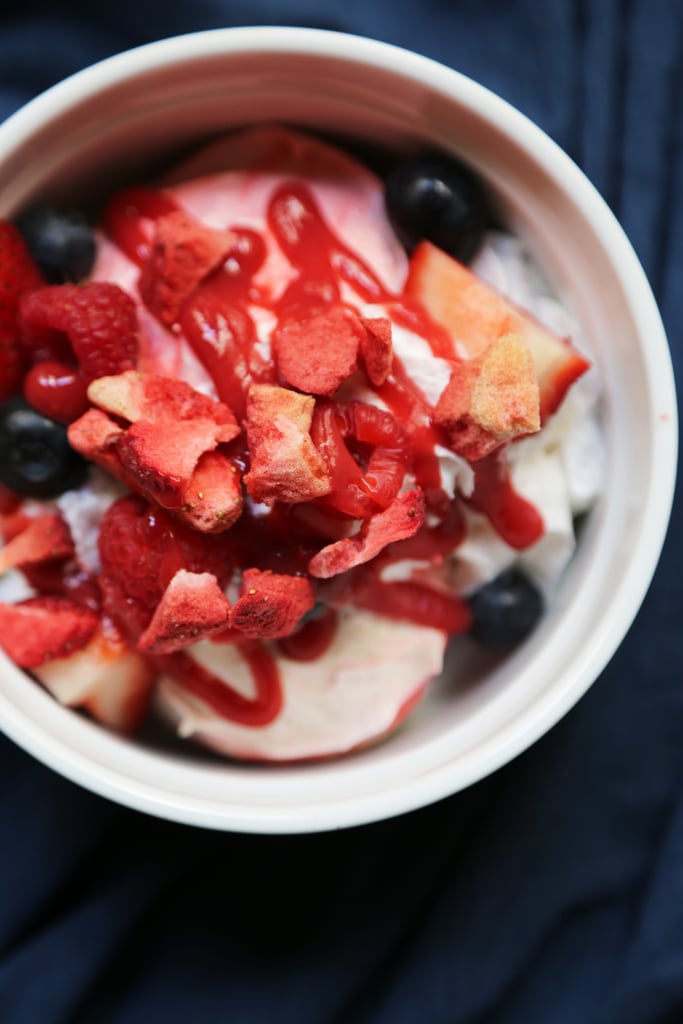 Eton mess [22] might seem like a strange name for a dessert, but you know what isn't strange? Its berry ripe flavor and light as a feather texture.
Strawberry Tart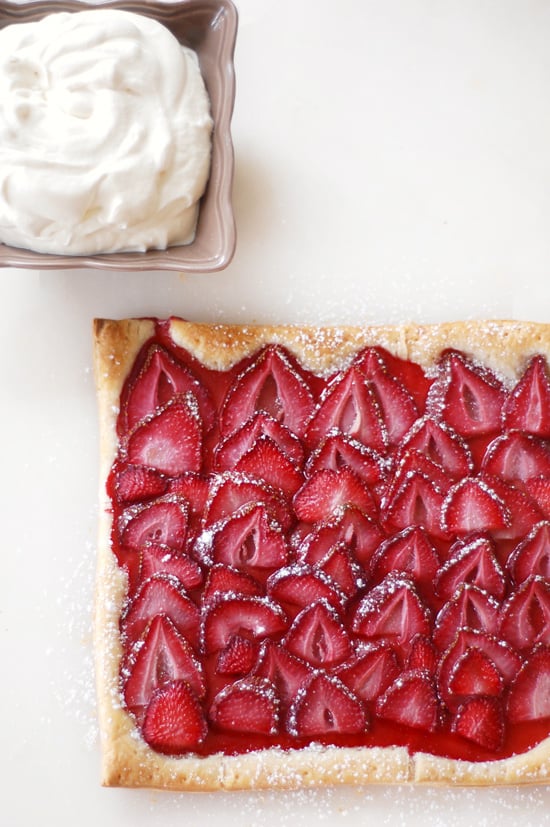 This surprisingly simple puff pastry strawberry tart [23] requires minimal work, but your dinner guests will never know.
Strawberry-Bourbon Cobbler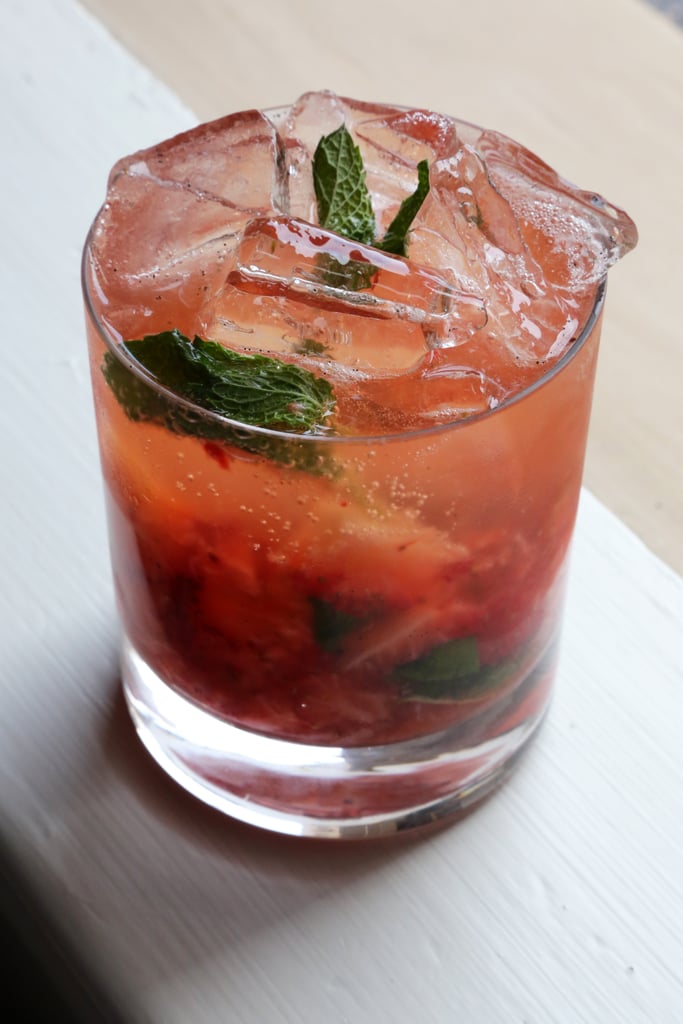 With a hint of vanilla and a finish of bold mint, this strawberry-bourbon cobbler [24] doesn't disappoint.
Eton Mess Parfait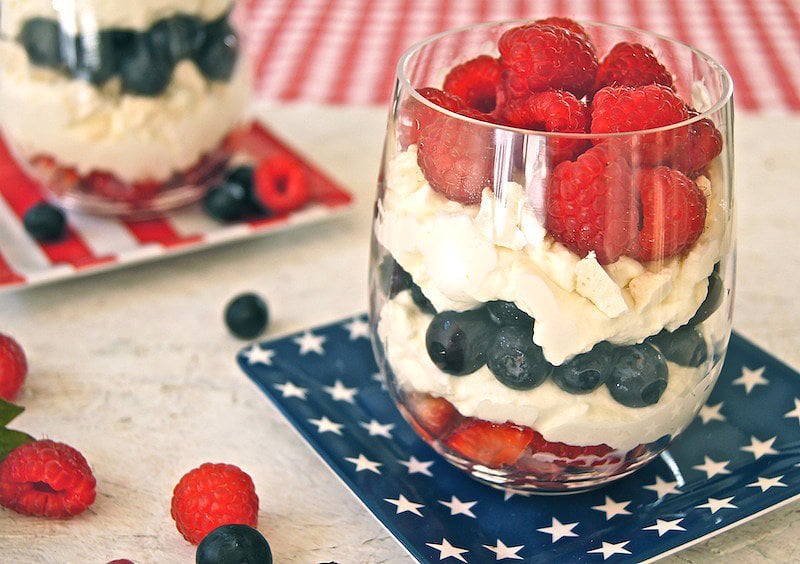 Go red, white, and blue — patriotism's always in style we say — with this mixed-berry eton mess parfait [25].
Blueberry Balsalmic-Strawberry Grilled Cheese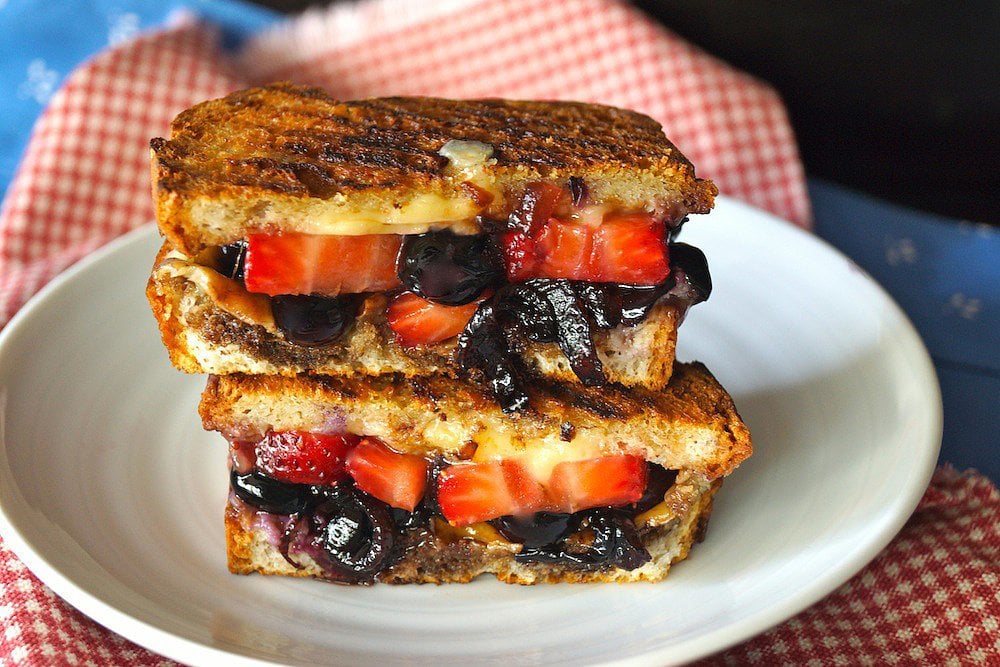 This isn't your mama's grilled cheese. Strawberries, blueberries, balsamic caramelized onions, and gruyère [26] are packed between two slices of bread.
Blackberry Grunt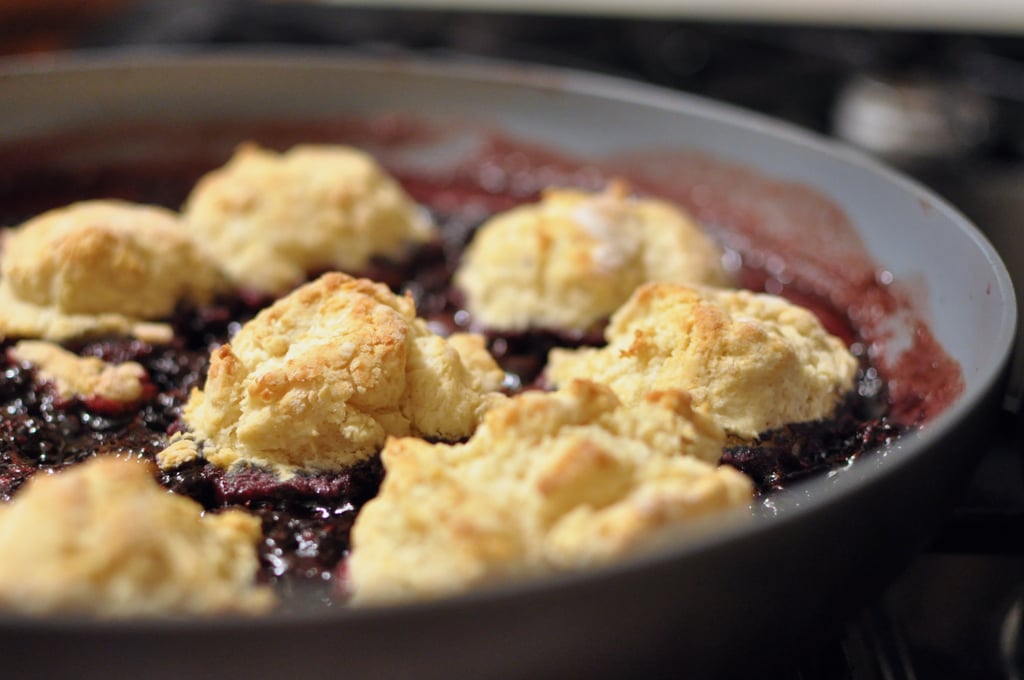 What the heck is a grunt, you ask? This delicious dessert [27] is similar to a cobbler and features a crumbly and warm biscuit-like topping.
Strawberry Shortcake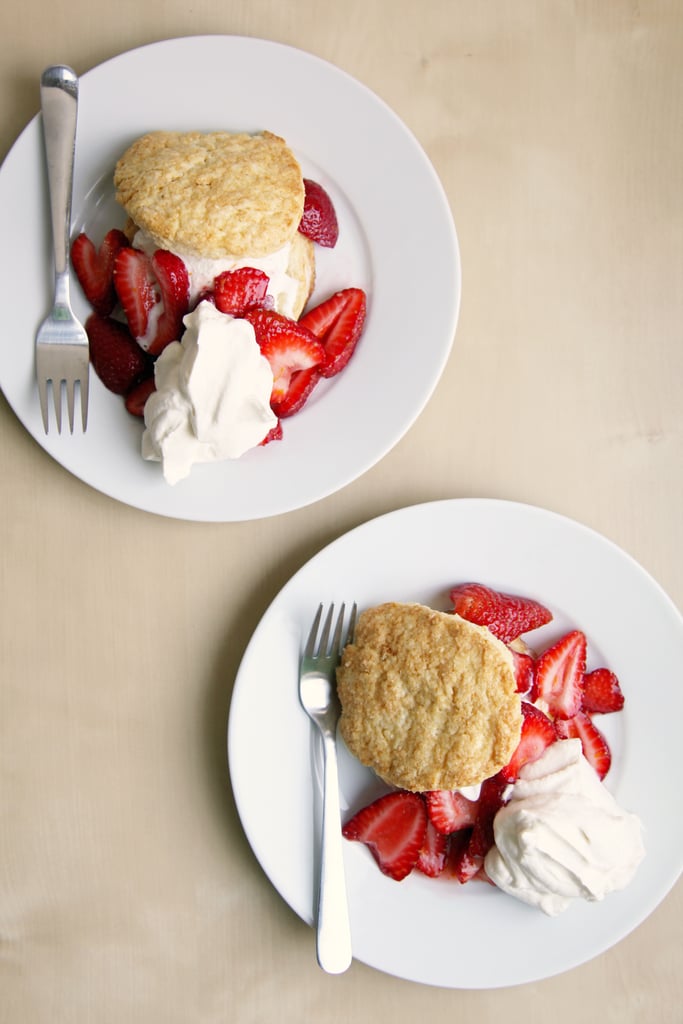 Summer doesn't feel complete until you've had at least one bite of strawberry shortcake [28].
Orange, Strawberry, and Peach Sangria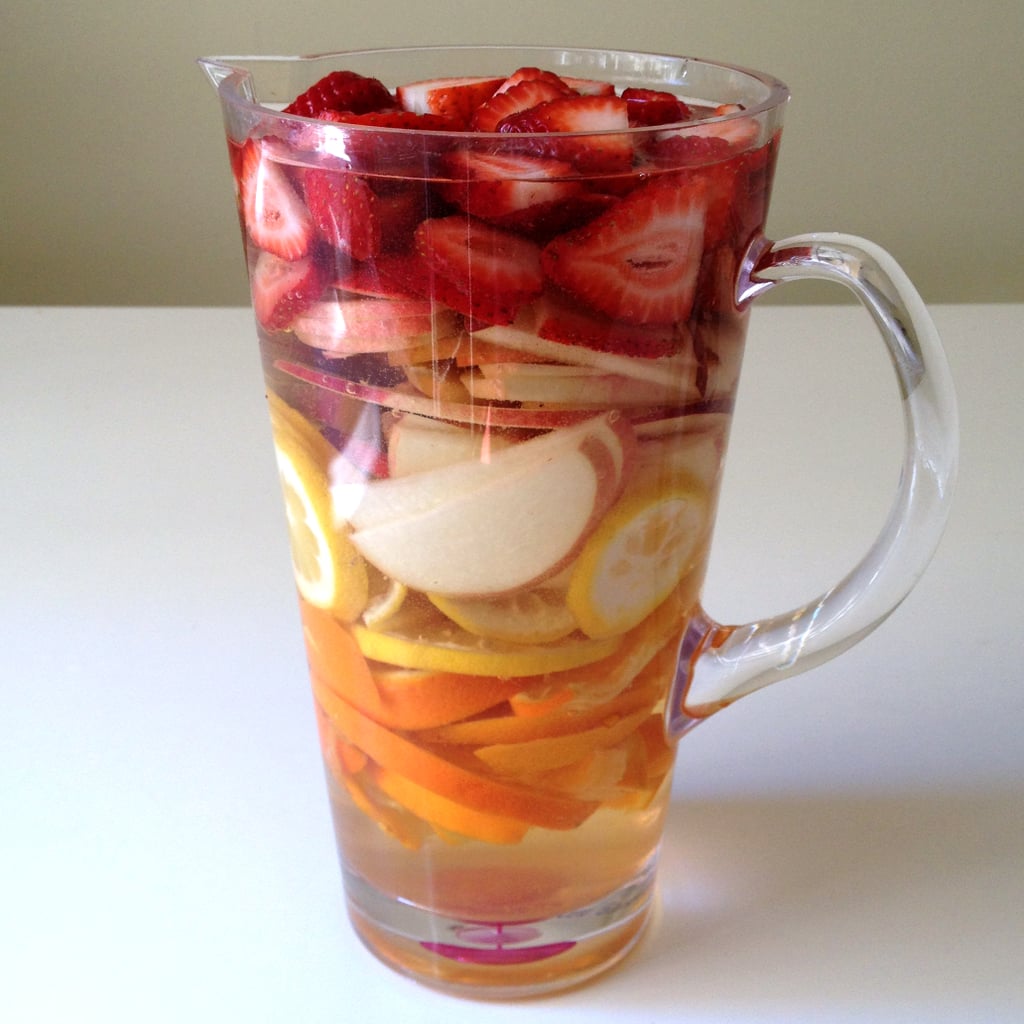 Make this white-wine-based orange, strawberry, and peach sangria [29], and sip your way to happiness.